Spinach and Sweet Potato Omelette – A Deliciously Healthy Breakfast
Typically I'm not much of a breakfast fan. Aside from my morning coffee, I probably eat breakfast but once or twice a week. This is a habit I would like to change, as they say "Breakfast is the most important meal of the day." This spinach and sweet potato omelette; however, is one of my favorite breakfast dishes. Plus it only takes about 10 minutes to make!
How it all began:
It started one day after I came home from zumba class STARVING! I won't eat before I go, because I tend to become a bit nauseous once we get moving if I have a full stomach.
I love sweet potatoes, and will grab them from time to time if we are having a meal where we are going to be making baked potatoes. Every thanksgiving I purchase a few to make a casserole, that I later freeze to enjoy for weeks after.
We had some spinach from making Anthracite Salad earlier in the week. While Matt will eat spinach in that dish, and cooked into other meals, he usually won't choose spinach for a salad or in an omelette like I will.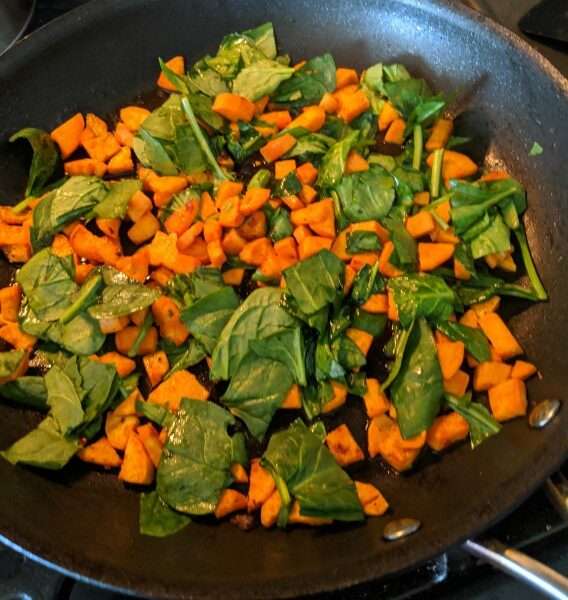 The Process:
I began by heating a bit of oil in a pan. While that was heating up, I peeled and chopped the sweet potato, I added that to the pan. Stay close to the sweet potato and stir it often to keep from burning. As the sweet potato cooks, crack two eggs, add spices, and whisk.
Once the sweet potato has browned a few minutes, you can add the spinach so it starts to cook and wilt a bit. After about 30 seconds, pour in the eggs. Let them settle a bit before breaking up to stir and flip. If you are skilled enough to keep everything together, go for it. I am not there yet.
I top with whatever shredded cheese I pull out of the fridge and douse with hot sauce. This recipe will usually yield me two mornings of breakfast. Allow everything the cool in the pan, package it up and put in the fridge for the next day. A minute in the microwave and you've got two days worth of a deliciously healthy breakfast.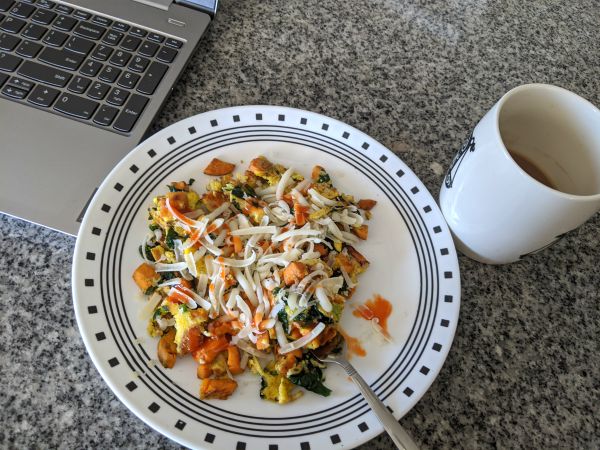 Spinach and Sweet Potato Omelette Recipe: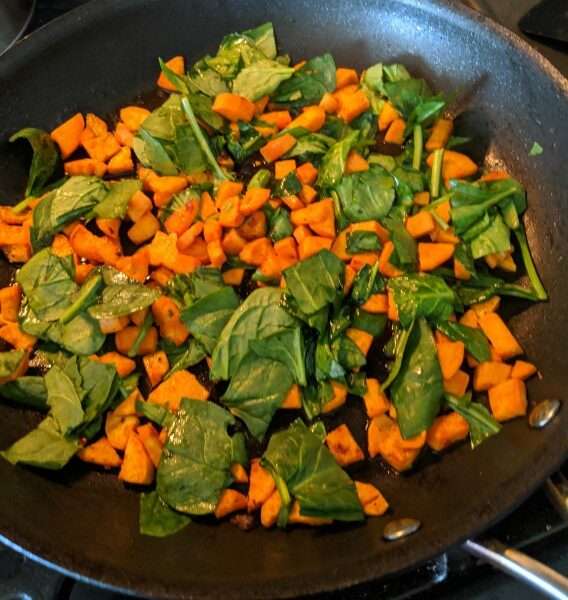 Print Recipe
Spinach and Sweet Potato Omelette
Ingredients
1

md

Sweet Potato

Olive Oil

or oil of choice

2

Eggs

¼

tsp

Salt

¼

tsp

Pepper

dash

Turmeric

handful

Spinach Leaves

torn
Instructions
Heat some oil in a pan, about a Tablespoon or so.

Peel and chop the sweet potato into bite size pieces while the oil is heating up. This will also help the sweet potato cook faster.

Add the chopped sweet potato to the pan, stir often.

Crack eggs, add spices, and whisk. You can vary your spices here to your liking, this is just what I use. Set aside

One the sweet potato has browned a few minutes, you can add the spinach. It will cook and wilt quickly.

After about 30 seconds, pour in the eggs. Don't stir, allow them to settle and flip when cooked on the bottom.

Divide in half and serve. Top with hot sauce, more seasonings, cheese, or other toppings of your choice.
Love spinach? Bought some and looking for some recipes to use it? Check out these recipes that use spinach.
What's your favorite breakfast to make? Let us know in the comments!
---
Connect with us on Social Media:
---