Creamy Jalapeno Hummus – A Spicy Treat
Hummus, the creamy dip perfect with vegetables, bread, crackers, and more. We love hummus; however, never thought to actually make it ourselves.
There is a debate as to whether or not this dish is Greek or Egyptian. According to the website The Spruce Eats, historically hummus is probably Egyptian in origin. There are mentions of hummus back in 13th century Egypt, which apparently are the earliest mentions of this dish.
Historical documents show a dish, very similar to the hummus we eat today, being consumed in Cairo in the 13th century.

Is Hummus Greek or Middle Eastern? – Saad Fayed – The Spruce Eats
I finally decided to start searching the web at recipes to see what appealed. Finding a couple recipes I liked, I then decided to combine what I had on hand to create this creamy snack.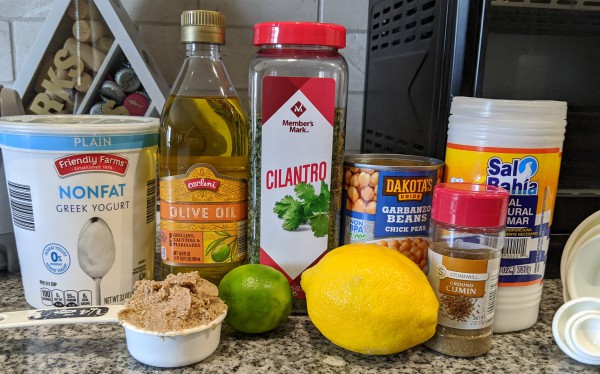 Looking around, I had garlic, Greek yogurt, olive oil, cumin, canned chickpeas/garbanzo beans, salt, lemons, and limes. I just needed the peppers and sesame seeds for the tahini. My original intent was to roast a red pepper to blend in; however, Matt suggested jalapenos.
The process:
I started by roasting the jalapeno and garlic cloves in the oven at 425° for about 15 minutes. I pulled them out part way through to flip everything over so they toasted nicely.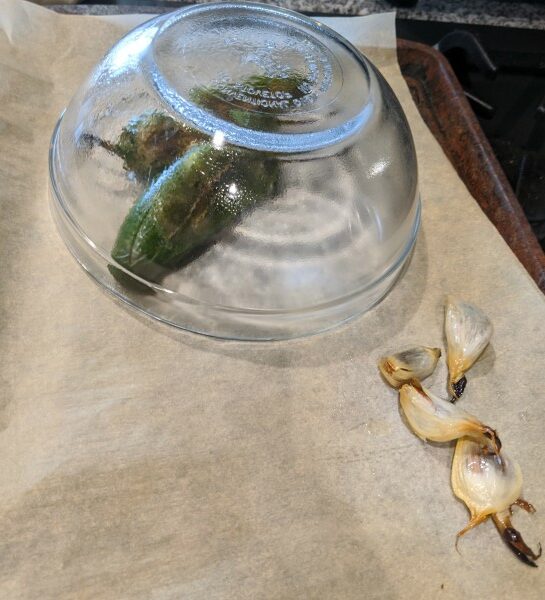 Once they were done roasting, I pulled the garlic aside and placed a glass bowl over the jalapenos to allow them to sweat a bit.
Allowing the peppers to sweat a bit makes peeling the skin off so much easier. Let that sit a few minutes while you work on everything else.
Now you'll want to make the tahini. You can purchase some, but I chose to make it. Check out this recipe if you choose to make it.
While the peppers sweat, drain the chickpeas from the can, rinse them, and add all ingredients to the blender or food processor. I sliced the jalapenos after removing the skin and kept the seeds in, you can remove the seeds for a bit less heat. Pulse or blend until you get to a creamy texture.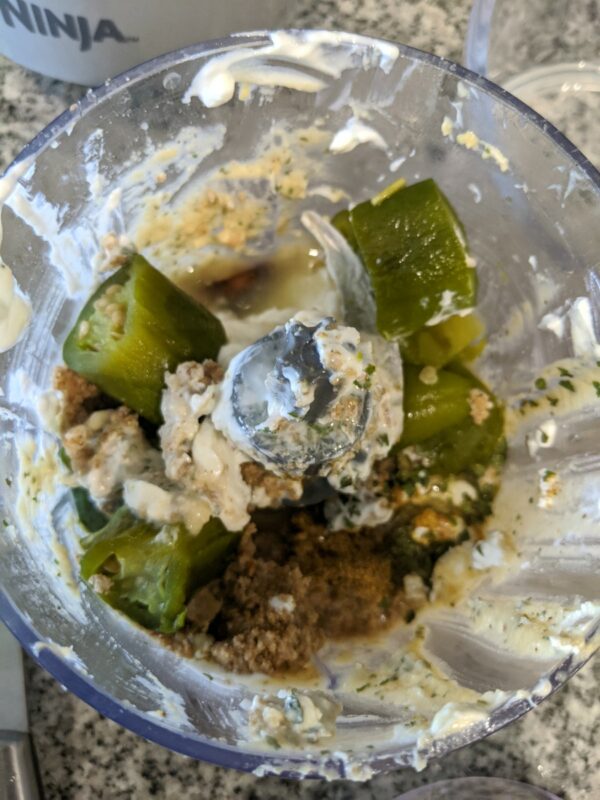 I find it to be best when fresh, but you can keep in the fridge for a bout a week or so, if you don't finish it before then.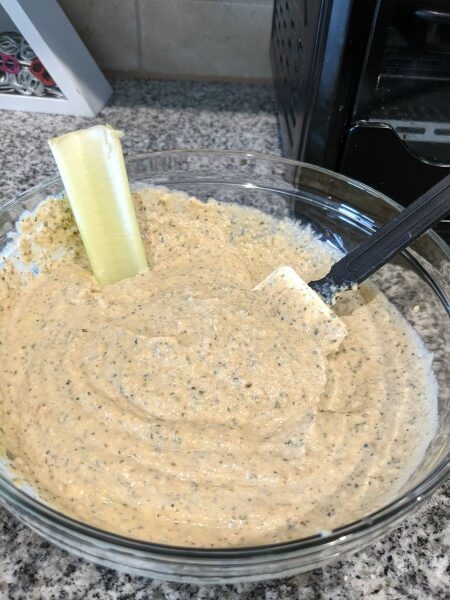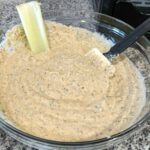 Print Recipe
Creamy Jalpeno Hummus
Equipment
Food Processor or Blender *see notes for link
Ingredients
1-2

whole jalapeños depending on level of heat desired

4

cloves

garlic

1

15 oz

can chickpeas

slightly drained

4

Tbsp

Greek Yogurt

or 1/2 of an avocado

¼

cup

tahini

1

medium lemon

1

medium lime

¾

tsp

sea salt

1

tsp

cumin

3

Tbsp

olive oil

or whatever oil you prefer

¼

cup

dried cilantro

or 1 handful fresh chopped cilantro
Instructions
Preheat oven to 425° F (218° C)

Place garlic cloves with skin still on and jalapeños on a baking sheet. Drizzle garlic cloves with a small amount of oil and roast for 15-18 minutes, flipping halfway through. Check the garlic at this time to make sure it isn't roasting too much. If using already minced garlic, add at this time.

Place jalapeños under a glass bowl to steam. After a few minutes, peel away skin. Remove seeds if you want to. You should be able to easily peel the garlic after roasting.

Juice the lemon and lime.

To a blender or food processor, add chickpeas, oil, cilantro, Greek yogurt, salt, cumin, lemon and lime juices, roasted jalapeños, tahini and peeled garlic cloves .

Blend until creamy. Adjust seasonings to taste.
Do you like hummus? Would you attempt making it yourself? Let us know in the comments below!