Here's What we Ate in Australia:
This month we went to Australia. What an amazing trip!!! In this post, we are going to share what we ate in Australia! Some foods have their own posts, and some we don't have the words for a full post, but they deserve a mention nonetheless. All based on our own experiences.
In regards to the trip itself, you can read all about our adventures in the post: "We Went to a Land Down Under."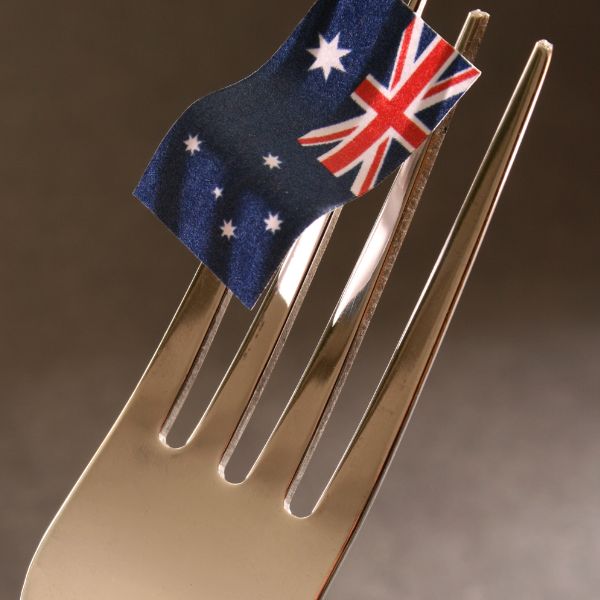 What is Australian Cuisine?
Australian cuisine in the 21st century reflects the influence of globalisation, with many fast-food restaurants and international trends becoming influential. Organic and biodynamic foods have also become widely available alongside a revival of interest in bushfood. Australia has become famous for the high quality of its exports, with major agricultural industries including cattle and calves, wheat, fruit and nuts, vegetables, milk, sheep and lambs (for meat and wool), poultry, barley, canola. The country is also well regarded for its locally-made wine, beer and soft drinks.

https://en.wikipedia.org/wiki/Australian_cuisine
I didn't find a distinct "Australian Cuisine" as it was in fact a global conglomerate but, regardless, the food was amazing. I've chosen to highlight a few things we enjoyed.
What We Ate in Australia- The Posts
These are the foods we enjoyed which got their own posts, so I'll leave the descriptions to the posts themselves.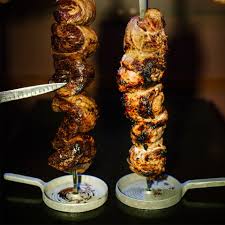 What We Ate in Australia- Honorable Mentions
I think all of the below foods deserve a mention in this post. They weren't meals we could gather an entire post around for each, but we think you should see them anyway. Enjoy!
Schnitz – Cairns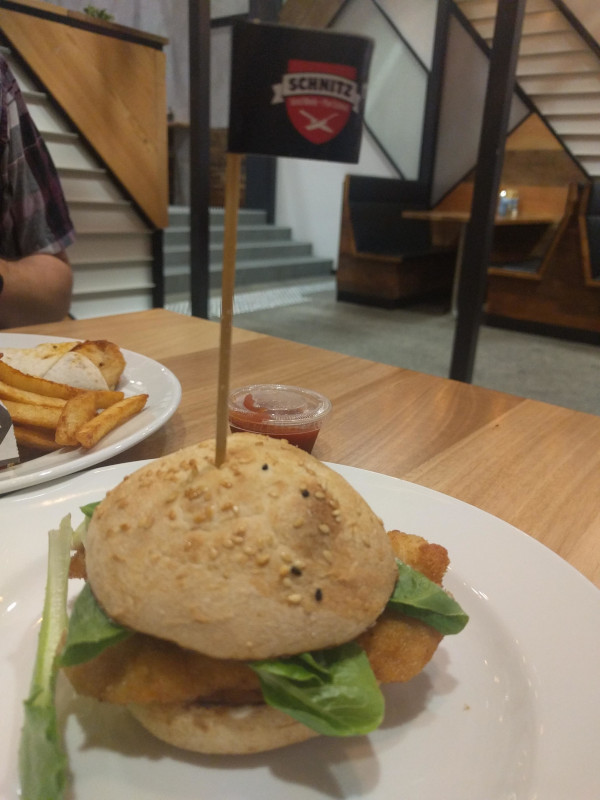 After a long day of travel, we arrived at our hotel in Cairns, and ventured out for a bite to eat. Along the water is the Esplanade (or maybe thats the name of the street). There were a variety of restaurants with outside seating and that excellent laid back beach nightlife beach vibe. We browsed all of the restaurants and decided upon Schnitz. With almost 80 locations throughout the country, you'll be sure to find one no matter where you are in Australia.
Schnitz has a variety of wraps and sandwiches on their menu, along with sides and salads.
I opted for the "Basic Instinct". This sandwich consists of Schnitzel, lettuce, and mayo. After a long day of travel, I wasn't sure if my stomach was ready for anything too crazy. It was delicious and satisfying.
And then I forgot to take a photo of what Matt got. Neither of us remembers, but it looks like he had some fries…or chips as they say.
Check out their website for more!
Hungry Jack's – Cairns Airport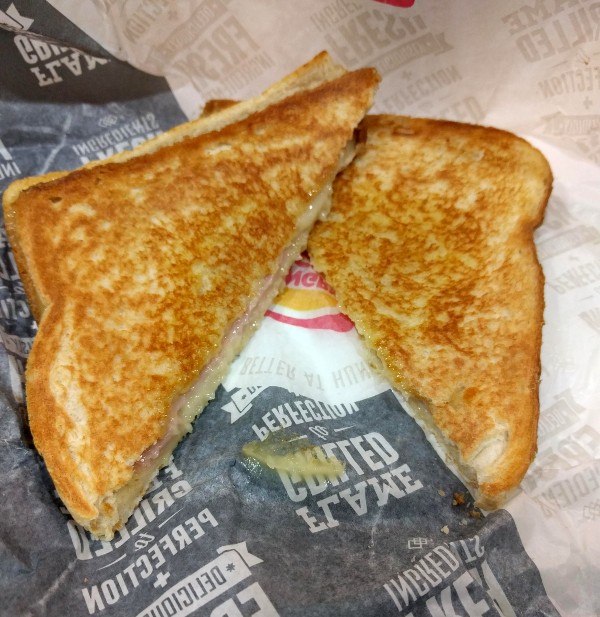 If that logo looks familiar, its because what we know in the US as Burger King, is known as Hungry Jack's in Australia. While I don't particularly condone eating fast food abroad, we were at the airport, and it was quite early in the morning.
Never sure how a flight and possible turbulence will affect me, I went with a simple grilled ham and cheese sandwich for breakfast that day. It was everything I needed in that moment. So, if you catch yourself hungry at an Australian airport early in the morning, Hungry Jack's has got you.
Check out their website to see how their menu varies from the American Burger King menu, or the Burger King menu wherever you may be.
Reuben & Moore – Sydney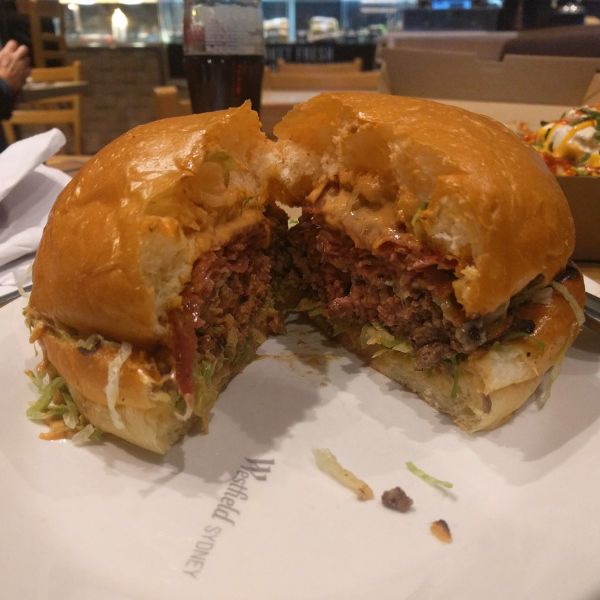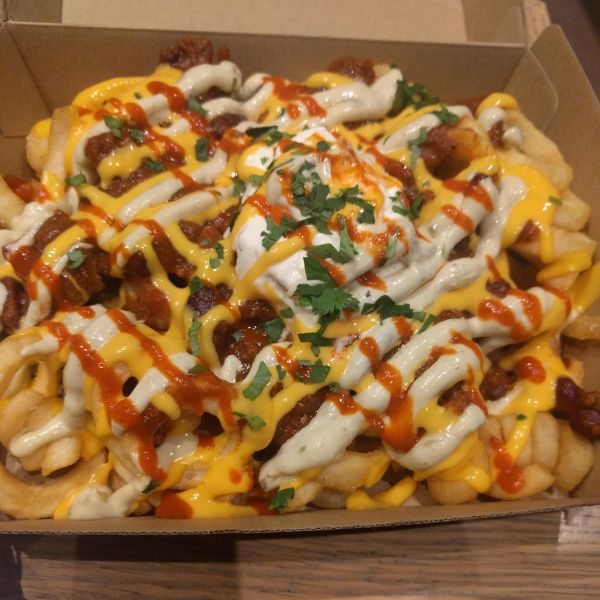 Unfortunately this restaurant has permanently closed. But I still want to show the delicious bites we shared.
The Reuben Burger
Thankfully I came across a blog post from another food enthusiast, Chopin and My Saucepan, who visited Reuben & Moore. I cannot pass up a Reuben, ever. The Reuben burger was something we both agreed we HAD to have! Described on their menu as Wagyu beef burger, swiss cheese, pastrami, lettuce, and chipotle mayo, this burger was outstanding.
Loaded Curly Fries
I mean, look at them.
Romeo's IGA Food Hall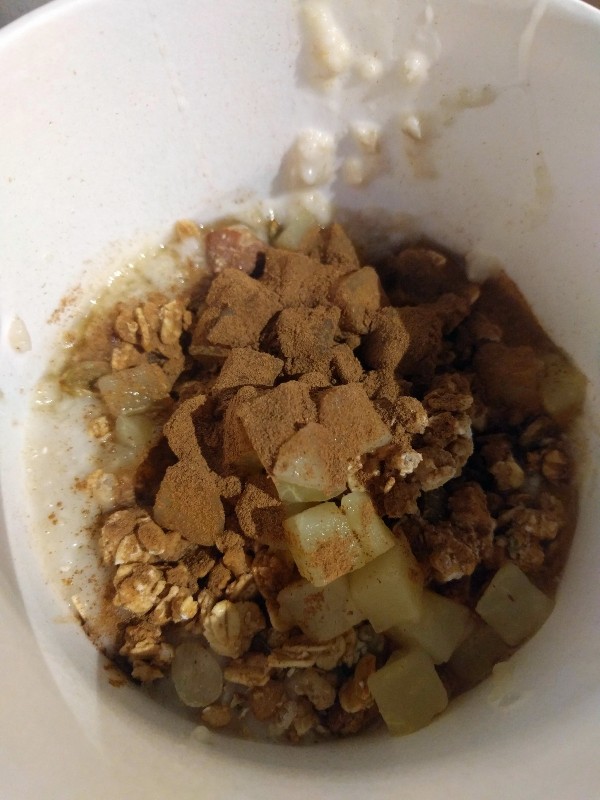 This particular food stop was located at one of the food stands at the train station near us. I was intrigued by the IGA sign we could see from the street.
IGA was a small chain of stores in Pennsylvania when we were growing up. It was a nice nostalgic moment to see a store of that name.
Throughout the area to the train stop are a variety of shops, one of which was serving oatmeal cups. I went for the apple cinnamon, because it is my favorite oatmeal combination, it was also topped with granola. I received all contents in the cup and snapped this photo before stirring. It was the perfect quick breakfast for our busy day ahead touring the Sydney Cricket Grounds and Allianz Stadium.
Don't ignore the subway/train stop shops, you may find the breakfast you didn't know you needed.
Roll'd Vietnamese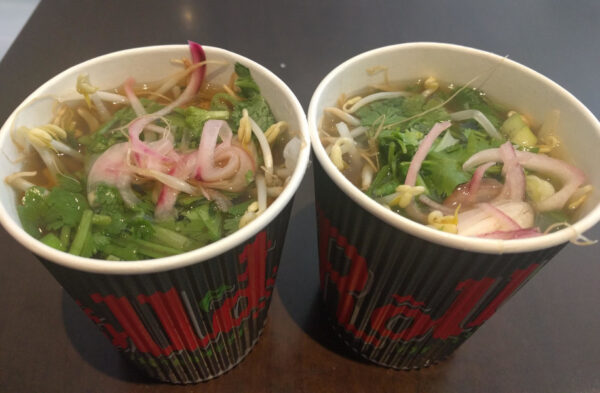 Knowing that we would be making Pho eventually in our Journey Around the World via Food, we decided to try it when we passed Roll'd on our last day.
Actually, we had it for breakfast. Soup for breakfast, something I often enjoyed as a child on random days.
It was a nice explosion of flavors, we went with the Mixed Beef and Chicken, not too adventurous, we went for the same order. It was a perfect introduction to the dish and made us more exciting for the months to come when we would make it ourselves.
Sydney Airport Air New Zealand Lounge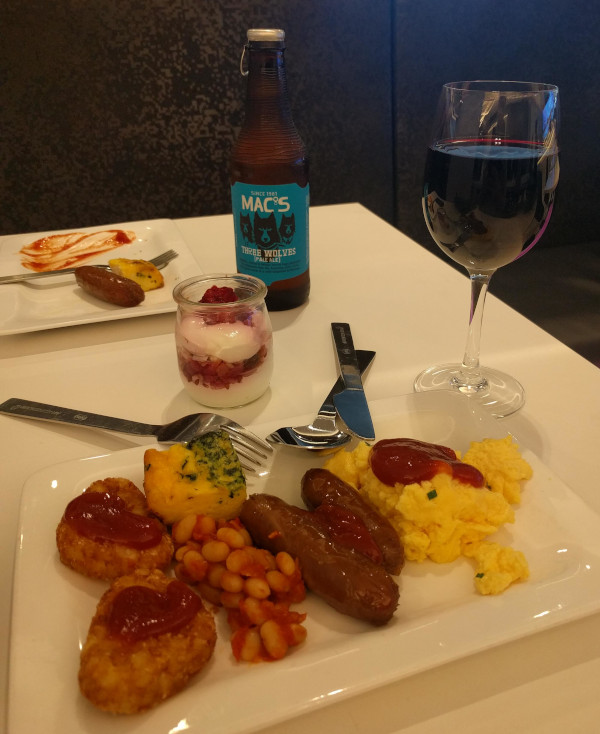 So we flew to and from Australia First Class on United Airlines. At the Sydney Airport, United doesn't have it's own First Class Lounge, but they do have the use of the Air New Zealand Lounge.
Sad to be ending our vacation and leaving the most wonderful place, our disappointment was eased slightly by the free amenities in the lounge. The lounge itself was full, so I felt it would be rude to take photos or video.
I did however, snap a photo of our plates. A variety of breakfast food was available to us, it was around 8:30am. In saying that, yes that's wine and beer, it's an airport, there are no rules. Well in regards to what you can eat or drink that is.
I enjoyed a breakfast of potato crisps, beans, sausage, scrambled eggs, and what appeared to be a quiche like dish with spinach. The fruit and yogurt parfait was the perfect sweet ending prior to our departure home.
Sydney Airport Air New Zealand Lounge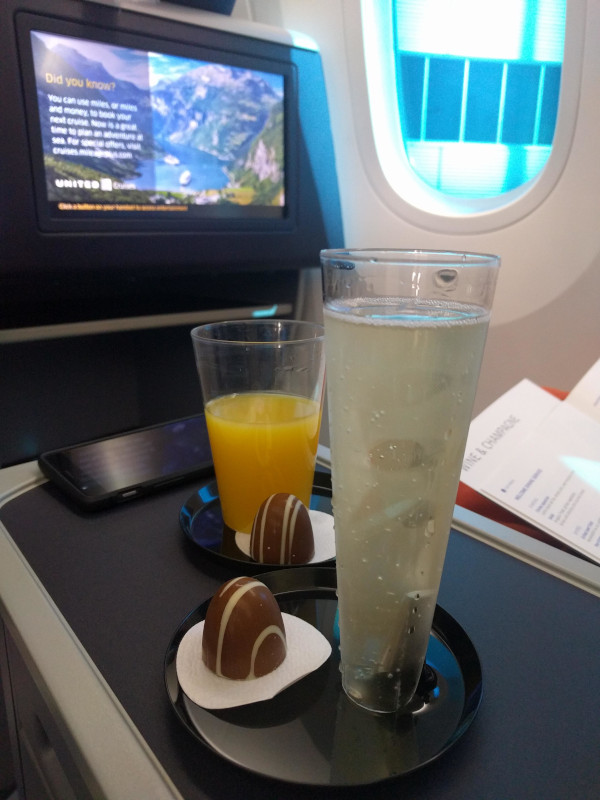 The last food and beverage we would enjoy in Australia. This was our preflight champagne toast. Matt isn't a fan of champagne, so he opted for a glass of orange juice.
On the plate with our drinks was a chocolate covered Macadamia Nut. The perfect ending to the perfect trip.
---
Have you been to Australia? Where did you eat? What are your recommendations? We can't wait to go back some day and experience so much more.
---
Connect with us on Social Media:
---