Bushfire Grill markets themselves as a "Brazilian Inspired Australian Style BBQ Experience." This was an easy call for dinner on our second night in Cairns – April is Australian month, and I love Brazilian BBQ. The fact that it was inside our hotel helped make it an even easier decision. On top of that, one of the things we definitely wanted to try in Australia was kangaroo, so it was easy to get this out of the way early in case we enjoyed it and wanted to have it again (keep reading for details).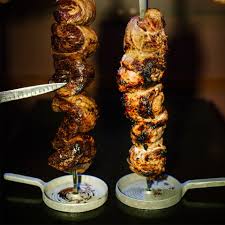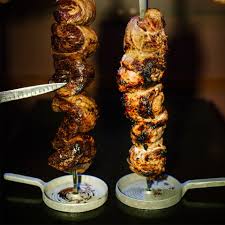 If you've ever been to a Brazilian BBQ before, you know what the general idea is – but for those who don't, it's very simple.  It's an "all you can eat" buffet, mainly of several different kinds of meats, where they carve the meats at your table off of large skewers.  There's a small hourglass shaped wooden block on the table that allows you to indicate if you'd like them to keep coming with the meats, take a momentary break, or if you're finished.
Bushfire actually operated slightly different from other Brazilian BBQ restaurants I've been to, in that they brought out each different kind of meat on the menu just once, followed by grilled pineapple.  After we got to sample each meat, they then asked what we wanted more of – and from there we were given as much as we wanted of those meats.
What else was there?
In addition to that, there were unlimited amounts of several different side dishes – saffron rice, potatoes au gratin, and a Brazilian style bean stew along with Brazilian style cole slaw. The potatoes were amazing, but I contend it's very difficult to have potatoes au gratin that aren't amazing. That may be my love of cheese talking, but it's my opinion nonetheless. The saffron rice was also quite good, but the bean stew and cole slaw didn't really interest me.
The different meats available were (without getting into details of the ways they were prepared) were Beef, Lamb, Chicken, Pork, Sausage, Seafood, and (of course) Kangaroo. If you're interested in the ways they were prepared, you can check out the Bushfire's entire churrasco menu online.
The chicken was very good, but the real hits for me were the beef and pork.  They were out of this world.  The lamb and sausage were alright, but not nearly as mouth-watering as the beef and pork.  The seafood wasn't really my cup of tea, but Lora did enjoy it.
We ate the national animal of Australia…..
Then, there was the kangaroo.  It was a running joke while we were in Australia (at least from a few people we met along the way) that they are one of the few (if not the only) population that gleefully eats their national animal.  I'm sure it's a cultural thing, but I'm really not sure why – it was rather dry and chewy to me.  Not my favorite by a long shot.  Needless to say, we probably won't be eating kangaroo again – but it definitely was something we needed to try.
All in all, I definitely recommend Bushfire Grill if you are a fan of Brazilian style BBQ – if not, I feel like there are probably other restaurants on the Esplanade that might be more worth your time if you only have a few days in Cairns (as we did).
Check out the rest of our Australia experience!