On our last full day in Australia, we decided to wander around Sydney and try smaller bites of pretty much any food we could find that we had either never had before or was definitely or possibly somewhat Australian. I'll break these down into their own individual posts, but for the first one I'll discuss the Vanilla Slice.
A Vanilla Slice came up as the most mentioned Australian dessert item when we were looking for Australian food, so we decided to split one before lunch.  We actually had tried to get a Pistachio Slice the night before, but by the time we got back to the restaurant to try it they had sold out for the day.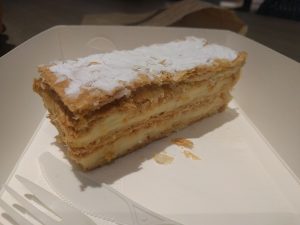 The first thing I noticed was that a Vanilla Slice is basically a Napoleon, which I always thought was a French pastry. It also tasted like exactly the same pastry as was used in the Sausage Roll and Meat Pie from the night before (different restaurant, but almost exactly the same pastry), with vanilla custard layered in with the pastry, and vanilla icing of sorts on top.
It was very, very difficult to eat. Much more so than I remember Napoleons being. It was basically impossible to cut, and impossible to pick up and take a bite of without the entire thing falling apart in our hands – which made it very difficult to share. The entire thing was delicious, but just very sloppy. That alone made me uninterested in eating them very often, despite how delicious it was.