Baklava Beer, with a side of Baklava
Long before we had the idea to do our journey around the world via food, we were craft beer aficionados. One of our favorite Southern California breweries is Bottle Logic Brewing in Anaheim. This month we pair their Baklava Beer with a side of Bakalva.
Bottle Logic Stasis Project
Approximately once per month, they release a new beer from what they call their "Stasis Project". This is a special line of limited edition beers.
The February 2017 monthly Stasis Project release is Byzantine Vision: a baklava inspired beer. This is an amazing coincidence for us, since February of 2017 was our Greek food month. The stars aligned perfectly for us on this one.
Knowing that we were going to be eating at a Greek restaurant the following day, I mentioned that we needed to take our Baklava to go. We could see how the beer paired with the actual dessert that it was inspired by. An idea was born.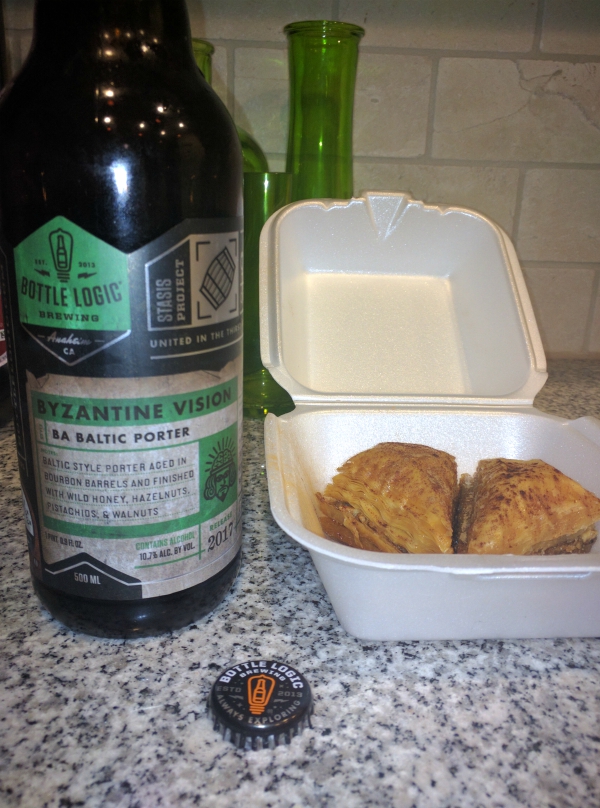 The Baklava
Pangaea's baklava was much, MUCH less sticky. It was less drenched in honey than Daphne's was, but with just as much sweetness. I'm not sure how they pulled that off, but it was much appreciated. It kept my hands from sticking to everything in my way from the plate to the sink. And then some, since I would have left a film of honey on the glass from the beer as well.
Baklava, a dessert with both Greek and Turkish origins, has a very involved process.
The Baklava Beer
I have loved pretty much every beer that Bottle Logic has ever released. Byzantine Vision; however, not as much. It's still a good beer by itself, just not as easily drinkable as most of their other beers. When we stopped at Bottle Logic to pick up our pre-ordered bottles, we also did a taster of the beer that night to get a feel for the flavor. I personally find the nutty taste to be a little overpowering for my liking.
The baklava cut down on the overall nuttiness of the beer, as we hoped it would. The portion of the beer we drank while eating the baklava was infinitely more drinkable.
Again, the beer by itself is still very good. In my opinion, just not as good as the majority of other beers I've had from Bottle Logic.
One thing I've learned from this, as it relates to beers rather than food, is that I really am starting to prefer IPAs rather than barrel aged beers. I do love barrel aged beers. But, if I had to choose what I'd drink on any given night, I'd go with an IPA over a barrel aged option. The exception being an extremely rare barrel aged option I might never have the chance to try again.
Untappd
Instead of rating it a 5/5 stars, I'd probably give it 4/5. Drinking it while eating baklava would get that rating up to at least a 4.5, if not higher. It really did make that much of a difference.
Untappd Ratings:
Final Thoughts
As far as food, it's going to be tough for another month to top February. It's going to be tough to top Greek food. Especially the Greko Burger and baklava. I look forward to what future months hold, though!
Check out our other beer posts.