Saranac Irish Roots 12 Pack- Beer Review
When I saw the Saranac Irish Roots mixed 12-pack at BevMo a few weeks ago, during our Irish month food celebration, I of course had to pick one up since it combines both our food of the month and our love of craft beer. Also, Saranac Pumpkin Ale is one of my favorite beers, so I was excited to try four of their other beers.
Unfortunately, I was mostly disappointed.
Of the four beers in the package, the Irish Stout was my favorite. This is strange, because I'm not really into darker, heavier beers at the moment. By far I prefer more hoppy beers, which explains why the pale ale was my second favorite.
Overall, each of the beers was nothing special. Very basic, very bland, and very ordinary.
Here were my Untappd ratings (on a 1-5 scale) for each of the four beers in the package:
Irish Red Ale: Matt 3.0/5 Lora 3.5/5
Irish Lager: 3.0/5
Pale Ale: 3.25/5
Irish Stout: 3.75/5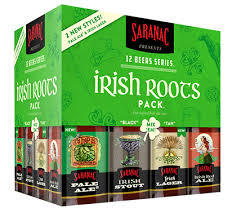 I wish I could give more detailed reviews, but nothing really stood out about any of the four beers for me to write about. As I said, I was mostly disappointed, with the exception of the Irish Stout. If you're looking for a basic mixed 12-pack of Irish beers, I suppose you could give this one a try – just don't expect to be blown away.
We have a few other beer posts you can check out.