Thornton Winery – Located in Temecula's Wine Country
It's a lovely Sunday afternoon, we decide to go use the benefits of our Wine Club membership at Thornton Winery. Membership? Wineries offer memberships which allow patrons special access to events and discounts on site. Memberships vary by winery, some benefits may appeal to you more than others. We chose this winery based on the awesome staff and the delicious wines offered.
What drew me to Thornton was their sparkling collection. Matt is a fan of the chocolate wines.
Thornton Winery is located in Temecula Wine Country in Southern California. When most people think California wine, they think of Napa. There is so much more to California wine though. Temecula Wine Country features over 30 different wineries. Each with their own unique style and aesthetic. If you enjoy learning about wineries and regions, check out this book by Marge Bitetti – Southern California Wine Country Through Time – The Vineyards and Wineries of Temecula.
Thornton's website.
With our Wine Club Membership, we receive two bottles of wine every other month. Whenever we stop by, we can get a free flight or glass tasting. In addition to that we also get a discount when we purchase anything in the store, including bottles of wine!
I love their champagne flight. Matt isn't so much of a fan of the bubbly stuff as I am, so I always take this opportunity to get myself the champagne flight pictured below: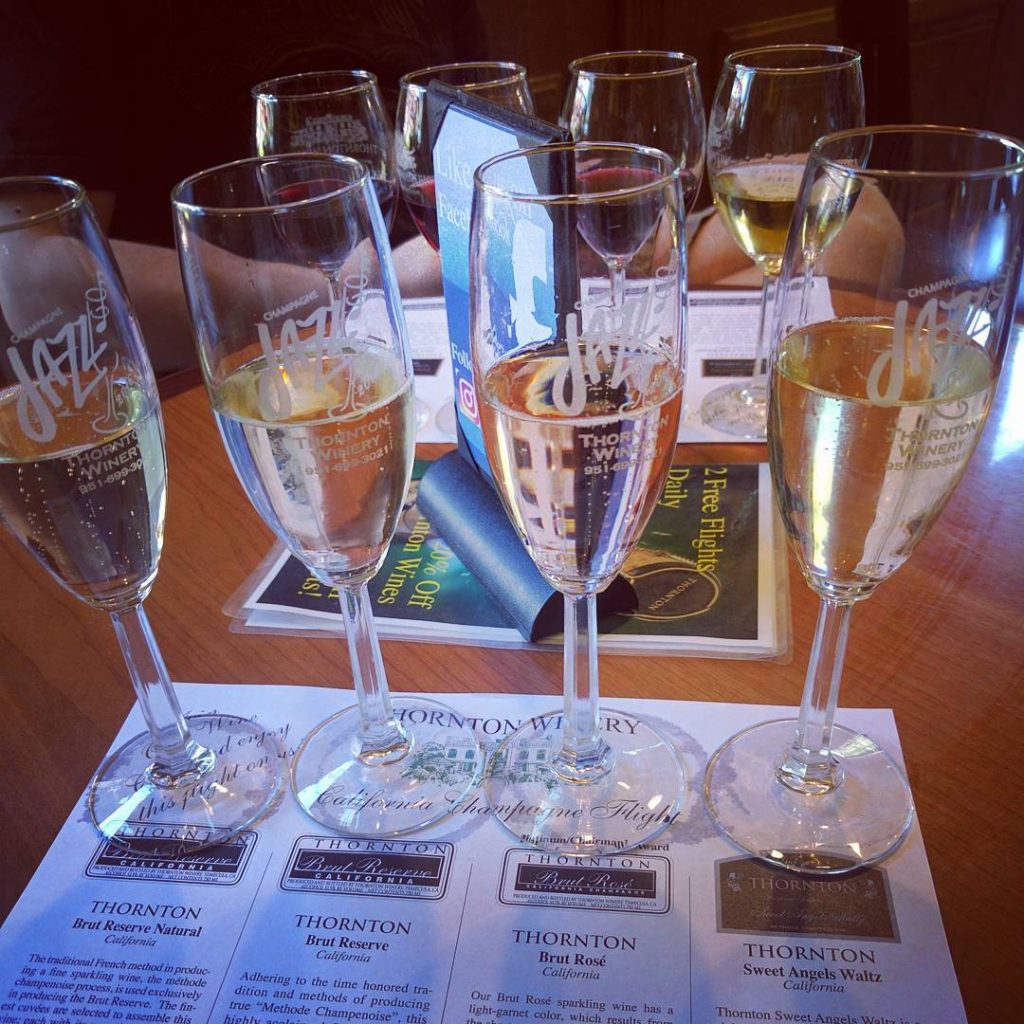 What was super cool was that I posted this picture on our instagram account, someone from Thornton saw it and brought us a free glass of wine! They are so attentive when you are there, the staff is knowledgeable and friendly. If you live in the area or are traveling to Temecula, we highly recommend stopping by Thornton and the other wineries of the Temecula Valley!
Find out more about Thornton's Wine Club here.
We do love checking out wineries and breweries. Find more beverage related posts here.
---
---
Connect with us on Social Media:
---