Our Third Year on This Crazy Adventure
In 2017 we made the decision to join the Host Family Program for our local minor league baseball team, the Lake Elsinore Storm. We are now in our third year of this program and this is our experience. If you're new to this idea, check out our experiences in our first and second years then head back here. The first explains the program, the second gives our experience during year two of involvement.
New Faces
We had only hosted two players so far, Joey Lucchesi and David Bednar. Both have moved on to greener pastures and bigger things, so it was time to meet some new faces. Little did we know that our third year as a host family would introduce us to not one but three wonderful young men who would all become family.
Steven Wilson
Our first player in 2019 was Steven Wilson, a right handed reliever. Steven received his Master's Degree from Santa Clara University and hails from the Denver Colorado area. A fan of the dogs, like those before him, Steven was most excited to see the pool out back. Steven was friends with the player who was placed next door and they quickly acclimated to life in our neighborhood.
Very personable, Steven fit in immediately. He got into the show Game of Thrones while with us. It's always enjoyable to me to watch other people watching particular scenes for the first time. So I would periodically ask where he was at in the series, just to be around when I knew certain shocking scenes were coming. This must be why those "people react" videos exist on YouTube.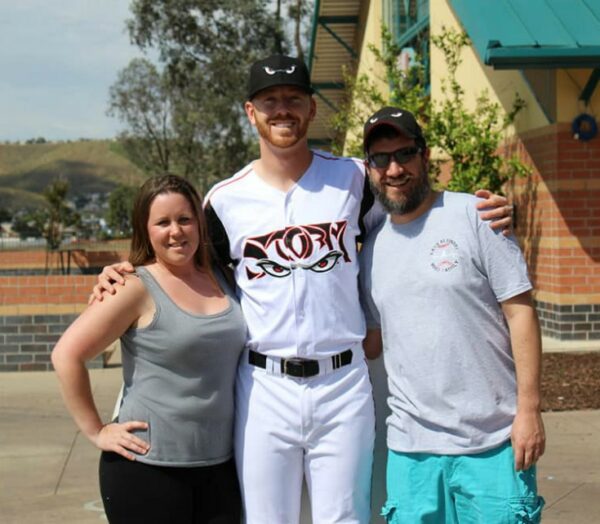 With us until mid June, Steven finished his time with the Storm with an ERA of 0.95. Not only was Steven moved up, but straight to AAA El Paso, Texas. He was going to be a Chihuahua! We happened to be out of state when Steven was moved up so we didn't get to say goodbye at that time. In September though, we flew in after the Chihuahua's season ended to pick up his car which we held for him and grab lunch with us. He also made a stop to see family he had in the area before heading back to Colorado.
Steven ended 2019 with an ERA of 2.67.
Nick Kuzia
A few weeks after Steven moved up and we returned from our trip, I received a text from Host Family Coordinator, Dee. "I have another player if you're ready." Oh, we were. It is so strange during the season to not have a player here. I can't imagine another summer without any players in our home.
Nick Kuzia is a right handed reliever from Connecticut. He is a graduate of the University of Massachusetts, Lowell. A huge dog fan himself, Nick showed us photos of his parents' dogs and the dogs loved him back immediately. Nick is a quiet and easy going guy, I'd best describe his sense of humor as dry. Funny but not outwardly funny at first. He also excels at Rock Band.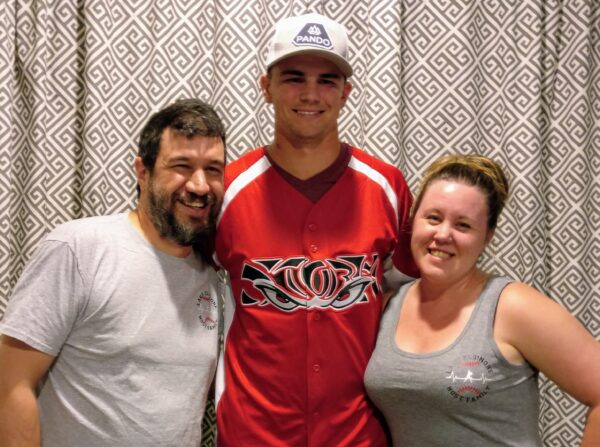 Nick was moved up to AA Amarillo in August. But he did return at the end of the season. In fact, he moved around quite a lot in 2019! Six moves from June-September to be exact.
Nick's Moves in 2019:
6/6/19 Padres Extended Spring Training to Lake Elsinore Storm
6/14/19 Lake Elsinore Storm to Fort Wayne Tin Caps
6/21/19 Fort Wayne Tin Caps to Amarillo Sod Poodles
6/23/19 Amarillo Sod Poodles to Lake Elsinore Storm
8/18/19 Lake Elsinore Storm to Amarillo Sod Poodles
9/4/19 Amarillo Sod Poodles to Lake Elsinore Storm
Those airline reward miles should last him for some time to come. The Storm had made playoffs and needed some extra pitchers come early September. Nick was able to be with the team all the way to the California League Single A Championship playoff game in Visalia. So we ended up saying goodbye to Nick twice in 2019. After three assignments to the Storm, he finished that level with an ERA of 2.20 and a season overall of 4.65.
Gabe Mosser and Six Degrees of Separation
Prior to the start of the season, we browsed rosters from 2018 for A and Low A. We noticed that one player, Gabe Mosser was from Allentown, Pennsylvania. Growing up in Schuylkill County, Pennsylvania, Allentown is less than an hour away! We were hopeful but not expecting that perhaps we may have Gabe in our home this year.
A right handed starter, Gabe is a graduate of Shippensburg, University. He ended his Storm season with an ERA of 4.00 and a season ERA of 4.17.
Gabe was moved up to the Storm in early July of 2019. In what felt like deja vu, Nick mentioned they were friends. We asked if he knew him first, and explained that he was from a town by us. Nick assured us that yes they were friends and were even roommates while playing for a previous team. I asked Dee again, not wanting to step on any toes of other host families waiting for player, could we have a second player. There was an influx of moves around that time, and other families were receiving new players. It was not a problem.
It's a small world after all…
I posted on my own personal social media that we were getting another Pennsylvania player. We received a text shortly after from a friend who is a teacher. This friend also coaches local high school sports. Well, one of his fellow football coaches also coaches little league in the Allentown area. In a Kevin Bacon style 6 degrees of separation turn of events, our friend's colleague was Gabe's little league coach. What a small world.
Gabe immediately felt at home, probably helped by the fact that his friend had already been with us for a month, and hopefully pre informed him of all of our positive attributes. I jest, but yes was immediately a fun experience with the two friends together. Gabe took took to the dogs immediately, as did all before him.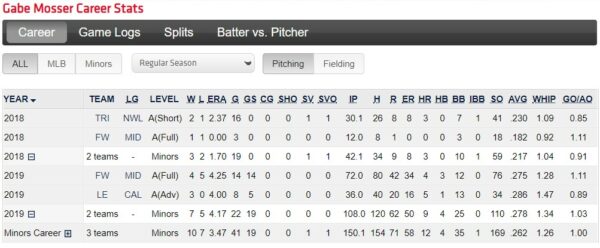 It wasn't just us who loved them
If our third year as a host family taught us anything, its that the dogs love the players as much as we do. They would sit the the players as they watched tv. They would demand to have attention paid to them when the players got home. Nellie, who passed away during this particular season, would wait for Joey to come home then crawl into bed with him. If she heard him interviewed on tv, her attention would turn in that direction. I've never seen a dog so in love with a human before.
I would often find Nick and Gabe playing with our younger, more active pups, Rudy and Fritz, chasing them around the house, or snuggling with them.
I dreaded the quiet to come when Nick and Gabe would be leaving at the end of the 2019 season. Rudy would scratch at Nick's bedroom door and nap in his bed for hours in the weeks to come. We hadn't thought that not only would we be positively affected by their presence but so would the furry members of our household.
What About Joey and David?
As you may remember we began our journey with Joey Lucchesi and David Bednar in 2017. Where are they now?
Joey Lucchesi
Joey Lucchesi, left handed pitcher, was our first player. He stayed with us during the first half of the season, and moved to AA on 7/1/2017. Joey was called up to the Padres for the second game of 2018. 2019 saw him in one of the starting pitcher positions.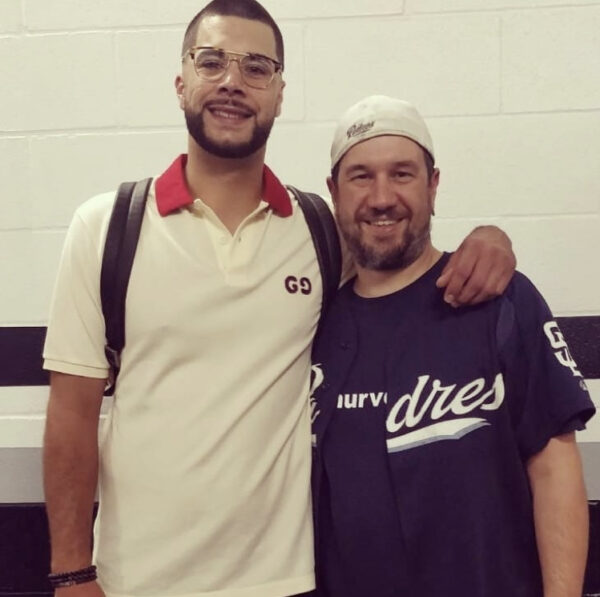 We saw Joey throughout the season, and even got to visit the tunnel that runs under the stadium where the players leave the clubhouse from to exit the facility. That was quite an experience itself to see Wil Myers, Manny Machado, Eric Hosmer up close. Yes we know a major league player (now two, spoiler for below), but it was still quite thrilling.
David Bednar
Right handed reliever, David Bednar, came to us in late June 2017. Joey mentioned his friend was moved up and asked if he could stay with us too. After we received permission from the host family coordinator, we got in touch with David. David stayed with us in 2018 as well. When the High A Lake Elsinore Storm season ended in 2018, David assumed he was headed home for the off season. Not the case. They moved him up to AA to assist with playoffs.
David started 2019 in the Padres' new AA affiliate, Amarillo Texas, with the Sod Poodles. He finished his time with them with an ERA of 2.95.
On September 1, 2019, David was called up to the Padres. I woke up to Matt slapping my arm that morning. "DAVID WAS CALLED UP! IT HAPPENED IT HAPPENED!"
Although we weren't able to make his major league debut in San Francisco, we did make his home game debut. A few days later after finishing up a series against the Giants then heading to Phoenix to face the Diamondbacks, the Padres came home. So proud of our "kid".
By the numbers, as of our third year:
3 Years
5 Players
5 Pitchers
4 Right Handed Pitchers
1 Left Handed Pitcher
2 Starting Pitchers
3 Relievers
2 Major League Debuts
See you in 2020!
---
---
Connect with us on Social Media:
---