Baklava – A Work of Love
I LOVE Baklava. When we attend the local Greek Festival every year, I make sure to buy some. It's crunchy, sweet, the sauce is delightfully sticky. Figured I should make some myself while we are celebrating Greece. Though only four ingredients for the main part, this dessert has a very involved process.
See: Greek Food Appreciation for all of our Greek cuisine adventures!
Where Does Baklava Come From?
So, not believed to be Greek in origin, I am familiar with Baklava from the Greek Festival and restaurants. However, Baklava is believed to have origins in the Ottoman Empire. There are documented desserts similar to what we know as Baklava dating all the way back to the 2nd century BC with the Ancient Romans.
"The Greeks and the Turks still argue over which dishes were originally Greek and which Turkish. Baklava, for example, is claimed by both countries. Greek and Turkish cuisine both built upon the cookery of the Byzantine Empire, which was a continuation of the cooking of the Roman Empire. Roman cuisine had borrowed a great deal from the ancient Greeks, but placenta (and hence baklava) had a Latin, not a Greek, origin—please note that the conservative, anti-Greek Cato left us this recipe."

Wikipedia
The Process
For the recipe I used, I chose a jar of mixed nuts. With the amount of variations I figured this would give a mix of all varieties. Using my Ninja, I chopped the nuts, then added the cinnamon.
Working is phyllo dough was a learning process. Because it is paper thin, keep the rest under a damp cloth so they don't dry out. I used a spray bottle to keep the cloth damp, lightly misting the cloth every few layers. You'll place two sheets in the buttered pan, then add more butter, repeat until you have 8 sheets layered. This creates your base. You can start adding your nut mixture from here, not musch just 2-3 tablespoons. Repeat the process with 2 sheets of dough, butter, and nut mix. Your top layer will be the last 6-8 layers, with butter between every two layers.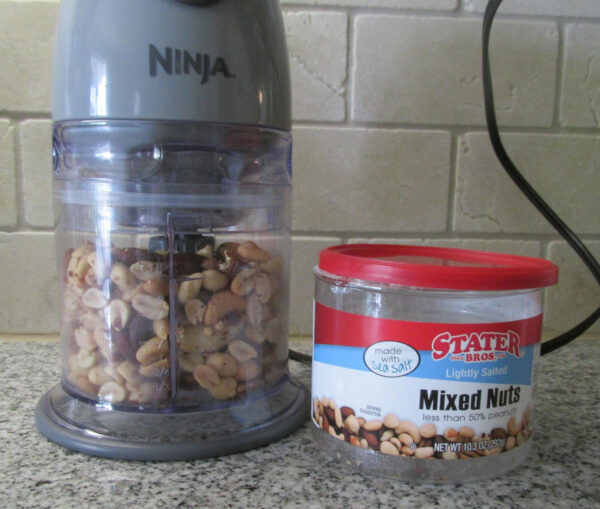 Using a knife, cut your diamond or square shapes all the way to the bottom of the pan, then bake for 50 minutes. While baking, use this time to make your syrup. Bring the sugar and water to a boil and heat until all the sugar is melted. At this time, add the vanilla extract and honey, then simmer for about 20 minutes.
Remove from the oven when finished and pour the sauce over it right away. Then let it sit to cool.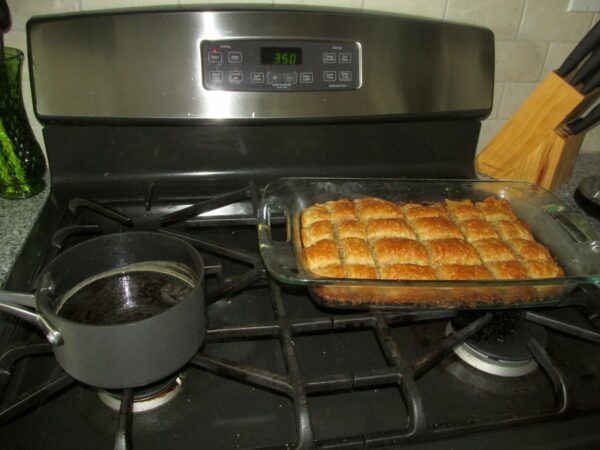 Recipe
As stated below, this recipe is from allrecipes.com. This is based off of the Greek variation of Baklava.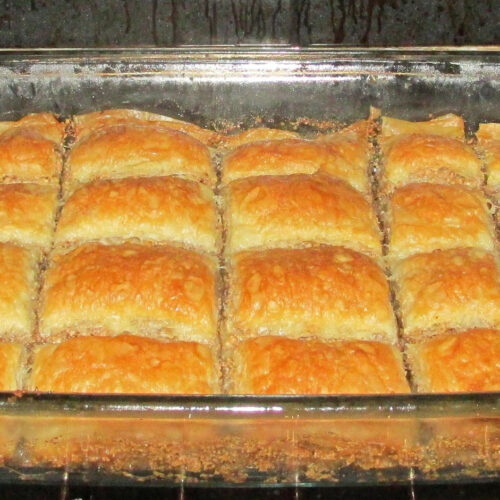 Print Recipe
Baklava
Ingredients
Pastry
1

package

phyllo dough

16 oz

1

lb

chopped nuts

1

cup

butter

1

tsp

ground cinnamon
Sauce
1

cup

water

1

cup

white sugar

1

tsp

vanilla extract

½

cup

honey
Instructions
Preheat oven to 350 degrees F(175 degrees C). Butter the bottoms and sides of a 9×13 inch pan.

Chop nuts and toss with cinnamon. Set aside. Unroll phyllo dough. Cut whole stack in half to fit pan. Cover phyllo with a dampened cloth to keep from drying out as you work. Place two sheets of dough in pan, butter thoroughly. Repeat until you have 8 sheets layered. Sprinkle 2 – 3 tablespoons of nut mixture on top. Top with two sheets of dough, butter, nuts, layering as you go. The top layer should be about 6 – 8 sheets deep.

Using a sharp knife cut into diamond or square shapes all the way to the bottom of the pan. You may cut into 4 long rows the make diagonal cuts. Bake for about 50 minutes until baklava is golden and crisp.

Make sauce while baklava is baking. Boil sugar and water until sugar is melted. Add vanilla and honey. Simmer for about 20 minutes.

Remove baklava from oven and immediately spoon sauce over it. Let cool. Serve in cupcake papers. This freezes well. Leave it uncovered as it gets soggy if it is wrapped up.
Baklava Variations Around the World
I hadn't realized this dish had so many variations. I think I should try them all, don't you?
Armenia
Փախլավա / Pahklava: Usually spiced with cinnamon and cloves.
Azerbaijan
Azərbaycan paxlavası / Paxlava / Pakhlava: Stuffing consists of hazlenuts or walnuts and 9-10 layers, though some varities have many more. Spices used include clove, cardamom, and saffron.
Varities within Azerbaijan include:
Baku pakhlava – Uses almonds or walnuts, 10 layers. Saffron and yolk mix together for the top layer.
Ganja pakhlava – Utlizies almonds, sugar, and cardamom, cooked in a copper tray over a campfire. This variation uses 18 layers of pastry and 8 layers of almond stuffing.
Rishta pakhlava – Topped with Rishta which is made from wheat starch or rice flour.
Guba pakhlava – The top layer is a mix of saffron and a red color additive, making it easy to distinguish by sight alone, This version also uses about 50 Rishta layers..
Sheki pakhlava / Sheki halva – This version uses hazelnut, cardamom and coriander seeds. It also uses Rishta and syrup.
Bosnia
Ružice, in this version, once layers are put together, the dish is rolled up, then sliced in to pinwheels. The recipe I found uses walnuts and adds cloves to the syrup.
Bakalva / Ružice recipe from SBS, an Australian site.
Greece
In Greece, it is popular to use Walnuts as the nut filling. I have seen that it is noted to use 33 layers of phyllo dough to represent the years of the life of Christ.
Iran
This version is dryer and flavored with rose water. For the filling, chopped almonds and pistachios are used. Blogger, The Persian Mama has a beautiful Recipe.
Romania
Known in Romania as Baclava.
Turkey
Turkish Baklava uses pistachios, walnuts, or almonds. Some regions use Hazlenuts.
Thoughts
I thought my first attempt at this intricate dessert turned out quite well. I think next time I'll try one of the recipes above! Which one sounds most appealing to you?
---
Hungry for More?
If you liked this post, here are some other recipes you may enjoy!
Also, be sure to follow us on Pinterest so you can save all of the recipes mentioned on our site!
---
---
---
Connect with us on Social Media:
---