St. Mary's Cathedral – Sydney, Australia
Heading out for the day with some time to kill before our tour of the Sydney Cricket Grounds, we decided to check out St. Mary's Cathedral. It was a short walk from our hotel and after we spotted it from above while at the Sydney Tower Eye, we knew we wanted to see it up close.
Neither of us is particularly religious, though we do have an appreciation for architecture. I do love large cathedrals, both inside and out. St. Mary's is quite stunning and checks the beautiful inside and out boxes.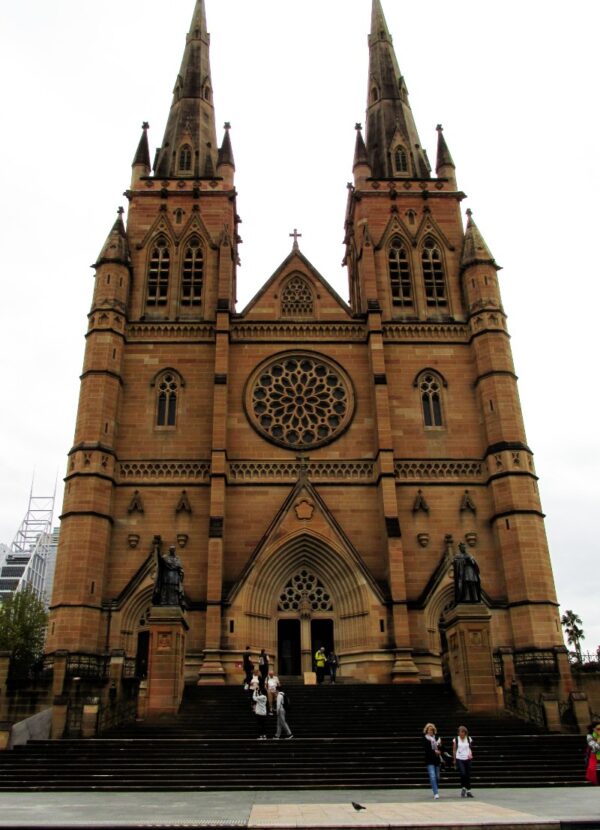 The Establishment of Catholicism in Sydney
In a bit of dark history, Sydney was established as a penal colony by Captain Arthur Phillip in the name of King George III in 1788. Along with prisoners sent from Britain, there was a need for other settlers, many of which being military members with their wives and families. The Church of England, being the main religion, provided their services only at this time. An Irish Catholic priest attempted to come to Australia but was sent home as he traveled without government sanction.
Thirty or so years later two priests arrived to minister to the Roman Catholics in Australia, Father Conolly and Father John Therry. Father Therry claimed to have a vision of a mighty church of golden stone dedicated to the Blessed Virgin Mary raising its twin spires above the city of Sydney. The first chapel was built in 1821, but was destroyed by fire in 1865.
Three years later the foundation was laid for the current Cathedral. 1928 saw the nave completed, and the spires added in 2000. In 1970, the Cathedral was visited by its first Pope, Pope Paul VI celebrated Mass inside the Cathedral.
Outside of St. Mary's Cathedral
We came across and entered the Cathedral at the Main front entrance. The entrance with the spires Father Therry envisioned almost 200 years ago.
Two statues greet you at the entrance.
To the left is Cardinal Patrick Francis Moran. Moran (1830-1911) was the third Archbishop of Sydney. Chosen and promoted by Pope Leo XIII, Moran arrived in Sydney in 1884. During his time he consecrated 14 bishops, ordained nearly 500 priests, dedicated more than 5000 churches, and professed more than 500 nuns. A quarter million people witnessed his funeral procession through the center of Sydney, he is buried at St. Mary's. (source)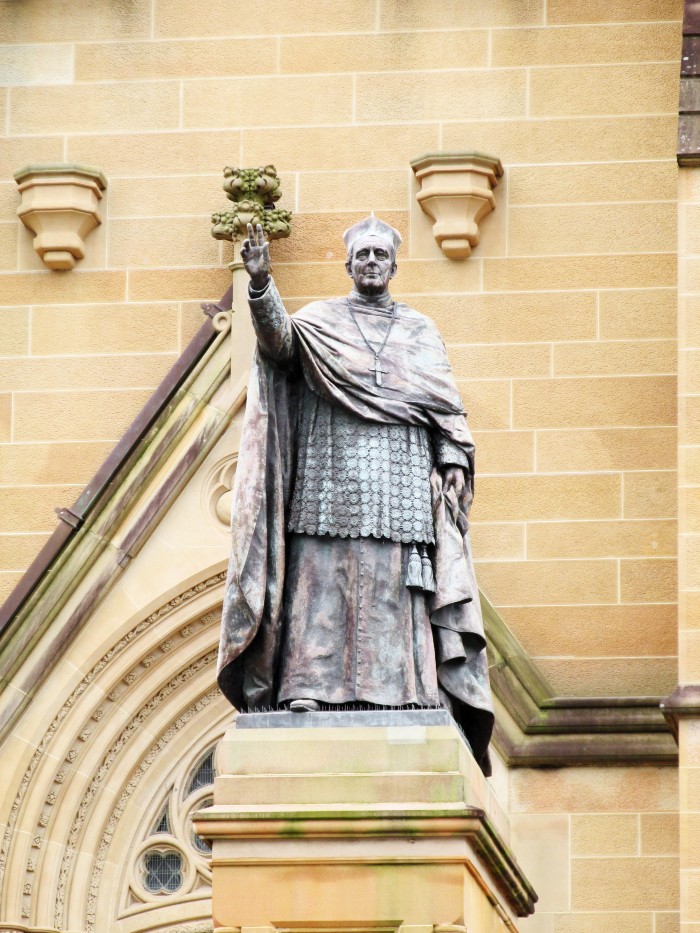 And to the right we have Archbishop Michael Kelly. This statue commemorated his 80th birthday, the completion of the Cathedral, and the celebration of the 29th International Eucharistic Conference. This statue was unveiled in 1933, Kelly lived from 1850 to 1940 and was the fourth Archbishop of Sydney. (source)
We noticed a beautifully carved sign (is that the word I mean?) at the base of Cardinal Moran's statue. It appears to the the dedication of the statue.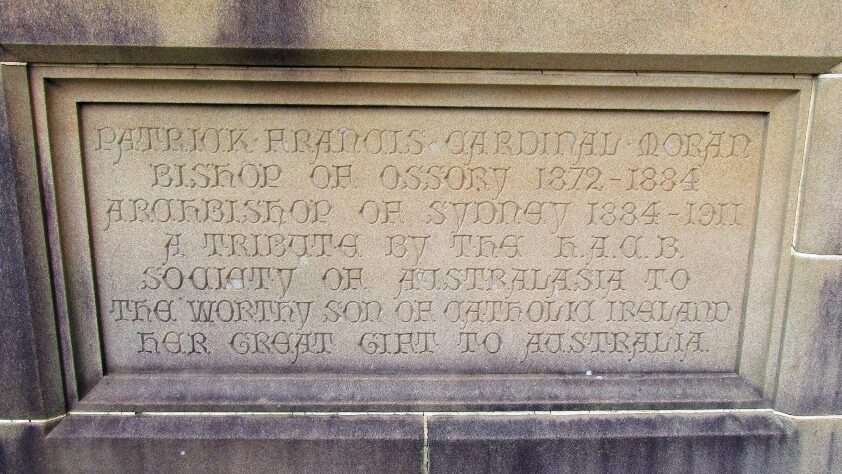 Inside the Cathedral During Holy Week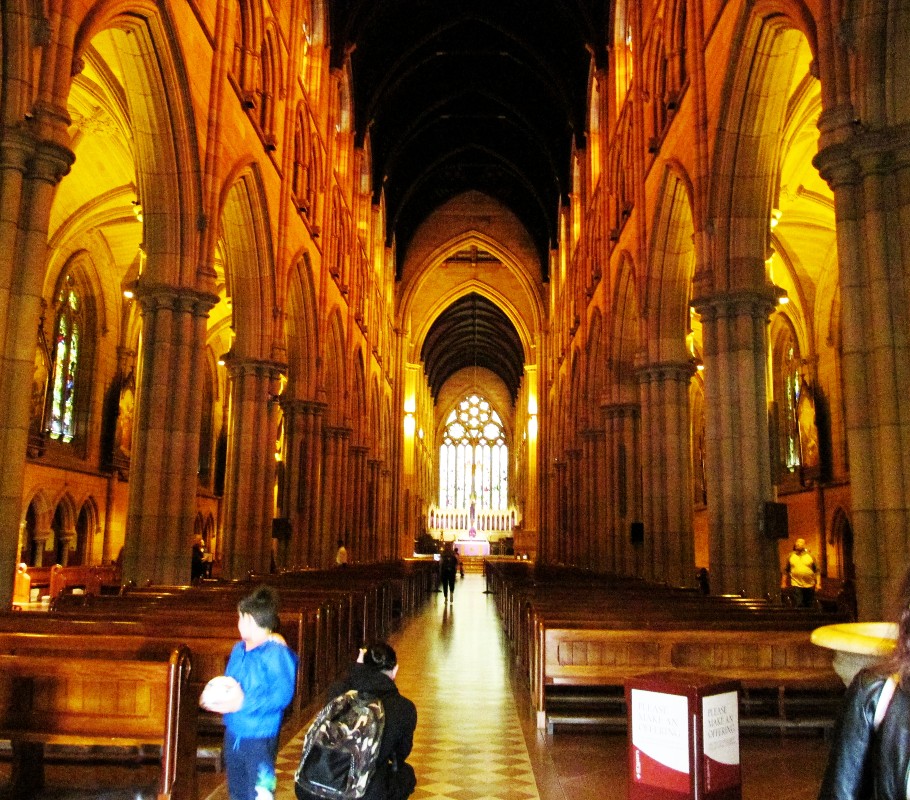 We traveled to Australia the week of Easter, Holy Week. So, you're about to see a lot of purple. During the last two weeks of Lent, Catholic Churches (many? all? let me know) cover the crucifix and all statues and images within churches with purple veils which resemble shrouds. This is in observation of Passiontide, focusing on the events of Jesus' Passion, death, and resurrection. The veils remain in place until after the Good Friday liturgy.
From what I've learned while looking into this, veiling is up to the discretion of the pastor. St. Mary's appears to have only covered statues.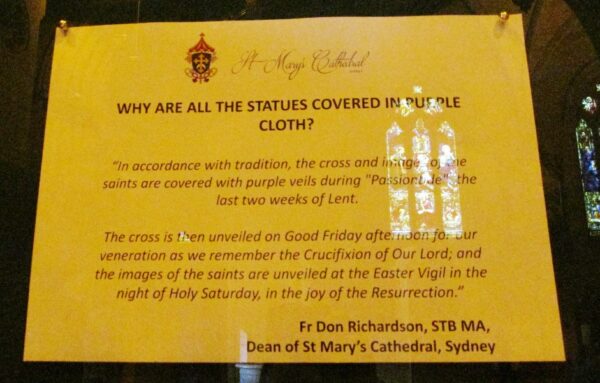 So, here is what we say during Holy Week/Passiontide at St. Mary's Cathedral in Sydney. While we would have liked to have seen the statues we appreciate also being able to experience attendance at the church during this time.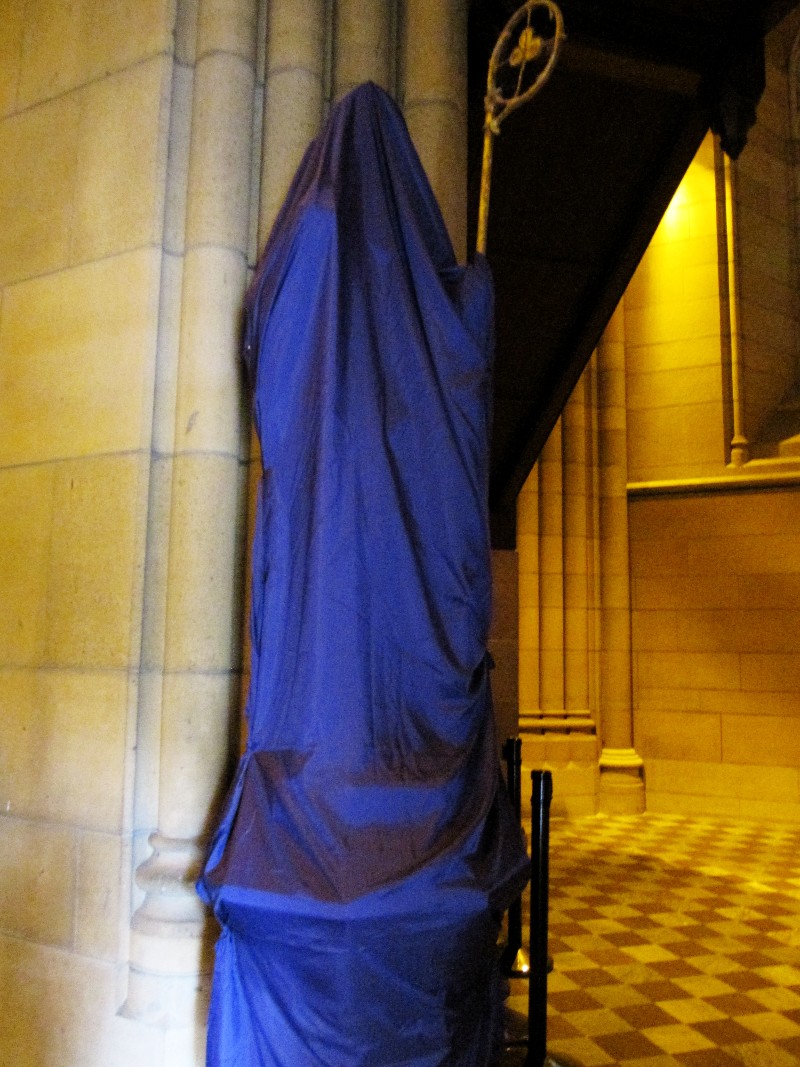 Other parts of the Cathedral were not covered and fully visible.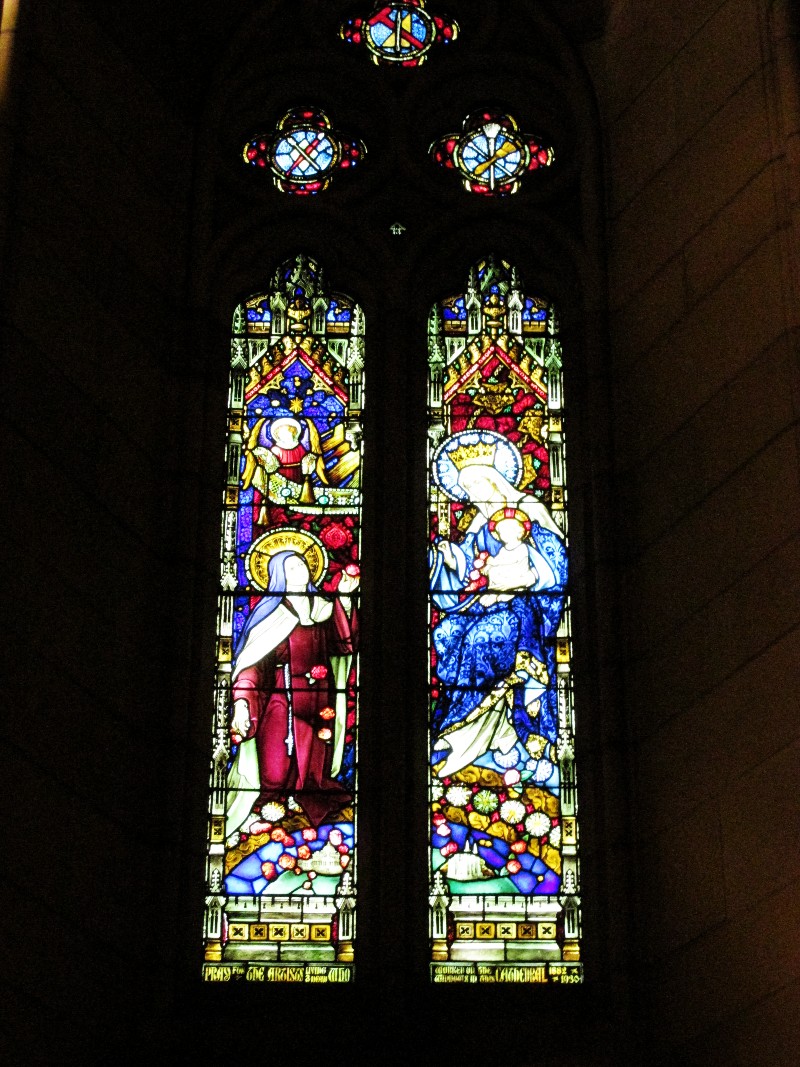 On our way off of the property, we also noticed this statue of Pope John Paul the Great (John Paul II). It was donated to the Cathedral in 2008 by the Italian – Australian Community.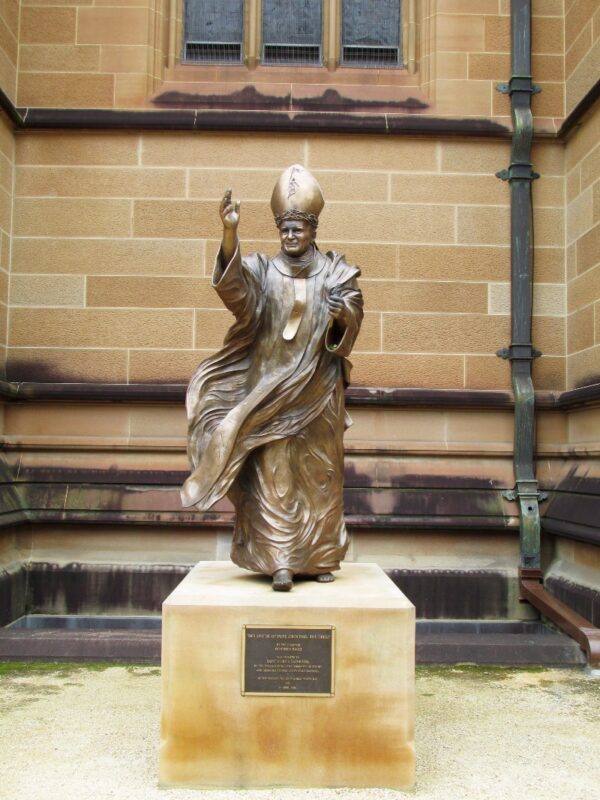 Tours of St. Mary's Cathedral
As per their website, tours are available on Sundays. We weren't there on a Sunday so while we missed the official tour, we did get time to walk around and observe parts of the main chapel. If you do find yourself in Sydney on a Sunday interested in touring the Chapel, we'd love to hear about it!
See more of our Australia posts!
St. Mary's Cathedral Final Thoughts
Again, as I mentioned earlier, we aren't particularly religious but we appreciated the opportunity to visit this beautiful Cathedral. If you get the chance I highly recommend it.
---
Connect with us on Social Media:
---