Hoisin Beef Noodles – Delicious and Simple
Matt saw this recipe on facebook one night in a group he's in and sent to me. Always up for something new, I added it to the calendar earlier this year. This is a great meal that you can probably alter as needed, as we have done with not getting the noodles we need either time. One of these days we will acquire the correct noodles for this dish.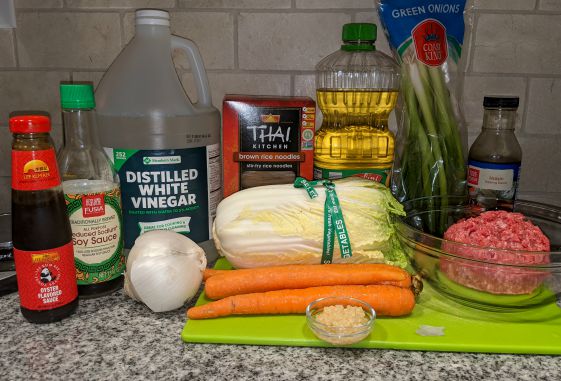 The recipe is from the site Marions Kitchen. Providing the information here, copied directly from her site, check out her full post on the recipe here, along with a print option, but check out her site for her video on this dish and for tons of other recipes. I've already bookmarked the site to check out more delicious options!
Ingredients
2 tbsp vegetable oil
500g (1.1 lb) beef mince
1 onion, sliced
2 garlic cloves, finely chopped
2 cups shredded Chinese cabbage (also known as Napa or wombok cabbage)
1 cup shredded carrot
250g (9 oz) fresh Chinese egg noodles
2 tbsp oyster sauce
2 tbsp hoisin sauce
1 tsp dark sweet soy sauce
2 tsp white vinegar
Instructions
Heat the vegetable oil in a wok or large frying pan over high heat. Add the beef mince and spread it out in pan. Leave the beef to sear and cook for at least 5-6 minutes or until the meat juices evaporate and the beef starts to char. Now use a spatula to lift the charred beef from the pan and toss it around.
Now add the onion and stir-fry for another minute. Add the garlic and stir-fry for another 20 seconds. Then add the cabbage and stir-fry for another 20 seconds. Then toss through the carrot until it's just wilted. Turn the heat off and set aside.
Cook the noodles in boiling water for a minute or until just al dente. Drain and add to the pan with the beef. Turn the heat back to high and add the oyster sauce, hoisin sauce, dark sweet soy sauce and vinegar. Toss until well combined. Scatter over spring onion and sesame seeds and serve.
The ingredients are all relatively easy to find, except for the noodles apparently? Substitute with noodles you can find, I think rice could also work nicely with this dish.
While eating, we like to add some Thai Chili sauce to this dish along with some extra soy sauce. Have fun with it, and add as much or as little spice as you wish!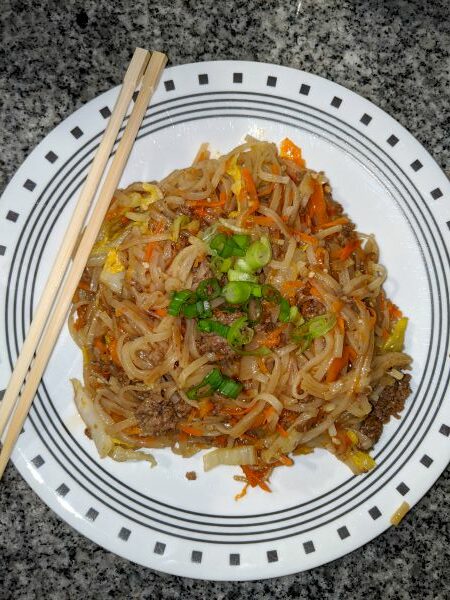 I really tried with the chopsticks, but wasn't able to make it through the entire meal without my hand cramping. How are your chopstick skills? Any recommendations for the hand cramps?