The 7 Line Army: Will Travel for Baseball
Despite growing up a fan of the Philadelphia Phillies, I am now a New York Mets Fan. So much, that I travel the country to watch them play with The 7 Line Army.
We grew up about two hours outside of Philadelphia, where for most, the Philadelphia Phillies reign supreme. Once I started dating my now husband, a die-hard New York Mets fan, I found myself rooting for them more and more.
Then we moved 3,000 miles away…
California is a wonderful state for baseball. Year round average beautiful temperatures, the Padres, Dodgers, Angels, Giants, As. Fantastic! However, the New York only visit the Padres, Giants, and Dodgers once a year….and the Angels and As every 6 years! Plus we aren't exactly close to San Francisco and Oakland. So watching on television is our most convenient option.
In my short time as a fan of this team, I've learned it is a labor of love. What I do love about attending games so far away from the home field, is that Mets fans really do find a sort of solace in each other.
Prior to a baseball trip to San Francisco, Matt discovered The 7 Line Army online. This group, founded and run by Darren Meenan, is a group of Mets fans who meet up at various games across the country. You can read more about them here.
This short trailer from their YouTube page gives a small insight into the passion that is The 7 Line Army. This trailer was part of their documentary produced by Sports Illustrated.
We have attended the following games as part of The 7 Line Army:
***We realize that some stadiums have changed names since we were there. For the purpose of this post and to recount our memories and experiences, we'll stick with the name of the stadium the day we were there.***
San Francisco: 2014- Our first experience with The 7 Line…
So as mentioned above we find out The 7 Line is coming to San Francisco in 2014 for the same series we are attending. What luck!
It was pretty awesome to cheer on our team, with hundreds of other fans, clear across the country…and America's favorite TV Dad: Bob Saget!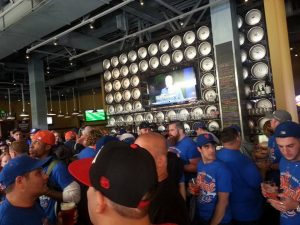 Every 7 Line Outing….
Each outing is planned months in advance, by the group's founder, Darren. He contacts the stadium and arranges the ticket purchase and seating. He also checks into any specials we may be able to get in the stadium with our tickets. In the past we've gotten food credits with our tickets.
The tickets sell out fairly quick. It's then up to you then to arrange your travel and accommodations.
A few weeks before the game you receive your tickets in the mail along with a souvenir item such as a pin or patch, your t-shirt for the day, and information regarding gathering time pre-game. Usually these pre-game gatherings take place at a bar or outdoor location close to the stadium.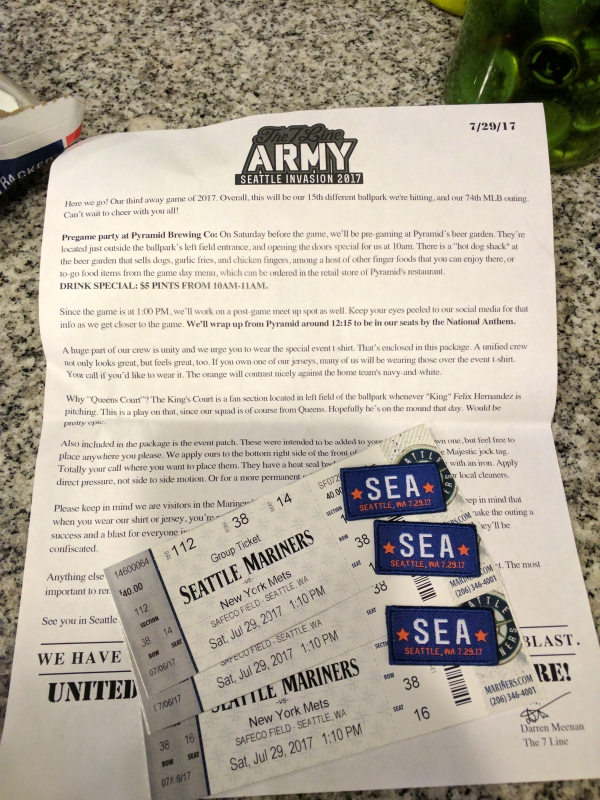 We like to arrive in each city a day or two early so we can be tourists, and attend the previous day's game to check out the stadium. Depending on the time of the actual game we are there for, we may do some touristy things in the morning/early afternoon. We then head back to the hotel, get dressed and head to the gathering spot. We make sure to stop for food or drink along the way since usually the gathering spot is already packed.
I cry when I see everyone together because I'm emotional and that's what I do. If we are meeting up with any friends we made during previous events, we will usually find each other there. At a specific time we are called out of the gathering spot and make our way to the field. Sometimes it is a mile or so, which is how impromptu parades happen. (see below)
Colorado Rockies: 8/22/2015 at Coors Field
Our first "official" outing with the 7 Line. First time in Colorado as well. It was truly a magical event. Seeing so many Mets fans together other than on the East Coast, pretty spectacular.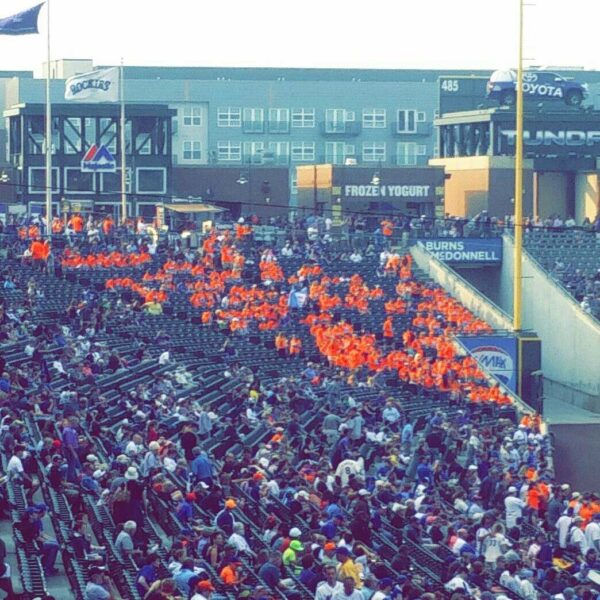 A great first outing with The 7 Line Army.
Final Score: Mets 14 Rockies 9
Check out the game details here.
Chicago Cubs: 10/18/2015 NLCS Game 2 at Citi Field
This game happened to be the day AFTER my sister's wedding. We planned to get up early and head to the city. YEAH RIGHT. We were dead to the world. But we made it to the game and sat with the 7 Line.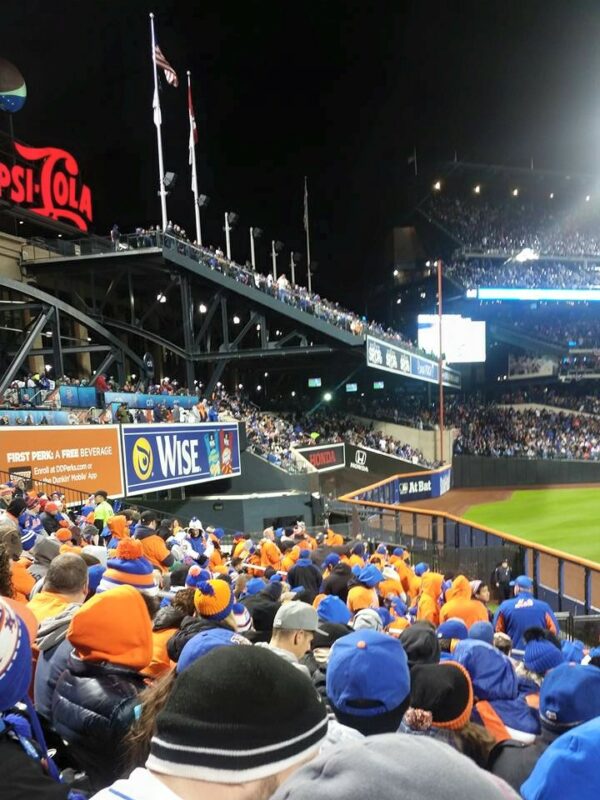 Final Score: Mets 4 Cubs 1
You can see the stats on that game here.
We did end up scoring tickets for the 2015 World Series, but did not sit with The 7 Line.
San Diego Padres: 5/7/2016 at Petco Park
When the team came to San Diego in 2016, we were THRILLED! Close to home! We were walking to the stadium from our pre-game gathering, which kind of turned into a parade?? Well, just watch here:
The excitement during this parade, the number of people both Mets fans and those on the streets in San Diego watching in wonder…. This was easily one of my best baseball moments.
This was also the game that Bartolo Colon hit his first ever HOME RUN! Thanks BIG SEXY!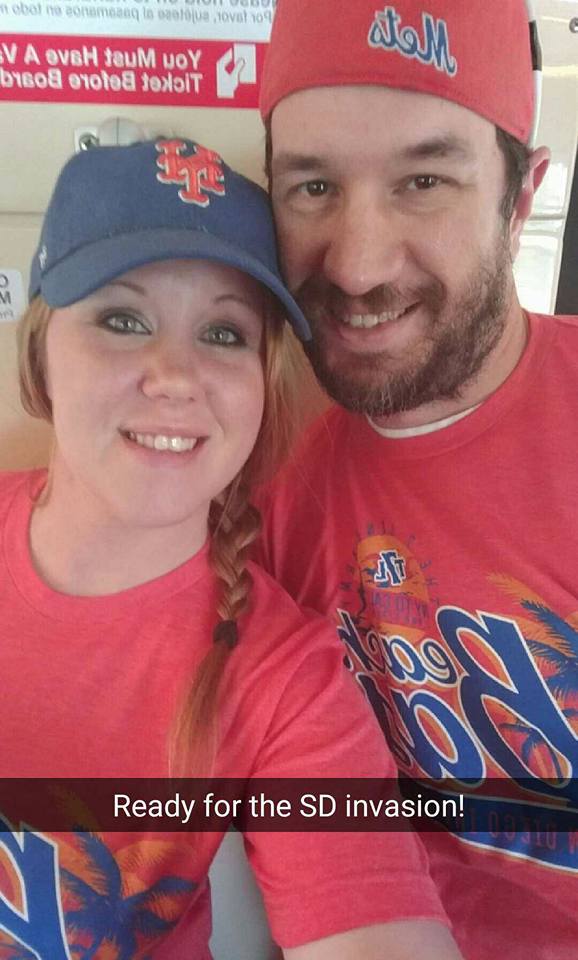 Final Score: Mets 6 Padres 3
Check out details on that game here. Our third outing as part of The 7 Line and third win!
We are now part of a Southern California Group of Mets Fans: Southern California Mets Fans, Rejoice!
Milwaukee Brewers: 6/11/2016 at Miller Park
A month later we headed to Milwaukee. Another day another Mets fans parade in an opposing city. It was hot, we lost, but we had a great time. And on our way back to the Chicago airport, Matt found a store, no…a castle of cheese. So, mark that one off as a win.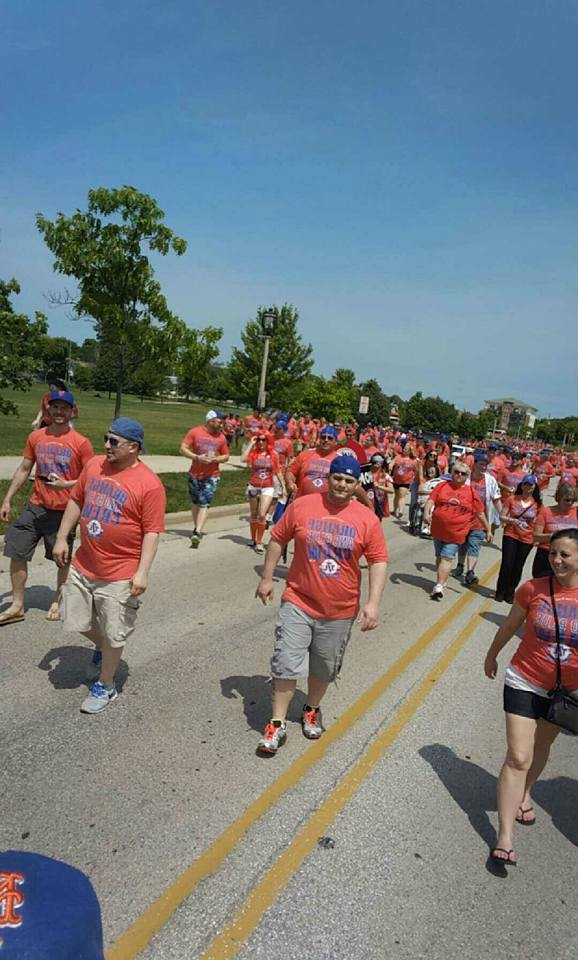 Final Score: Mets 4 Brewers 7
Details for this game can be found here.
St. Louis Cardinals: 7/8/2017 at Busch Stadium
You've got to sing it like Nelly…
We stopped by the Friday night game as well. How gorgeous is this view?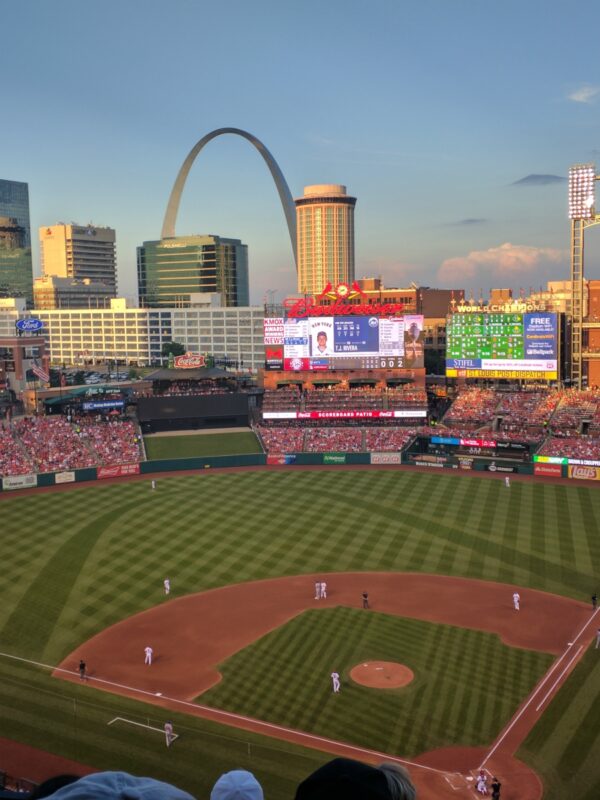 We were joined by SNL Alum and avid Mets fan, Jim Bruer.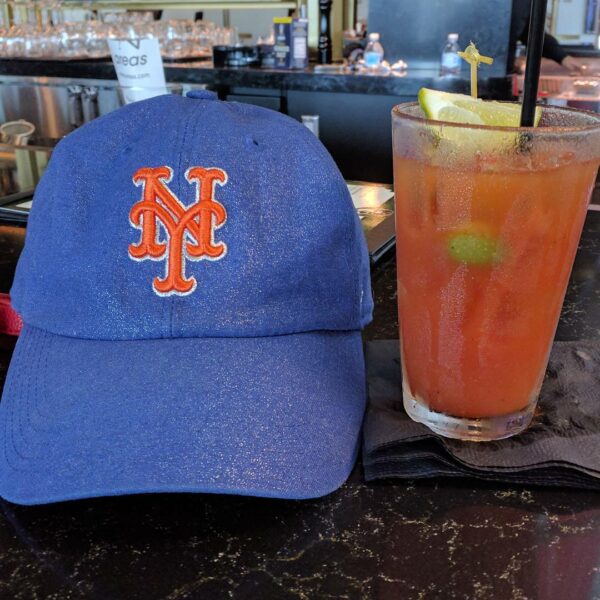 1,000 strong in STL yesterday. Thanks again to the Mets fans from 34 states who ventured to cheer on the team with us….

Posted by The 7 Line on Sunday, July 9, 2017
Final Score: Mets 1 Cardinals 4
Stats from that game can be found here.
Seattle Mariners: 7/29/17 at Safeco Field
Our last outing with The 7 Line of 2017 took us to Seattle. We headed to the ballpark the night before the 7 Line outing and caught a pretty nice fireworks show.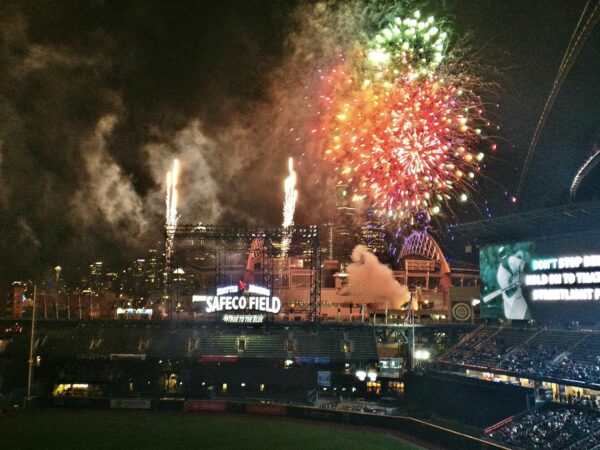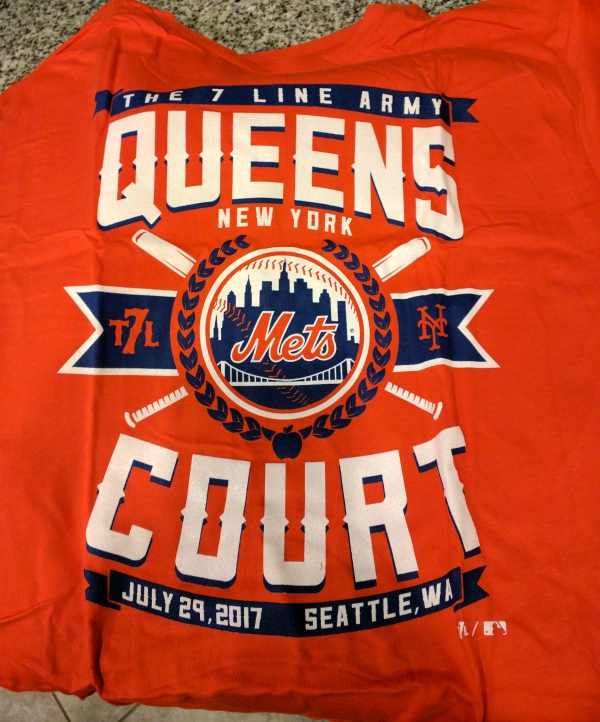 Final Score: Mets 2 Mariners 3
As I said earlier, being a Mets fan is a labor of love. Details of that game can be found here.
Arizona Diamondbacks: 6/16/2018 at Chase Field
Our one and only outing for 2018. We were happy that their west coast trip for the year was in Arizona, just 5 hours away. We met up with friends and had a wonderful weekend.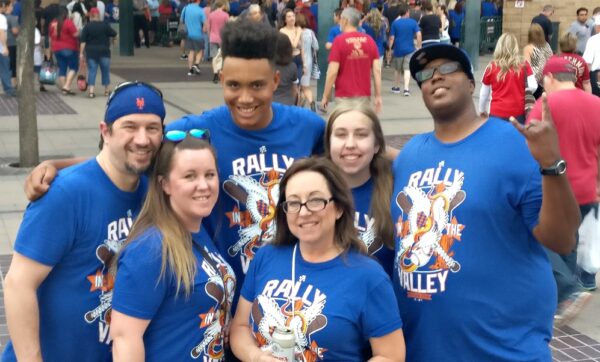 Probably one of our favorite pre-game "parades".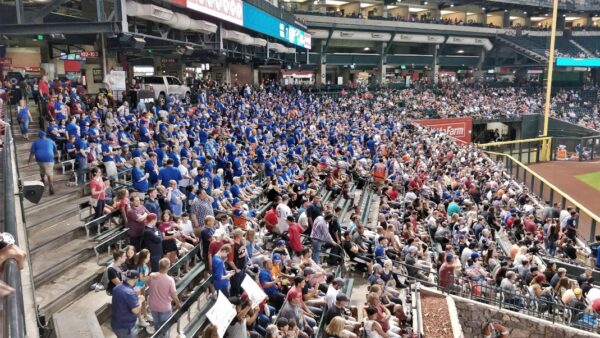 Final Score: Mets 5 Diamondbacks 1
Another win! This just made for an even better weekend. Details on that game are available here.
2019
The 7 Line schedule and our schedule didn't match up this year. And that's ok, with 5 players of our own as a Host Family for the Lake Elsinore Storm, we're already crazy busy. We can't wait for future seasons and more adventures. I'll be sure to document those here to add to the collection.
Until then enjoy this shot of Jerry Seinfeld and Matthew Broderick in their 7 Line attire enjoying a hot dog and a beer at the ballpark.
2020
Well…
Los Angeles Dodgers: 8/21/2021 at Dodger Stadium
Another 7 Line Outing close to home, and our first outing with The 7 Line since 2018! Because we were NOT driving, and public transportation is really the only other way to the stadium, we decided to rent a van. Our Southern California/San Diego based group was happy to jump in. An air conditioned bus that picks us up at the hotel and drops us off at the parking lot, vs hot public transport with an array of strangers and still a bit of a hike to the stadium, we'll take the van.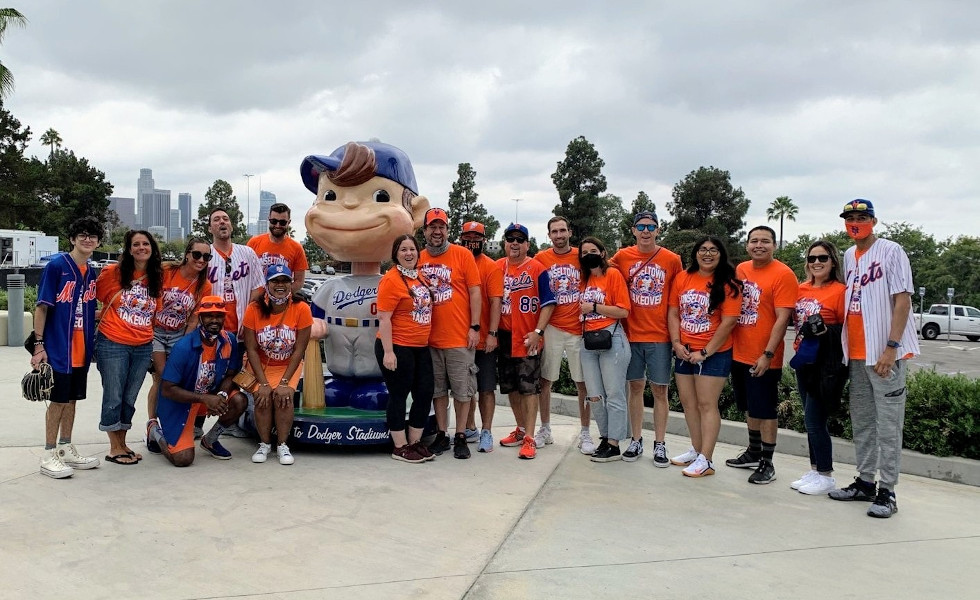 MidWil Shuttle
We rented through MidWil Shuttle, located in Santa Monica. I can NOT sing their praises high enough. They were prompt to respond, great rates, their drivers were friendly, they were ON TIME, which is a big one in LA. There was also a game time change because the game was now going to be nationally broadcasted and was now 3 hours earlier.
Once I let them know about the time change, there was absolutely no issue. They also kept in touch with me during the game and kept an eye on the innings so that they could pick us up right after the game ended. They were clear about where we would be picked up and dropped off both at the hotel and stadium. If you are in the LA area and need transportation for your group, we highly recommend them. We will be using them in the future for sure for any group outings.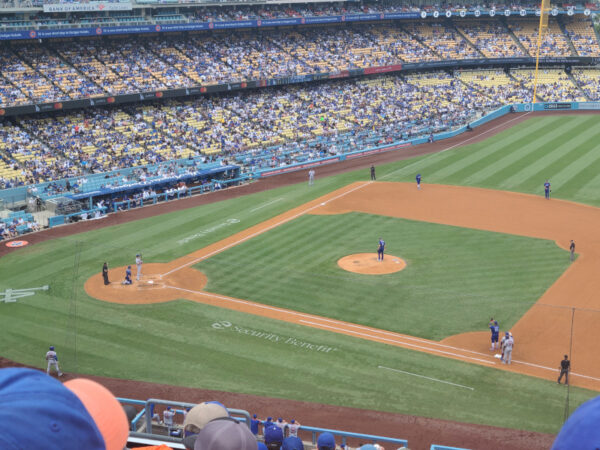 The Game
Admittedly I only took a few photos. I forgot my hat, and was mad that my hair looked stupid. It is what it is.
Usually there is a photographer in tow with the crew, but she was not at this particular outing. The owner of The 7 Line; however, was able to snap this selfie with former Mets player and captain, David Wright.
Final Score: Mets 3 Dodgers 4
Details on that game can be found here.
Los Angeles Angels of Anaheim: 6/11/2022 at Angel Stadium
We attended the game the night before with some of our Mets in SoCal friends and were able to witness a great win. Check out that post for more on that.
The 7 Line Pre Game Gathering
For our pre game an outing was arranged at Brewheim located just a few blocks from the stadium. We've been here before on a date night and loved the beers we tried.
In a once in a lifetime event, we were the first people to arrive at the gathering. Anyone who knows us knows we are habitually late. We don't try, we swear. So we had to document this unprecedented event.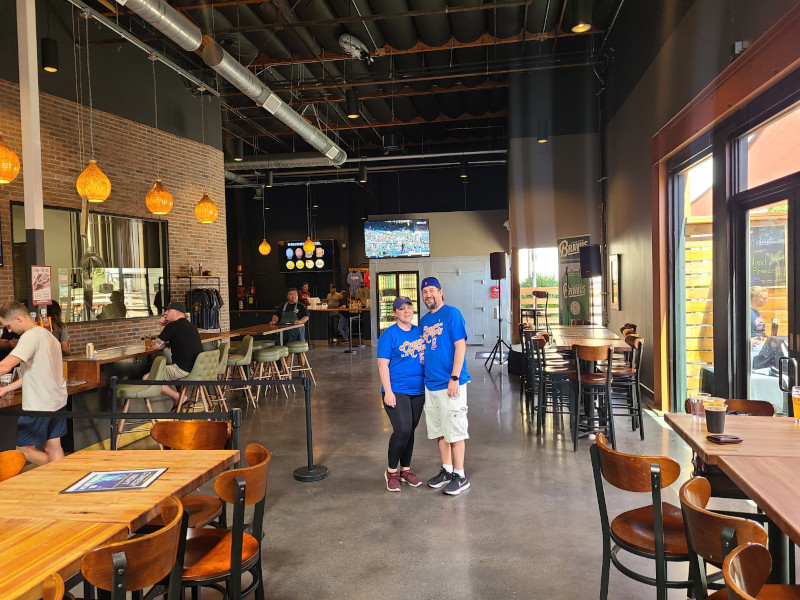 As usual a great time was had by all meeting and chatting while enjoying a few drinks. What I like about Brewheim is their seltzer selection on draft. They have one plain seltzer and a selection of flavors. I find these to be more flavorful than most others. Should we do a whole Brewheim Beer & Seltzer review? I'm up for it. Let us know if you want to see that.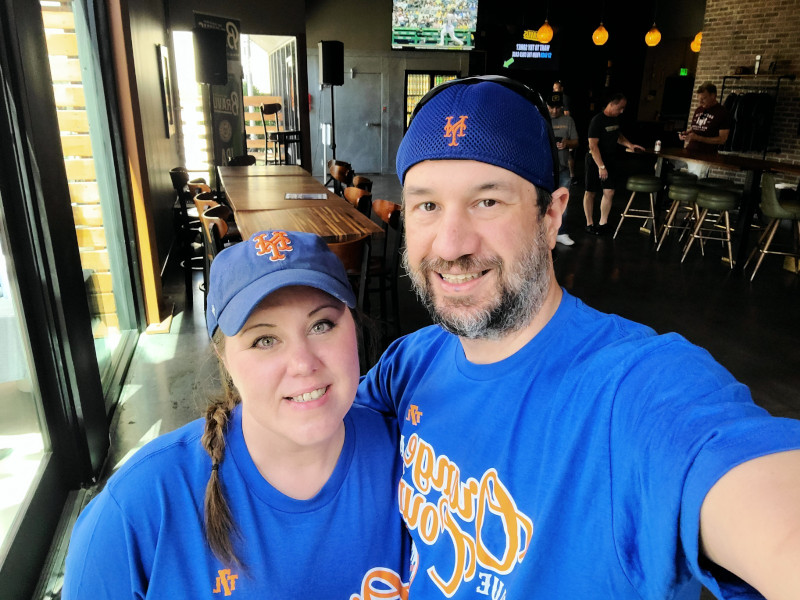 Parade to the Stadium
As usual, we headed to the stadium as a group. People came out to their balconies to catch a view of this insane parade of blue. Photos and videos were taken from cars and rooftops. We chanted, waved to cars, and enjoyed our usual pre game hype up walk to the game.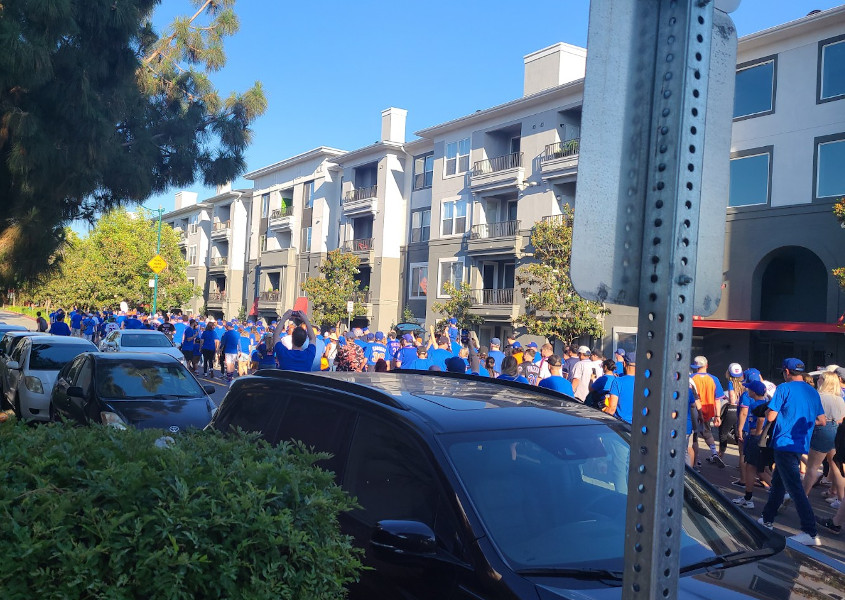 The Game
Though it was not the result we wished for, we still had a blast. And we were excited to run into a friend of ours (who is an Angels fan) post game.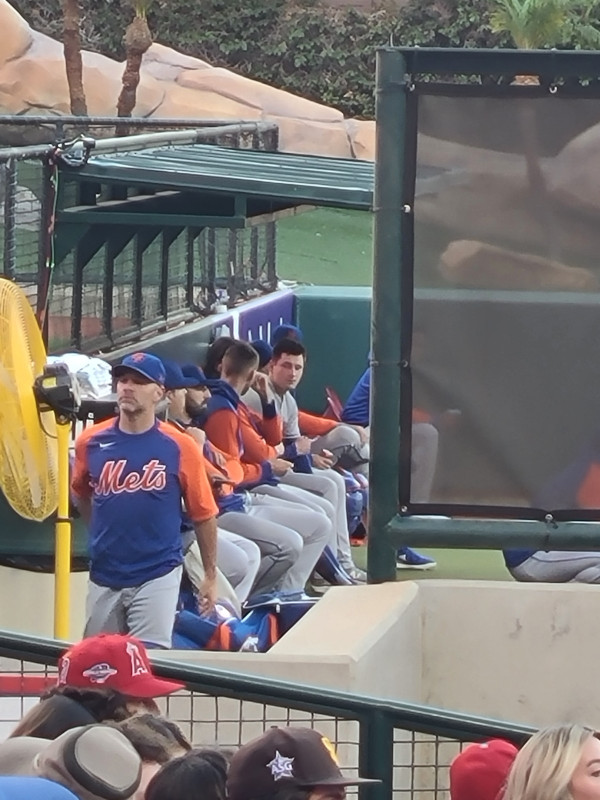 Final Score: Mets 6 Angels 11
Oakland As: 9/24/2022 at RingCentral Coliseum
Who's your favorite team? Do you prefer home games, or do you travel to other fields to see them? And which stadiums have you been to? Let us know!!!
See all Baseball Posts – See all Travel Posts
---
Connect with us on Social Media:
---