An Afternoon in Coronado
Since the pandemic began, we haven't ventured out much. We are perfectly happy, healthy, and safe at home and doing our part to flatten the curve. However, this particular day, we decided to venture out. The last time we were in Coronado, was May 2014, shortly after moving to California. Not sure exactly what we wanted to see or do, but we would figure it out as we went.
Coronado
Coronado is located across the San Diego Bay from downtown San Diego. It was incorporated in 1890, and has a little under 25,000 residents. The word Coronado is Spanish for "Crowned One." 1
For us Coronado is about an hour and a half drive. One of the perks to moving to California was the close proximity to the beach; something we need to take advantage of more often.
As we drive in to Coronado it looked packed. While social distancing measures were in place, it seemed many had the same idea we did. It was a beautiful So Cal Saturday.
We were amazed when we found parking right across the street from the Hotel del Coronado!
Hotel del Coronado
The Hotel del Coronado opened in 1888 and at the time was the single largest hotel resort in the world. It is the second largest wooden structure in the United States. In 1970 it was designated a California Historical Landmark. 2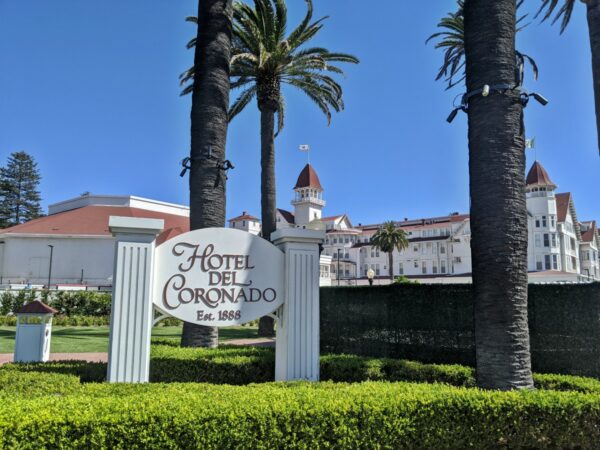 I was amazed by the size of the hotel as we approached. It was so incredibly massive.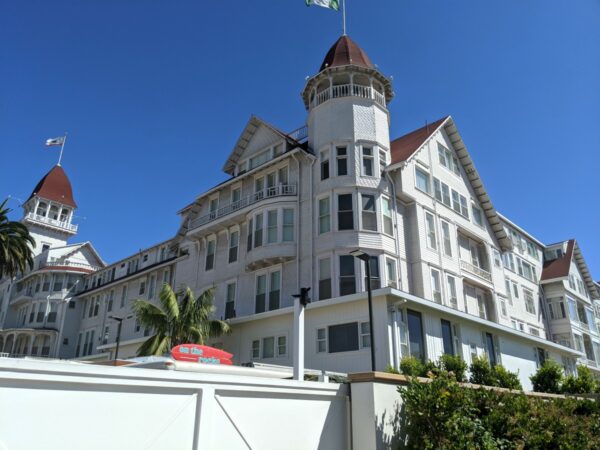 In awe at the beauty of this hotel, we almost didn't notice that no one else was around. It was a nice change from the usual crowds. It was then that we saw why (which we kind of expected).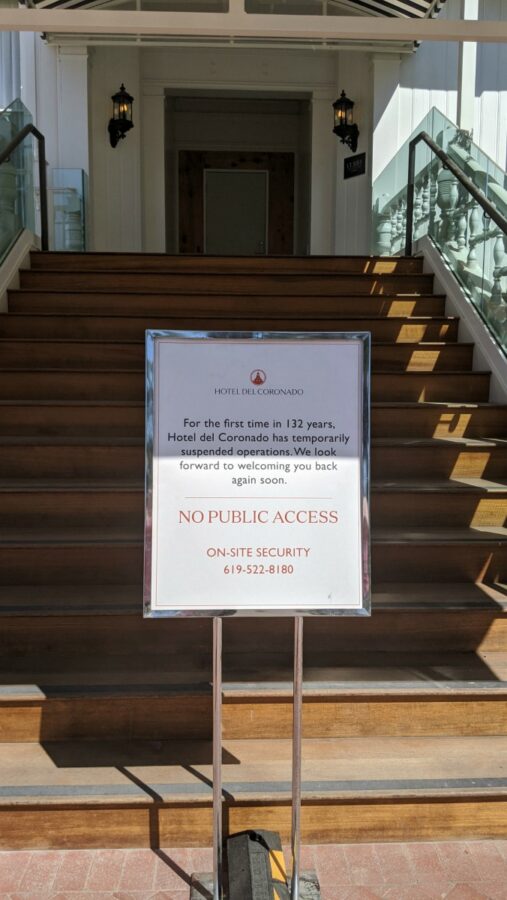 Closed, for the first time since it's 1888 opening. We were looking forward to seeing the inside of the hotel as we've heard about it, but that will have to wait until next time.
We made our way down the sidewalk toward the beach.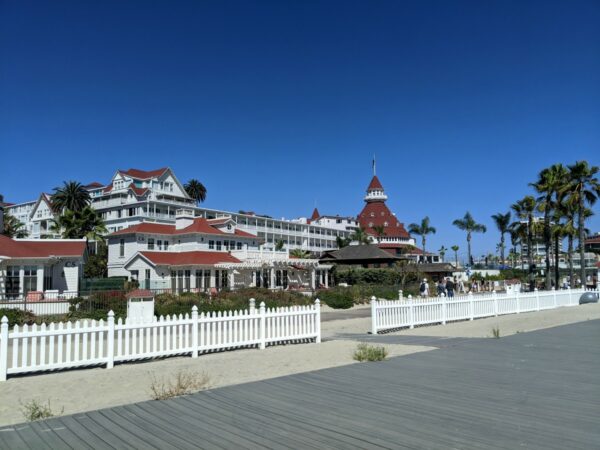 It appears there are some rental homes/villas on the property as well. My guess is that they come with a high price tag. Understandable as they seem so private in such a public place, right on the beach, with private pools. If you have a group who wants to stay at a beautiful resort for a week with close access to Coronado and San Diego, this would be a wonderful idea.
Beach Views
Coronado Beach wasn't at all crowded. More people probably flocked to the beaches closer to the retail area. This left the beach in front of the hotel almost desolate.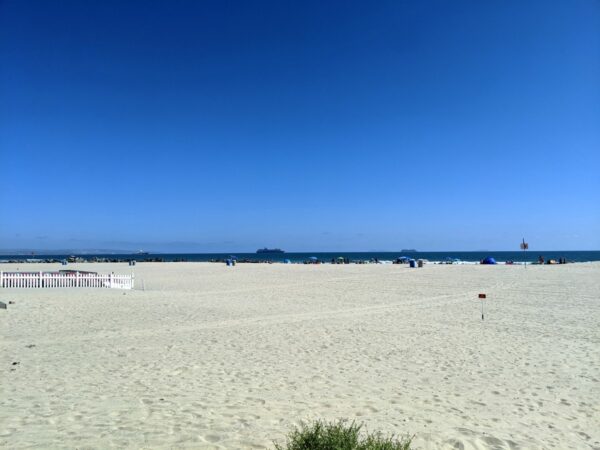 Due to Covid, there were no public restrooms open. We walked into the shopping area off of the beach near the hotel to see what we could find. The search was then on for a restaurant which didn't appear to have any or many patrons.
The Tavern…and a PSA
We found our saving grace in a restaurant called The Tavern, located at 1310 Orange Avenue in Coronado.
The Tavern had outside seating and staff were wearing masks. We saw signs encouraging masks while not seated and encouraging social distancing.
We weren't planning on eating, as we aren't there yet, we do support businesses by getting takeout, but eating in a restaurant isn't something we find to be necessary yet. If you are eating at restaurants please remember to be safe and keep your distance from staff and patrons. Also remember that not everyone feels the same way about being inside or even sitting outside restaurants so be respectful to those who are being careful.
Be kind.
We were seated at a booth and each ordered a beer.
The industrial look and exposed beams really set the vibe. I imagine during normal times, this is a great place to hang out while visiting Coronado.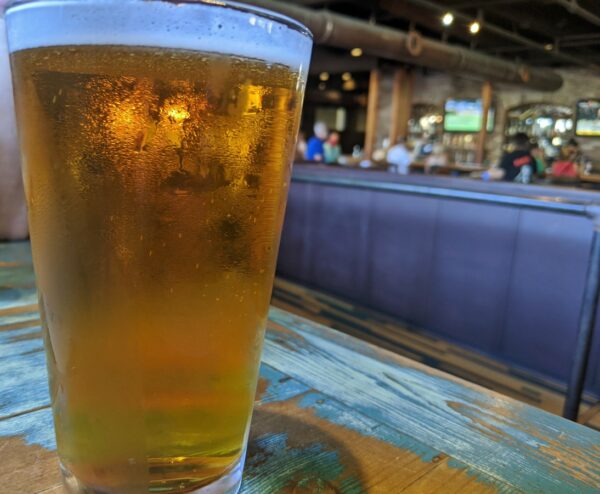 Our waiter was friendly. The bathrooms were very clean, and we enjoyed sitting a few minutes after walking around.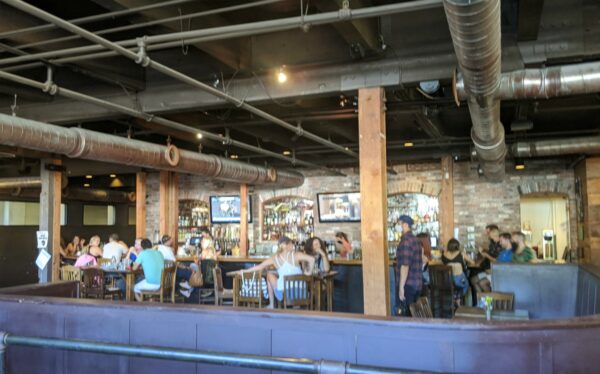 We will be happy to return to restaurants when we feel that others can understand and maintain social distancing.
If you are in Coronado, we encourage you to stop in at the Tavern for a drink or a bite to eat if you are comfortable with that. We did notice they do have two outside tables. Both occupied during our visit. We were along an outside wall with a great "underground" view giving that outside feel.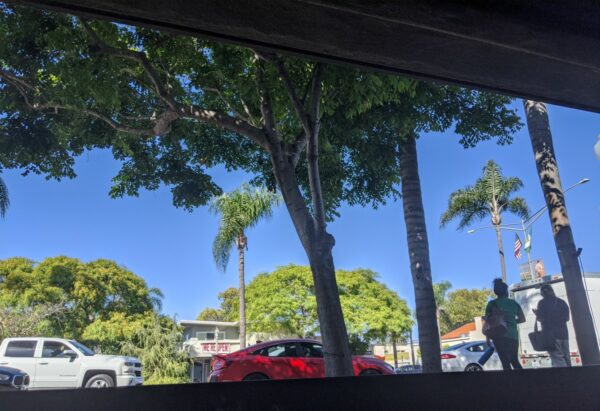 We enjoyed our day in Coronado, and hope to have some more day trips posted soon.
Check out all travel related posts here.
---
Connect with us on Social Media:
---
References
Wikipedia – Coronado, https://en.wikipedia.org/wiki/Coronado,_California
Wikipedia – Hotel del Coronado, https://en.wikipedia.org/wiki/Hotel_del_Coronado