Petco Park Tour – We Finally Made It!
After almost 8 years of living in Southern California, attending many games and other events, and even being former season ticket holders, we decided to finally see Petco from a different angle. We took the Petco Park tour as part of Matt's birthday celebrations this year.
Located at 100 Park Boulevard in beautiful San Diego, California, stands Petco Park, home of the San Diego Padres. Opening in 2004, the stadium was built at a cost of $450 million and replaced Qualcomm as the home of the Friars.
Purchasing Tickets & Checking In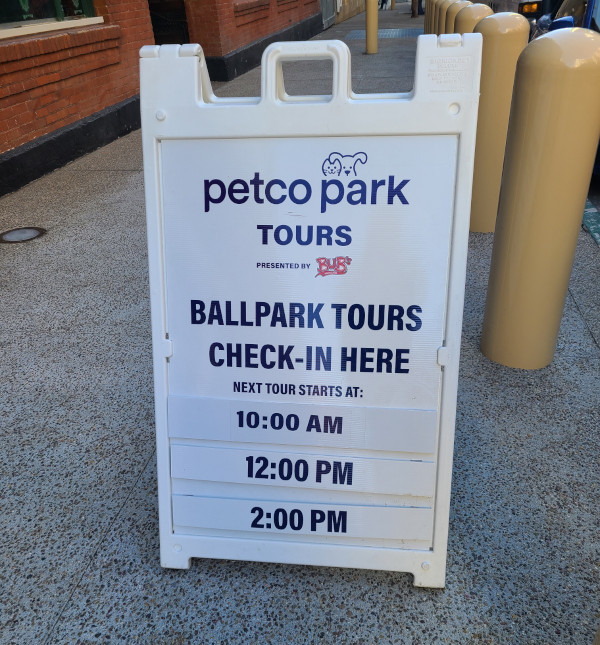 Tours run almost every day at 10 am, 12 pm, and 2 pm. There are no tours on certain holidays or if specific events are being held at the stadium, and game day tours may be different from non game day tours. I would imagine there are limited tours on dates where there are day games. Purchasing tickets was easy, and done through the Padres website. We took the general tour for $28 per person. There are discounts for children, seniors, season ticket members, and military. Please see the site for those prices.
We checked in at the Western Metal Building Ticket window on 7th Ave at K. Street. We were then directed to wait with the group for our tour guide to let us in.
Western Metal Supply Company Roof
First stop on the tour was the historic Western Metal Supply Company. Unique to this ball park, the Western Metal Building is a historic San Diego site, and therefore could not be demolished to make room for the stadium. Stadium designers had to get creative and include the building in their plans. I would say they excelled. The Western Metal Building is home to the team store, ticket windows (where we checked in), seating, suites, concessions, and more. Most importantly, the corner of the building acts as the Left field Foul pole. Balls hit off the eastern side of the building are home runs, off the southern side, foul.
We started at the top from the roof of the Western Metal Supply Company Building to get a birds' eye view of the stadium. Gorgeous. From here you can see everything! I believe this is considered a suite area, so tickets are exclusive which means my favorite – private bathrooms!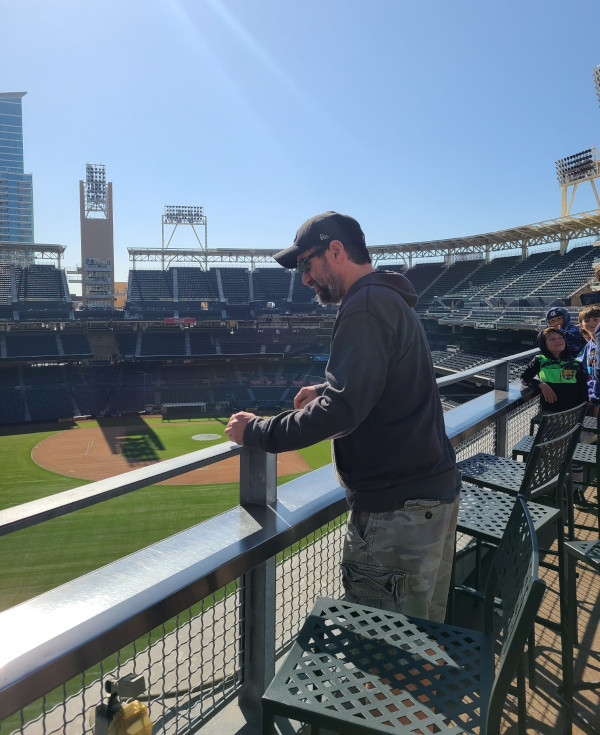 Visitors to the Western Metal Roof may notice this marker on the ground. August 27, 2020 Fernando Tatis hit his 13th major league home run, 448 feet to that very spot. This marker commemorates that moment. Being that it was the season without fans present in the stadium of which we don't talk about, this is a fun way to remember this particular hit.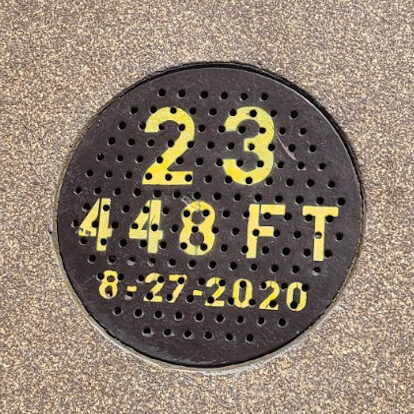 Incase you missed it:
Western Metal Supply Company 3rd Floor
Our next stop took us down one level to the third floor entering through what's known as the Beer Loft. In this area you'll find more bathrooms (I don't like waiting in line, okay), pool tables, and memories of days gone by with relics from the Western Metal Supply Company from its glory days. What a fun way to spend pre game time, I'd say during rain delays it would come in handy, but this is San Diego! That never happens!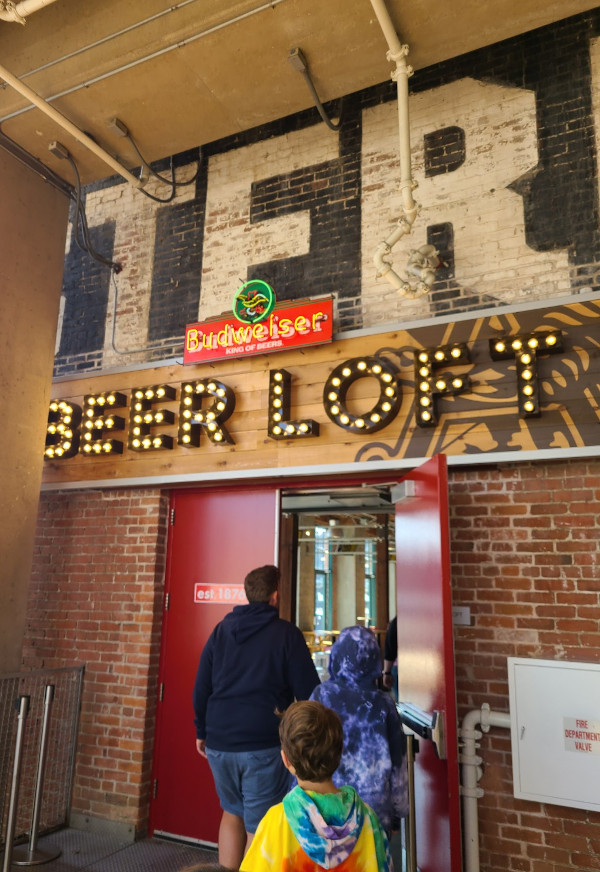 We have even sat here ourselves! In 2021, we joined a rowdy, crazy, lovable group of Mets Fans from Southern California we have come to adore for our yearly outing. This particular year we were able to claim a group section in the 3rd level of the Western Metal Supply Company. Better yet, we are doing it again in 2022! Let's Go Mets!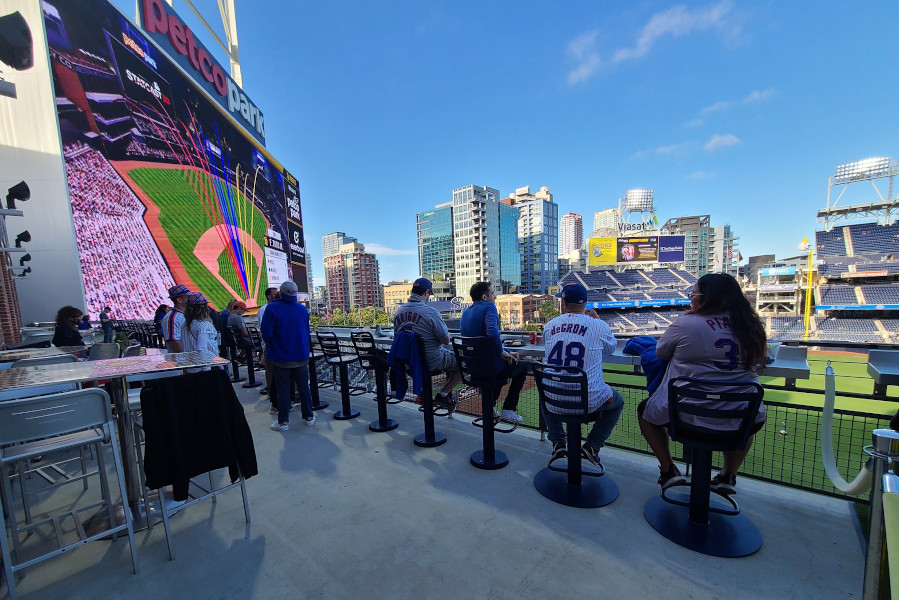 Okay I digress, this is a Padres stadium post… moving on.
To learn more about the history of the Western Metal Supply Company and its story pertaining to Petco Park, this article from MLB should help.
Lane Field
Lane Field is the original home to the San Diego Padres, from 1936-1957. It sat around 8,000 and had no lights, so day games only! It was located near the water front as you can see from the photo below. Unfortunately today, the site of the former field is a parking lot for cruise ships.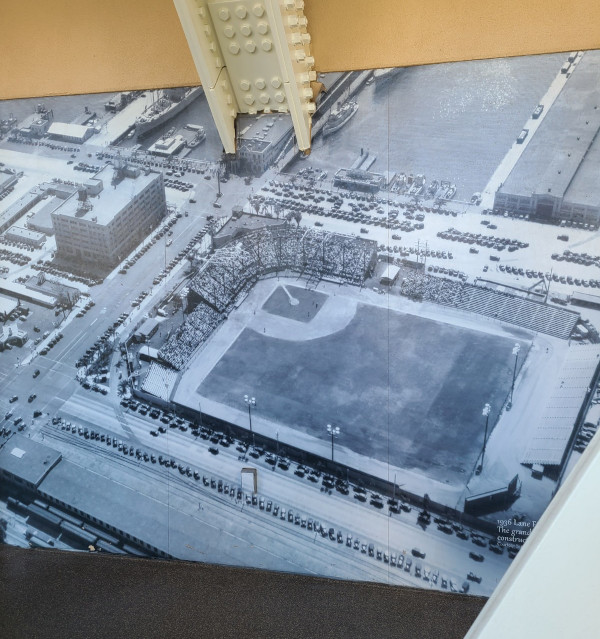 Concourse Info
As we made our way along, our tour guide informed us that the tiles on the exterior of the park are to pay homage to the cliffs of nearby Torrey Pines. These tiles were imported from India and are the colors are the nearby rocky cliffs.
We also passed by the bridge entrance to the Cutwater Coronado Club. This exclusive club opened in 2020 and is available to membership seated in the Toyota Terrace section. Food and non alcoholic beverages are complimentary, and you can head over there post game for more food and beverages.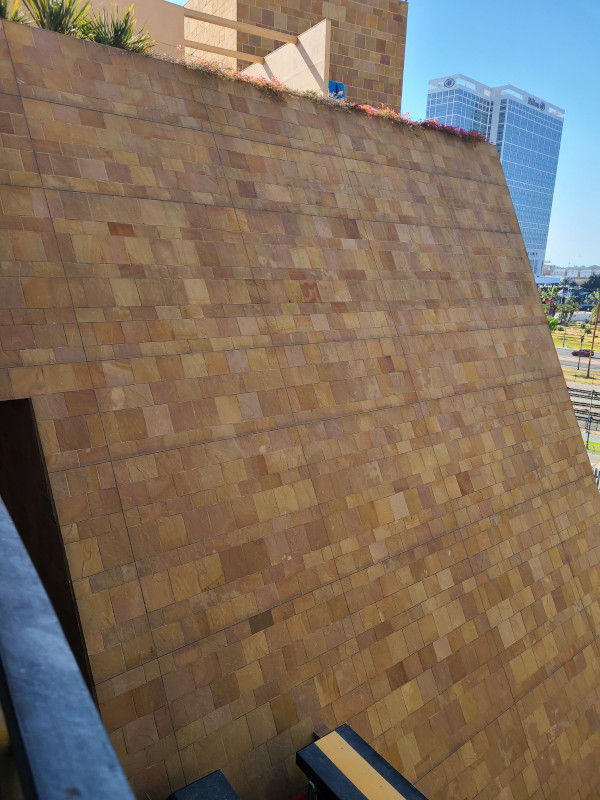 Petco Park Tour Explores the Press Box
Our tour guide directed us to the Press Box. They get the best view in the stadium. It was very cool to see this entire area and think of how crazy it is on game day with the announcers from both teams, members of the media, utter chaos.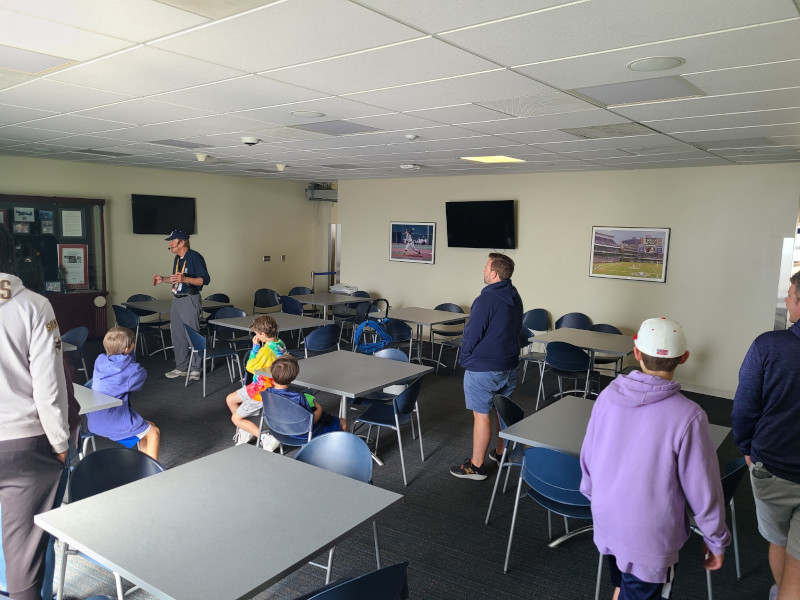 Visitor Clubhouse and Dugout
We were then lead down to the Visitors Clubhouse. This is where all the other teams who come to play the Padres hang out pre and post game. One thing I found interesting about this club house was the media center located in the center. I hadn't seen this before so that was interesting to see.
On the way out, we passed by a bull pen tucked inside a hall way, and to the joy of Matt and many children, BUCKETS of Dubble Bubble. Of course they all grabbed a piece.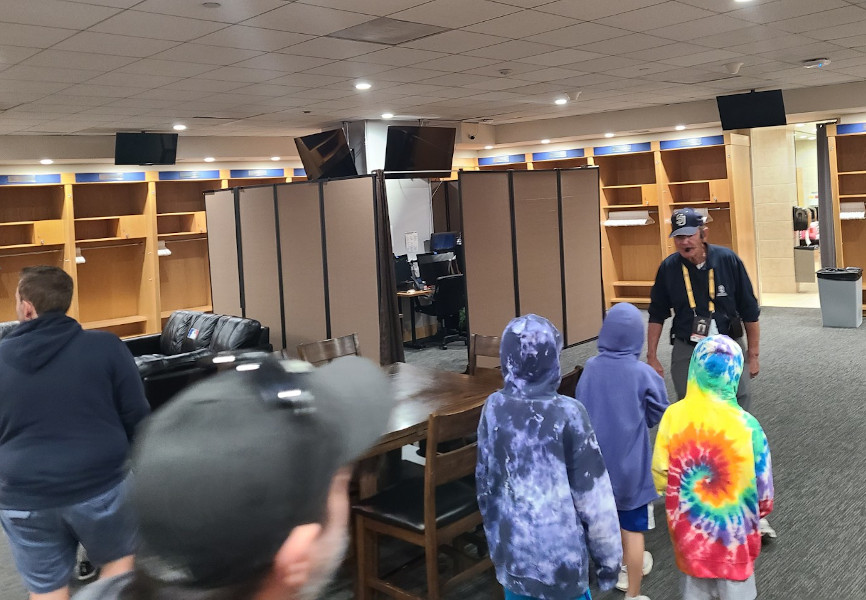 We made our way into the dugout of the Visiting teams. A very different perspective of the field indeed. To think of all the players who have sat on this very bench is mind blowing.
It was also very humbling, maybe thats the word, to see the stadium in its entirety from that view. Looking up at the stands versus down at the field is quite the change. Matt took a moment to sit in the dugout and reflect upon all the butts of Mets players who have graced this bench before him. Truly a thought provoking moment.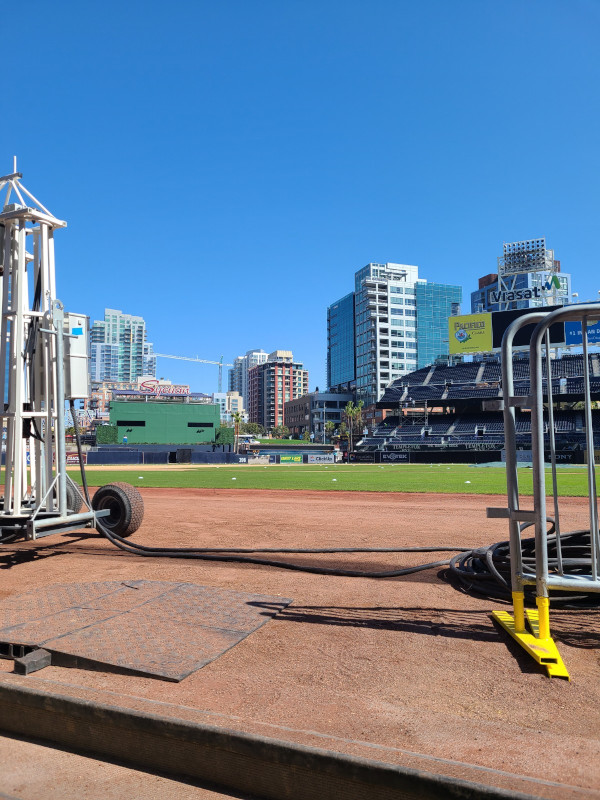 Home Plate Club
Out Petco Park Tour Guide led us out of the Dugout and into the Home Plate Club. This is an ultra exclusive club with a 2 year wait list and seats at $35,000 per seat per season.
Goals, am I right?
We entered the private bar area where members can enjoy a drink pre game, and lock their belongings in one of the provided lockers. Members enjoy a private entrance to the park, and yes again, private restrooms. I really hate waiting in lines…. This is an amazing part of the stadium that we would never get to see otherwise.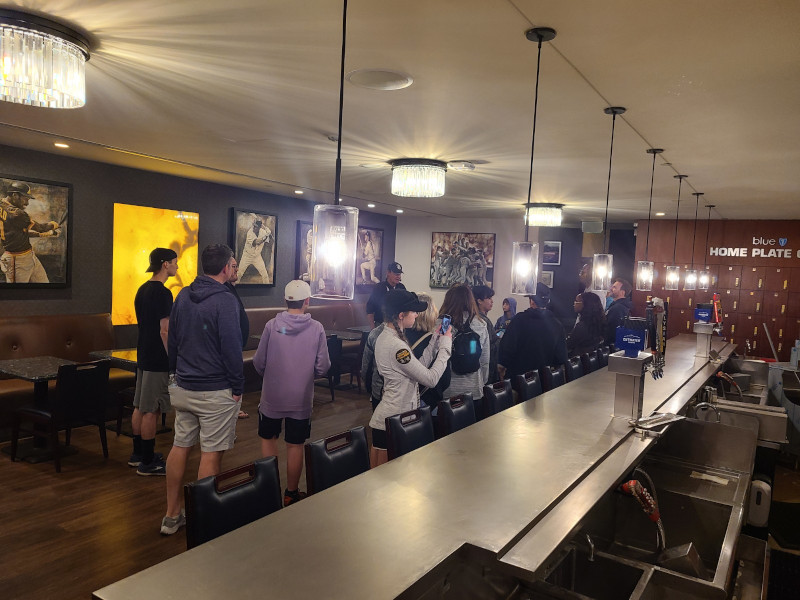 Tony Gwynn and Trevor Hoffman Dedications
Heading out of the Home Plate Club, we made our way to the outside of the stadium to a Members and VIP entrance area located on Trevor Hoffman Way. Two of the highlights of this are are the dedications to Tony Gwynn and Trevor Hoffman amongst others.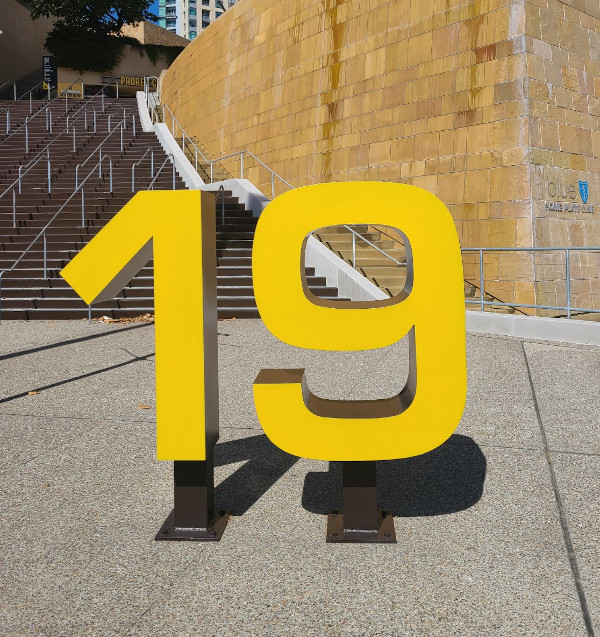 Breitbard Hall of Fame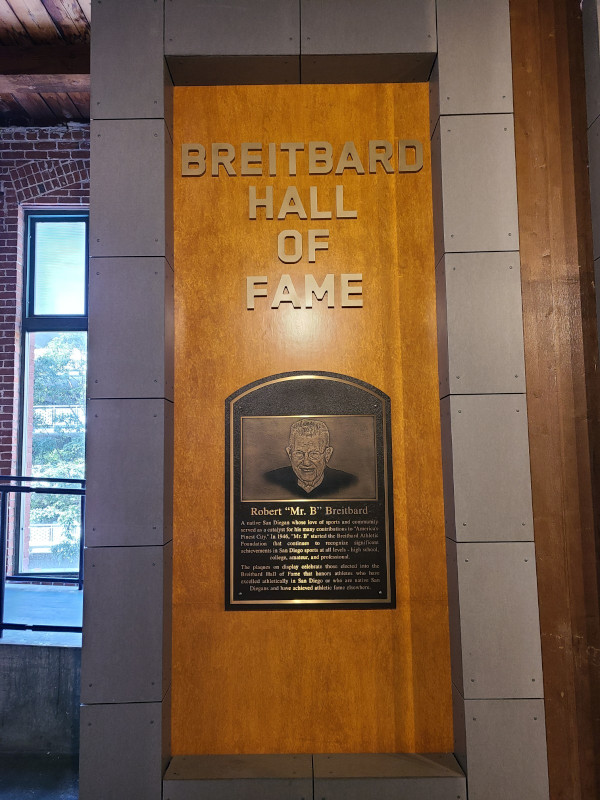 Back to the Western Metal Supply Company we went. The Breitbard Hall of Fame is located at the top of the Western Metal stairs. This Hall of Fame highlights local San Diego based athletes in all sports. I LOVE this.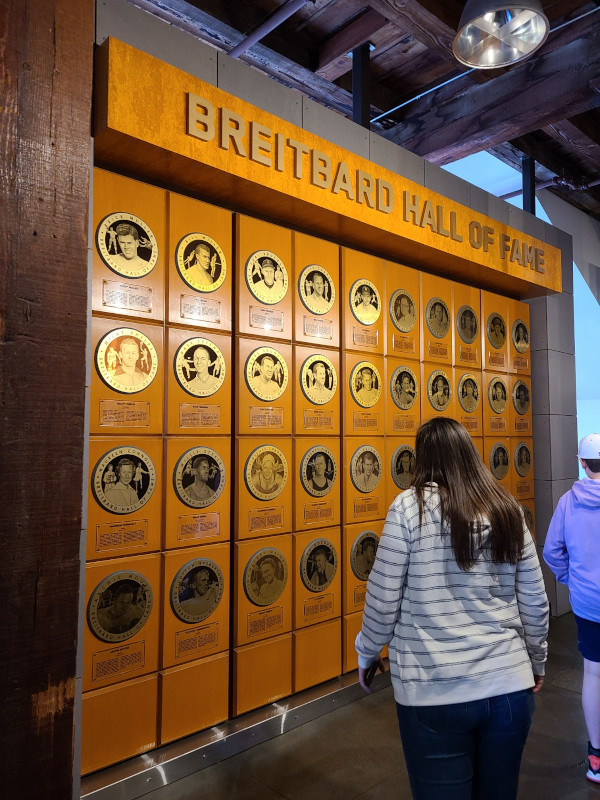 Of course Mr. Padre, Tony Gwynn is included here. I mentioned to Matt that I wonder when San Diego native and the only Padres no hitter pitcher, Joe Musgrave, will be added to the ranks.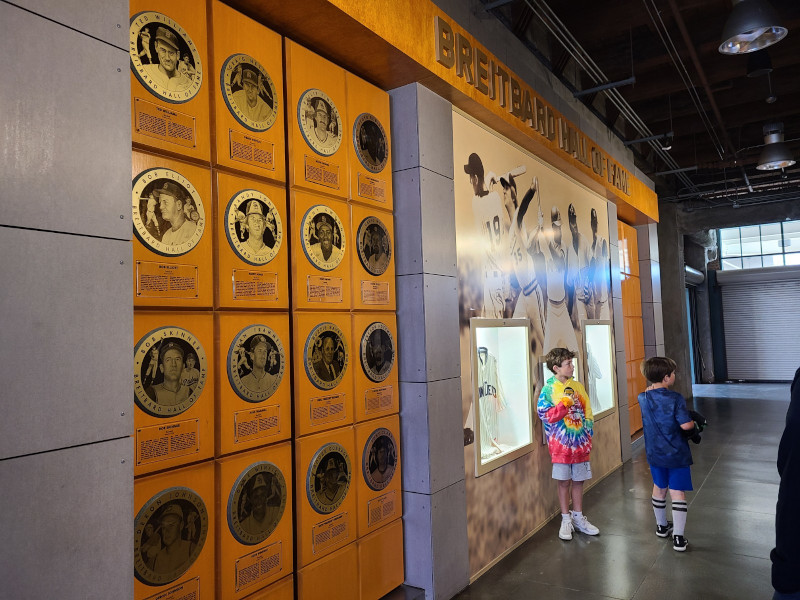 Ending the Tour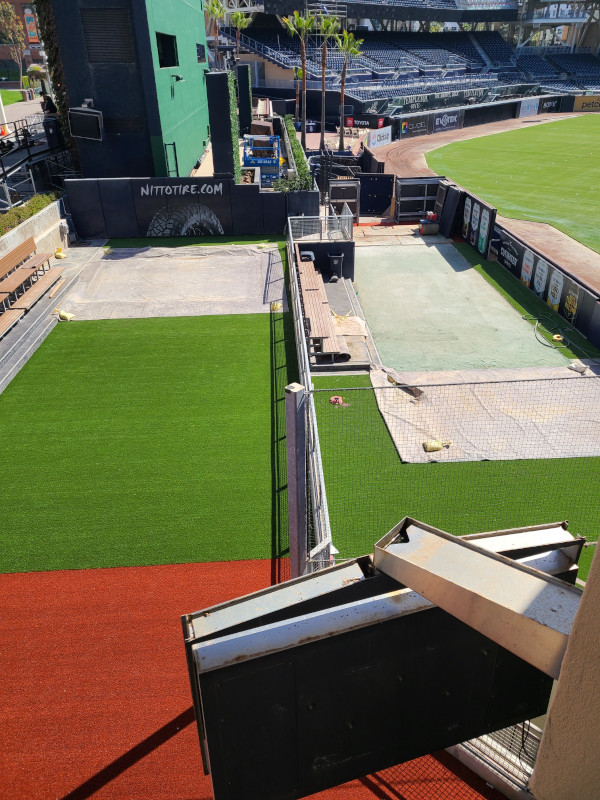 We ended the tour passing by the bull pen, this is a place we have passed by or hung out by often waiting for our former host sons to pitch. We were a host family for the Lake Elsinore Storm (Padres Single A team) for three seasons (2017-2019). Unfortunately that program and others involved with it are no more.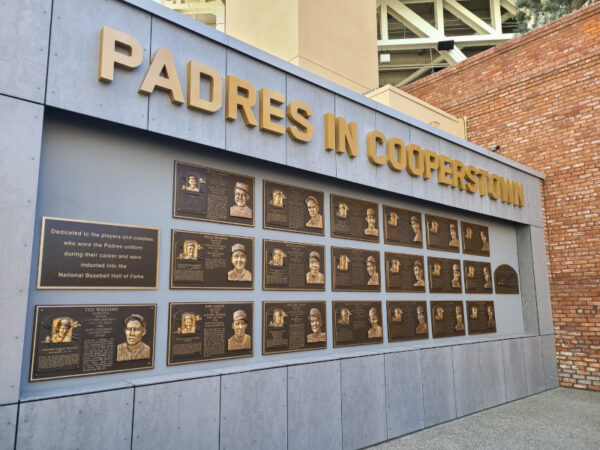 There is a dedication adjacent to Western Metal Supply Company for former Padres inducted into the Baseball Hall of Fame in Cooperstown. It was wonderful to see all of these legendary players honored together.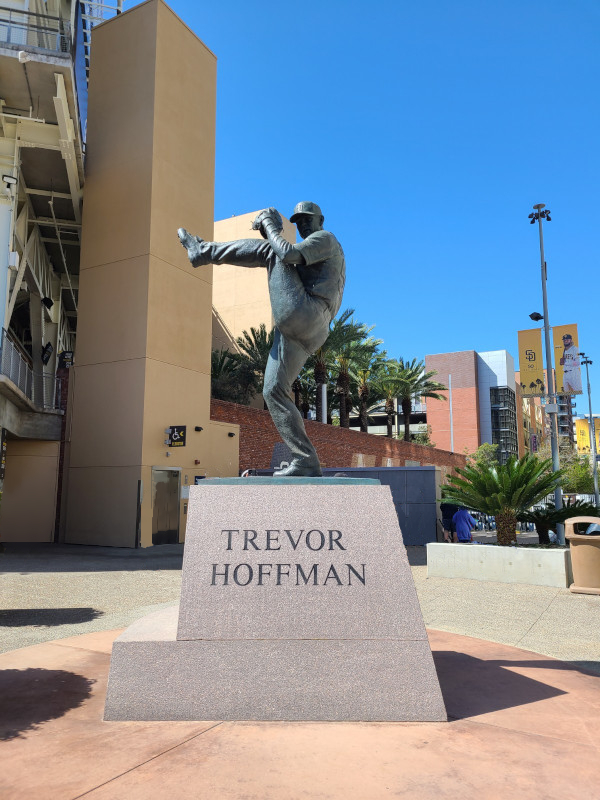 We ended our tour at the newly installed Trevor Hoffman statue.
Interested in sports and/or architecture? Stadium tours may be the activity for you!
Petco Park Tour – Final Thoughts
If you like baseball, this is the stadium to tour! It is located in the heart of a gorgeous city, it has history in its 2 short decades, the view of the field and surrounding areas are phenomenal, and its is a wonderful area all around to check out. We highly recommend this tour!
If you have taken this tour or plan to after reading this post, please let us know! We want to hear about your experience. Comment below!!!
ANNOUNCEMENT MAY 23, 2022
USA Today has named Petco Park the NUMBER ONE stadium in the MLB! We aren't surprised…they've earned it for sure.
---
Connect with us on Social Media:
---