Allegiant Stadium – Home of the Las Vegas Raiders
On a recent trip to Las Vegas, we decided to book a tour of Allegiant Stadium. This brand new $2 billion stadium took just under three years to build and was officially finished during the summer of 2020. Since we love sports and architecture, we decided to check it out.
Purchasing Tickets
There are two options for Allegiant Stadium tour tickets. You can select the basic stadium tour which is $59/person, or the tour with a drink plus a view for $80/person. The drink plus a view takes place after the tour, we went with the general stadium tour as we had a busy weekend already. You may want to check out the experience from others who did the drink option to see if it is worth it for you. Though, in my opinion, it is Vegas, and you can get plenty of cheap or free drinks, and find some great views on your own. Just my opinion.
See more and purchase tickets here.
the Tour
We arrived a few minutes early and checked in. We were assigned a group and given a lanyard with a badge to wear so we and the tour guide knew what group we were. There were photo opportunities and a beverage stand available prior to the tour start. It was hot, so we grabbed a bottle of water to split in case we couldn't take it with us once the tour began. We also took this opportunity to take some photos.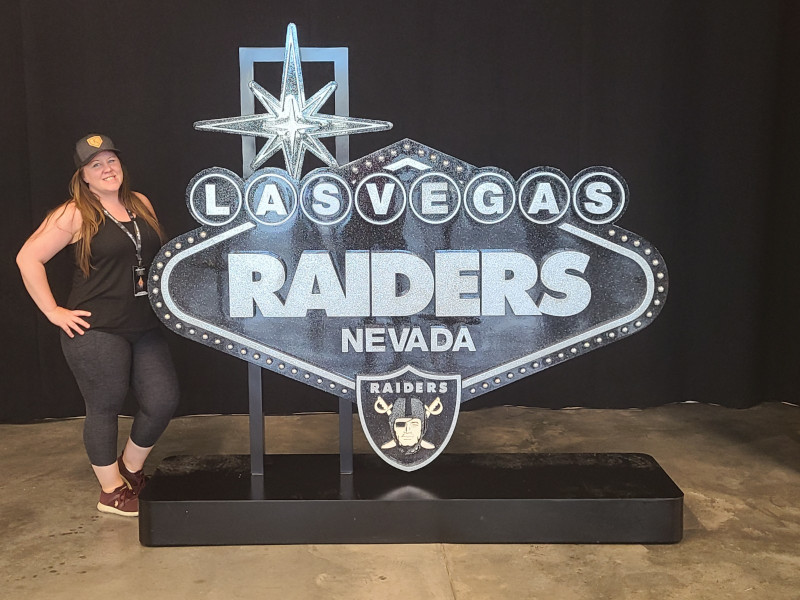 Once our group was announced, we gathered and met our tour guide. A few questions were asked about where everyone was from, who was a Raiders fan, who was the fan of another team. Baseball, as you know, is our main sport, and while Matt watches some football, Lora could care less. But we do share a love of architecture and that behind the scenes look.
We started on our journey to a birds eye view of the field.
A View From Above
We started the Allegiant Stadium Tour by heading upstairs to a concourse area/concessions area with a perfect view of the field.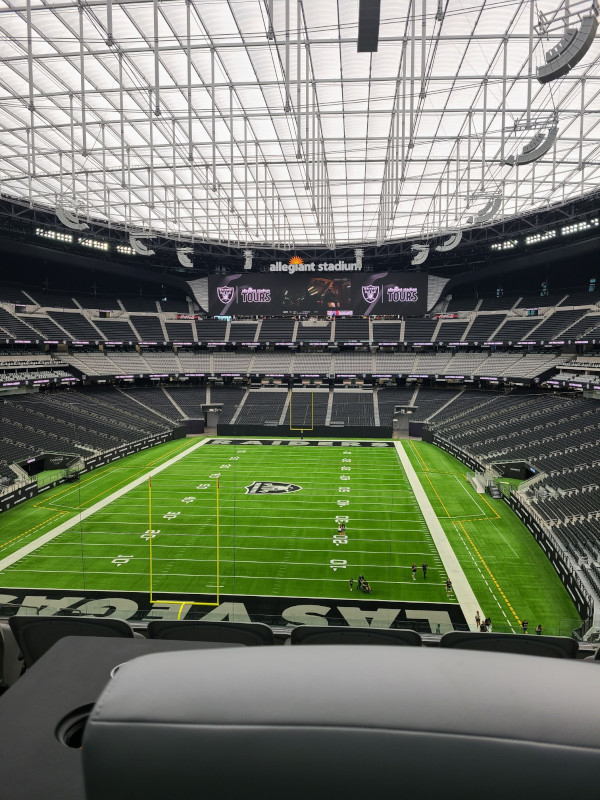 How gorgeous is this? Even as a non football fan, I can appreciate the beauty of this stadium.
Before heading upstairs we saw half of the Al Davis Memorial Torch, from this starting area, we were able to see the rest. Just stunning. The added view of the Las Vegas Strip only enhances the view. The torch is the largest 3D printed structure in the world.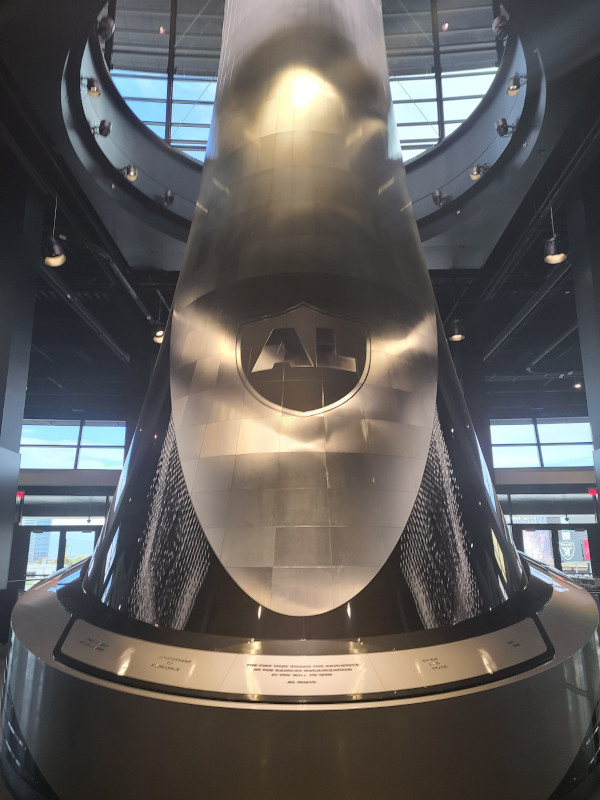 I learned, (again not a football fan) that Al Davis was a former head coach, GM, and owner of the Raiders. The first person to light this particular torch in the new stadium was his wife, Carol Davis. See more info in the video below:
Raiders in the Pro Football Hall of Fame
From this upper level concourse, we moved on, stopping for our one bathroom stop the entire tour, outside the Raiders in the Pro Football Hall of Fame section. Amongst the many names you'll see Howie Long (my mom's personal favorite).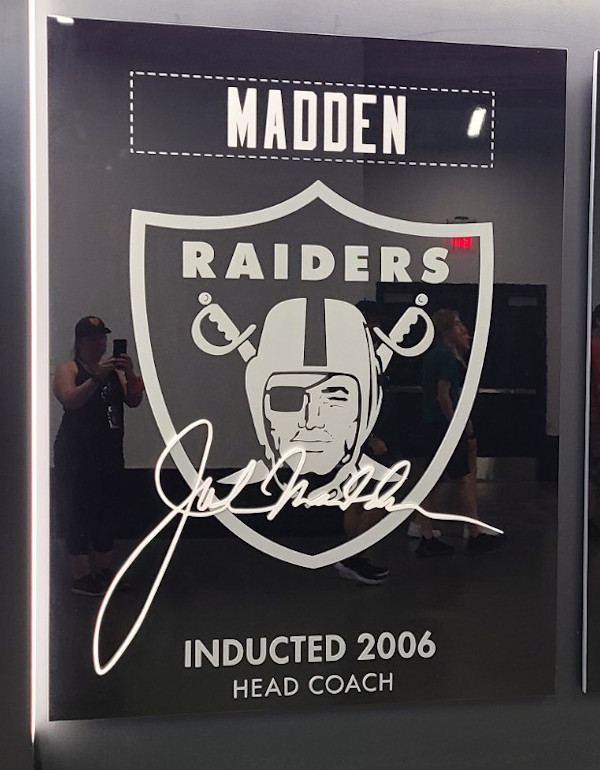 You'll also find Guy Fieri's Tailgate concession stand in this area.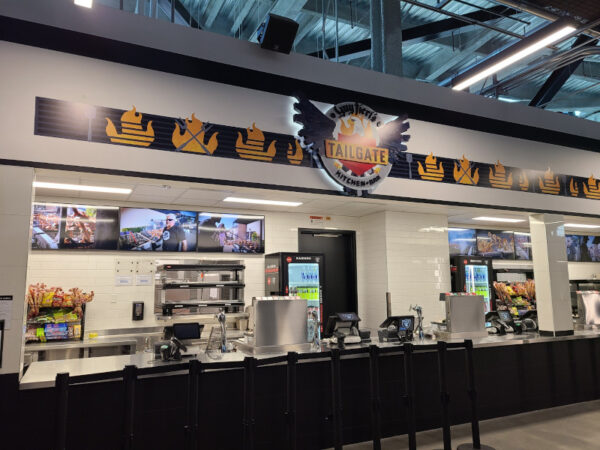 Allegiant Stadium Art
Throughout the tour you'll spot some incredible art pieces and replications. See these below.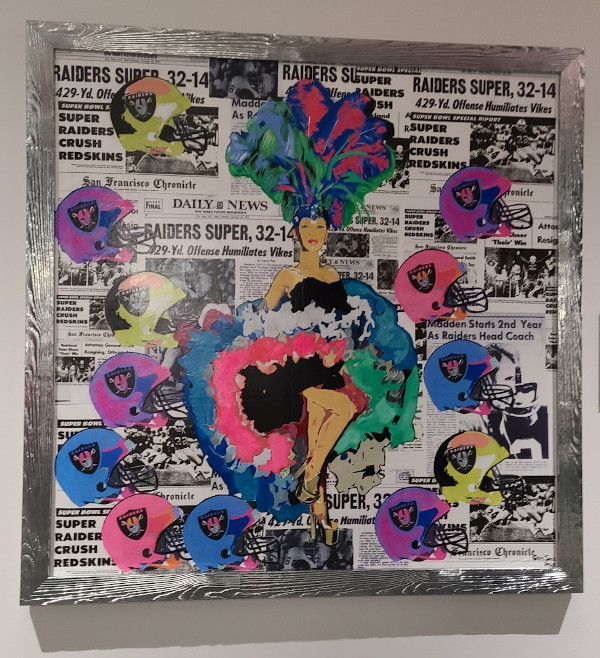 My personal favorites are of Elvis. No shock to anyone who knows me and my love of "the King". Here we see the original painting, and the duplication which (like the Marilyn pic above) is located over an escalator from one of the concourses.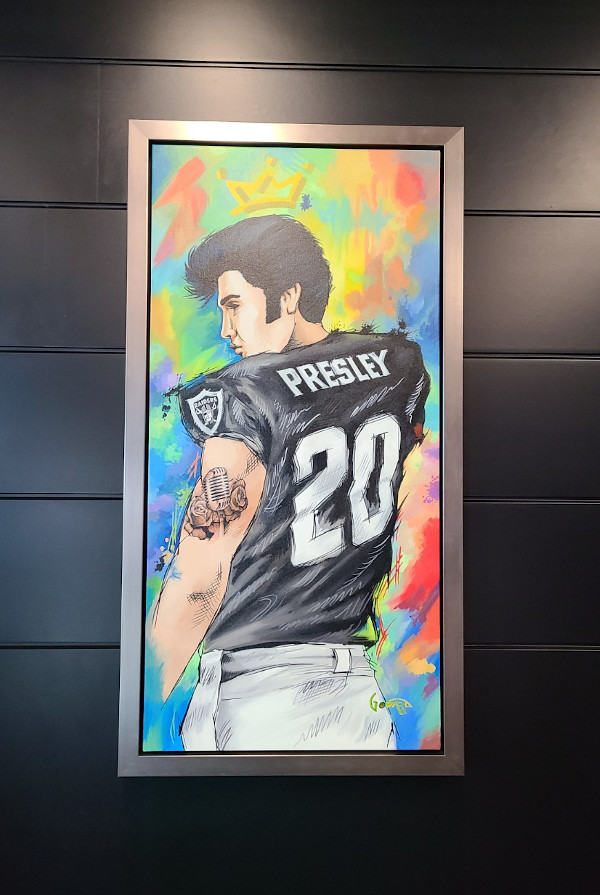 The Press Box
Next we made our way to the Press Box, where every game you watch on TV is broadcast from. A good amount of sports history happens in the press box of every stadium. Many historic moments will happen in this press box as well.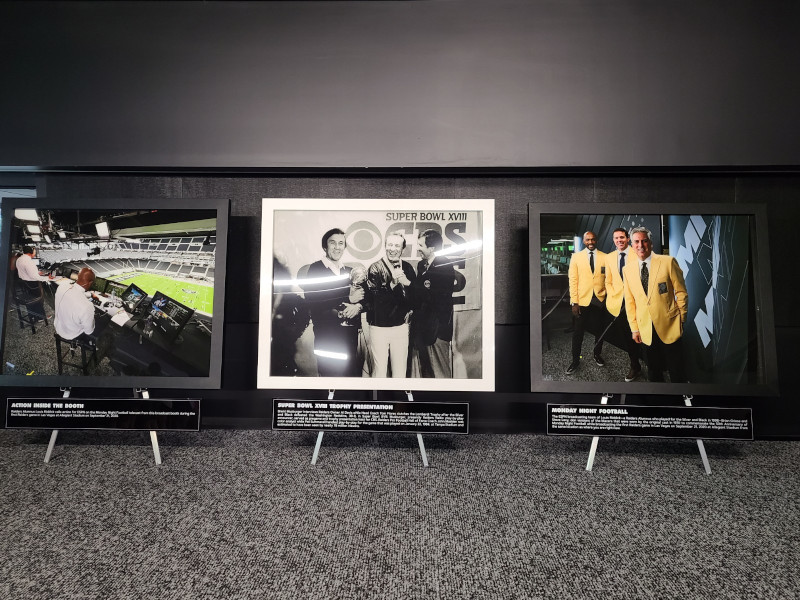 Upgrade Your Ticket for an Upgraded Experience
If you have the money to purchase specific game/event tickets you will receive access to some spectacular areas. The MGM Resorts Lounge and Champions Club offer an exclusive experience for game day goers with dedicated bars, concessions and lounges.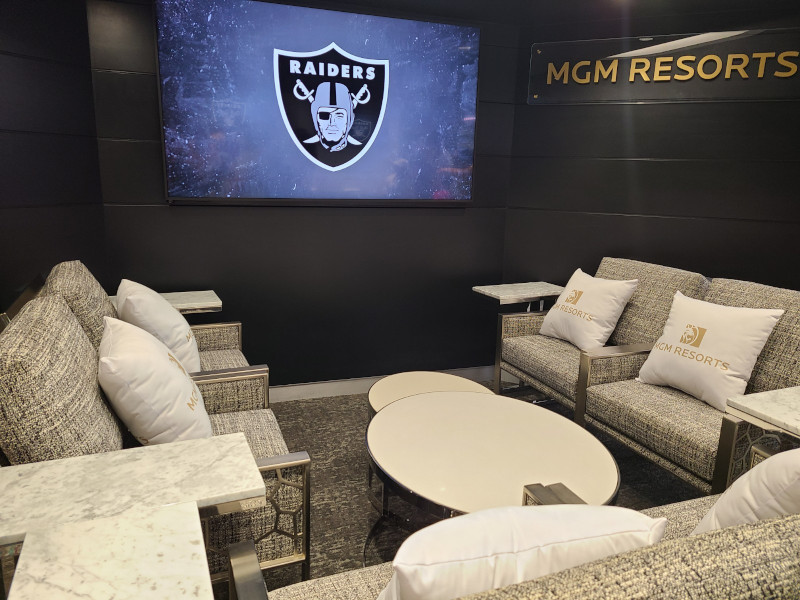 The Raiderettes
The Raiders cheerleaders are called the Raiderettes. This next section on the Allegiant Stadium Tour is dedicated to them. Here you'll find a collection of their uniforms over time and have the opportunity to check out their locker room. Who's your favorite Raiderette of all time? Let us know!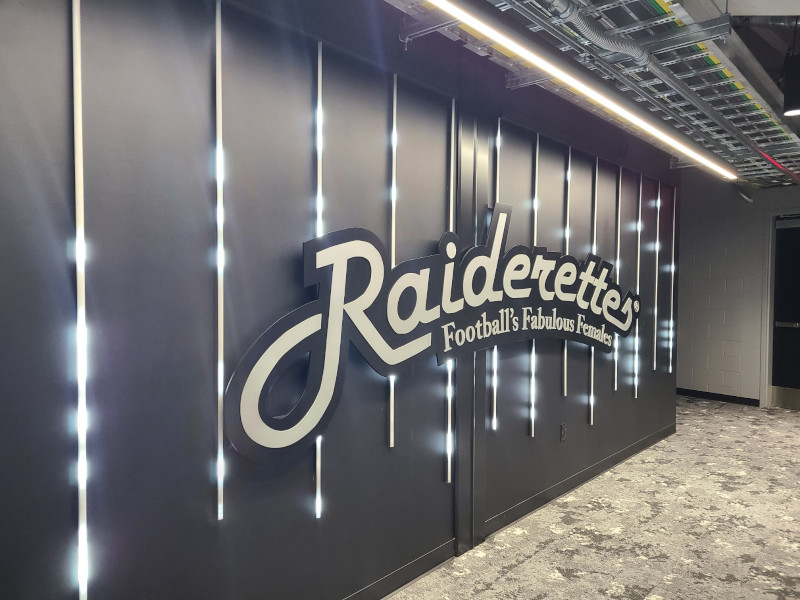 One of my favorite comedians, Anjelah Johnson, was a Raiderette. Take a minute… enjoy the humor, take it lightly.
Super Bowl Championships
The Raiders have won the Super Bowl three times – in 1977, 1981 & 1984. Here you can see their championship trophies and ticket replicas. I snapped an up close photo of the 1984 tickets, since that was the first Super Bowl after my birth. Hey Raiders!!!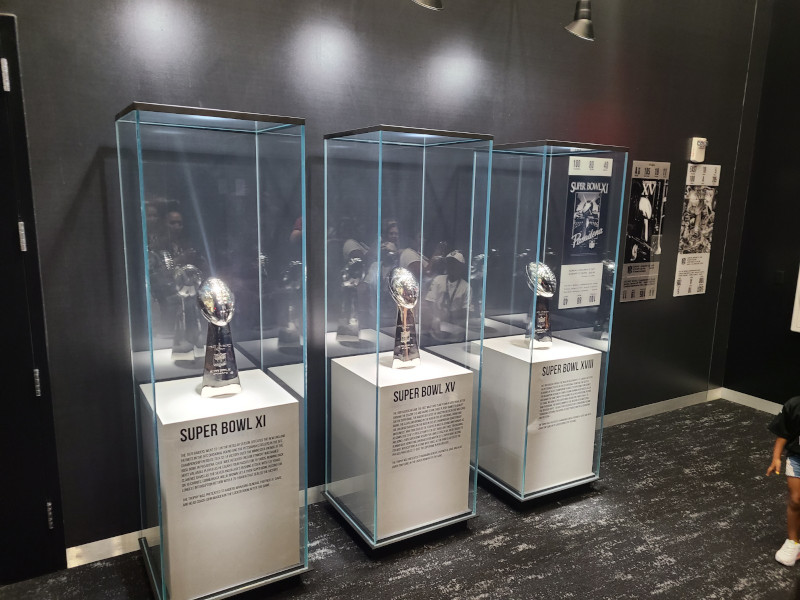 Press Room and Locker Room
Next, we made our way to the Press Room and Locker Room.
Post Game interview watchers will be familiar with the Press Room.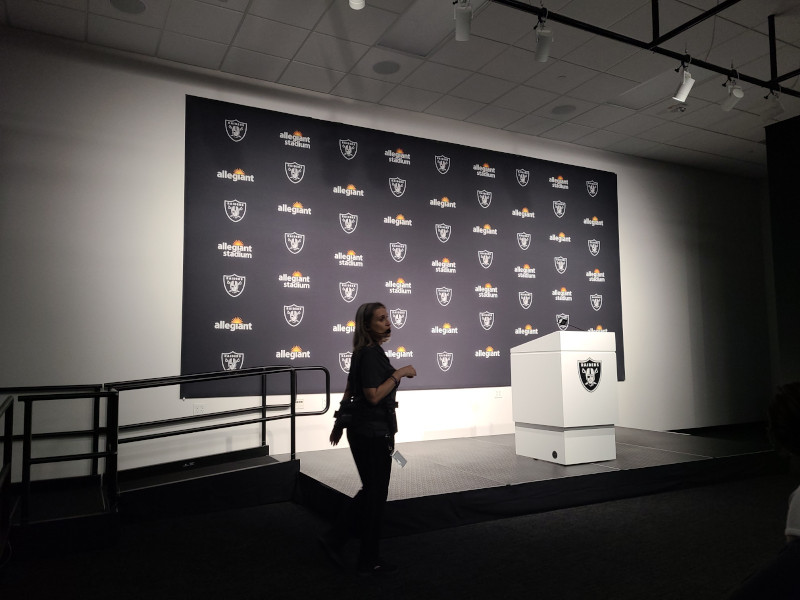 Who can even imagine the speeches that take place in the locker room of Allegiant Stadium? This was such a stunningly immaculate area. You can see the Raiders logo is blocked off from foot traffic. Keep it clean? Superstition? Magical presentation where cameras aren't allowed?
You'll have to take the tour to find out.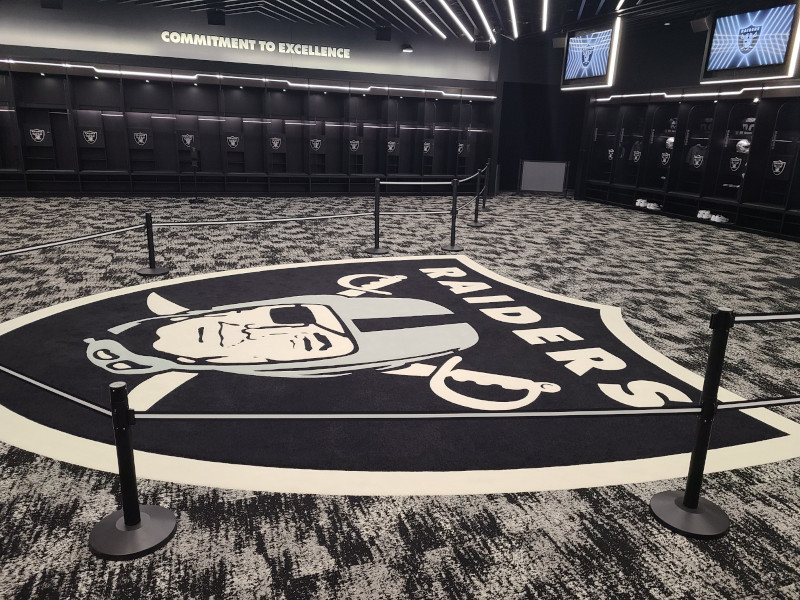 On the Field at Allegiant Stadium
Next it was finally time to head to the field. Absolutely outstanding. The scale of everything you saw is already skewed once you step foot on that field. It is always overwhelming no matter how many fields we step onto. Absolutely outstanding. This would be the last major portion of the tour. What a spectacular ending. From here, those who purchased the drink ticket would move back to the first concourse we visited, the rest of us were directed to the Team Store.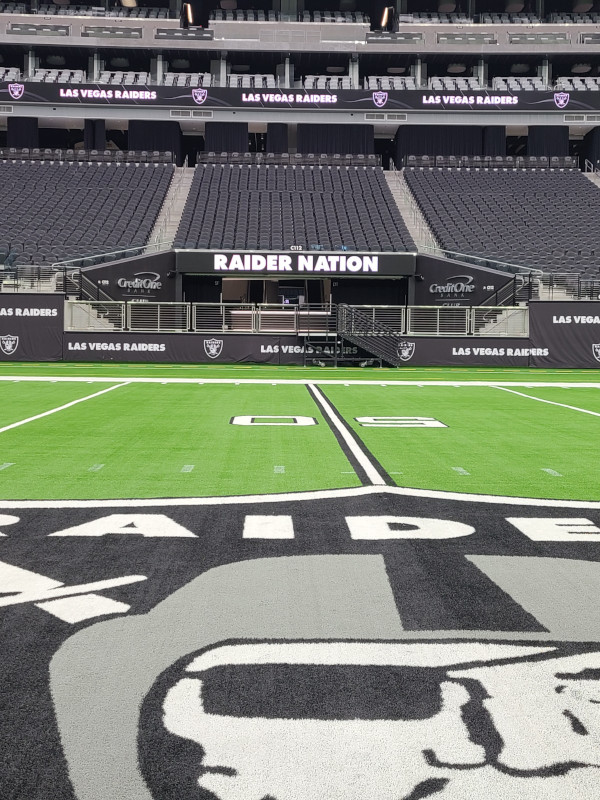 The Raiders Team Store
Finally, we made our way to the Team Store with a sense of loyalty to the team, that we always feel post tour. But, we didn't purchase anything, and made our way out. Another amazing Stadium Tour.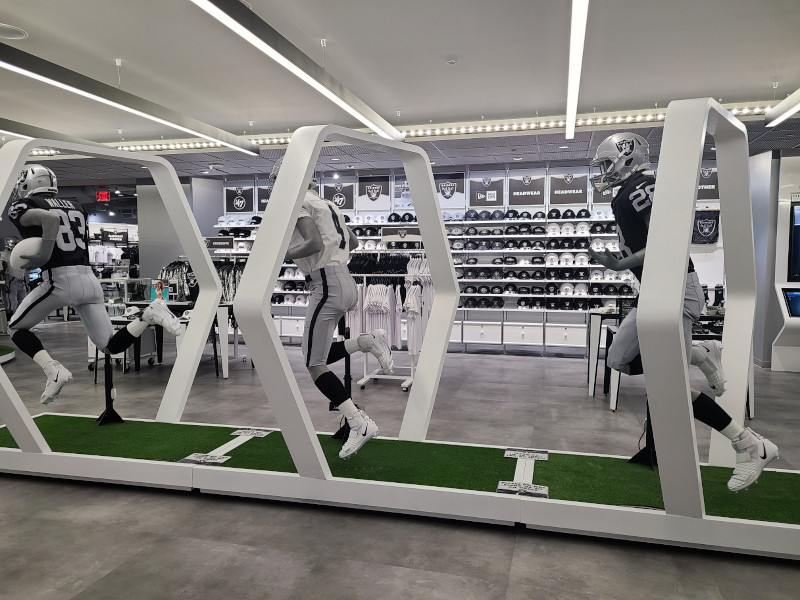 Allegiant STadium Tour – Final Thoughts
We loved this tour! This stadium is one of the most technologically advanced places we've seen in quite some time, it has a prime location, and is just stunning.
Is this a tour you would consider? Let us know! Tag us when you go there! We want to see your photos!
Interested in sports and/or architecture? Stadium tours may be the activity for you!
---
Connect with us on Social Media:
---