2022 Stadium Drinks – Enjoying Drinks at Games
Following up to our 2021 Stadium Drinks post, I thought I'd continue with 2022 Stadium Drinks. This is a compilation of the beverages we have enjoyed while catching a baseball game. If you find yourself at any of the below mentioned locations you'll have an idea ahead of time of what's available.
Calling this post Stadium Drinks again thanks to the few hard seltzers that made the list. At the time of writing this, the MLB All Star Break JUST happened, so there's still half a season to go and more drinks to try.
Lake Elsinore Storm Stadium – 4/14/2022
Golden Road Brewing Pineapple Cart
Pineapple Wheat Ale with blood orange and strawberry.

from Untappd
Wheat Beer – American Pale Wheat, 4% ABV, 10 IBU
Lora's Rating: 4/5
Matt's Rating: 3.5/5
Global Rating: 3.596/5
---
Golden Road Brewing Mango Cart
First in a series inspired by the iconic fruit cart vendors of Los Angeles. A light Wheat Ale with lots of fresh mango flavor and aroma, Finishing crisp and refreshing.

from Untappd
Fruit Beer, 4% ABV, 10 IBU
Lora's Rating: 3/5
Matt's Rating: 4/5
Global Rating: 3.8/5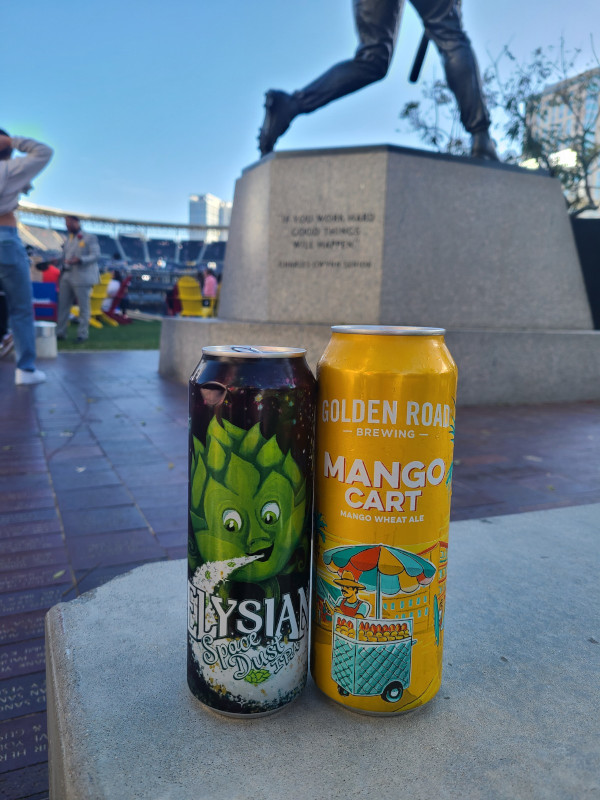 Petco Park – 4/15/2022
Elysian Space Dust
Space Dust :: A Totally Nebular IPA. Great Western premium two-row, combined with c-15 and Dextri-Pils, give this beer a bright and galactic Milky Way hue. The hopping is pure starglow energy, with Chinook to bitter and late and dry additions of Citra and Amarillo. Space Dust is out of this world, with 62 IBU, and 8.2% ABV.

from Untappd
IPA – American, 8% ABV, 62 IBU
Lora's Rating: 3.5/5
Matt's Rating: 4/5
Global Rating: 3.85/5
This beer has become our go to when out in public. We know what we are getting and that we enjoy it.
---
Golden Road Mango Cart
Mentioned above in Lake Elsinore Storm post.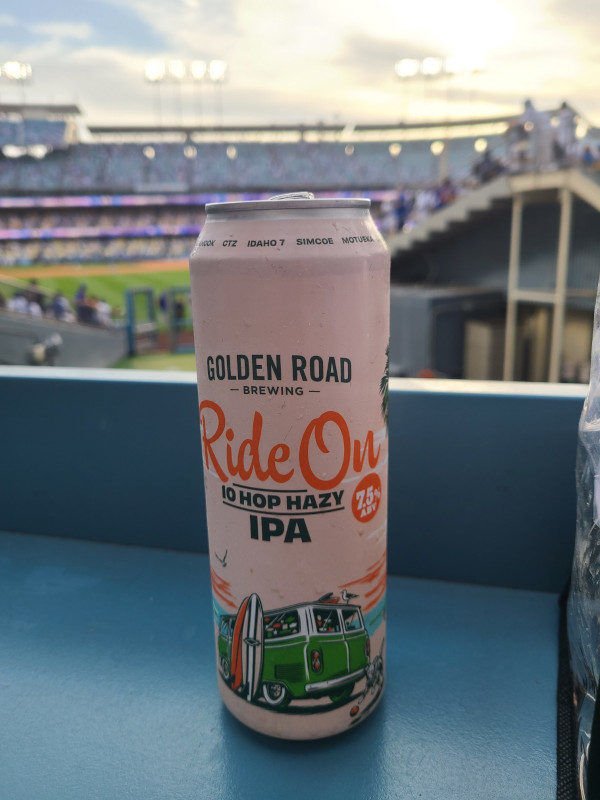 Dodger Stadium – 6/2/2022
Golden Road Brewing Ride On 10 Hop Hazy IPA
Our 10 year anniversary deserved our best. Your new favorite hazy is big, juicy, and full of flavor. 10 signature hops. 1 smooth ride. Ride On.

from Untappd
IPA – New England/Hazy, 7.5% ABV, 30 IBU
Lora's Rating: Did not rate this beer.
Matt's Rating: 4.5/5
Global Rating: 3.77/5
Three Golden Road Brewing entries in this post alone. It appears Golden Road may be our go-to brewery this season!
And yes, this beer was mine, but for whatever reason I didn't rate it. Too busy snapping bullpen pics of the Mets!
Petco Park – 6/6/2022
Bud Light
Bud Light is brewed using a blend of premium aroma hop varieties, both American-grown and imported, and a combination of barley malts and rice. Its superior drinkability and refreshing flavor makes it the world's favorite light beer.

from Untappd
Lager – Amercian Light, 4.2% ABV, 6 IBU
Lora's Rating: 3/5
Matt's Rating: 2.75/5
Global Rating: 2.32/5
It's not our favorite obviously, but we had a long week of baseball and beers ahead of us so Matt decided to go light during the games.
---
Cutwater Grapefruit Vodka Soda
99 Calories. Full of Spirit. Our Grapefruit Vodka Soda combines our award-winning US-made Cutwater Vodka – six times distilled and 15 times filtered with our lightly flavored, grapefruit soda water. The result is a premium and refreshing cocktail that's ready-to-enjoy.

from Cutwater Spirits
Hard Seltzer, 5% ABV
Not rated as it's not on Untappd. However, if I have my selection of Hard Seltzers and Vodka Sodas, I'm going to choose grapefruit.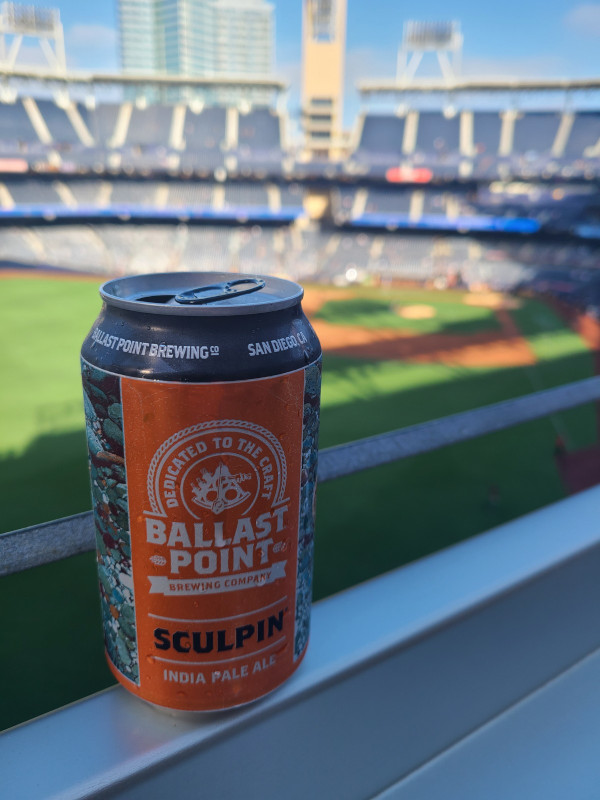 Petco Park – 6/7/2022
Ballast Point Brewing Company Sculpin IPA
The Sculpin IPA is a testament to our humble beginnings as Home Brew Mart. Founded in 1992, the Mart continues to be a catalyst for the San Diego brewing scene, setting the trend for handcrafted ales. Inspired by our customers, employees and brewers, the Sculpin IPA is bright with aromas of apricot, peach, mango and lemon. Its lighter body also brings out the crispness of the hops. This delicious Ballast Point Ale took a Bronze Medal at the 2007 Great American Beer Festival in the Pro Am category. The Sculpin fish has poisonous spikes on its fins that can give a strong sting. Ironically, the meat from a Sculpin is considered some of the most tasty. Something that has a sting but tastes great, sounds like a Ballast Point India Pale Ale. 

from Untappd
American – IPA, 7% ABV, 70 IBU
Lora's Rating: 4/5
Matt's Rating: 4/5
Global Rating: 3.96/5
Small paragraph if no untappd description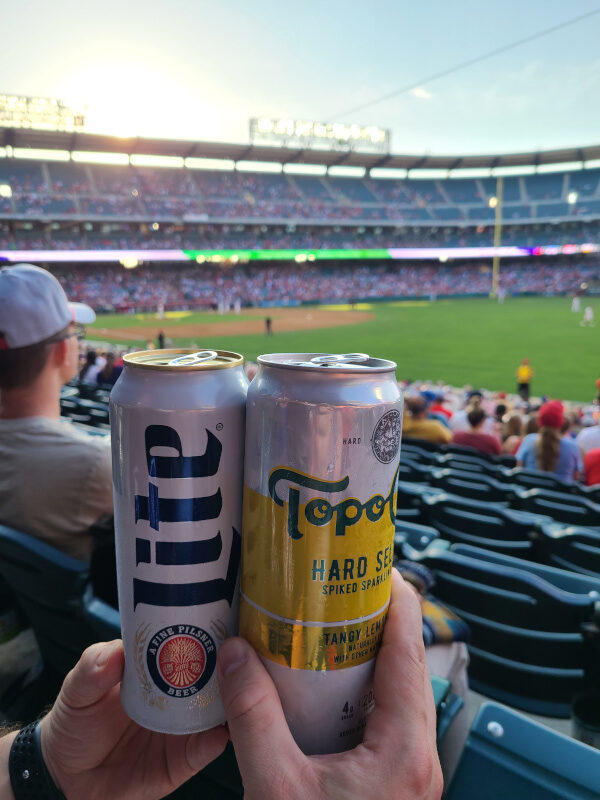 Angel Stadium – 6/10/2022
Miller Lite
Our flagship brand, Miller Lite, is the great tasting, less filling beer that defined the American light beer category in 1975. We deliver a clear, simple message to consumers: \Miller Lite is the better beer choice.\" What's our proof?

1) Miller Lite is the original light beer.

2) Miller Lite has real beer taste because it's never watered down.

3) Miller Lite is the only beer to win four gold awards in the World Beer Cup for best American-style light lager. (2006)

from Untappd
Lager – American Light, 4.2% ABV, 10 IBU
Lora's Rating: 2.5/5
Matt's Rating: 1/5
Global Rating: 2.51/5
Matt brought it back to his roots. Before I introduced him to craft beer he was all about Miller Lite. Now it's a preferred option when we know we have a long day of social drinking ahead. Or in this case a long weekend.
---
Topo Chico Hard Seltzer Tangy Lemon-Lime
Hard Seltzer, 4.7% ABV
I wasn't aware this was on Untappd, so we didn't rate. It has a nice light flavor, the citrus does come through nicely. I'll remember to rate next time I try it.
We've got an entire second half of the 2022 season. What are your favorite drinks to enjoy during a game? Let us know!
---
Thirsty? Read More!
All Beer Posts – All Drink Related Posts – Alcoholic and Non
---
Let us know your favorite drinks to try at Petco Park, Lake Elsinore Storm Stadium, and coming this September we will be headed to RingCentral Coliseum for the first time, home of the Oakland As.
Become our friend on Untappd!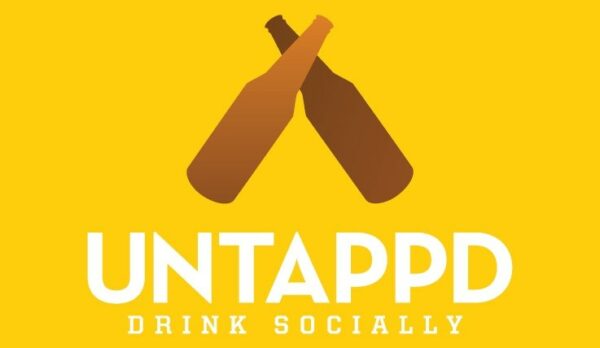 Matt: crackers 8199
Distinct Beers: 3,302 As of October 24, 2022
Lora: llc156
Distinct Beers: 1,957 As of October 24, 2022
Curious about Untappd? Learn more about the app!
---
Connect with us on Social Media:
---