Wide Awake Coffee Pods – Available Near You
One of my favorite coffee creamer brands is Wide Awake. They have a Salted Caramel Mocha flavor that tastes like I'm having a delicious dessert every morning. So, imagine my delight when Matt sends me a picture of some Limited Edition Seasonal Wide Awake Coffee Pods he happened upon at the store.
"Which flavor do you want?"
"Um, all three."
The three flavors he found were Pumpkin Spice, Cinnamon, and Peppermint Stick. I'll chat about each as we go.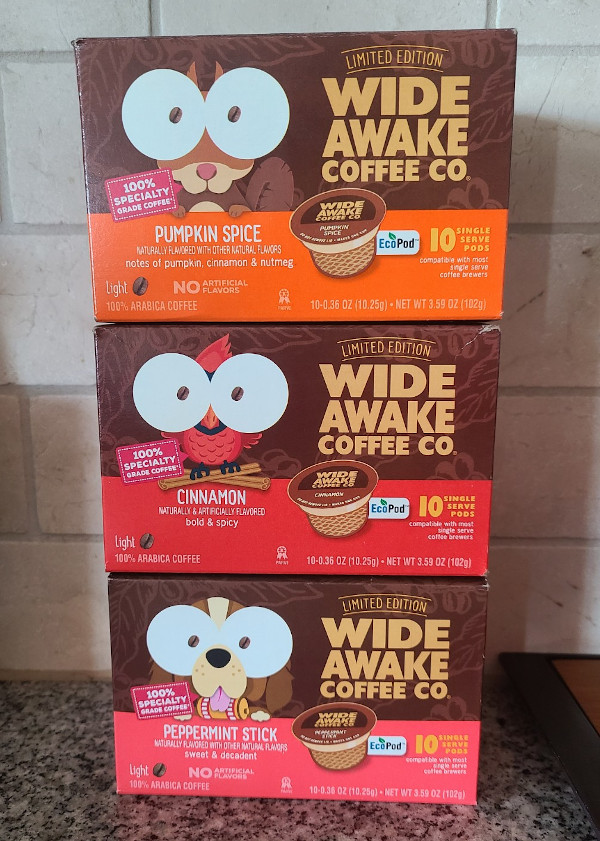 About Wide Awake Coffee Co
Wide Awake has a variety of coffee products including pods like seen above, pre-made coffee drinks, coffee beans, and creamers. They are located in Elk Grove Village, Illinois and are a part of Topco Associates LLC.
Their products are available at retailers nationwide including Piggly Wiggly, Weis Markets, and Stater Bros. To see a list of retailers that sell their products click here.
Wide Awake Coffee Eco Pods
Since these products are new to me, I'm unaware if all of their Keurig compatible are eco friendly, but was pleasantly surprised to see that the entire product is compostable. While you won't be able to toss these in your backyard compost system, they will work with many city facilities. Check your local facilities to see if you can in fact compost these there. From the paper lid, to the ring around the pod, to the filter which makes up the entire bottom of the lid without plastic, these pods are eco friendly and that is a plus for me.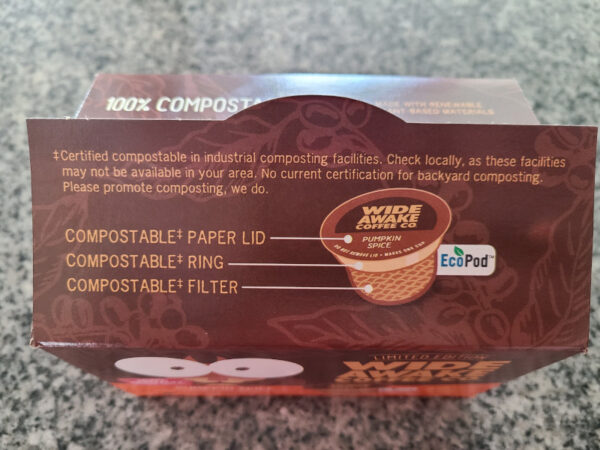 Because of the nature of the filter bottom vs the the plastic bottom, they do come in a bag inside of the packaging box. The bag is recyclable and resealable with an included sticker to keep the bag shut.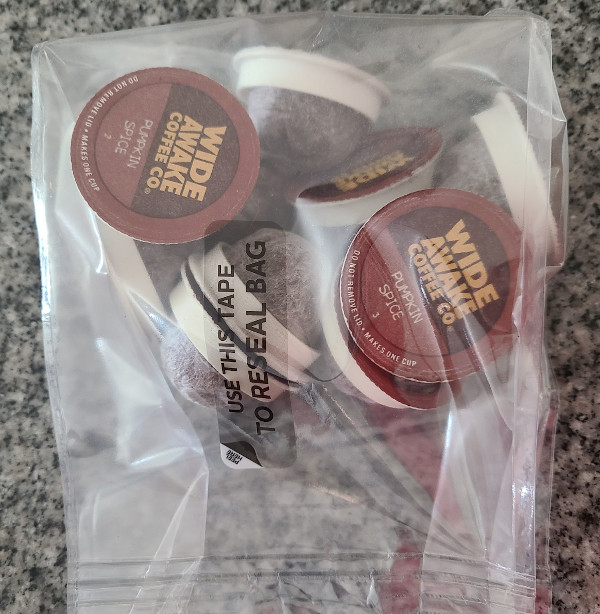 As mentioned above, the flavors we got this particular trip were Pumpkin Spice, Cinnamon, and Peppermint Stick. I'll review those below, but will also add flavors as we come across them over time.
pumpkin spice
The first flavor of the Limited Edition Wide Awake Coffee Pods that I tried was the Pumpkin Spice.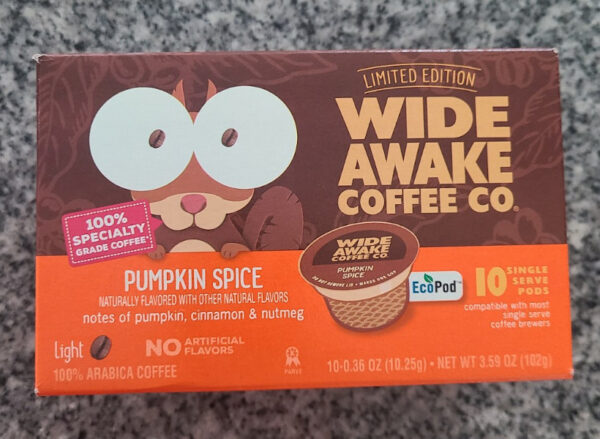 I am no different than any other basic fall girl, I love my Pumpkin Spice Coffee. This flavor advertises to have notes of pumpkin, cinnamon, and nutmeg. The pod had a nice fall/pumpkin scent to it. The 8 oz brewing option seemed to be best for this flavor as it was more subtle. Subtle isn't a bad thing though.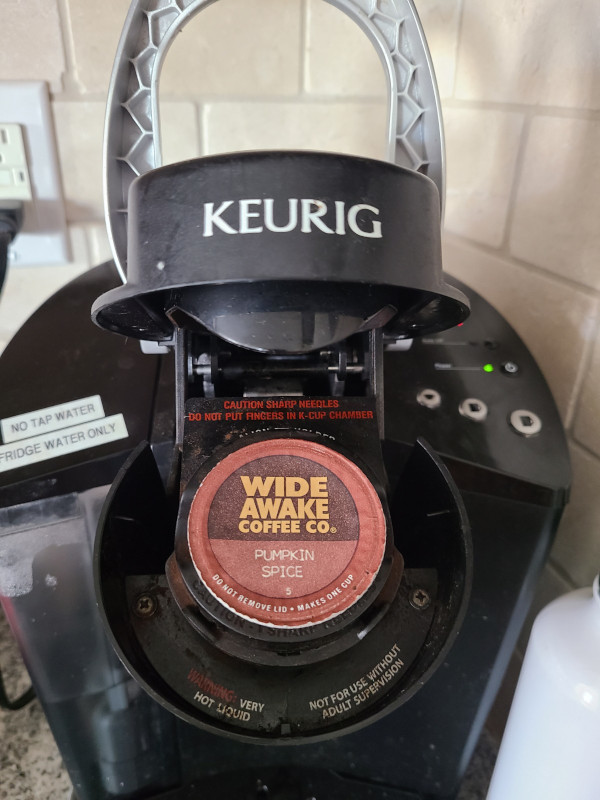 I think this flavor gave a nice hint of fall flavors without being overbearing. It was enjoyed with a small amount of sugar and some vanilla almond dairy creamer from Aldi. This is a flavor I will certainly grab another box or two of for the fall season.
If you want to make a cocktail of this or just "spice it up" a bit…. perhaps some Rumchata Mini-Chatas coffee creamers. You can find them at your local Walmart (if you live in a state where Alcohol is sold in WalMart). If not, perhaps your local Liquor/State store. If you're totally unable to find these, a small airplane bottle of Rumchata should work, split between two cups of coffee, or don't. That's up to you of course.
Just make sure to enjoy them at home, when you aren't going anywhere. Don't take them into work! I've hears tales of this happening.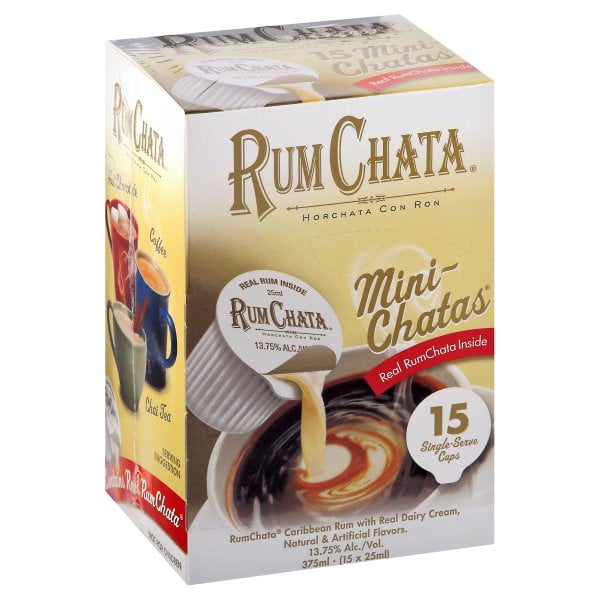 cinnamon
The second flavor I tried was cinnamon. It is advertised to be bold and spicy; and that it is. The cinnamon is STRONG. That was even with sugar and cream. If you drink your coffee black, just be prepared. Now, the strong cinnamon flavor isn't a bad thing. If you read my review of Peet's Vanilla Cinnamon Coffee, you'd see that I quite liked that variety. For this one, I think it is best to use the 10 oz brew option, for my personal taste palette to subdue the cinnamon a bit.
If you absolutely love Cinnamon flavor, then absolutely give this variety a try!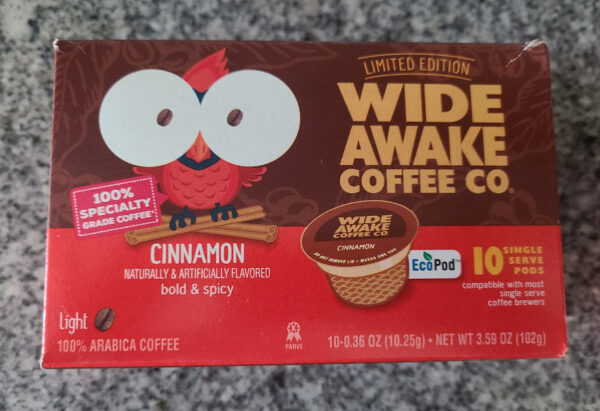 peppermint stick
The third flavor I tried was Peppermint Stick. Now understand, it's mid September. Peppermint is the furthest flavor from my mind. But, for the sake of taste testing, I did it.
Holy Peppermint. It is definitely present within this coffee. This coffee flavor tastes like the holiday season 100%. I may have to keep one aside from this box for an idea I have.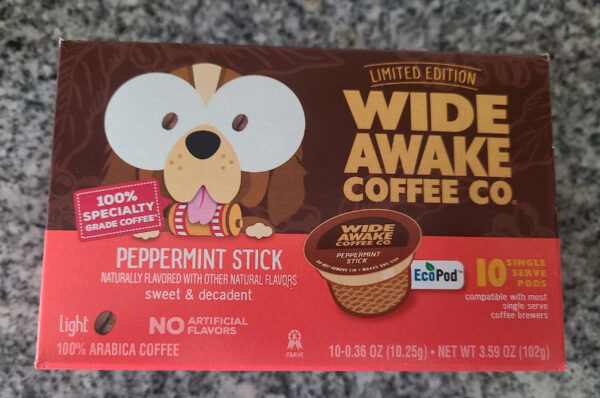 For me, I think September, I just wasn't ready for that burst of Peppermint, in about 6-8 weeks though, I'll be ready! Add some whipped cream and crushed candy canes on top perhaps? Make it a super holiday beverage, perfect for a chilly December morning!
wide awake coffee pods – final thoughts
While the pumpkin spice was my favorite of the three, the other two flavors definitely have promise if I tweak how I make them or what I add to them. As these are seasonal flavors, if you want to try them, you'll have to look now! Who knows when they'll be all out for the season?
What would you add to these flavors to make each cup your own? Let us know!!!
---
Connect with us on Social Media:
---