Peet's Coffee – Find a Location Near You!
After falling in love with the Vanilla Cinnamon K-Cups I received for free from Influenster, I was curious to try Peet's Coffee in person. Luckily, on a recent drive to Las Vegas, I had just that opportunity when we visited one of their Coffeebars.
Our Peet's Coffee K-Cup Review – Learn More About Influenster on our Sister Site: Deedni
About Peet's
Peet's Coffee has been open since 1966. They sell both tea and coffee. You can visit one of their 300 Coffeebar locations nationwide. Don't have a Peet's coffeebar near you? Don't worry, you can purchase their products in a store near you or order online where all of their products and flavors are available.
Eddie World Location
The location we visited was inside of Eddie World in Yermo, California.
Eddie World is California's largest gas station. We always stop to charge our Model 3, visit the restroom, grab snacks, and stretch our legs a bit. Besides the biggest selection of candy I've ever seen, they also plenty of food options available like burgers, sushi, chicken, and of course fries.. For drinks you can get sodas, teas, water, slushies, and of course – Peet's Coffee.
The Peet's Coffeebar is located conveniently near the entrance to Eddie World. Just walk in the front door and head to your left to get your coffee fix! This location, on my visit, was clean and well maintained with one barista visible behind the counter. Not sure if there were other employees working in the back.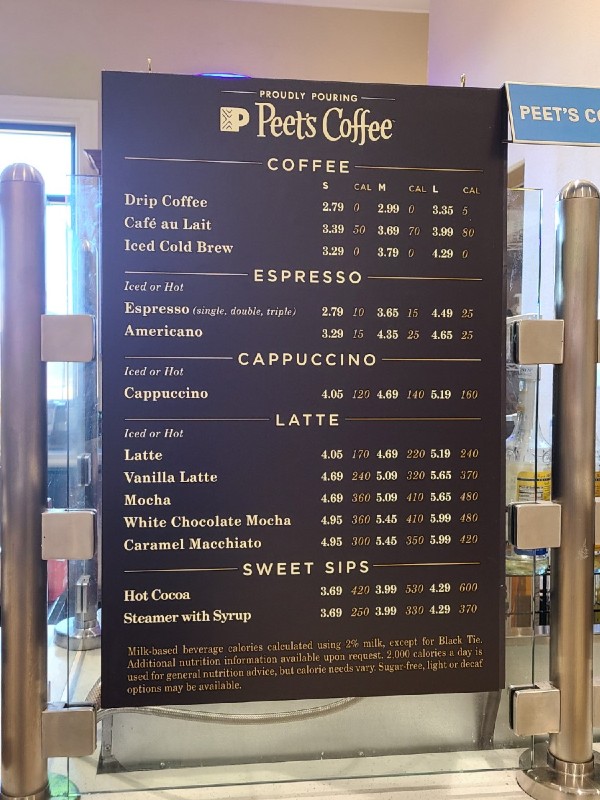 The menu is simple and easy to read with prices and sizes easy to locate. They offer a variety of coffee to suit just about every taste in hot or iced options. You'll find regular drip coffee, Cappuccino, Lattes, Hot Cocoa, Teas, Tea Lattes, even Frappes, perfect for those hot California summer days. Also available are Fruit Tea Shakers in multiple flavors which your barista can tell you about. Customize your drink with a plant based milk, adding whipped cream, or even a flavor shot.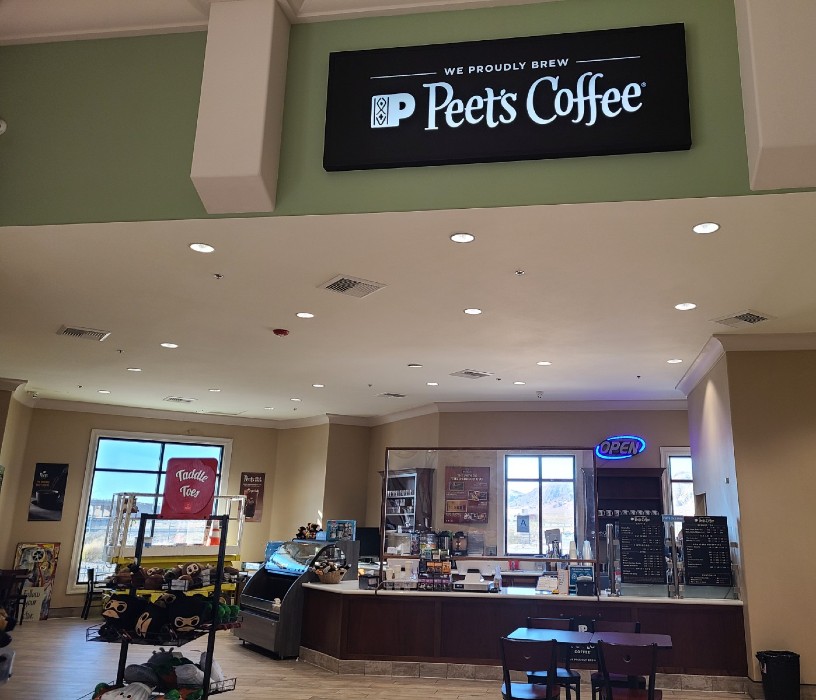 There are a few seats available in this location, but as it is a travel stop, most people are grabbing theirs to go. Grab your coffee and walk around Eddie World to see what other treats and delights are available.
Iced Chai Latte
I ordered the Medium Iced Chai Latte. I've been on a chai tea/coffee kick lately.
I also learned that a dirty Chai tea/latte just means it has a shot of espresso in it? It's that simple. I was today years old I guess.
Ordering was simple, the barista greeted me upon my arrival to the counter, took my order and within minutes a handcrafted drink was in my hands. It wasn't a very busy time to be traveling, so I can't speak on how long of a wait you'll experience during higher traffic times, but it was certainly less of a wait than at other coffee shops I've been to.
My drink – delicious! Like I said, I've been on a kick lately for Chai lattes/coffees, whatever, I love them. If you're a Chai fan, this hits the spot for sure. There wasn't too much or too little of anything, including the ice, milk, or seasonings and tea. I didn't go 'dirty' on this one, though I should have to see how it compared.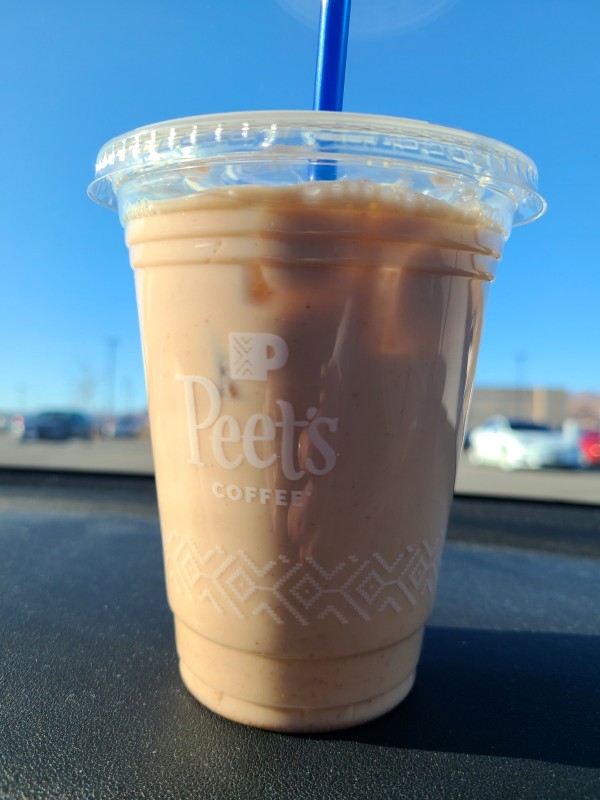 What should I try next? I'll be sure to add those here to update this post as I try more of their handcrafted beverage options.
Peet's Coffee – Final Thoughts
I was pleased overall with my in person Peet's experience. If you find yourself near one of their 300+ locations, skip the 'other' coffee shops and give them a try! Let us know what your favorite coffee order is down in the comments!
---
Connect with us on Social Media:
---