Ginger berry smoothie – Healthy and good for an upset stomach
This Ginger Berry Smoothie is packed with nutrients and the ginger is great for soothing an upset stomach.
*We will not claim that any of the smoothies we post will be the sole reason for any life changing situations. However, they can be added to a healthy diet and exercise regimen to assist in accomplishing your goals.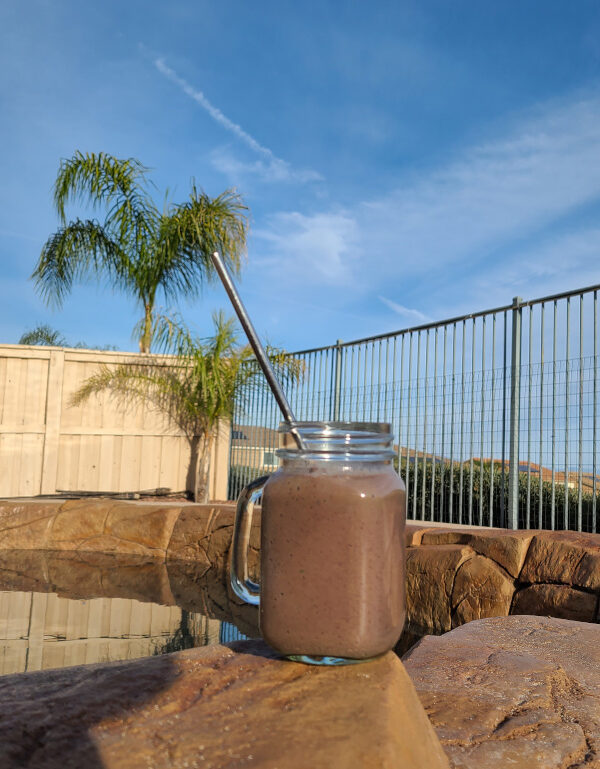 Explanation of Ingredients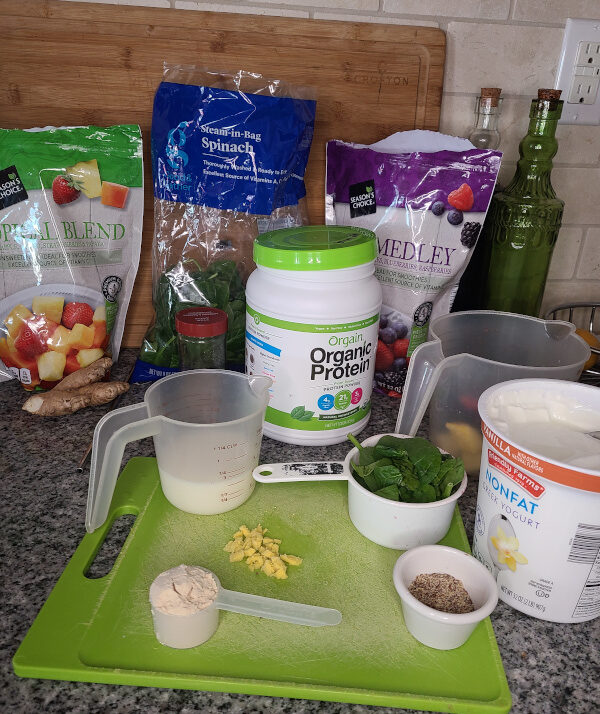 Milk – Milk is a great source of calcium, whether its dairy based or not. This is great for bone/tooth health.
Greek Yogurt – Flavored or not, I used vanilla. Greek Yogurt is full of good bacteria which helps with digestion. It is also full of nutrients, high in protein, has Vitamin B12, B2, and Selenium. You'll also find Calcium, Phosphorus, Zinc, Pantothenic Acid, Vitamin A, and Potassium.
Frozen Tropical Fruit – The mix I used was from Aldi and contains Pineapple, Mango, Strawberries, and Papaya. This combination is high in Vitamin C, Pineapple is great for inflammation, and Strawberries are high in fiber and antioxidants. Finally, Papaya which is just all around amazing. It's got high levels of antioxidants and Vitamins A, C, & E.
Frozen Mixed Berries – Berries are a wonderful natural source of energy. They're great for pushing through those long intense workouts. We used this blend from Aldi.
Spinach – Spinach is high in fiber, calcium and vitamins D3 and K. The vitamins and calcium are great for bone and teeth health. Fiber, as we know is essential for healthy digestion.
Vanilla Protein Powder – Healthy levels of protein support a healthy metabolism, and helps to curb your appetite.
Ginger Root – Besides being loaded with antioxidants, ginger helps calm upset stomachs.
Flaxseed Meal – Flaxseed is high in fiber and Omega-3 Fatty Acids. Omega-3 Fatty Acids are linked to a reduced risk of inflammatory diseases and depression.
Water – Water is used to thin out the smoothie if necessary, but besides that, our bodies need water. We need it for hydration and to assist in the digestion process, to help things….flow so to say.
How To Make:
I added all ingredients to the blender starting with the milk and yogurt, then moving to the frozen fruit, spinach, protein, ginger, and flaxseed. The Vitamix is very specific about the order in which you add your ingredients, this is for the longevity of the machine and proper blending. I went off of other smoothie recipes for the order of ingredients that I use.
Blend all ingredients starting at the slowest speed and slowly moving up to the highest. If you don't add the water right away, you'll notice it's needed after a few seconds. I needed the entire 1/2 cup, otherwise it would have been more of a sorbet. If you're looking to eat yours in a bowl with a spoon, maybe 1/4 cup is all you need. Blend until you hit the consistency you prefer.
Ginger Berry Smoothie Recipe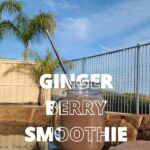 Print Recipe
Ginger Berry Smoothie
Ingredients
1/2

cup

milk

whatever kind you like

1/4

cup

Greek Yogurt

I used vanilla

1

cup

frozen tropical fruit blend

1

cup

frozen mixed berries

1

cup

fresh spinach

1

inch

ginger root

peeled and diced or thinly sliced

1

tablespoon

flaxseed meal

1

scoop

vanilla protein powder

½

cup

water

to thin, optional
Instructions
Add ingredients to blender in order listed. Blend until desired consistency is achieved.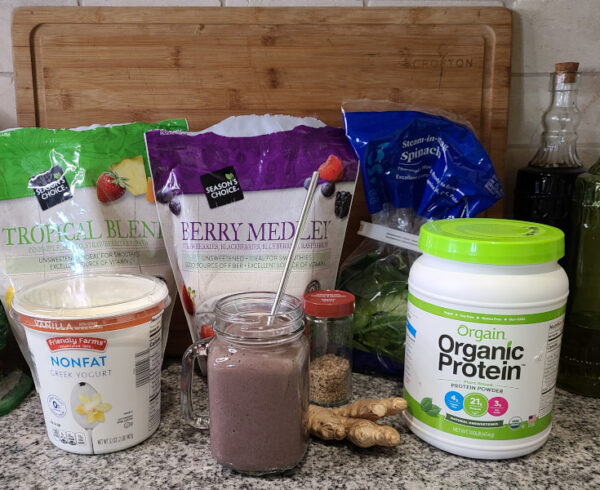 ---
Connect with us on Social Media:
---