6 Coffee Advent Calendars Available This Fall!
I was recently turned on to the idea of Coffee Advent Calendars when Matt found one at Aldi during the 2021 Holiday shopping season. That led me to wonder, what other coffee calendars are available? Sharing some ready made and my idea on a DIY Coffee Advent Calendar at the end.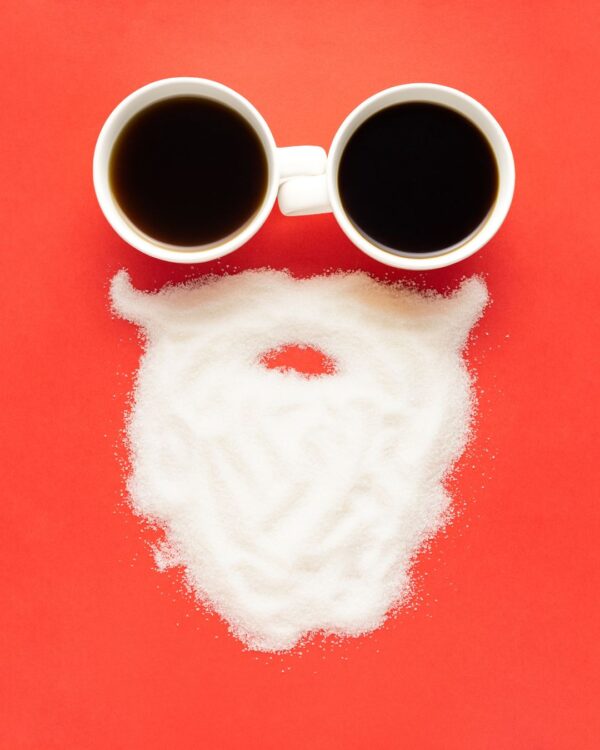 This post may contain referral links. If you use these links to sign up for any service or make a purchase we may earn a commission at no extra cost to you. Thanks.
What is an Advent Calendar?
Before we get started, for those unfamiliar, I'll do a quick synopsis of Advent Calendars.
According to ftd.com – "An Advent calendar helps countdown the days until Christmas, usually with a small item or devotional phrase that is revealed on each day. Traditional calendars are rectangular cards or boxes you can hang on the wall or sit on a table with small sealed doors or windows meant to be opened in order on each day of Advent." Advent being the time leading up to Christmas day starting with the fourth Sunday before Christmas.
Advent Dates for the next three years:
2022: Sunday 11/27/22 to Saturday 12/24/22
2023: Sunday 12/3/23 to Sunday 12/24/23
2024: Sunday 12/1/24 to Tuesday 12/24/24
Now, many advent calendars only do the 12 days prior to Christmas ending on Christmas Eve. Others count down from December 1-24th. That's the route we like to take with our Beer Advent Calendars. Some Advent Calendars can include chocolates, pet toys, children's toys, really anything. There was the overly expensive one from Coco Chanel that included perfume samples and stickers I've read….(and cost in the triple digits too!). You can be creative and make your own for a loved one or yourself, with items they enjoy, perhaps pertaining to a hobby or interest. But I digress.
12 Day Coffee Advent Calendars for 2022
For those of you who want to do a shorter calendar, or perhaps you're a beginner coffee drinker, discovering new flavors, this is the section for you. These are some of the most intriguing and/or easy to access 12 Day Coffee Advent Calendars I've found for the 2022 holiday season. My hope is to purchase a few of these myself, but being the only coffee drinker in our home, I can't buy too many as I may not sleep until Advent Season 2024. BUT I will be sure to let you know which one(s) I buy this year and what I think.
12 Coffees of Christmas from World Market
Style: Pod
World Market is one of my favorite stores! If you have been, then you understand. This coffee assortment is so adorable, and has plenty of flavors that are sure to bring out the Grinch's holiday spirit.
If you have a store near you, you can order for curbside pickup (or go in and grab some other holiday goodies). You can also have one shipped to you. If you're new trying new coffee flavors, this may be the calendar for you!
Twelve Mornings Of Exceptional Coffee
Style: Ground or Bean
This selection comes from Sliverbridge Coffee Company, a woman owned and operated company from Ohio.
At first I thought this pack was similar to others, with one new cup of coffee per day. But, I was wrong! It happens…sometimes. Each bag of coffee, which you'll reveal the flavor of when you peel back the label, makes a 10-12 cup pot of coffee! 10-12 cups!
At under $40 (before shipping), this is too good of a deal to pass up. I think I'll be placing my pre-order after I'm finished posting this article!
24 Day Coffee Advent Calendars
For those of you wanting to commit to the 3 week coffee adventure, this is your section. You'll experience a new flavor every day for 24 days, from the beginning of December, all the way until Christmas Eve. Or start on the 2nd, so you can finish Christmas morning, maybe that's a cheat….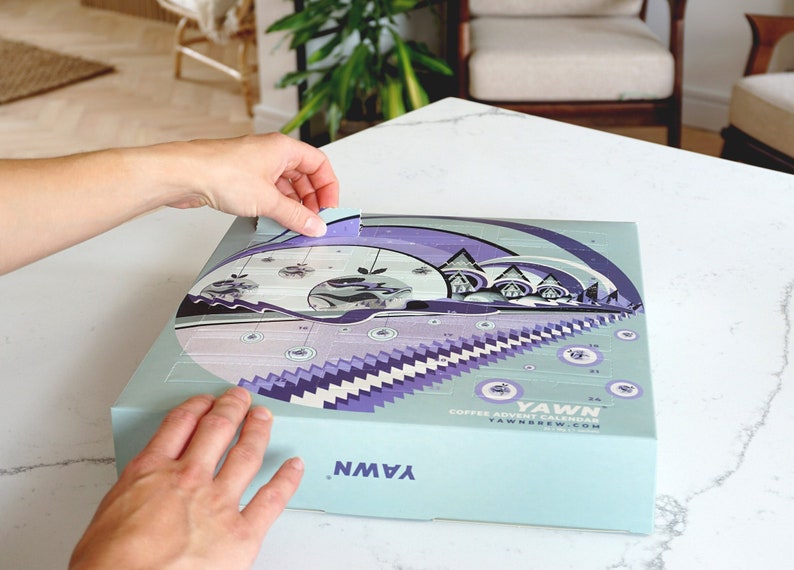 24 Day Coffee Advent Calendar from YAWNBREW
Style: Ground or Bean
With this set, you'll receive 24 sachets in your choice of beans or ground coffee. There are add-ons available like a cup or French Press.
Each package has a listing and description of that day's unique flavor.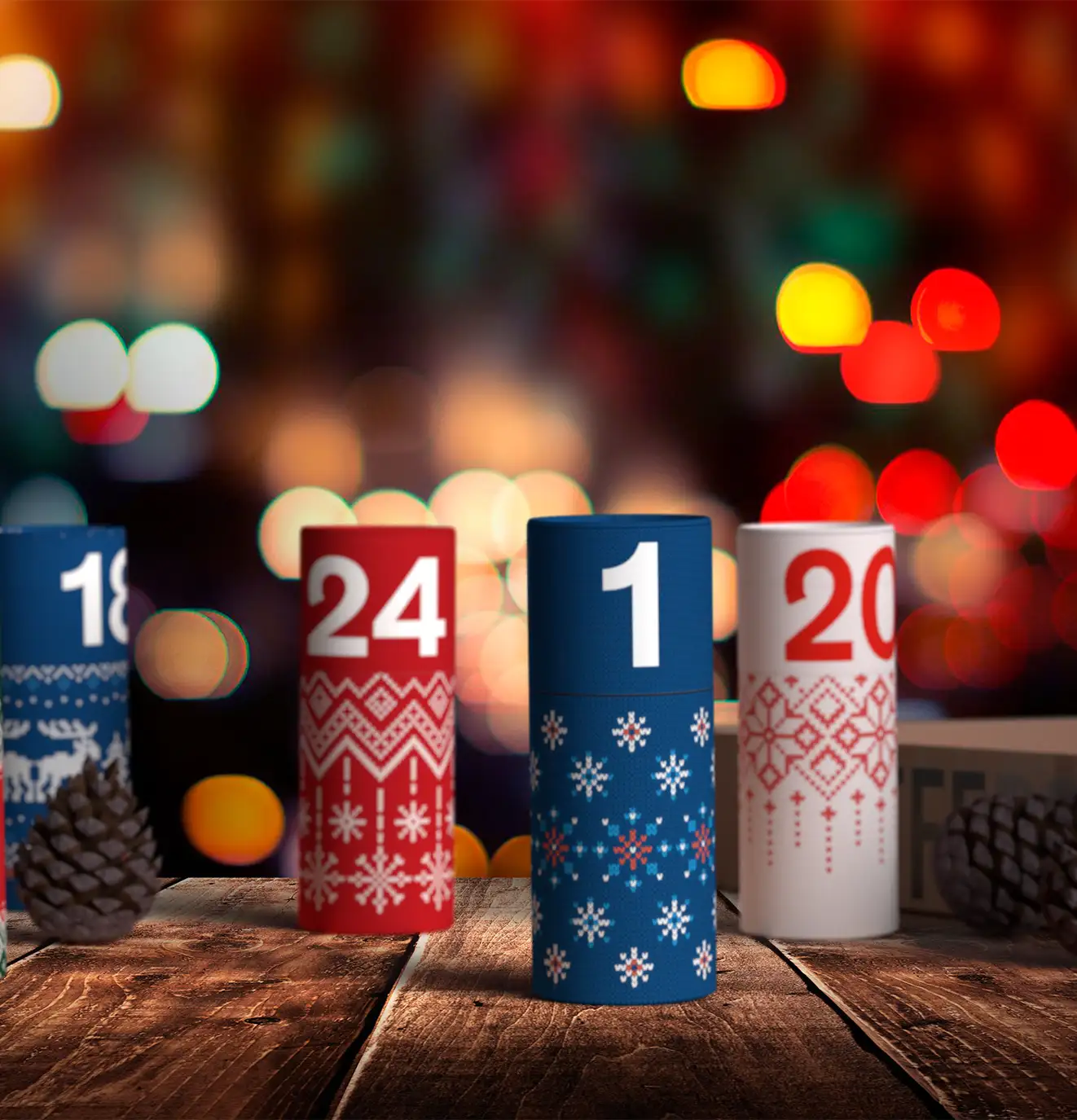 Scandinavian Specialty Coffee Advent Calendar from Kaffe Box No.
Style: Whole Bean
This specialty coffee set comes from 12 top Scandinavian coffee brewers offering you 24 different top tier coffees. To ensure freshness they even send them out in two shipments so you get the freshest blend possible.
The company is currently working to build clean water wells in developing countries and a portion of each calendar goes towards that project.
See more and order a calendar today at Kaffe Box No.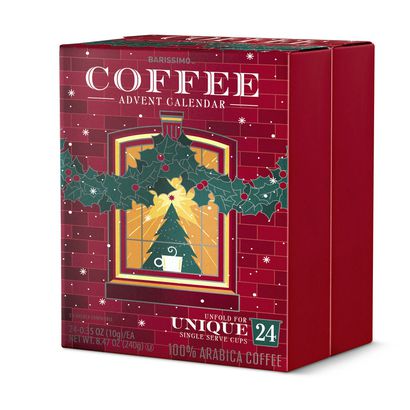 Aldi 24 Day K-Cup Coffee Advent Calendar
Style: Pod
Back again, and probably going to be a staple in our kitchen this holiday season is the Aldi Coffee Advent Calendar. This one is for Keurig and other compatible single brew machines.
You'll be able to get your hands on one (in select US markets) in early November. Follow Aldi's Instagram for more information!
See what we thought of the 2021 Aldi Coffee Calendar!
Beanies Flavour Instant Coffee Advent Calendar
Style: Instant
If Instant coffee is more your style, check out this 24 day set from Beanies.
Each day you'll open a new instant single use pack flavor of coffee to enjoy throughout the holiday season. In addition to that, there are two mystery jars of instant coffee that come with this set! Flavors will vary, but isn't that the fun of an advent calendar, the surprise!?! Get yours today!
Then there's the make your own option…
Much like our DIY Beer Advent Calendars, I thought, what about a DIY Coffee Advent Calendar? Once I gather my "how to" on that I'll post that here! My thoughts; however, begin with variety packs of your favorite brews, mixed with some premade varieties available at your local retailer. Perhaps a local shop to you has a coffee section where you can bag your own beans. Choose some new to you flavors and wrap them in some festive paper! This is not only a great gift idea for friends and family, but a way to discover new coffee flavors yourself! Keep an eye on this post for more!
---
Thirsty? Read More!
All Non Alcoholic Drink Posts – All Drink Related Posts – Alcoholic and Non
---
Final Thoughts
So many of us fall into a daily routine, that includes our morning cup of coffee. So, why not switch things up even if just for a few weeks a year? Maybe you'll discover a new flavor that you'll want to find a larger size of from time to time or for special events. Maybe you'll just embrace the season and the flavors every morning. It's a fun adventure to take.
If you're interested in even more from the world of coffee, our friends over at The Best Coffee Recipes have all the information you need to know about holiday coffee menus from Starbucks and more!
So, which one(s) do you think you'll be trying this year? Or, will you DIY it?
---
Connect with us on Social Media:
---