2021 Coffee Advent Calendar from Aldi
Advent Calendars come in all shapes and sizes. They can be anything from small toys, to cheese, to even beer. We have been making our own Beer Advent Calendars, three years running, but this year I wanted to try something else. Matt came across this Coffee Advent Calendar at our local Aldi and purchased it for me while he was getting his Cheese Calendar.
I've stopped buying single serve cups/K-Cups for my Keurig in favor of grinding my own beans and using a reusable device. It's better for the environment and better tasting, fresher coffee I find. But, I couldn't resist this advent calendar.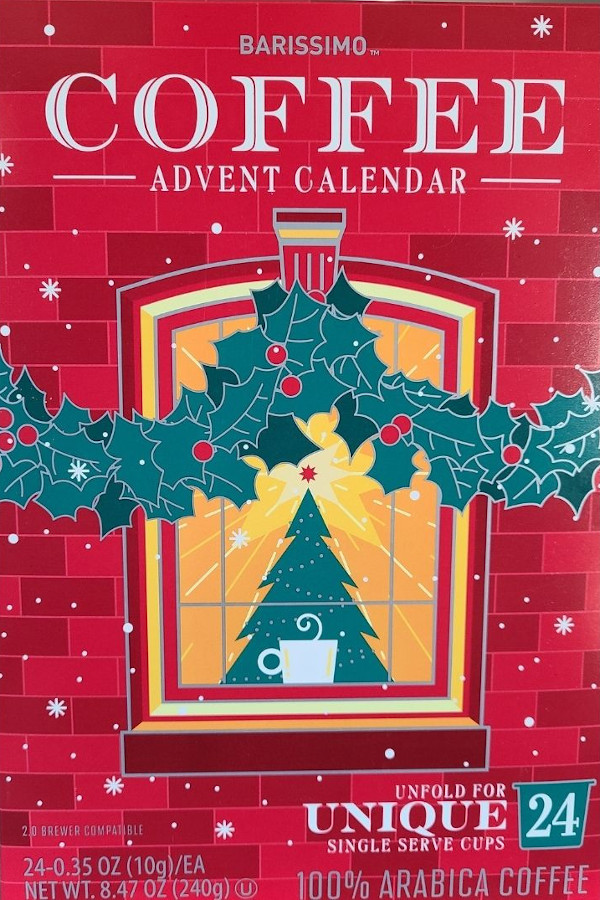 This article reviews all of Aldi's Advent Calendars for 2021.
This calendar features a different flavor of coffee every day for 24 days. This post will highlight each day's flavor and my thoughts on them.
Day 1 – Apple Pie
What an interesting flavor for coffee. Smells just like fresh baked apple pie, and a drop of vanilla creamer adds that a la mode flavor experience. I wasn't sure I would like this, while, I do love apple cider, I never thought of apple as a coffee flavor. Yes Starbucks has their variety, but I didn't try it, because I honestly didn't think I'd like it.
But alas, I did. I would certainly try this flavor again.
Rating: 4/5
Day 2 – Big Island
Second coffee in the coffee advent calendar and alphabetically.  I'm hoping they're not all in alphabetical order.  
This brew doesn't have a distinct smell. Flavor doesn't really stand out. Not strong, quite mellow. Not something I'd grab at the store.
Rating: 2/5
Day 3 – Brazil
Well, looks like the calendar positions were placed alphabetically.  A bit disappointing that there's no surprise each day, I can just look at the list on the box to see what's coming.  
Brazil had a strong smell, not bad, not distinct, just strong.  It had a nice easy taste, and is one I would consider in the future.
Rating: 3/5
Day 4 – Caramel Macchiato
I really am slightly disappointed that these are in alphabetical order.  Takes the mystery out of it. 
But alas, here we are with caramel macchiato, I often order one of these at Starbucks or Dunkin.  Obviously less fancy made in my kitchen, I quite enjoyed the simplicity, this one did not disappoint..  You could smell the caramel, nice and sweet.  The flavor was not overwhelming at all.  My usual vanilla creamer added to the creaminess of the coffee.  Another flavor I would certainly grab from the shelf.
Rating: 5/5
Day 5 – Caramel Pecan
The smell: pecan certainly comes through. Before adding anything it has a nice light color not super dark. 
The taste is sweet and light. Caramel comes through more in the taste but the pecan remains. Not bad, I prefer yesterday's.
Rating: 3/5
Day 6 – Cinnamon Sticky Bun
I expected a bit more cinnamon, it had the slight smell of a sticky bun, but overall, underwhelming.
Rating: 3/5
Day 7 – Colombian
Smell isn't anything out of the ordinary. Historically not my favorite flavor.
Takes first sip. Yep still not my favorite flavor. It's alright. I don't get any distinct flavor. Not one I'd grab from the shelf.
Rating: 2/5
Day 8 – Costa Rica
Smell has a boldness to it, as did the taste, nothing overwhelming. If there's not an overwhelming smell like the Apple Pie or Caramel Macchiato. Overall not, my favorite, but not bad either.
Rating: 4/5
Day 9 – Guatemalan
Today's coffee tasted like sadness.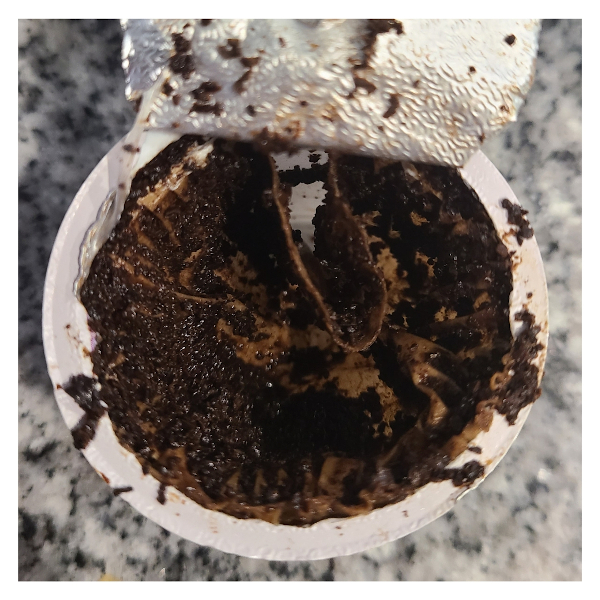 Every so often you get a bad K-Cup.  In this case, the filter didn't attach correctly and jammed everything up. Coffee grains in the bottom of my cup, and not yet being caffeinated I opened the k cup to see what the problem was, and dumped the grains down the drain.  Because I wasn't thinking clearly yet, I didn't realize that I could have emptied them into one of my reusable pods and made another attempt.  What I was able to drink was very watered down, so unfortunately I cannot give a proper review.  Organic Guatemalan is coming up so kind of another chance.
No rating today
Day 10 – Hazelnut Coffee Cake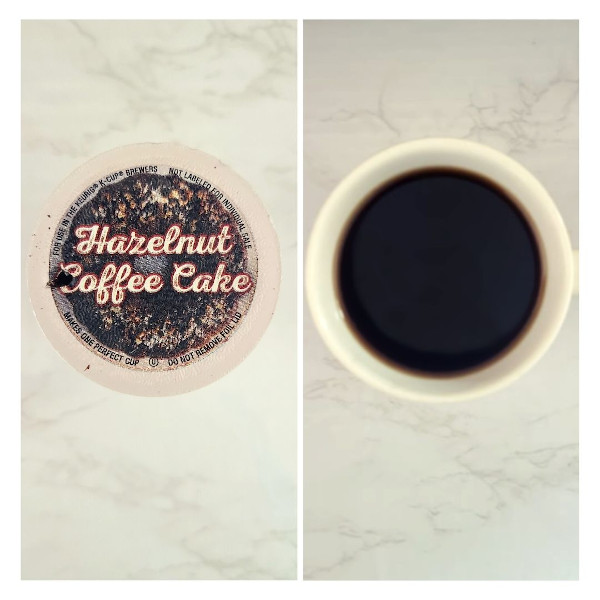 The smell was amazing, just like a bakery.  The taste was disappointing, I thought it to be a bit bitter. The Hazelnut and sweetness of a coffee cake came through but the bitter taste I got overwhelmed them. 
Rating: 2/5
Day 11 – Holiday Blend
Smells sweet. Taste isn't overwhelmingly sweet. Something else hits as it goes down I can't quite pin point it. Nice and smooth. Would consider picking up around the holiday season. Better than the Dunkin Holiday Blend.
Rating: 4/5
Day 12 – Jamaican Blue Mountain Blend
Taste and smell are nothing extraordinary. Nice simple coffee. Might buy depending on what else is available
Rating: 3/5
---
Thirsty? Read More!
All Non Alcoholic Drink Posts – All Drink Related Posts – Alcoholic and Non
---
Day 13 – Organic Breakfast Blend
Smells like a fine cup of coffee. Expecting no extravagant flavor, something similar to a diner coffee. But you know, organic. *Magic hands*
Taste- As expected. Nothing fancy, just a nice cup of coffee.
Rating: 4/5
Day 14 – Organic Colombian
Smelled like normal coffee, the taste was nice and smooth. Very enjoyable on this windy, rainy day in Southern California.
Rating: 4/5
Day 15 – Organic Honduran
Smell and taste aren't out of the ordinary, all in all a nice cup of coffee.
Rating: 4/5
Day 16 – Organic House Blend
As expected, your average cup of coffee. This isn't a bad thing. Sometimes the flair and extra flavors aren't necessary.
Rating: 4/5
Day 17 – Organic Peru
Like the previous days, all around a delightful cup of coffee. I can't say I've had organic coffee at all before this, and I've now had multiple cups. Is it the first thing I look for when buying coffee? It wasn't previously, but definitely moves up in rankings.
What Organic varieties do you drink if at all? Any recommendations?
Rating: 4/5
Day 18 – Organic Rainforest
Very similar to the other organic blends. But there is another bit of flavor that comes through which I can't pinpoint. They've all been great and have changed my mind on the possibility of purchasing organic coffee.
Rating: 4/5
Day 19 – Peppermint Bark
Neither smell nor taste are overwhelming as sometimes Peppermint can be. A delightful holiday treat.
Rating: 3/5
Day 20 – Salted Coconut
Coconut isn't my favorite flavor to begin with, so I entered this one a little biased. A bias which stuck. Able to drink it, wouldn't buy it willingly. Leaves a strange flavor behind. Coconut lovers will probably enjoy this one. My husband is one of those people but happens to dislike coffee so him trying would be a moot point.
Rating: 1/5
Day 21 – Santa's Blend
Smells sweet. Like Santa's Workshop.😉
What's the taste? I get a hint of spice. Maybe some gingerbread? An enjoyable holiday sweet treat.  I enjoyed it with a pastry that my neighbor so thoughtfully baked and gifted us.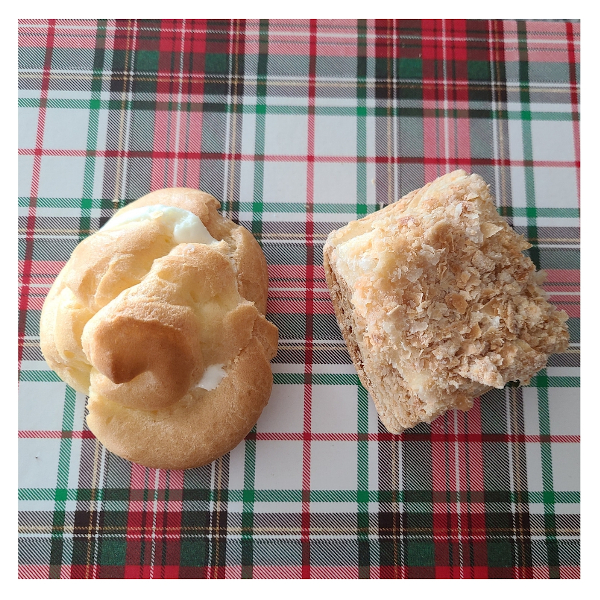 Rating: 5/5
Day 22 – Spiced Eggnog
I should preface this by saying that I don't like egg nog. Neither the taste nor smell are pleasing to me. I think it smells like rotten dairy products. 
So does this coffee. 
See- not all kittens and rainbows here. If you love egg nog you'll love this flavor. I'm not sure I'll make it past a few sips. Not for my. Not my taste preference by any stretch of the word.
Rating: 0/5
Day 23 – Sumatra
Second to last day, I'm a bit sad to see it end. There are definitely some I'd find in the store to enjoy this holiday season or even all year long. I'll discuss those tomorrow.
The Sumatra has a beautiful strong coffee smell, and a smooth taste. A bit of creaminess in addition to the dash of cream I already have in it. Would for sure purchase this one in the store.
Rating: 4/5
Day 24 – White Chocolate Mocha
Final Day! Today was white chocolate mocha, which smelled of white chocolate for sure, the taste wasn't strong, which is good in my opinion. Sometimes white chocolate can take over the flavor of whatever it is mixed with. I liked this one, but probably not enough to buy it.
Rating: 3/5
Coffee Advent Calendar from Aldi – Final Thoughts
I certainly enjoyed this coffee advent calendar and would consider this and others in future years.  My assumption will be that this one probably won't change next year by many flavors if at all.  If you love coffee and are open to new flavors, I certainly suggest picking up one if not at your nearest Aldi, anywhere you come across one. 
Favorite Flavors:  Day 4. Caramel Macchiato & Day 21. Santa's Blend Both 5/5
Least Favorite Flavors: Day 22. Spiced Egg Nog 0/5 & Day 20. Salted Coconut 1/5 However, I'm a bit biased as I'm not particularly a fan of either flavor outside of coffee.
---
Connect with us on Social Media:
---