Smoothies 101 – Why People Drink Them and What To Include
There are many reasons why people drink smoothies as they provide many health benefits. The problem is that many people just find smoothie recipes thinking they'll solve whatever problem you are experiencing without making sure they are putting the right ingredients in your body. So, first you'll want to focus on what it is you want to assist with in your body by drinking smoothies.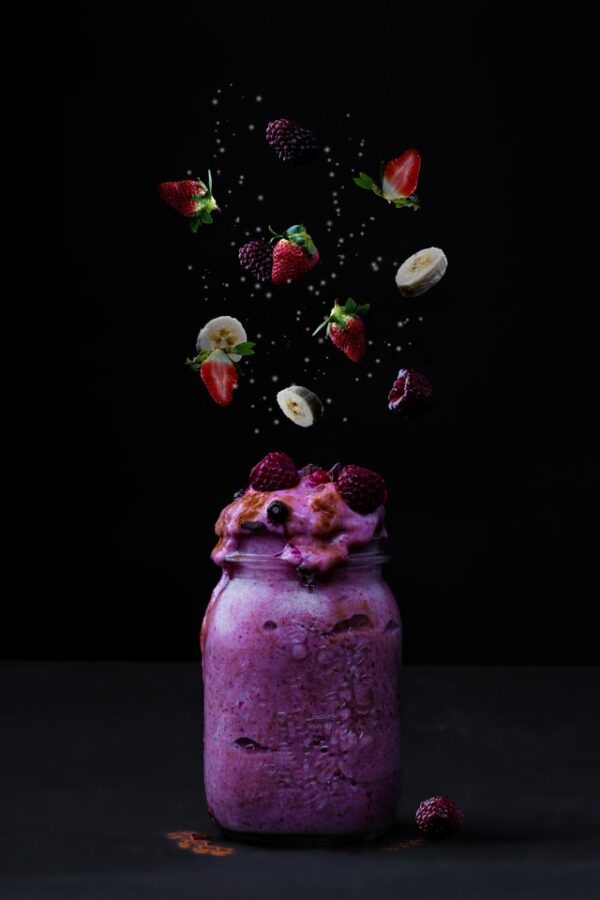 Five common reasons people drink smoothies are to/for:
Weight Loss
General Health & Immunity
Improve Skin and Detoxify the Body
Mental & Brain Health
Bone & Tooth Health
In this post, we're going to discuss how smoothies can assist with the above mentioned issues and ailments. We'll also highlight some important ingredients for you to build your own deliciously satisfying smoothie.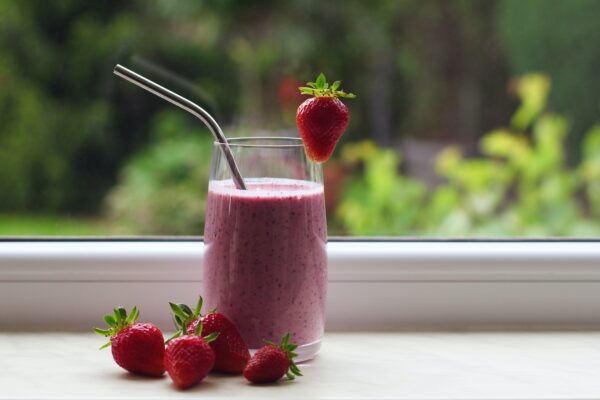 *Disclaimer – These recipes alone will not solve the above mentioned issues or reasons people add smoothies to their diets. These suggestions based on the benefits of the individual ingredients. Please speak to your doctor and add these to a healthy diet/exercise program.
for Weight Loss
As stated above, smoothies alone will not help you lose weight. However, the nutrients in smoothies can assist with a healthy weight-loss program by providing the following benefits.
Dissolve Body Fat – Enzymes in several fruits help dissolve body fat and clear up your circulatory system

Pineapple and Papaya contain Bromelain which has anti-inflammatory properties.

Control Cravings – Smoothies are full of not only nutrients but flavor. Protein and other nutrients help curb cravings.
Aid in Digestion – fiber in green leafy vegetables add essential vitamins and minerals to aid in digestion.

Spinach and Kale are high in fiber. This helps prevent constipation and promote regularity and a healthy digestive tract.

Fiber – essential for regulating the excretory system. A healthy amount of fiber keeps bowels functioning properly and also helps you feel full.

In addition to Spinach and Kale, Apples, Bananas, Raspberries, Strawberries, and Oranges are all high in fiber, with Raspberries having the highest amount per serving with 8 grams per cup.

Better for Digestion – Liquid food as in blended fruits and vegetables are easier for the body to digest in liquid form, which can help with healthy weight loss in addition to exercise.
Add energy. Certain ingredients are known to aid in natural energy boosts which as a result, help you power through those rough workouts.

Bananas, Avocados, Goji Berries, Apples, Strawberries, Oranges, and Dark Berries all provide a natural energy boost to help keep you moving. Yogurt, Beets, Dark Leafy Greens, Dark Chocolate, Oats, Peanut Butter, Seeds, and Green Tea are also natural energy boosts.

Release extra bile from the gall bladder. Sounds gross, but bile is helpful in the digestion of fat.

Mint leaves trigger the extra release of bile from the gall bladder.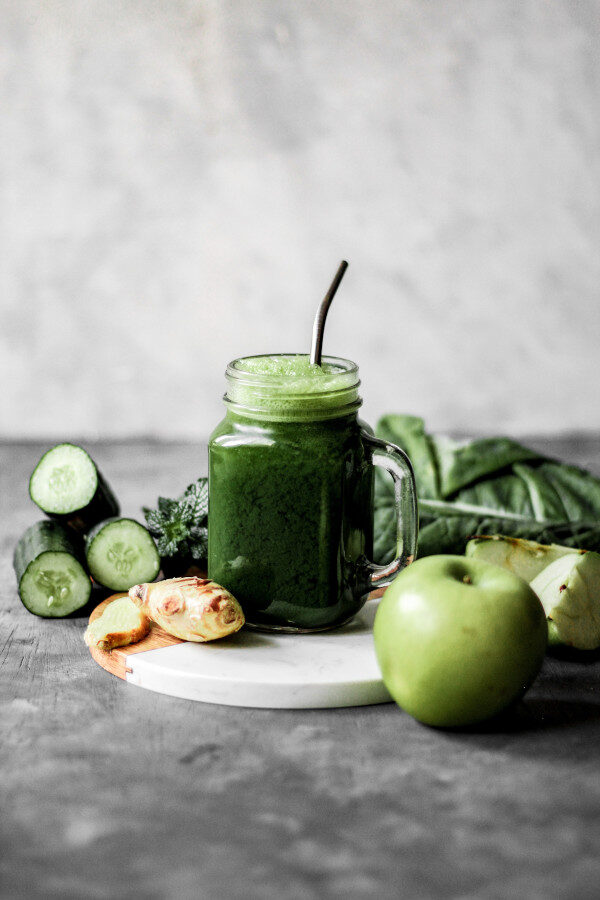 for General Health & Immunity
Beta Carotene – Nutrients like beta carotene help boost your immune system. Ingredients rich in beta carotene are rich in Vitamin A which has anti inflammatory effects and are also full of antioxidants.

Watermelon, Kale, Spinach, Carrots, and Cantaloupe are all rich in Beta Carotene

Antioxidants – Antioxidants remove free radicals from the body which damage cells causing serious illness. The USDA developed a top 20 list of Antioxidant rich foods; some of which you may consider for a smoothie include:

Wild and Cultivated Blueberries, Cranberries, Blackberries, Prunes, Raspberries, Strawberries, Red Delicious Apples, Granny Smith Apples, Sweet Cherries, Black Plums, Plums, Gala Apples, and Dark Leafy Greens. Also consider Matcha Green Tea Powder, Cinnamon, Turmeric, Ginger, and Peppermint.

Heart Health – Fat Free foods and ingredients help prevent against heart disorders.

Leafy Green Vegetables, Berries, Avocados, Dark Chocolate, Seeds, and Green Tea are all beneficial to heart health.

Keep Blood Sugar in Check.
---
Thirsty? Read More!
All Non Alcoholic Drink Posts – All Drink Related Posts – Alcoholic and Non
---
to Improve Skin & Detoxify the Body
Carotenoids are beneficial for healthy skin and complexion. They act as antioxidants and many convert to Vitamin A during digestion.

Typical smoothie ingredients high in carotenoids include Cantaloupe, Carrots, Kale, Mangoes, Oranges, Spinach, and Watermelon.

Detoxify your body and rid of toxins. Water is always best to flush out your body, add some fruit slices for taste if you wish. The following ingredients are better to fill your body with than the usual processed foods many of us eat.

Lemon, Lime, Ginger, Mint, Watermelon, Cucumber, Cranberry, Grapefruit, and Dandelion,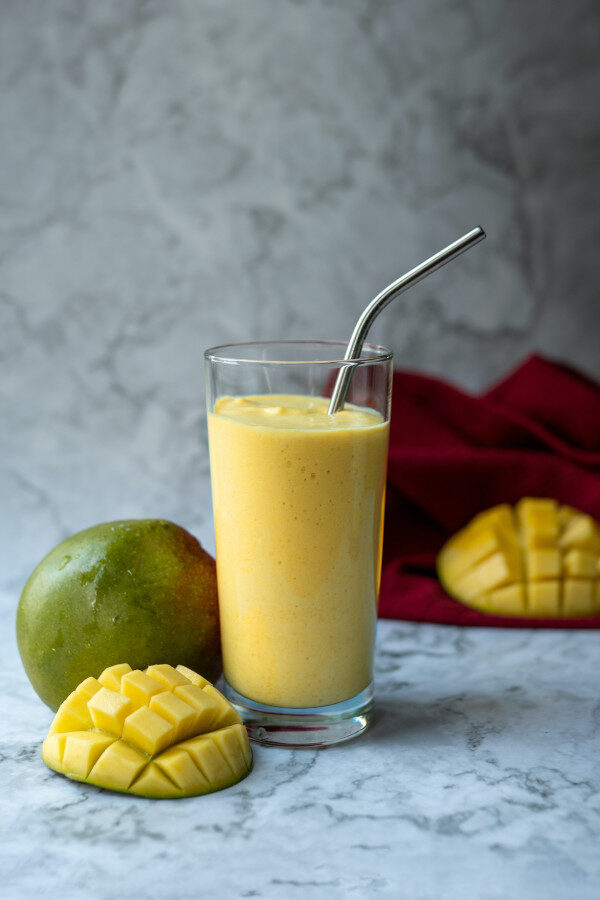 for Mental Health & Brain Health
Certain fruits and vegetables increase brain power and boost memory. Ingredients rich in omega -3 fatty acids enhance mental alertness & concentration.

Coconut, Chia Seeds, and Flax Seed are all rich in Omega -3 fatty acids.

Mood Swings- Fresh Ingredients relieve stress. As a result, they help you stay happier and healthier
Fight Depression – Ingredients rich in folic acid help keep depression at bay.

Look for Folic acid in Leafy Greens, Beets, Flaxseed, Papaya, and Bananas. In addition to those – Citrus Fruits like Oranges, Grapefruit, Lemons, and Limes as well.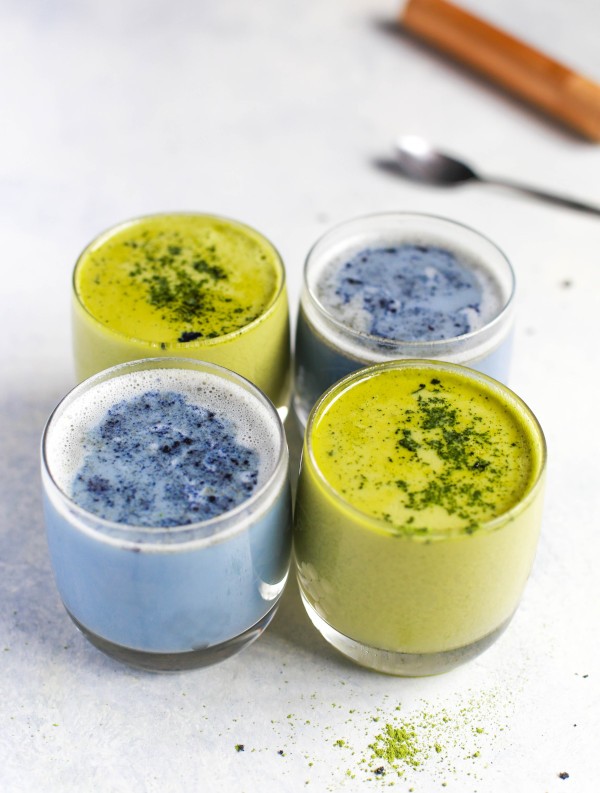 Smoothies for Bone and Tooth Health
Calcium, vitamin D and vitamin K are nutrients that improve bone health.

Besides Milk and Yogurt, Calcium rich ingredients include Kale and Almonds. In addition to those, include Apricots, Kiwi, Oranges, Berries, Pineapple, and Papaya.

Our bodies make Vitamin D3 and you can do that with healthy sun exposure. But, Vitamin D can be found in Cow's Milk, Soy Milk, and Orange Juice. All great bases for smoothies.
One cup (67 grams) of raw kale packs 684% of the Daily Value (DV) for vitamin K.
Smoothies – Final Notes
We hope you are able to use this list to help you find the smoothie recipes that work best for you. Depending on why you want to add them to your diet, you can reuse many of these ingredients. If not making your own, keep this post in mind when visiting your local smoothie shop or even grabbing some of the above mentioned ingredients to snack on or add to meals.
---
Connect with us on Social Media:
---
If you want to read more on the points discussed above, please see the following articles which were used for reference.