State Farm Stadium – Home of the Arizona Cardinals and Super Bowl LVII
On a quick weekend trip to Phoenix, Arizona to attend a Mets/Diamondbacks game with the 7 Line Army, we decided to make the most of our time. During this trip we attended a tour at the Diamondbacks home – Chase Field. We also explored our first NFL stadium – State Farm Stadium, home of the Arizona Cardinals.
A Little Intro
Located in Glendale, Arizona, State Farm Stadium was opened in 2006. At that time it was known as Cardinals Stadium, changing its name to University of Phoenix Stadium later that year. It would remain by that name until September 2018 (3 months after our visit), when it became State Farm Stadium.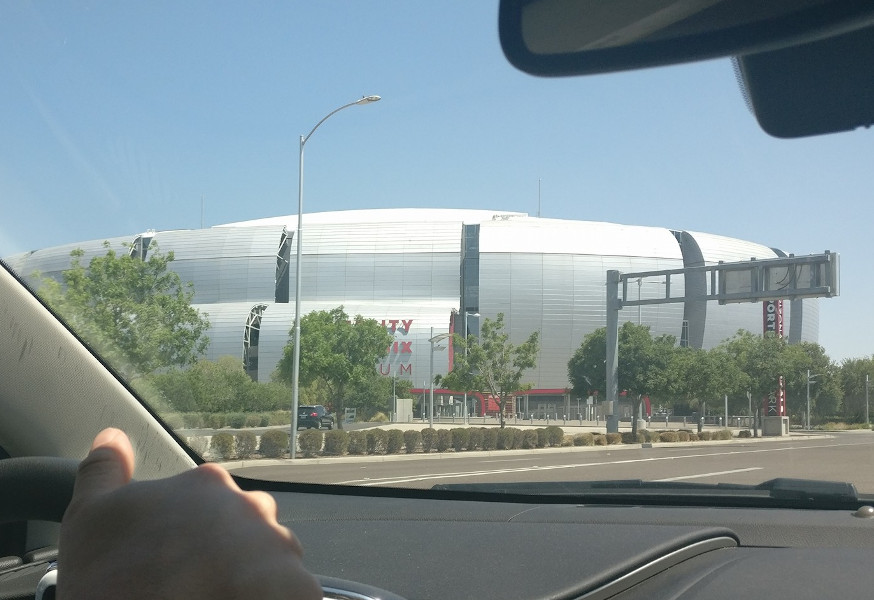 Located at 1 Cardinals Drive, the stadium has a 78,600 person capacity including standing room. It features 14,000 parking spaces, 88 executive suites, a retractable roof, and a retractable field which is real grass. More about that later.
Since it's opening, it has been home to the Arizona Cardinals, one season (2020) for the San Francisco Giants, and the NCAA Fiesta Bowl.
State Farm Stadium has also hosted two Super Bowls – XLII in 2008 and XLIX in 2015. It will host Super Bowl LVII on February 12, 2023.
A Series of Firsts
The retractable roof, which takes 12 minutes to fully open, was the first roof of it's kind in North America. Not the first retractable roof but the first retractable roof built on an incline.
The first NFL Preseason game played at State Farm Stadium was August 12, 2006 when the Cardinals hosted the Pittsburgh Steelers. The Cardinals won 21-13.
August 26, 2006 was the first Monster Truck event at the stadium when it hosted the AMP Motorsports Tour.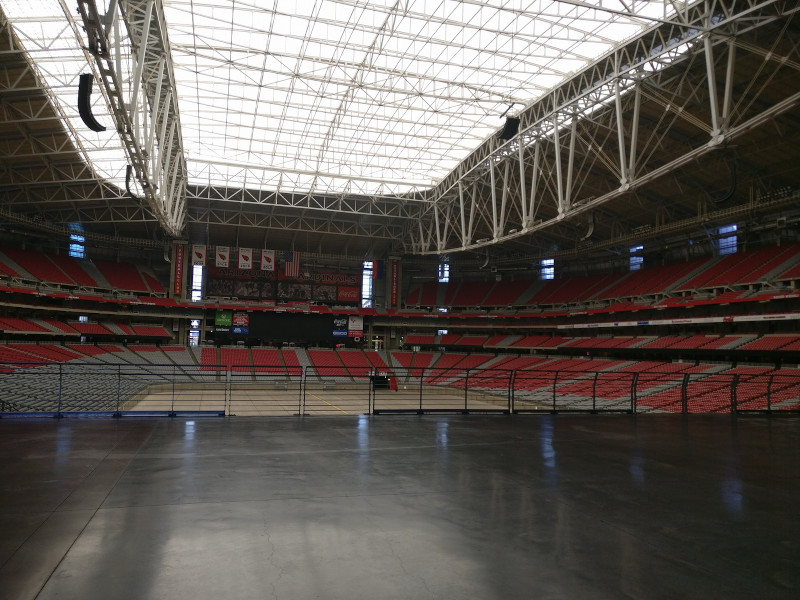 The first regular season NFL game was held on September 12, 2006 against the San Francisco 49ers. The Cardinals won 34-27. This was also the first time the Cardinals were able to play at home on NFL opening weekend. The Arizona heat was a safety issue in the past, but now with the roof and air conditioning, it is the perfect place to cool down for an afternoon!
October 31st, 2006 saw the first International Soccer Match at the stadium between Chivas vs Club America. I cannot find the score for that match.
Rolling Stones have the honor of being the first major concert at the stadium, playing on 11/8/2006.
Purchasing Tickets
We purchased tickets online ahead of our trip to ensure we got in a time slot that was convenient for us on our short weekend getaway. As of January 2023, the tour has been temporarily suspended, but is set to resume this spring. We will update with prices and the purchasing process at that time.
Get all of the info you need and take a Virtual Stadium Tour here.
The Tour
Being our first NFL stadium tour we weren't sure what to expect. This is a fantastic stadium with all the bells and whistles you would expect in this day and age.
The Field at State Farm Stadium
The stadium itself is such a large, all encompassing entity. It was a welcome feeling walking into the cool AC from the hot Arizona heat. It doesn't appear that there isn't a spot within the stadium that you can't get a glimpse at least of the field. The sections are nicely split, none too high. There are plenty of aisles for entry and exit to your seats without having to climb over too many other people.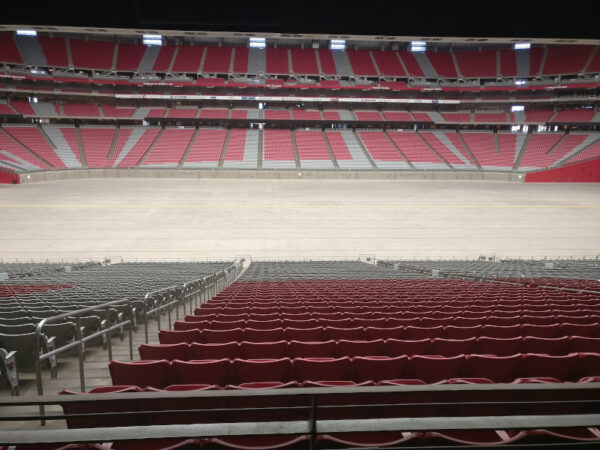 What was especially crazy to me was seeing the field without, well the field. This made it look (to me) so much bigger, without the grass to absorb sound, it was also very easy to hear other tour groups talking. The sound carries quiet well within the stadium.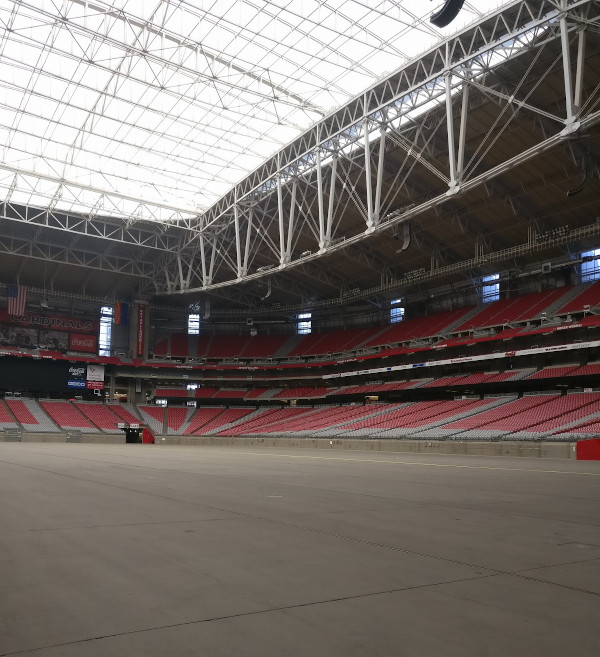 Entering what we were allowed to stand on of the field level gave such a different view. Seeing the stadium as athletes and performers do was an eye opening moment. But you may be wondering, where is the field?
Good question.
A unique feature of State Farm Stadium is it's retractable grass field. The grass is removed for all non-football events to protect it. It is kept right next to the stadium between Gate 1 and Gate 3. It is contained in a 40 inch deep tray that is 403 feet long and 234 feet wide.
With the push of a single button, the field is on the move. It takes 70 minutes to move it inside the stadium, and 70 minutes back out. Once the field is inside the stadium, a whole new section of seats appear in what is known as the REDZONE. This time lapse video gives you an idea of how this all takes place:
Incredible isn't it?
Continuing the Tour
Other parts of the tour include lounges and restaurants available to suite ticket holders in addition to checking out one of the suites themselves. These are an exclusive opportunity that obviously not all of us would be able to do for an event on our own. So it was nice to see how the other half enjoys a day at the stadium. I was also very into taking diagonal "artsy" style photos this day apparently….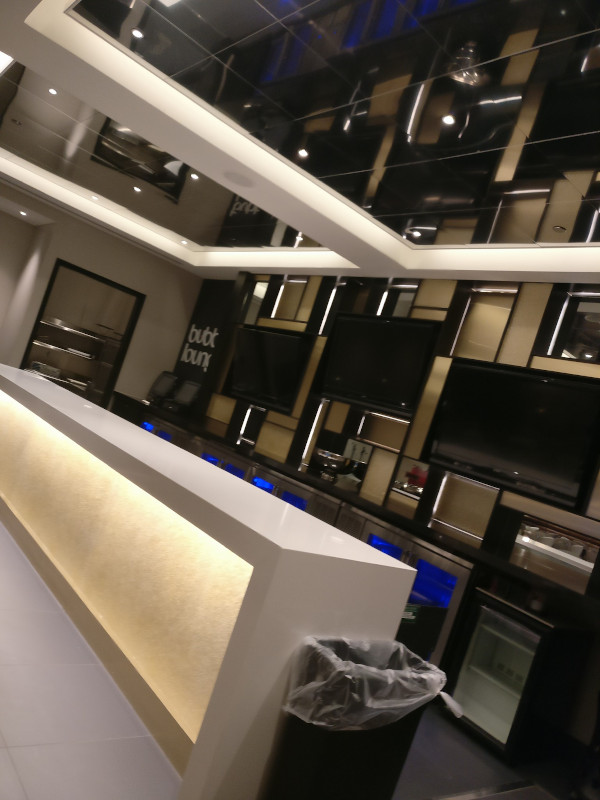 Another exciting portion of the tour was the press box. It was interesting to see this whole set up with spots for computer and phone chargers, the rows upon rows of seats and desks. This must be a very hectic room on game days!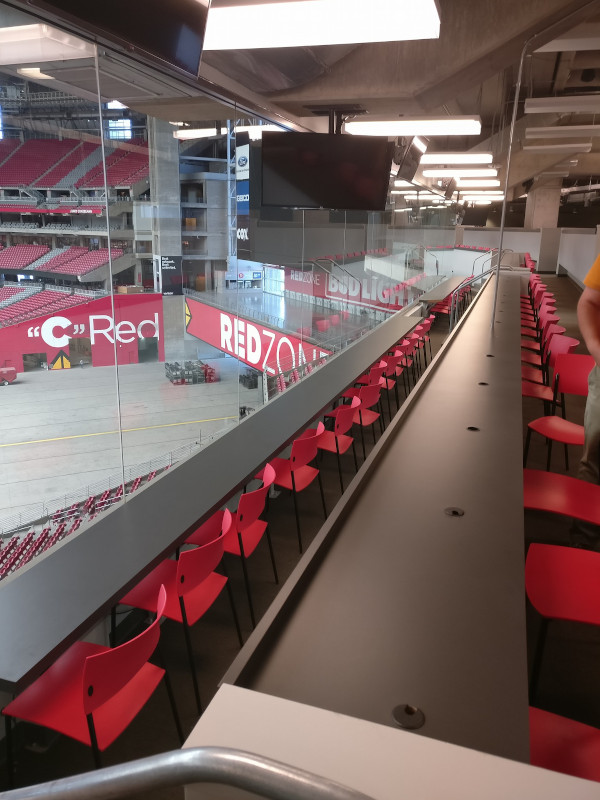 I think its a superstition thing, but the Cardinals don't allow entry to their home locker room regardless of what time of year it is. Many teams don't in season, especially on game days. Is this a normal thing for teams? Have you been on a tour that excluded access to the Home Team's locker room? Let us know who else does this!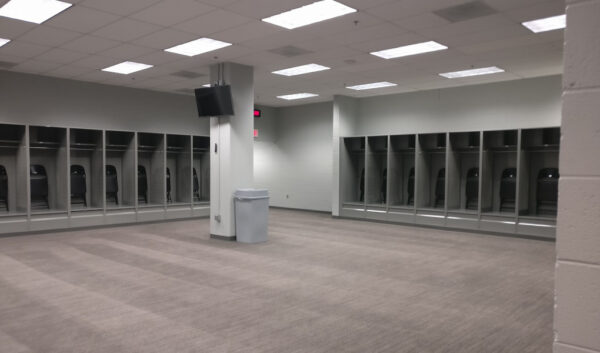 1925 Championship
This is a bit of a sore topic.
Within the concourse are a series of plaques for important people, games, and championships. One of those is the 1925 "championship" that the Cardinals organization holds claim to. Why do I sound so salty you may ask?
This particular plaque below reads:
1925: First NFL Championship. In 1925, the NFL consisted of 20 teams that played a variable schedule from September through mid-December. When teams concluded their seasons, the champion was to be crowned based upon best wining percentage, regardless of the number of games played. The Chicago Cardinals finished the season with a 9-1-1 record, but the Pottsville (PA) Maroons sported a record of 9-2 and there were outside pressures to resolve the East vs West debate. So a previously -unscheduled game between the Cardinals and Maroons was staged December 6, which Pottsville won 21-7.

But league rules allowed teams to continue to play games, which the Cardinals did, to run their record to 11-2-1. The Maroons, however, in defiance of several league warnings, played home exhibition game against the Notre Dame alumni in Philadelphia, a territorial violation of the nearby Frankford club. NFL President Joe Carr subsequently suspended the Pottsville franchise, terminated its membership in the league, and the Cardinals were declared 1925 NFL Champions.

Plaque at State Farm Stadium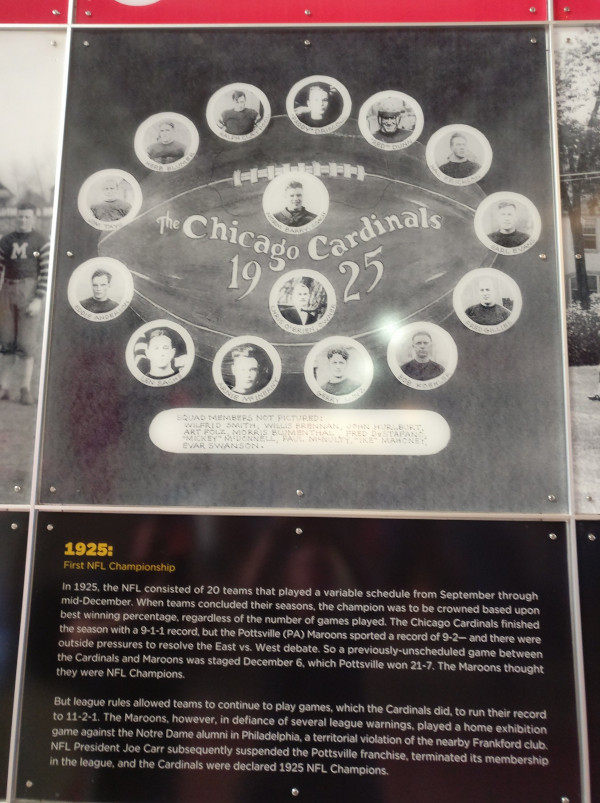 Simply, we're from Pottsville. I have no other vested interest in this 90+ year old discussion, but sometimes you've just gotta root-root-root for the home team. It's a big thing in Pottsville, don't bring it up or wear any Cardinals gear in Schuylkill County, you'll hear about it.
If you'd like to read more and come to your own conclusion, Wikipedia sums it up pretty well: 1925 NFL Championship Controversy.
Until then, Matt's going to sit here and wait for the Maroons Championship to be restored.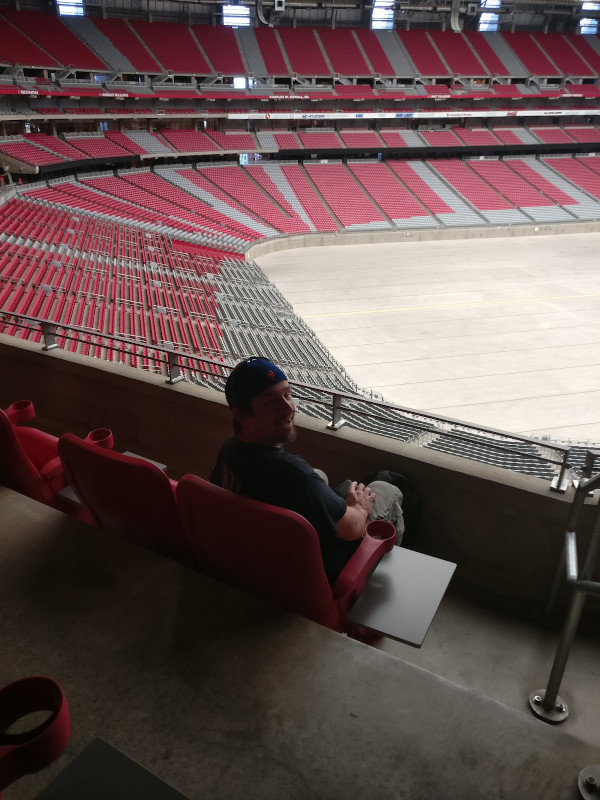 State Farm Stadium Tour – final thoughts
I personally enjoyed this tour. As we said before, its our first NFL stadium tour, so we didn't know what to expect. I enjoyed seeing parts of the stadium I may not normally see if attending a game. And I enjoyed learning some facts about the stadium and the team. It's certainly an activity worthy of beating the Arizona heat.
Interested in sports and/or architecture? Stadium tours may be the activity for you!
---
Connect with us on Social Media:
---