Colorado to Kansas, Kansas Road Trip: Day Two
Our previous day's travels for Matt's work trip took us from California to Colorado. A long day of driving, 5 states, over 760 miles, two dogs and their humans, heading east. Now we head from Colorado to Kansas.
Day two: only Colorado and Kansas, but almost 850 miles between the starting and stopping points. We are starting in Western Colorado and driving straight through the rest of Colorado and the majority of Kansas. The day and this part of our road trip ends in Overland Park, just outside of Kansas City, Kansas.

Though the map shows this drive to be pretty linear, the views were anything but.
Grand Junction to Eagle, Colorado: 2 hours
The scenery this particular morning was breathtaking. I will never tire of seeing these mountains on our cross country drives.
I-70 outside of De Beque, Colorado
About 30 minutes into our drive we passed by De Beque, Colorado. A small town of around 500 people, originally home to the Ute Indians. De Beque became home to the only wild horse sanctuary in the west in 2001.
I-70 outside of Glenwood Springs, Colorado
According to Google:
Glenwood Springs is a resort city in Colorado known for its hot springs. It sits in the rugged Rocky Mountains, surrounded by the vast White River National Forest. Glenwood Canyon is rich with wildlife and features Hanging Lake, with its striking turquoise waters. Glenwood Caverns are ancient underground caves, the Glenwood Caverns Adventure Park has roller coasters and canyon swings overlooking the Colorado River.
Considering traveling to Glenwood Springs? Here are some resources for you from Trip Advisor.
Eagle Tourist Information Center
The Eagle Tourist Information Center in Eagle, Colorado is located right off of I-70. Because we had the dogs with us, we only used the restrooms and headed down to the Eagle River located behind the Gift Shop. Nellie (pictured) loved being near the water, while Rudy stayed as far away as possible.
On site, they have the restrooms, a museum, gift shop, and General Store. The Eagle Tourist Information Center is open from 9am-5pm, seven days a week. Find out more information at their website.
If you find yourself traveling on I-70 through Colorado, be sure to stop by.
Eagle to Denver West/Lakewood, Colorado: 2 hours
The trip between Eagle and Lakewood sent us through Vail. A small town, Vail is known for it's ski resort and the largest ski mountain in Colorado.
Vail is not cheap though, probably the most expensive city in Colorado with 3 star hotel prices averaging $350/night and 5 star at around $1,100. If you don't want to go during the winter, Vail offers plenty of outdoor activity during the summer as well. Hiking, biking, and fishing come to mind. You can also take their scenic gondola rides. Take the Gondola to one of their scenic mountain restaurants. You can find more information on that here.
Trip Advisor is also super helpful when it comes to checking out a new area. Find places to stay, eat, and activities.
Explore Vail, Colorado with Trip Advisor.
Hoping one day I can convince Matt to visit Colorado in the winter. I'd like to visit Vail especially after this video from Wonderliv Travel. It looks like a European village nestled in the Alps.
Following Vail, we passed by Copper Mountain (pictured below left) and the Eisenhower-Johnson Memorial Tunnel (pictured below right).
Copper Mountain is another one of Colorado's many beautiful ski resorts. Their ski season runs from November 30-April 25. With 16 miles of cross country trails, Copper Mountain offers trails for the Beginners to the Advanced snow riders.
Summers in Copper Mountain offer Biking and Hiking trails. You can also enjoy a few rounds of tennis, golf, or mini golf. Spend your day by the water white water rafting or fishing.
The Eisenhower-Johnson Memorial tunnels travel below the Continental Divide for 1.7 miles at an elevation of 11,000 feet.
Denver West/Lakewood to Bennett, Colorado: 38 minutes
During this leg of the trip we passed by Colorado's capital, Denver. Our previous Denver trips were only a night or two including a trip to see the New York Mets with the 7 Line Army. Sometime soon we'd like to spend a long weekend exploring the Mile High City. Since we were only passing by, I was only able to get this quick shot before at truck blocked our view in the lane next to us.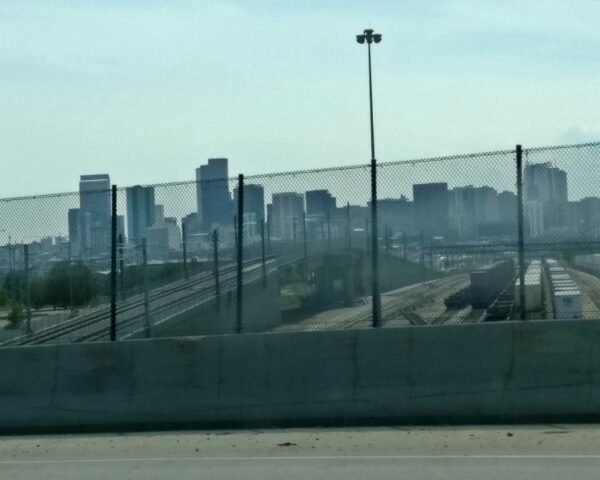 Bennett, Colorado to Lincoln, Kansas: 2 hours 16 minutes
Finally we entered Kansas. Matt had been a few times for work in previous years. This was my first time and I was interested to see what the Sunflower State would hold.
It was at this point we stopped talking photos for the day. There were another 4 or so hours left in our journey. Day 2 of our road trip ended in Shawnee Mission/Overland Park, Kansas.
Colorado to Kansas – End of Day 2 and What's Next
We hurried our drive to make it in two days so we could get to the hotel, get a good night's rest and get the dogs situated. The day after we arrived was the Solar Eclipse and it would be passing in totality not far from where we were staying. Perhaps a once in a lifetime opportunity, so we were stoked it aligned with Matt's work trip.
---
Connect with us on Social Media:
---
Coming soon: our 2017 Eclipse experience and the rest of our trip.