4 Days In Kansas
The company Matt works for is located in Overland Park, Kansas. Each year they bring the remote workers out for a week. "Geek Week" they call it. We decided that this year the dogs and I would join him: ROAD TRIP! 4 Days in Kansas, a new adventure for the whole family.
Overland Park is located just outside of Kansas City. I'd be getting to know this area pretty well over the next few days while Matt was in the office.
Accommodations – Drury Inn
After two days of driving, California to Colorado then from Colorado to Kansas, we made it to our hotel, the Drury Inn & Suites.
We arrived around 9pm on Sunday. It looked just like any hotel. Being dog friendly was a big factor in his company booking it for us.
Our room was clean and had two queen beds and a desk area. The desk area would be helpful for me during the day.
Nellie and Rudy approve of the beds.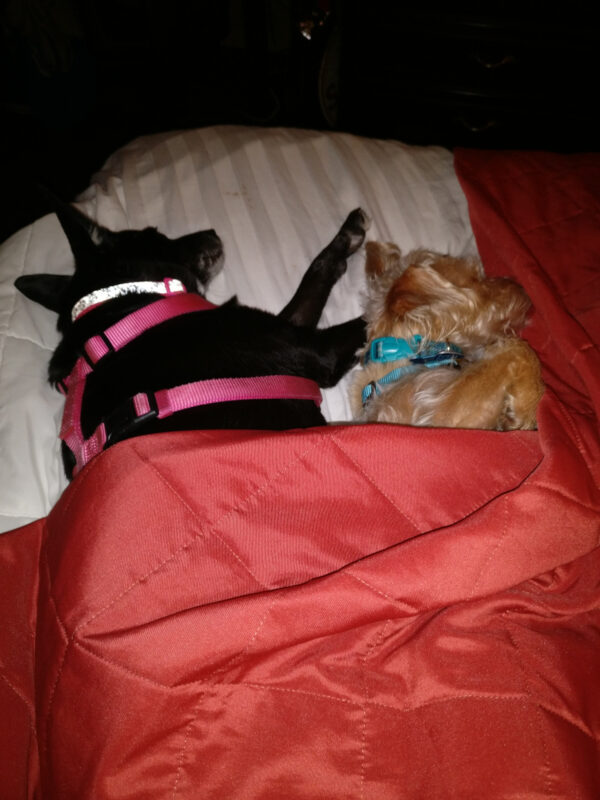 We could keep an eye on the car while there since our room looked out onto the parking lot. We were happy to see enough floor space under the desk for the dogs crates.
If you're unfamiliar with hotel travel with dogs, you need to have a crate for each dog in order to leave them in the room unattended. They can't be roaming the room or locked in the bathroom.
Amenities
Drury Inn & Suites' amenities surprised me. Our four days in Kansas would be much more enjoyable knowing this is where we would call home each night.
They had a gym and pool available. I did get in a few mornings to use the elliptical and Matt used the treadmill a few times. We are in the mid west in August. It's hot and humid. Having a treadmill in an air conditioned gym area is a plus.
Free breakfast is offered daily. It contains your usual hotel fare: eggs, hash browns, fruit, waffle maker, oatmeal, yogurt, cereal, juice and coffee. We've traveled back and forth across this country, and I can tell you this is not available everywhere.
5:30 Kickback
What does this mean? As a registered guest, you receive a card with the days you are staying circled. With this card the breakfast area reopened at 5:30pm for free food and drinks. Drink wise, they had red and white wine, two kinds of draft beer, and a few bottles of liquor. You could have a margarita or other mixed drink made if you wish. With your card you were able to get three drink pours each day. They marked the card off with each drink pour.
Food wise, the options changed daily. Pasta, Mexican food, Asian food, Salads. I haven't seen this at a hotel before. This is especially helpful for anyone travelling on a budget. You are getting two out of three of your daily meals included in your hotel stay? Not too bad.
4 Days In Kansas Day 1 – Solar Eclipse and Boulevard Brewing
Matt didn't have to start work until Tuesday. We hurried to get to Overland Park in two days because the solar eclipse of 2017 was passing straight through the Kansas City area. To explain this further…
I'll let the good people at wikipedia explain this one with all the science talk.
A solar eclipse occurs when a portion of the Earth is engulfed in a shadow cast by the Moon which fully or partially blocks sunlight. This occurs when the Sun, Moon and Earth are aligned. Such alignment coincides with a new moon (syzygy) indicating the Moon is closest to the ecliptic plane.[1] In a total eclipse, the disk of the Sun is fully obscured by the Moon. In partial and annular eclipses, only part of the Sun is obscured.

Wikipedia: Solar Eclipse
Well, it just so happened that on Monday, August 21, 2017 a Total Solar Eclipse would be passing over North America. While eclipses happen periodically, a Total Solar Eclipse is much more rare. I'll let wikipedia have this one too:
Total eclipses are rare because the timing of the new moon within the eclipse season needs to be more exact for an alignment between the observer (on Earth) and the centers of the Sun and Moon. In addition, the elliptical orbit of the Moon often takes it far enough away from Earth that its apparent size is not large enough to block the Sun entirely. Total solar eclipses are rare at any particular location because totality exists only along a narrow path on the Earth's surface traced by the Moon's full shadow or umbra.

Wikipedia
The Path of Totality
It just so happened that the path of Totality (where the sun totally covers the sun) would be an hour's drive or so from us.
We knew totality wasn't in Overland Park, how convenient if it would have been though? Totality was expected to pass through about an hour east of us in Missouri.
Though the eclipse wouldn't pass through until the afternoon, we left our hotel mid morning to find a place to park.
It was pouring that morning. Would we see the total eclipse in its best view?
We ended up at a Pilot Transit Center in Higginsville Missouri in the motel parking lot next door. As we neared the Pilot, we noticed the exit ramps filling up. It was time to stop and take in the view from where we were. Thankfully, the rain had cleared up by then.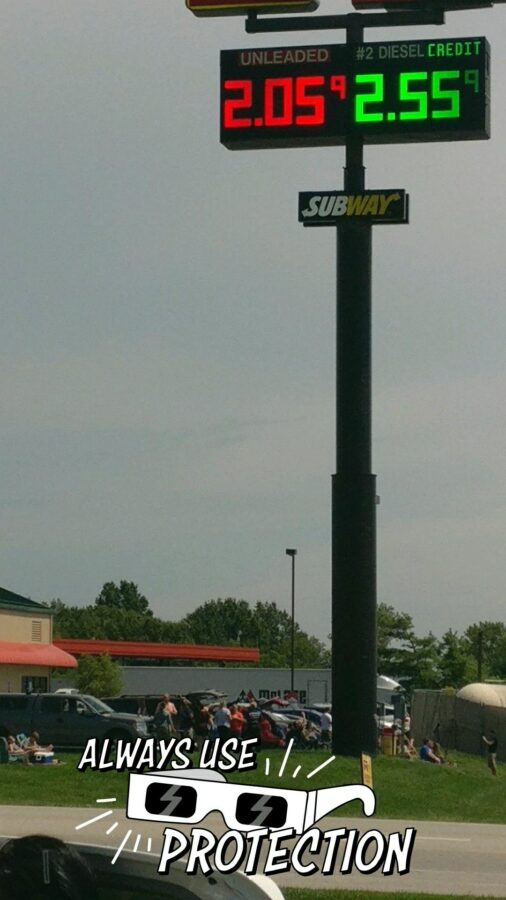 We arrived with about 15 minutes to spare. We ran inside the Travel Center for a quick bathroom break and drink refill.
Once it started, I was just in awe. Witnessing totality was indescribably amazing and astonishing.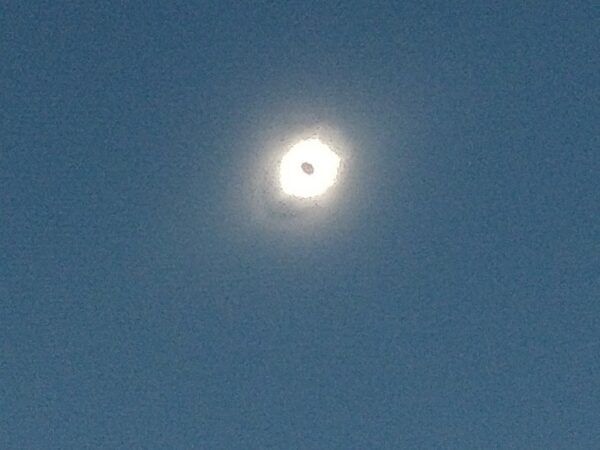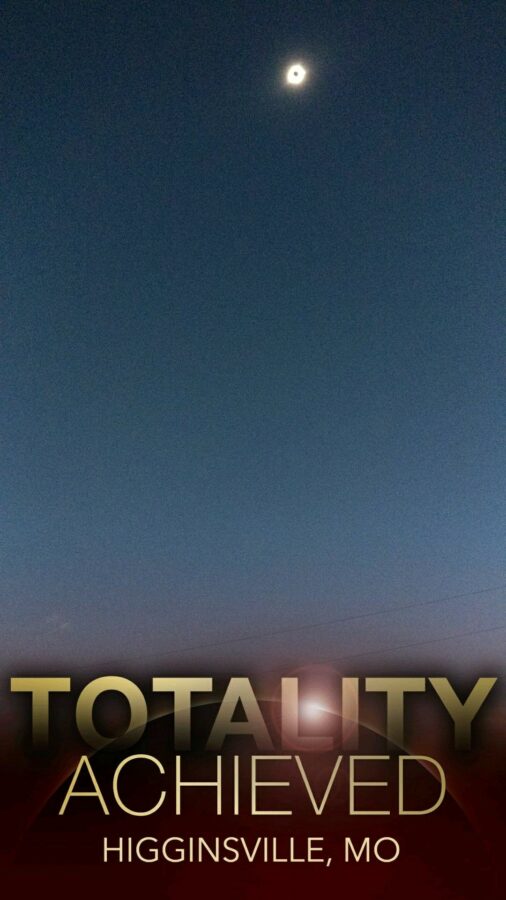 These two photos below were taken three minutes apart.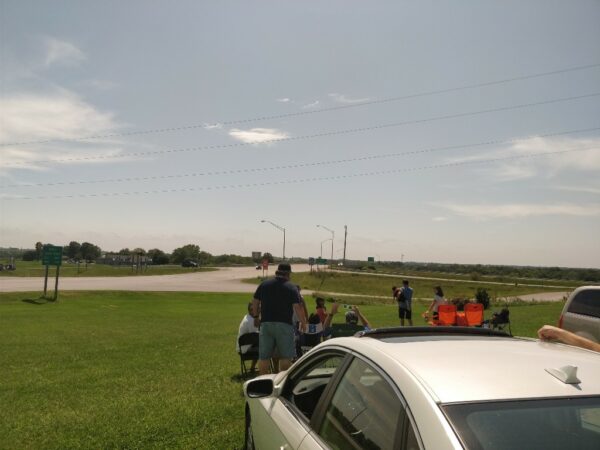 Found this video on Youtube from Rayville, Missouri about 30 miles Northwest of where we were in Higginsville. This should start at the 7 minute mark, but feel free to watch the entire video.
What an experience.
Boulevard Brewing
On our way back from the Eclipse, we stopped in at a brewery we found on Google Maps in Kansas City, Missouri. Little did we know it would become one of our new favorites.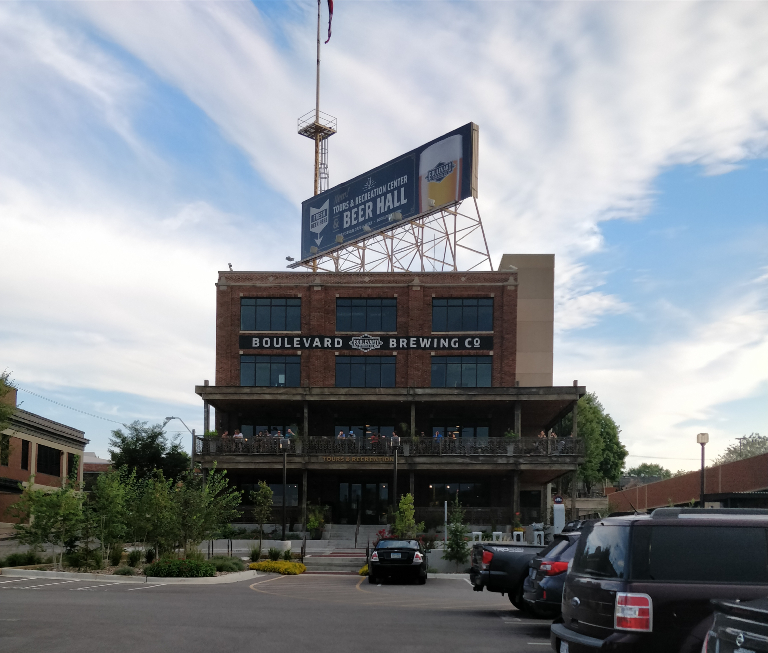 Boulevard had a large variety of beers available. It was packed on a Monday evening, which was a good sign. We enjoyed the Single-Wide I.P.A, Bob's '47 Oktoberbest, Hibiscus Gose, and more. Add us on Untappd and you can see what else we enjoyed from Boulevard.
Check out Boulevard's website to browse what they have available.
4 Days In Kansas Day 2 – Jack Stack Overland Park and Escape KC
Tuesday – Day 2 of 4 Days in Kansas began; Matt's first day of work for the week. I hung around the hotel with the dogs watching tv and working on blog posts.
Dinner – Jack Stack
Located just a few minutes from our hotel, Jack Stack is a Barbeque restaurant. They have five locations, with the other four being over the state line in Missouri.
An extensive menu with a variety of meat options, Jack Stack has something for just about every taste. It was through his coworkers that Matt discovered his love of Burnt Ends. They're usually a discarded part, but a favorite in the Kansas City area.
While Jack Stack doesn't partner with Restaurant.com, plenty of other restaurants in the Kansas City area do! Save on your next dining experience!
Escape KC
Following dinner, we headed to Escape KC. We only had to walk there since it was just a parking lot away. This was my second escape room, and Matt's third.
What's an escape room?
The quick answer is that they are a combination of various kinds of puzzles, each puzzle gives you clues to another puzzle, you keep going until the final clue reveals a key or a code to unlock the door of the room you are in. This blog post from The Escape Game can explain better.
We split into two groups and each group was ushered into a different room. A briefing on the situation and game would prepare us for the next hour. The game was very challenging, and we were just one clue away from escaping before time ran out.
Update 1/28/21 – While Updating this post, I see that Escape KC has since closed. Fear not, there are escape rooms located all over the country. You should be able to find one within reasonable distance to you.
4 Days In Kansas Day 3 – Top Golf
For Wednesday evening's activities, Matt's employer treated us to a night at Top Golf. At first glance, Top Golf, appears to be a driving range, which it is, but also so much more.
Instead of an empty field to drive the balls into, beyond the range area are a series of targets. You can choose from a variety of games to play. In each game you'll need to hit certain targets at certain times, or each target has a point value. The balls each have gps locators in them in order to see where they have gone and if they've landed in the intended target.
Top Golf has locations all over the United States along with the UK, Australia, Mexico, and the UAE.
*Update 1/28/21 – Top Golf is coming to Germany!*
Here's an aerial view of the Top Golf Course in Las Vegas, Nevada.
This image may be a better help:
The distance from the driving range area to each target is as follows:
Red – 25 Yards
Yellow – 50 Yards
Green – 90 Yards
Brown – 125 Yards
Blue – 150 Yards
White – 185 Yards
Net – 215 Yards
Top Golf features a full service kitchen and bar. Matt's employer already ordered food for our group, drinks and any extra food were on us. The Nachos were my personal favorite.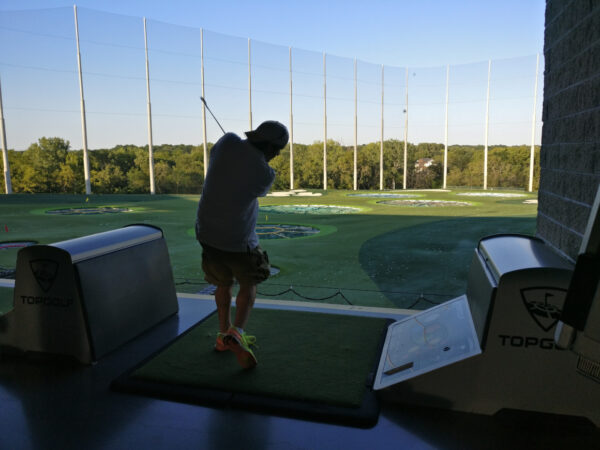 I am terrible at Top Golf. I've never really successfully hit a golf ball before this day. Terrible or not, it was a lot of fun for all involved. We will for sure be finding a top golf closer to us, and every time we come to Vegas.
4 Days In Kansas Day 4 – Up Down KC
Our final night didn't include any work outings. Some of the other remote workers who also drove wanted to start heading back after work was done on Thursday. Those with flights, had them scheduled for Thursday night. We were on our own, but thankfully already had in mind where we wanted to go.
A friend of Matt's who lived in the area told us about this bar/old school arcade, Up Down. Up Down features old school arcade games, skeeball, pinball machines, Nintendo 64, and a rooftop entertainment area featuring life size Jenga and Connect Four.
You purchase tokens from the bar in order to play the games, just like your old neighborhood or mall arcade, except now you're and adult and there's a bar.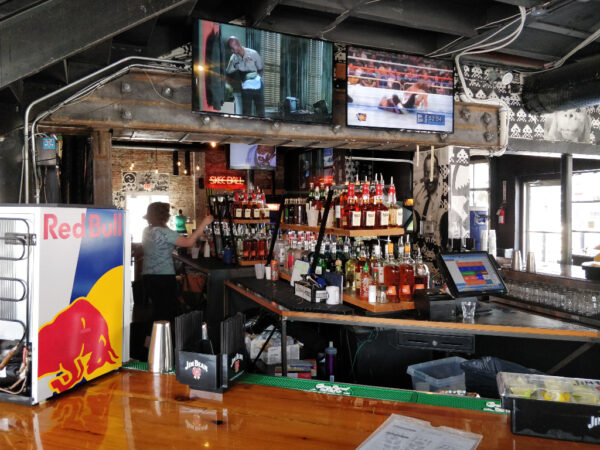 They have pizza available for purchase as well which is needed as you drink and play your evening away.
We arrived shortly after they opened and had the place pretty much to ourselves for about an hour. This is when we got most of our photos. I highly recommend that as once it started filling up, it got crowded quickly. The first wave came in around 4, then just a little after 5 the post office hours crowd arrived. Until we left at 6:30 it was packed.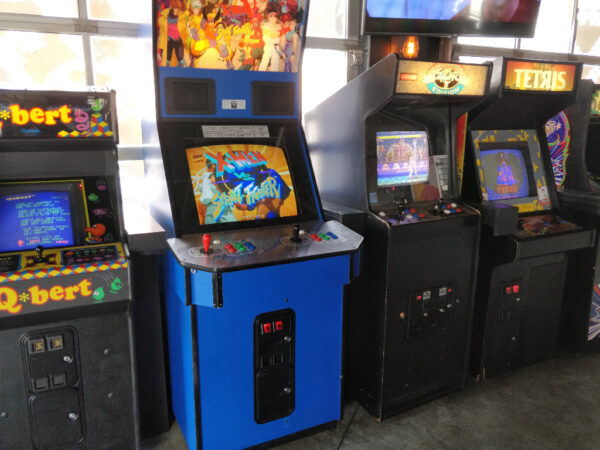 With a variety of games available, just about everyone can find something they love. Did you spot any of your old favorite games?
There was so much to do, I'm not big into video games, but between skeeball and all the pinball machines, I was set. It has an awesome 80's vibe and they had old WrestleMania matches playing on the TVs around the bar.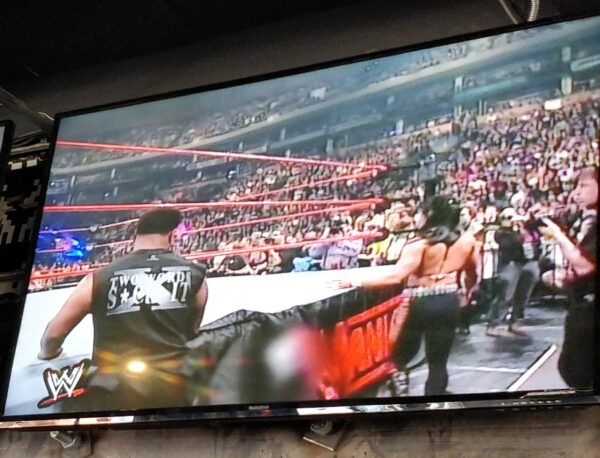 My child at heart would have been perfectly fine playing Ms. Pac-Man the entire time we were there.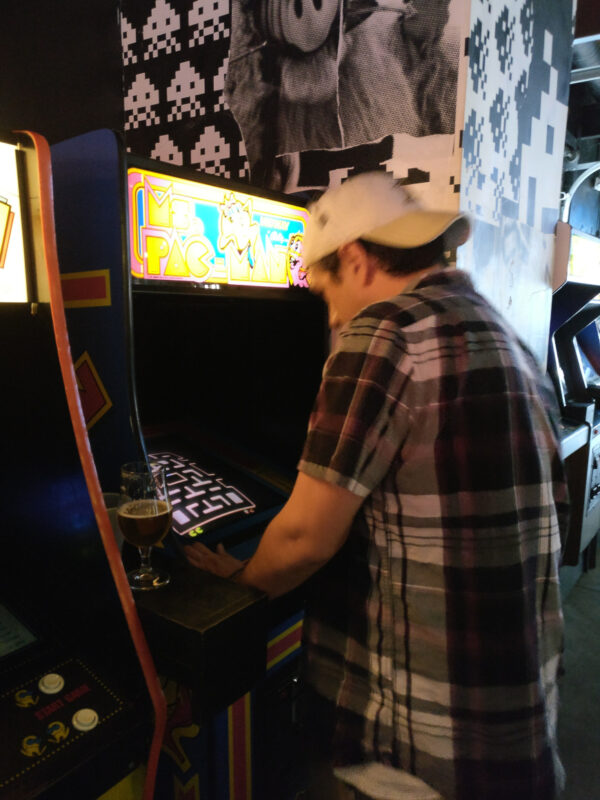 Alas, it was time to grab some food, and head back to the hotel to pack our things. Another two days of driving was ahead of us.
4 Days In Kansas – Final Thoughts
Overland Park Kansas, not my first choice of a vacation spot before this trip. However, the past 4 days in Kansas convinced me that you can find fun anywhere. I was pleasantly surprised by this trip and all the area had to offer. Now, being so close to a major metropolitan area doesn't hurt.
Have you ever spent a few days somewhere you would have never chosen on your own? Were you surprised like I was? Let us know in the comments.
---
Connect with us on Social Media:
---