Badlands National Park
Following a work trip to Kansas, we decided to take on the adventure of traveling north in order to come back to California. Instead of heading due west, we traveled North through Iowa into South Dakota. After spending the night in Oacoma, we were refreshed and ready for a new adventure. Destination – Badlands National Park.
Some Information About Badlands National Park
Located in Southwest South Dakota, Badlands was established as a national monument in 1939. Nearly 40 years later, in 1978, it was designated as a National Park.
According to Encyclopedia Britannica a badland is an "area cut and eroded by many deep, tortuous gullies with intervening saw-toothed divides". Badlands National Parks includes not only badlands, a large ridge within the North Unit section of the park, and grasslands. In fact, the grasslands within the park include the largest protected mixed-grass prairie in the US.
Learn more about the park through the National Park Service.
Our Travel Path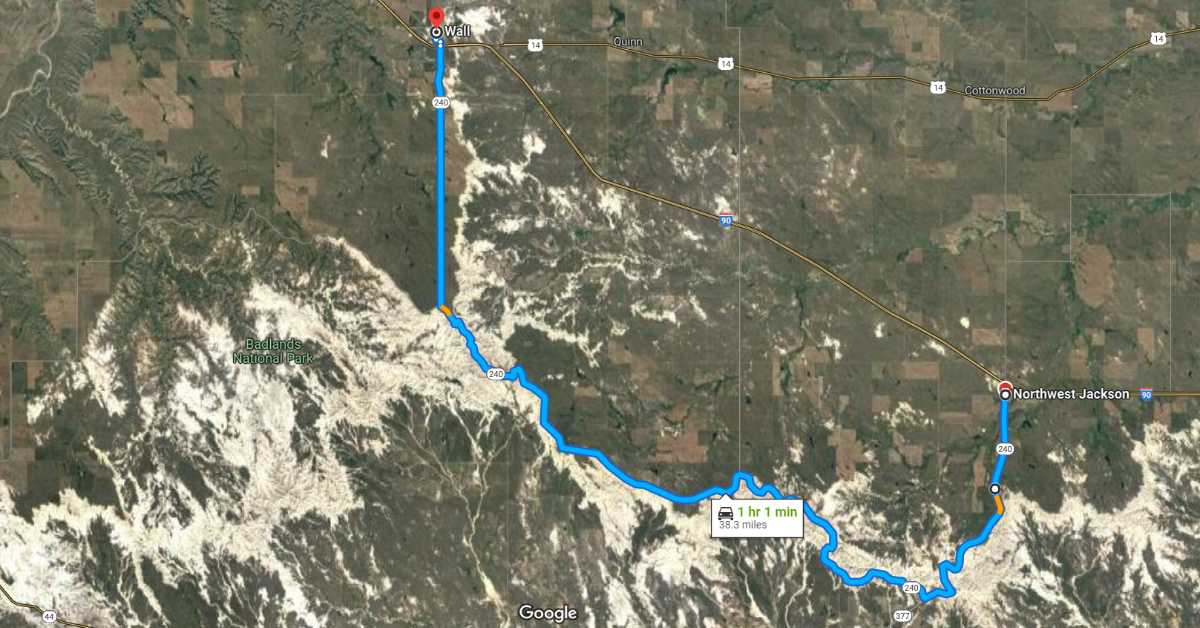 As we were headed east, we entered off of Interstate 90 and South Dakota Highway 240 to the Northeast Entrance. During our visit, we remained on 240 passing through the scenic overlooks along the way, stopping at many. I have noticed this on a map labeled as the Badlands Loop Road.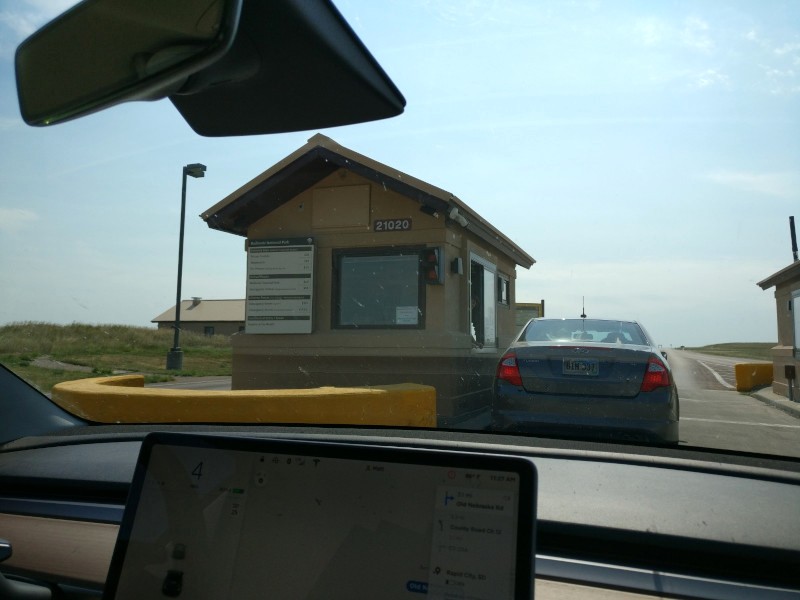 Costs for Entry and America the Beautiful Pass
As of April 2023, the following fees are good for a period of 7 days:
$30 for a vehicle
$15 for an individual (hiking or on a bicycle)
$25 for a motorcycle
See more fees here.
Then you have your various passes, for all National Park Services the America the Beautiful Pass is $80/year, more on that below. A Grand Canyon specific pass is $70/year, seniors (age 62+) can obtain a lifetime pass for $80 or $20 for one year. Active US Military are free.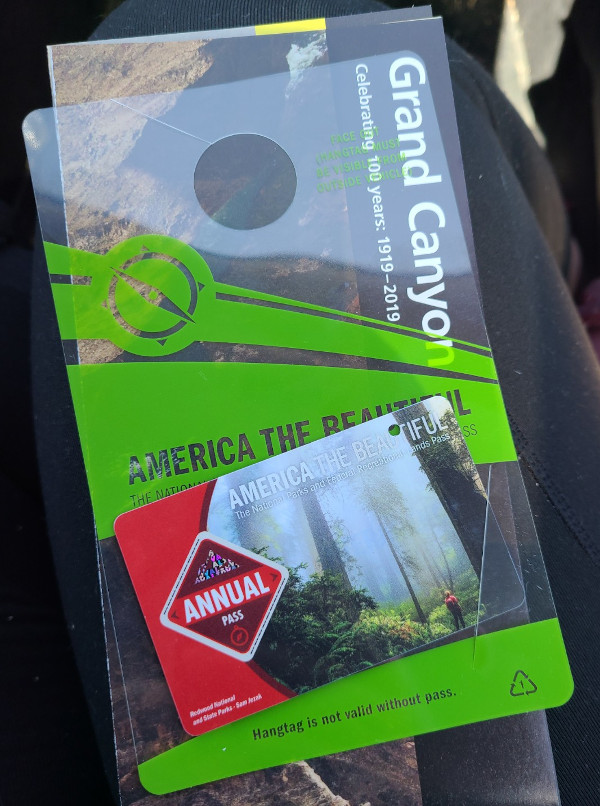 This pass allows you free or discounted entry to National Parks/Monuments and State Parks/Monuments for a period of 1 year. There are a variety of other passes available depending on Military/Veteran status and even one for fourth graders in the US! For more information on that click here.
First Impressions
I'm always impressed by mountains, by nature, by the carvings in the earth made by something bigger than us. We did get a sneak peek of the landscape on the way in as obviously this isn't an amusement park that just starts when you enter the gate. Once we entered the Northeast Gate, we also had a few minutes until were really in the Badlands.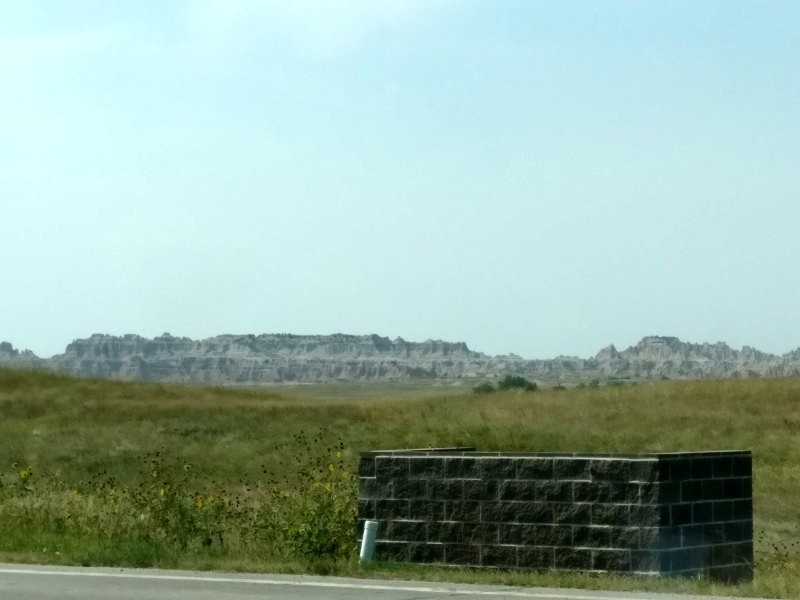 But then once we really got inside the park, we were both in awe.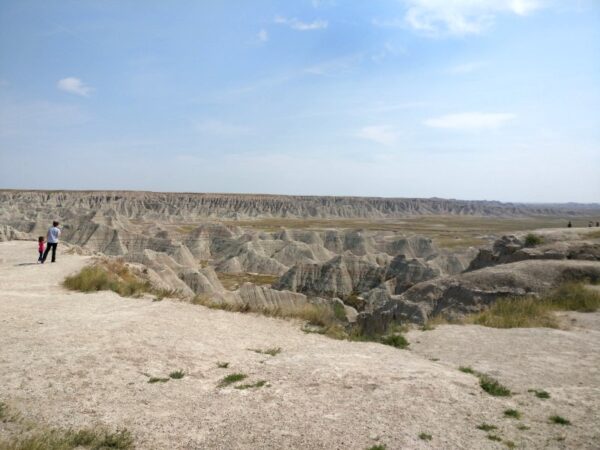 Obligatory National Park in the background selfie: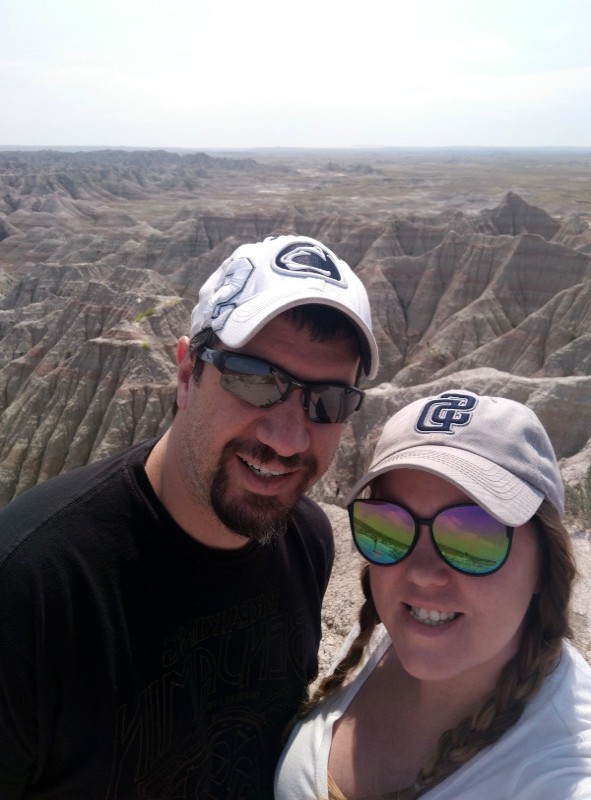 We also made attempts at the "everyone does it for instagram even though it's super cringey" peering into the distance photos.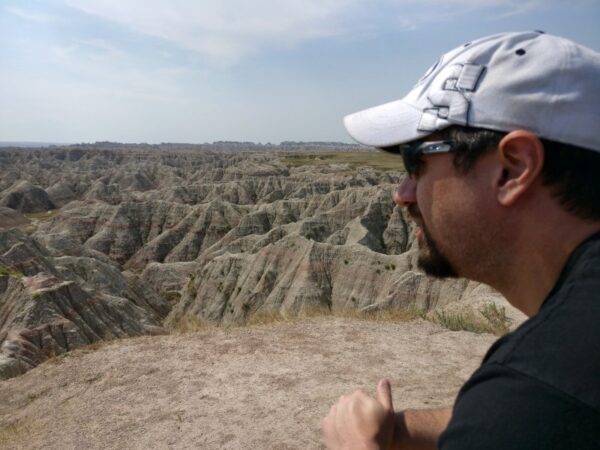 Views, Views, Views
There are some more grasslands to see throughout the drive, of which you'll encounter shortly after coming through the Northeast Entrance. Luckily a late Friday morning at the end of August doesn't appear to be a busy time. At least not in our experience.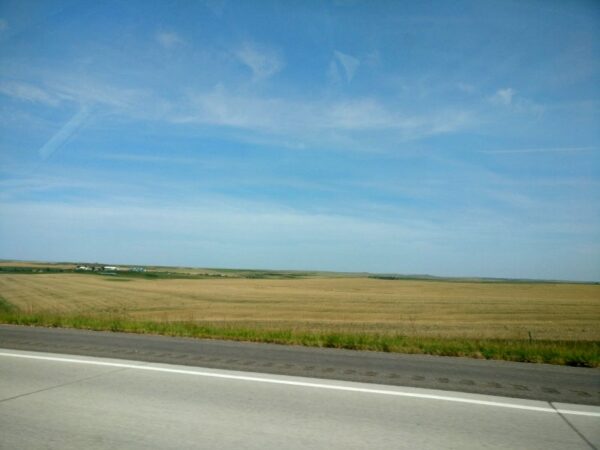 Without stopping or traffic this drive should take about an hour or so. We made a few quick stops and did this portion in around 90 minutes. We had other plans for the day and a long day of driving ahead of us. Otherwise I think it would have been great to stop longer, take other routes, explore elsewhere and just take in nature for a while. But here are the views I know you came for.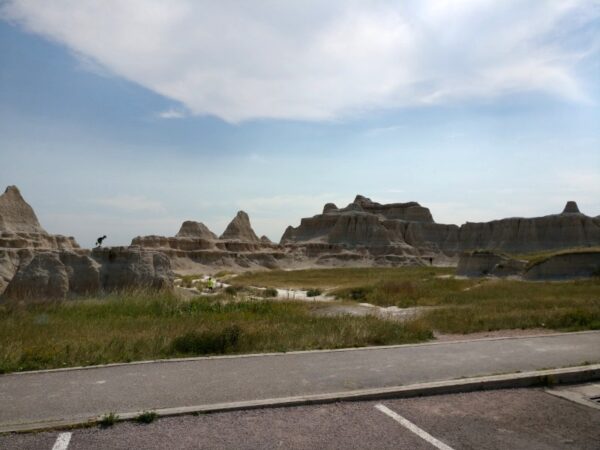 According to the Department of the Interior, the valleys and landscape were created when water from the Black Hills eroded away the earth. The region was originally part of the sea, then a subtropical forest, then an open savanna. The process is believed to have begun around 500,000 years ago, but its believed that the Badlands will erode away completely in another 500,000 years.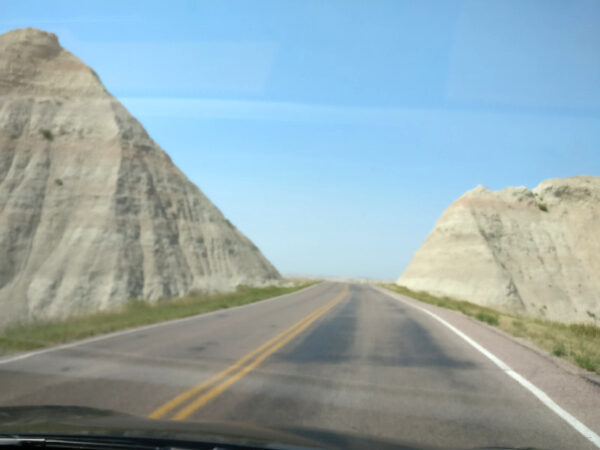 As the day went on, Matt started to get a headache and then his stomach started to not feel well. With some of the twists and turns in the park, the stomach part wasn't surprising as we both can get car sick. Great for road trips right?
We decided to make our way out of the park and not make any other stops, until…
Animals!
Even though Matt wasn't feeling well, we had to stop once he spotted some animals along the side of the road.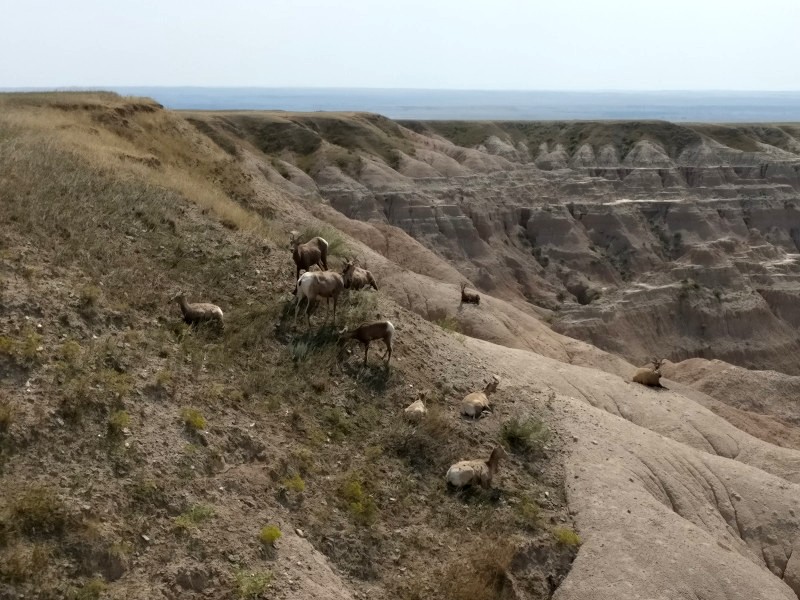 Badlands National Park is inhabited by quite a few animals including bison, prairie dogs, antelope, bighorn sheep, pronghorn antelope, jackrabbits, coyotes, and the endangered black-footed ferret.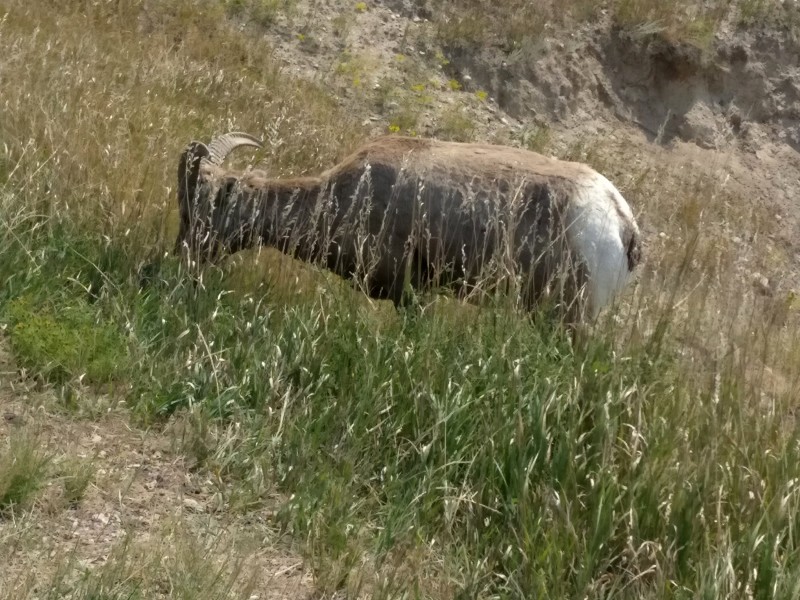 Heading Off
After our animal spotting, it really was time to go. We continued North on Highway 240 and exited via the Pinnacles Entrance Station. Our next destination was Wall Drug Store, just a few miles north.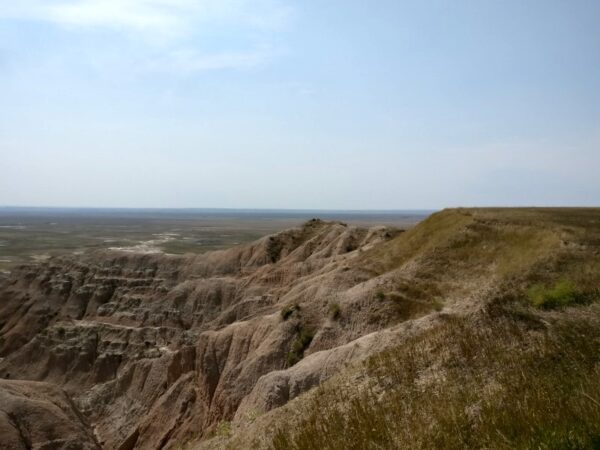 The scenery continued to impress all the way out of the park.
Badlands National Park – Final Thoughts
I would have loved to explore the park further, perhaps an overnight trip in the future. It was; however, part of a longer day with trips to Wall Drug, Mount Rushmore, and Crazy Horse to follow for the day.
Which National Parks have you traveled to?
America the Beautiful Location Posts – National Park Posts
---
Connect with us on Social Media:
---