IPA Day 2017 – An afternoon at Ballast Point
Happy IPA Day! This day is celebrated the first Thursday every August, so this year that fell on August 3rd. India Pale Ales emphasize hop flavors and aromas and usually average between 6-7% ABV. They have grown in popularity over the last decade and are a staple at many breweries.
We decided to celebrate at one of our local favorites, Ballast Point in Temecula, California. This particular location has a wonderful atmosphere and is located within close proximity to Old Town Temecula. Old Town offers it all, dining, shopping, entertainment, so it was smart of Ballast Point to open a location nearby.
Update September 2019: Unfortunately this location has been closed. Ballast Point is also closing another location in San Diego. Very disappointing, we quite loved this location.
A quick trip makes for a quick post. Keep reading to see what beers we enjoyed!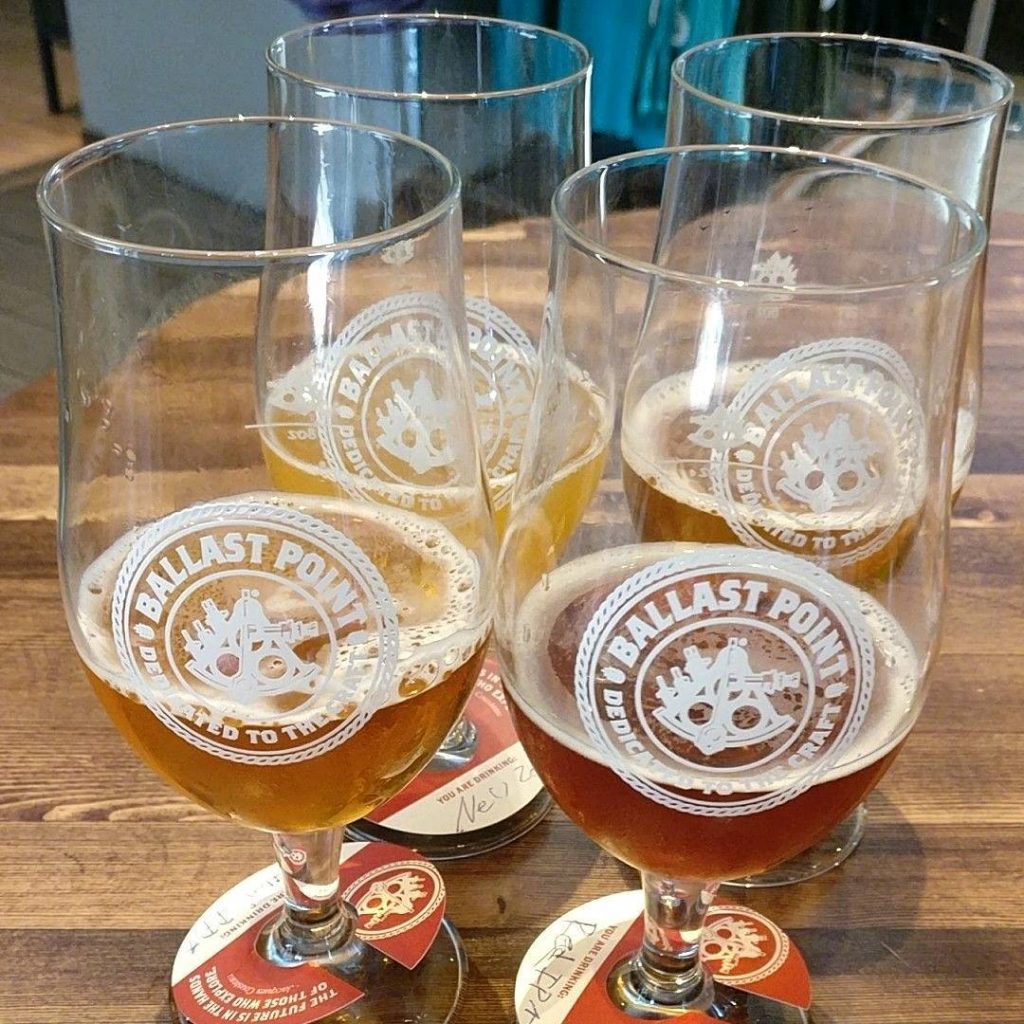 The beers we enjoyed today (and their Untappd ratings) include:
Manta Ray
Manta Ray is considered an Imperial/Double IPA. It has an ABV of 8.5% and an IBU of 70.
Lora: 3.5/5
Matt: 3.5/5
Global Rating: 3.89/5
East to West IPA
This is an American style beer with an ABV of 7% and an IBU of 62.
Lora: 3.5/5
Matt: 3/5
Global Rating: 3.85/5
Merman
Another American Style, this beer has an ABV of 7.1%.
Lora: 3/5
Matt: 3.5/5
Global Rating: 3.73/5
Bikiwi
An American style beer, this particular brew has an ABV of 6.8%.
Lora: 3/5
Matt: 3.25/5
Global Rating: 3.58/5
White IPA w/ New Zealand Hops
A White IPA, neither ABV or IBU were able to be found on Untappd.
Lora: 3/5
Matt: no rating
Global Rating: 3.59/5
Experimental IPA
This is another American Style with an ABV of 6.6%.
Lora: 3/5
Matt: 3.25/5
Global Rating: 3.71/5
Red IPA
This is exactly what the name says, who knew there were so many styles of this beer? It has a 6.5% ABV.
Lora: 2.5/5
Matt: 3.5/5
Global Rating: 3.71/5
---
Thirsty? Read More!
All Beer Posts – All Drink Related Posts – Alcoholic and Non
---
---
Connect with us on Social Media:
---