Elenita Sparkling Mezcal 8 Can Variety Pack
Browsing facebook one day I came across a video from one of my favorite creators, Loryn Powell. In this video she was trying the new Elenita Sparkling Mezcal. After watching the video I was intrigued!
Search her facebook page for "Mezcal" to find her review. I did try to embed it here, but had errors.
Matt found an 8 pack at our local Total Wine for me and I was excited to try them out!
A Little About Elenita
As per their website, Elenita uses Mezcal straight from Oaxaca, Mexico. This Mezcal comes from the espadín variety of Agave, the most commonly sourced agave varietal for Mezcal.
Elenita evokes a euphoric buzz, a stimulating rush and an intimate vibe.

Elenita Sparkling Mezcal website
Let's see if their claims are fitting.
Elenita Sparkling Mezcal Flavors
This 8 can pack comes in four flavors – Cucumber Lime Basil, Pineapple Jalapeno, Strawberry Mule, and Passionfruit Paloma.
Passionfruit Paloma
I started off with the Passionfruit Paloma. The website describes it as an "exotic effervescence, familiar fire." It has 5 grams of sugar, is 120 calories, and has an ABV of 5%. It is basically clear in color.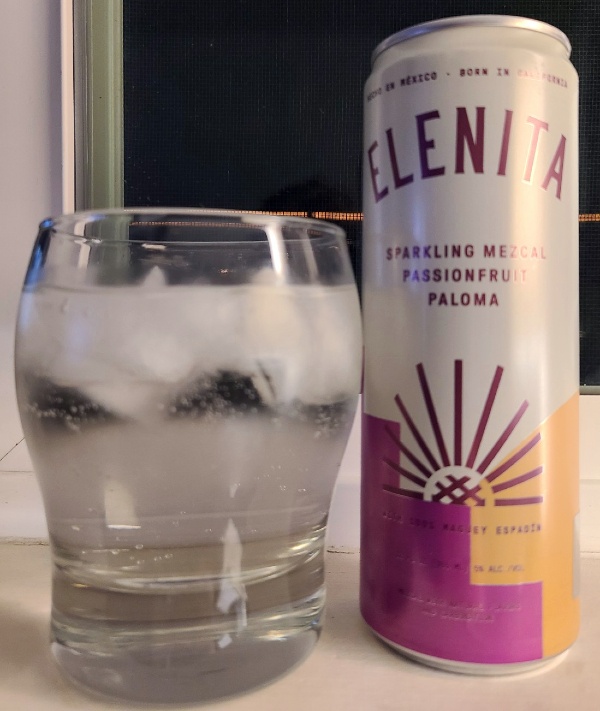 I found the flavor to be light, perhaps a bit floral? As I drank more and the drink warmed up a bit to room temperature, the passionfruit flavor made its way in. From not being noticeable at all at first, it then kind of enveloped my mouth with flavor everywhere.
All in all I found it a nice flavor.
Matt did not try this one.
Strawberry Mule
The Strawberry Mule excited me as I do enjoy a good mule. The website describes it as "strawberry to make you feel at home, ginger to take you further." I'm not sure what that means.
With 4 grams of sugar and 120 calories, Strawberry Mule has an ABV of 5%. The appearance is clear in color.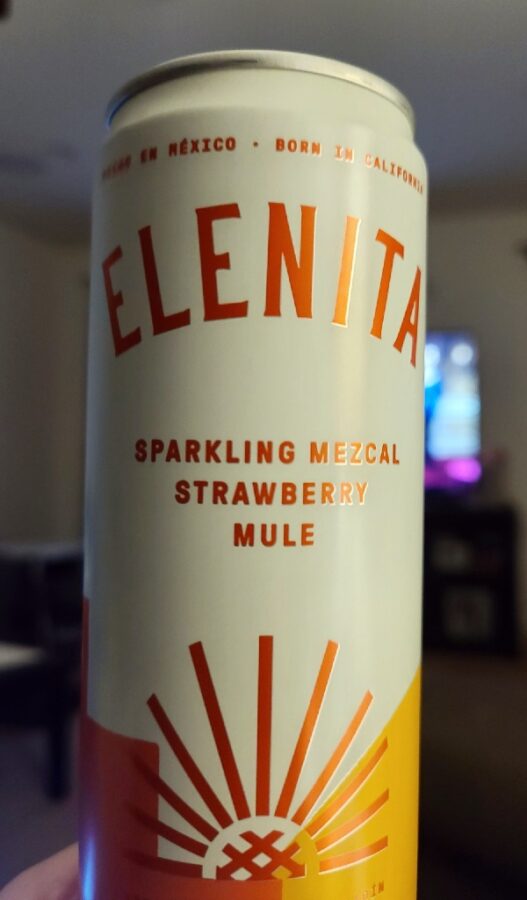 As far as flavor goes, again it was light. The Strawberry flavor is faint. As I didn't get any ginger, this doesn't remind me of a Mule at all. That being said, I still liked it. But I personally wouldn't describe it as a mule of any sort.
Matt did not try this flavor.
Pineapple Jalapeno
A few days later, we decided to try the other two flavors. This time Matt was in for trying them as well.
The Pineapple Jalapeno is described as "never to sweet and perfectly spicy." It has 3 grams of sugar, 110 calories, and has an ABV of 5%.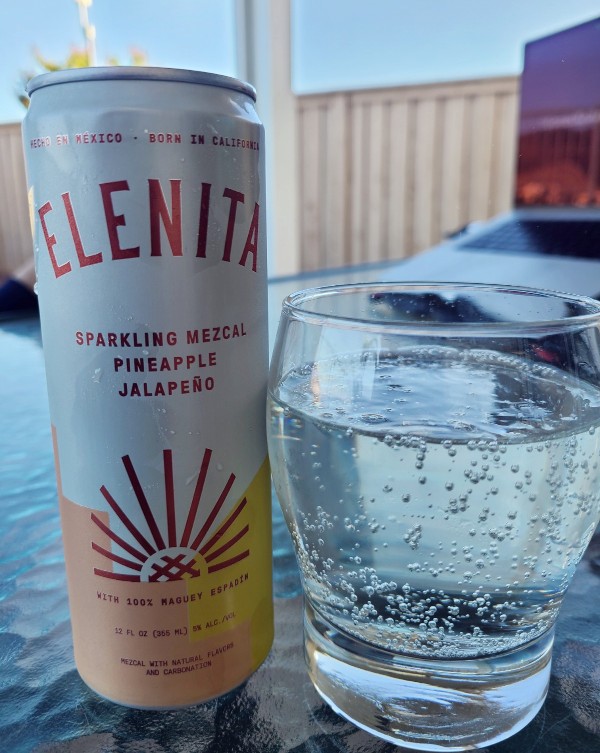 The Pineapple hits you straight away, while the Jalapeno flavor comes in at the end. With that, it is still a nice light flavor. I felt I could sense the tequila more in this one as well, more so than the other two, which I forgot were tequila based .
Matt – "I like it." He's a man of many words. These few words however, mean a lot as he is not a sparkling or seltzer fan of any kind.
Cucumber Lime Basil
This flavor has 2 grams of sugar, 110 calories, and is 5% ABV. The Elenita Sparkling Mezcal website describes it as "cucumber to cool you down, mezcal to warm you up".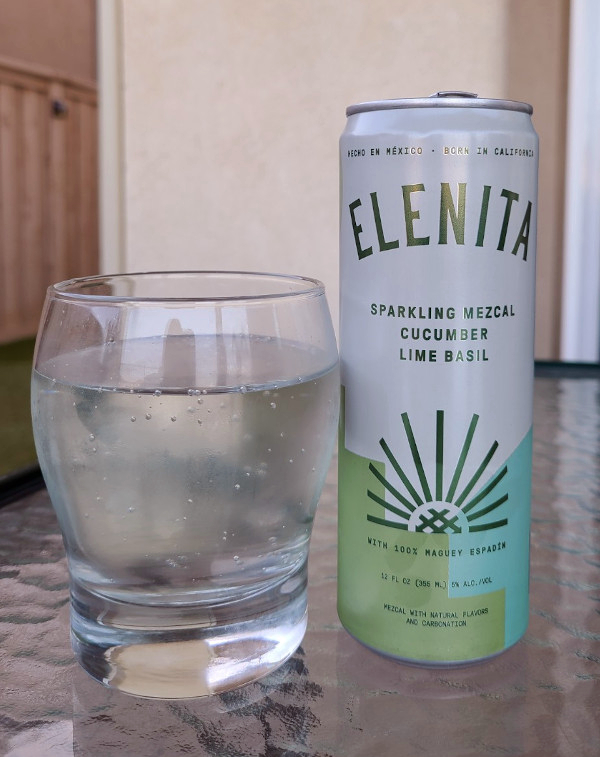 Immediately I thought it was too much cucumber off the bat, smell and taste wise. Then the basil came in strong afterwards. While this was (my favorite Seltzpert) Loryn Powell's favorite, it was by far my least favorite. I am glad though that I tried it last, and it didn't give me a preconceived opinion about the rest. In a fun twist, her least favorite was the Passionfruit Paloma, and I think that was actually my favorite.
Matt thought that Cucumber Basil tastes the same as Pineapple Jalapeno. I'm guessing because the flavors are so light, that he didn't pick up either.
To be fair he has a cold.
That I gave him.
Where to Find Elenita Sparkling Mezcal
You can find this product nationwide. Follow this link to their website to find the product locator and enter in your zip code to find the retailer closest to you.
If there is not a retailer near you that sells Elenita Sparkling Mezcal, don't worry: they have an online shop! So as long as you live in a location in which you can have alcohol shipped to you, (may vary by state/county), you can grab some from the comfort of your home.
Elenita Sparkling Mezcal – Final Thoughts
All in all I thought they were light and refreshing. Other than the Cucumber Basil, the flavors were pretty faint, I would mix them with the actual fruit in the future. Either I would add the fresh fruit to the glass, or add the beverage and some frozen fruit to my Vitamix with some ice to make it a frozen treat for those hot summer days.
Would I buy this again? Yes, probably the Passionfruit or Strawberry by themselves over the other two flavors or another mix pack. In fact I think I will and do as I described above to mix them up a little. If you'd like to see what creations I make using these beverages, let us know in the comments, if you've made drinks using these as a base, also let us know. We'd love to see what you've come up with.
Until then, check out some more of our Hard Seltzer and alcohol based posts, Cheers!
Thirsty? Read More!
All Seltzer Posts – All Drink Related Posts – Alcoholic and Non
---
Connect with us on Social Media:
---