Will You Accept This Rosé? Hard Seltzer from Smirnoff
We came across this multi pack one night and I was intrigued. Will You Accept This Rosé? This is a Hard Seltzer available from Smirnoff. It is inspired by the long running ABC television show The Bachelor.
It appears this was an effort to join with the popular show to promote both products, opening up Smirnoff products to Bachelor fans and the Bachelor to Smirnoff fans. This product debuted in 2020, and I also have seen it by the name of 4 Ways to Rosé.
The cans are a nice shade of pink, will coordinating colors for the design and labeling of each flavor.
By an update in July 2022, it appears this product may no longer be available or perhaps is only released prior to new seasons of the Bachelor.
The Bachelor
For those of you who may be unfamiliar with the show, or are reading this from an area of the world where the show doesn't air, here is a quick summary.
The Bachelor first aired on television March 25, 2002. The Bachelor (or Bachelorette in some seasons) dates a variety of mates chosen by the show, they go on individual dates, group dates, getting to know each other. Every week at the end of the show is a Rose ceremony where the Bachelor/Bachelorette will present roses to the contestants they would like to continue seeing. Those who did not receive a rose are then sent home, usually in some dramatic fashion. At least thats what I remember from the few episodes I saw.
Will You Accept This Rosé? Flavors
There are four flavors in this multi pack. Each has 0 grams of sugar, 90 calories, and 1 gram carbs. They are all 4.5% ABV. Seltzers usually have a duller flavor, more seltzer less whatever fruit is supposed to be within that can.
The four flavors included in this multipack are:
Raspberry Rosé
Pink Apple Rosé
Strawberry Rosé
White Peach Rosé
The only one I've really noticed to have full flavor as intended is Fruit Smash from New Belgium Brewing. Check out that post for probably my favorite of the seltzers we've tried so far.
Or check our all our seltzer posts and see if you agree with us:
Thirsty? Read More!
All Seltzer Posts – All Drink Related Posts – Alcoholic and Non
Raspberry Rosé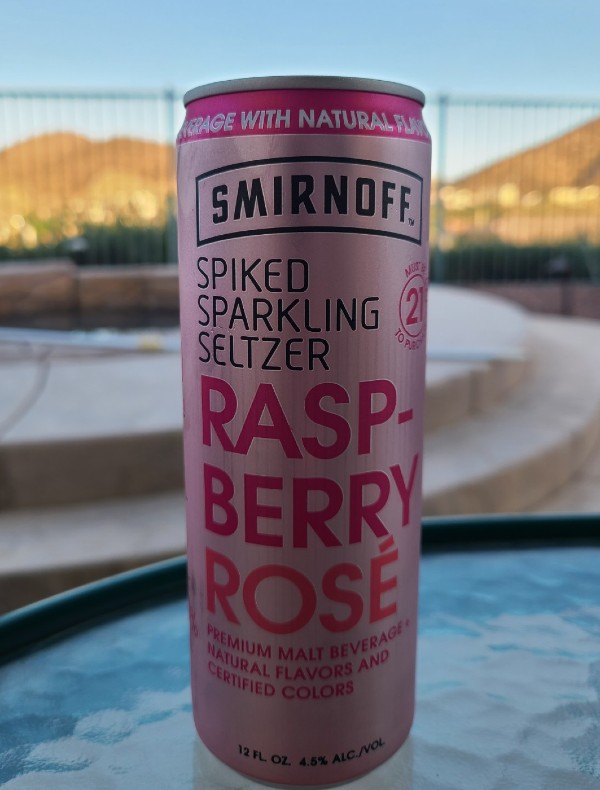 There is not much to this flavor. I definitely expected way more flavor, there is just a bit of carbonation, not high carbonation like some, so that's a bonus. I give this one a 3/5.
Matt thought it was very bland and gave it a 1/5 rating.
Pink Apple Rosé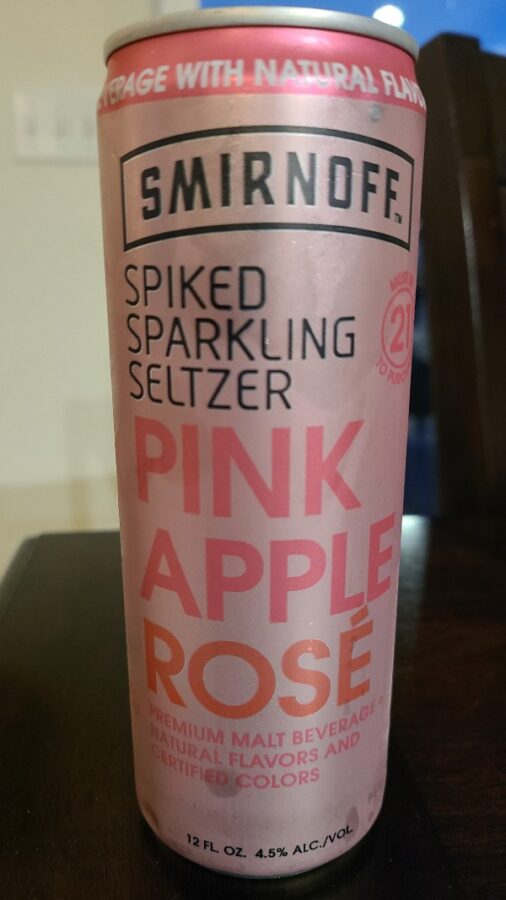 The apple does come through in this one, way more than the Raspberry came through in the previous flavor. It's very fresh tasting. I don't try many apple flavored seltzers, perhaps I should? Rating this one a 3.5/5.
Matt felt the same about this one as the previous Raspberry. He did notice apple flavor, but not a whole lot, rated this 1/5.
Strawberry Rosé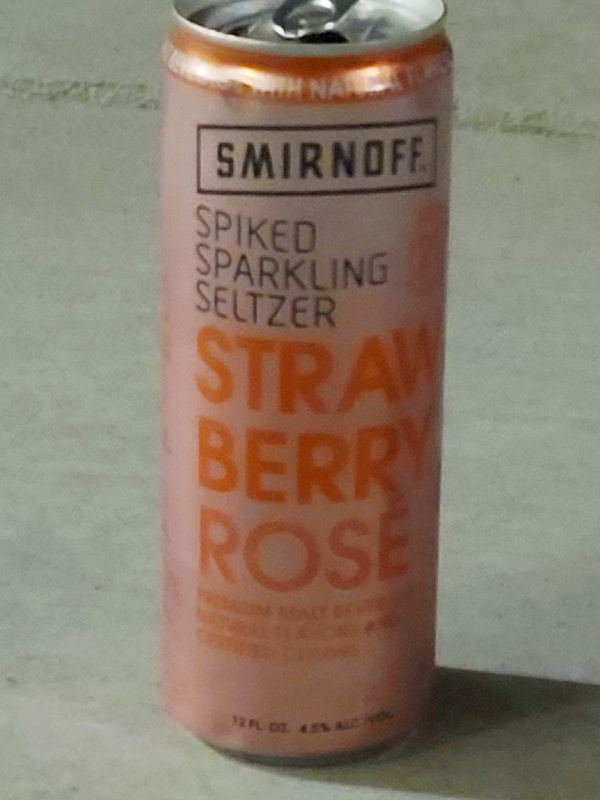 First, I apologize for this picture. How the others are decent quality, and this looks like it was taken on a flip phone in 2009 is beyond me.
This particular can, the strawberry flavor comes through slightly. Again very light in comparison with other brands. I would blend frozen strawberries with this one in the future to enhance the strawberry flavor. This one gets a 2.5/5 rating.
Matt takes a sip, "Am I wrong? Do these have no flavor?" He gave it a .5/5 Yes, half a point. He is not having these at all.
White Peach Rosé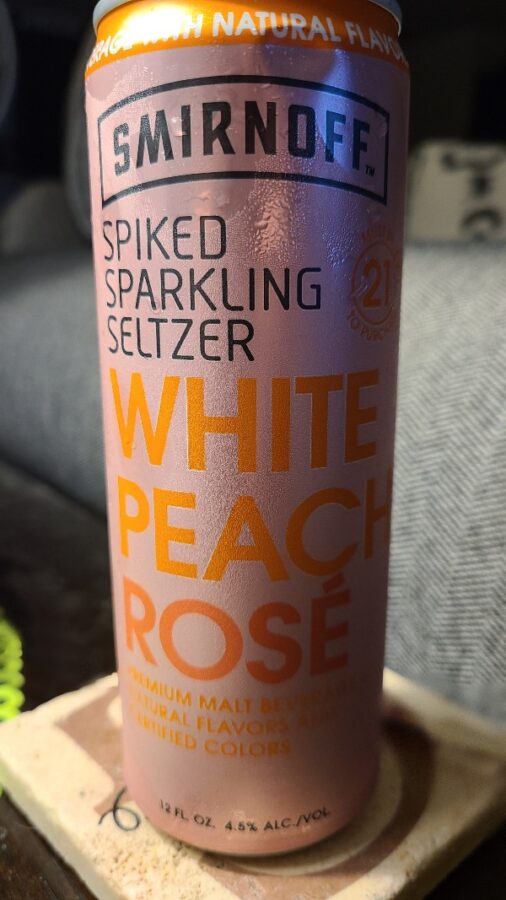 Finally we have white peach, the last flavor to try within this multipack. I thought it had very little flavor. Peach is a light enough flavor to begin with in my opinion. Add to that the fact that I found all of these to be extremely light in flavor and it didn't taste like much at all. I gave it a 2/5 rating. Matt agreed that there wasn't much flavor and rated it 1/5.
Will You Accept This Rosé? Final Thoughts
All in all, I'd pass this one up in the store, unless you like the seltzers with extremely light flavors. But it wasn't for us. We were disappointed with the 12 pack. Other than the apple, I wouldn't try the other three flavors again.
It does appear that they did try to remarket it with a new name, 4 Ways to Rosé, but the flavors just aren't there for me. I do enjoy Smirnoff products in general. I would consider trying other Smirnoff Hard Seltzer flavors in the future, but perhaps on a can by can basis, instead of buying an entire 12 pack. But again, these opinions are our own, and you are free to make your own choices, So if you find a pack somewhere in a store thats still around, grab it. It's probably on sale.
---
Connect with us on Social Media:
---