Homemade Pizza Dough – A Worthwhile Journey
Lenten Fridays always call for meals we could easily make the rest of the year, but we usually reserve for these 6 Fridays each year. Halushki, Crab Cakes, and now – Veggie Pizza. We made some homemade pizza dough a few months ago that we were able to freeze and make use of some vegetables we had in the fridge that we wanted to make sure to use.
Updates 4/17/20 and 5/22/20 read until the end to see.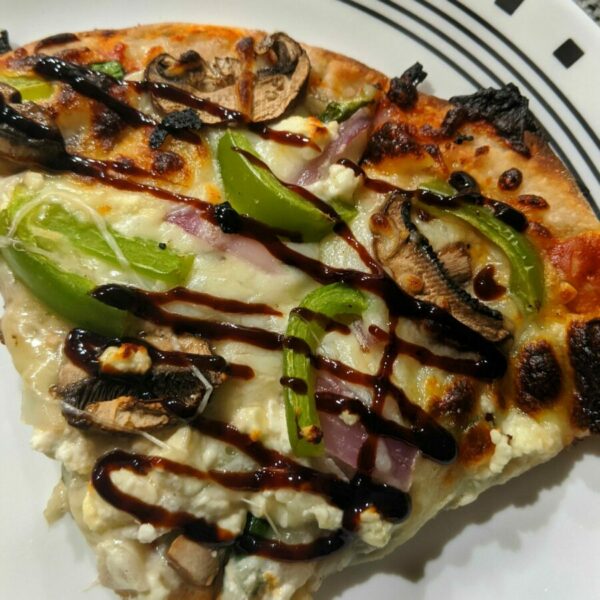 The Dough
Pizza dough has seriously been a never ending project. Each time we make it, it gets better and better. We haven't been able to master getting the dough NOT to stick to the tray when attempting to slide it on to the tray.
Usually Matt is the one who lacks patience with projects, but he has been quite dedicated to the cause of great pizza and the experimentation process involved.
This is the recipe we have been using. It has over 200,000 shares in all forms of social media and a 4.85/5 star rating.
Assembly
We used leftover Homemade Roasted Tomato Sauce from the spaghetti and meatballs we made earlier in the week, thinning it down with a bit of oil to make it more spreadable.
The vegetables we worked with were green pepper, mushrooms, red and white onion. We used our Kitchen Aid stand mixer and attachment to shred some mozzarella cheese, and topped our pizza with feta cheese. You have full creativity with your pizza, pick and choose your toppings as you see fit.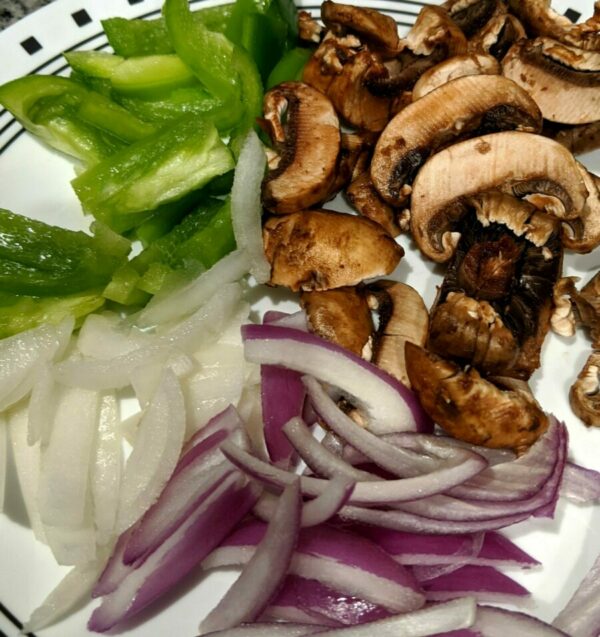 We put the pizza onto our baking stone which was pre-heating in the oven at 550 Fahrenheit for 20 minutes, and baked it for 8 minutes.
Our result was a crunchy outer crust, almost perfect inner crust (maybe could have used another minute or so for perfection, baked veggies, and melted cheese. We topped it with a drizzle of balsamic glaze.
Delicious.
Have you ever made your own pizza from scratch? Let us know in the comments! Post your pictures on instagram and twitter and tag us! @grecobon
UPDATE 4/17/2020: We found some tips online and used them with success, here goes…. Two hours before baking, we took the pizza dough out of the fridge. Thirty Minutes before baking, we transferred the dough from the plastic bag to a pre-greased mixing bowl and covered with a kitchen towel, left to sit on the counter. This allowed us to stretch the dough much easier, resulting in a more normal size pizza for 2!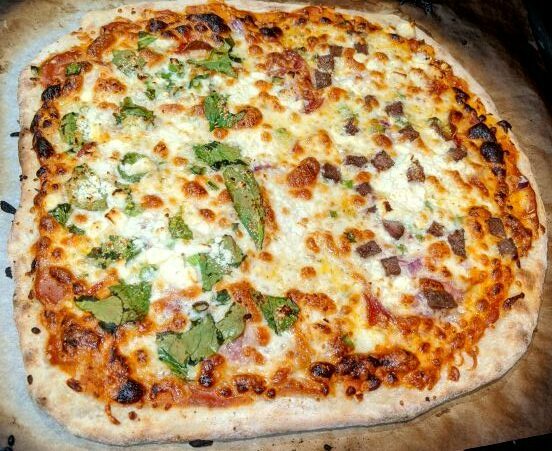 UPDATE 5/22/2020: Perfect Practice Makes Perfect!
Matt is having much more ease in working with the dough, it's not ripping, but it is stretching beautifully. It comes off the tray onto the stone with ease. When cooked, the crust is chewy towards the middle, but beautifully crispy at the ends. When cutting it, it makes that beautiful crunch sound just like our favorite Italian pizza shops at home! We aren't there yet, but we can taste it…. 😉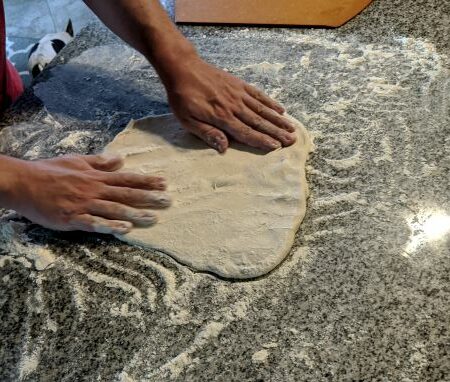 ---
Connect with us on Social Media:
---