Stuffed Salmon: Another Kirkland Signature Ready Made Dish
Another fantastic Costco find of Matt's are these Crab stuffed Salmon patties. I love seafood and would eat it just about every day. However, Matt is not as quick to go that far. However, I know during Lent, I can get him to consume more seafood than usual.
There really isn't much else to say about this particular dish. It does go on sale quite a few times during the year, and is a popular buy. So, keep an eye out for it!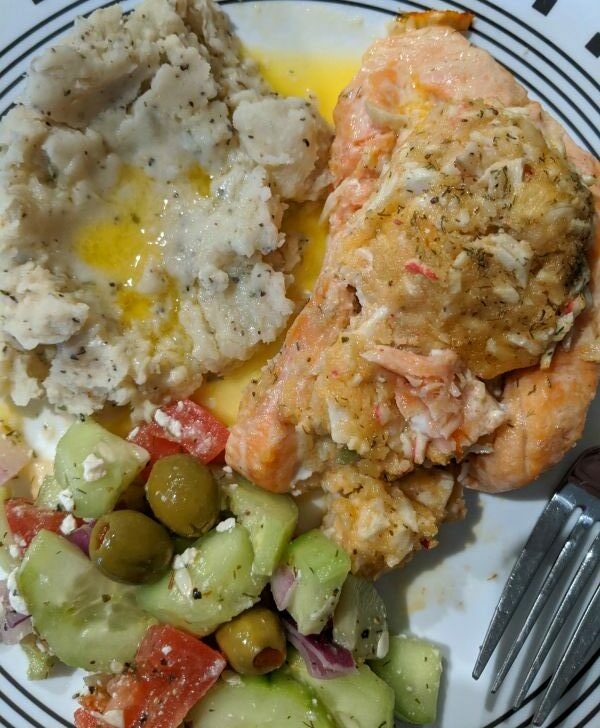 No recipe here since Costco handles all of that.
Instructions:
Preheat the oven to 375° Fahrenheit.
Place the foil tin on a baking tray to be safe and prevent any collapsing over the wire rack in the oven.
When the oven is warmed up, put the tin tray and baking tray in the oven and bake for 18-22 minutes.
You can opt to add a bit of butter on top of each stuffed salmon patty, which I highly recommend.
It's very easy to freeze any of the patties to defrost and enjoy later! Perfect for anyone living on their own, add veggies or a salad later, and you get three meals from one main purchase!
Mashed Potatoes
For the mashed potatoes use your favorite recipe!
However if you need a starter or to mix up your usual recipe:
Creamy Mashed Potatoes
Simple Mashed Potato recipe, use whatever seasonings best suit you!
Ingredients
5

medium potatoes

½

cup

sour cream

1

tbsp

minced garlic

1

tsp

black pepper

1

tbsp

butter
Instructions
Boil potatoes for 15 minutes.

Add all other ingredients and stir to mix.
However, if you're looking for something with a bit more to it for your mashed potatoes, check out these loaded mashed potatoes!
That Salad Looks Familiar….
It does. My favorite salad goes with so many dishes. It is so versatile.
Moroccan Inspired Cucumber Salad is another great option.
Another Way to Enjoy:
You can use whatever sides you like. Recently we have been loving steamed broccoli with ours. Occassionally I add rice as well. Get creative and it never feels like the same meal!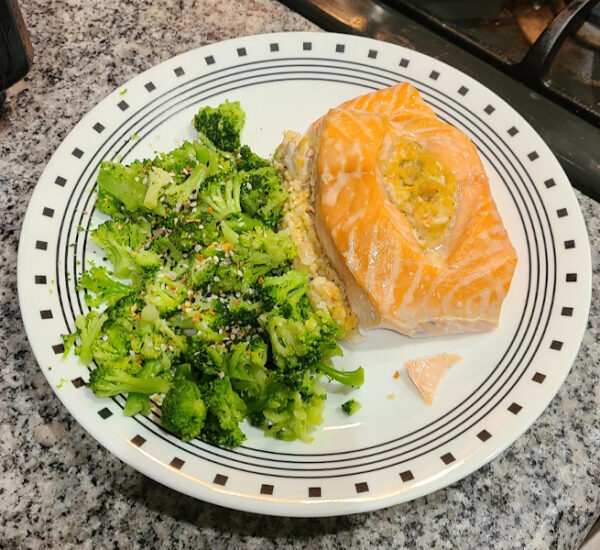 If you have a Costco neat you that makes this, go ahead and pick it up next time. You can also give it a shot on your own if you're adventurous enough!
Be sure to tag us on instagram and twitter if you do @grecobon! Use the Share button to share this post and any other of our food posts on facebook, twitter and pinterest to keep for later!!!
---