Bangers and Mash – A Variation
Today is March 17th, 2020, Saint Patrick's Day. When we were in our 20's and living in Pennsylvania, the weekend surrounding Saint Patrick's Day would have involved a day of bar hopping and lots of partying. I'm part Irish and love all things Ireland. We attempted an Irish month in 2017, when we first started this journey. Today we honor my Irish roots with a variation on Bangers and Mash.
What is Bangers and Mash?
A traditional dish of Great Britain and Ireland, Bangers and Mash is quite simple. This dish consists of sausage and mashed potatoes. The sausage may be made of beef, lamb, or pork. That's it, nothing crazy.
Dinner, Quarantine Style
We just returned from a trip to Arizona yesterday, Spring Training 2020 was cancelled due to the COVID-19/Corona Virus currently making its way through the country. We made the most of our trip, staying at my cousin's house, using tons of hand sanitizer, playing with the dogs, and just hanging out.
Today is officially Day 1 of Self Quarantine for us, some started last week. While I make a list of things to do since we will be spending the majority of our time at home for an uncertain amount of time, I decided we should still have a festive Irish inspired dinner.
I decided on a take of the Irish dish of Bangers and Mash. You can find a recipe for that from the recipe site Just a Pinch Recipes.
What You'll Need:
5lb potatoes peeled and cubed
1 cup sour cream
3 Tablespoons butter
salt and pepper to taste
3 cups shredded cheddar cheese blend, divided
1/2 pound sliced bacon, cooked and crumbled
dried green onion
Recipe
I found a recipe on Pinterest for Loaded Mashed Potatoes. Similar to a baked potato in mashed form.
Adapted from: Taste of Home Loaded Mashed Potatoes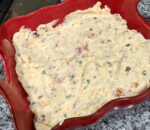 Print Recipe
Loaded Mashed Potatoes
Ingredients
5

lb

potatoes

peeled and cubed

1

cup

sour cream

3

tbsp

butter

salt and pepper to taste

3

cups

shredded cheddar cheese blend

divided

½

lb

sliced bacon

cooked and crumbled

dried green onion
Instructions
Add potatoes to a pot, cover with water, and bring to a boil.

Reduce heat, cover, and simmer for 15 minutes, or until potatoes are tender. Turn the oven on at this time to preheat to 350 degrees Fahrenheit.

Fry bacon in a pan that has been lightly sprayed with non stick spray. Allow to cool on a paper towel lined plate, and chop when cooled.

When the potatoes are done, drain them and place in a large bowl, add the sour cream, butter, salt, and pepper.

Beat on lowest speed, add 2 cups of cheese, bacon, and green onions, stir by hand.

Transfer to a greased baking dish and bake for 30 minutes.

I used the last of my recent batch of dried green onions. People are stocking up on all kinds of things right now, but I have a feeling green onions aren't one of those items. So, when we do our next grocery trip, I'll have to had some to the list to make attempt #2.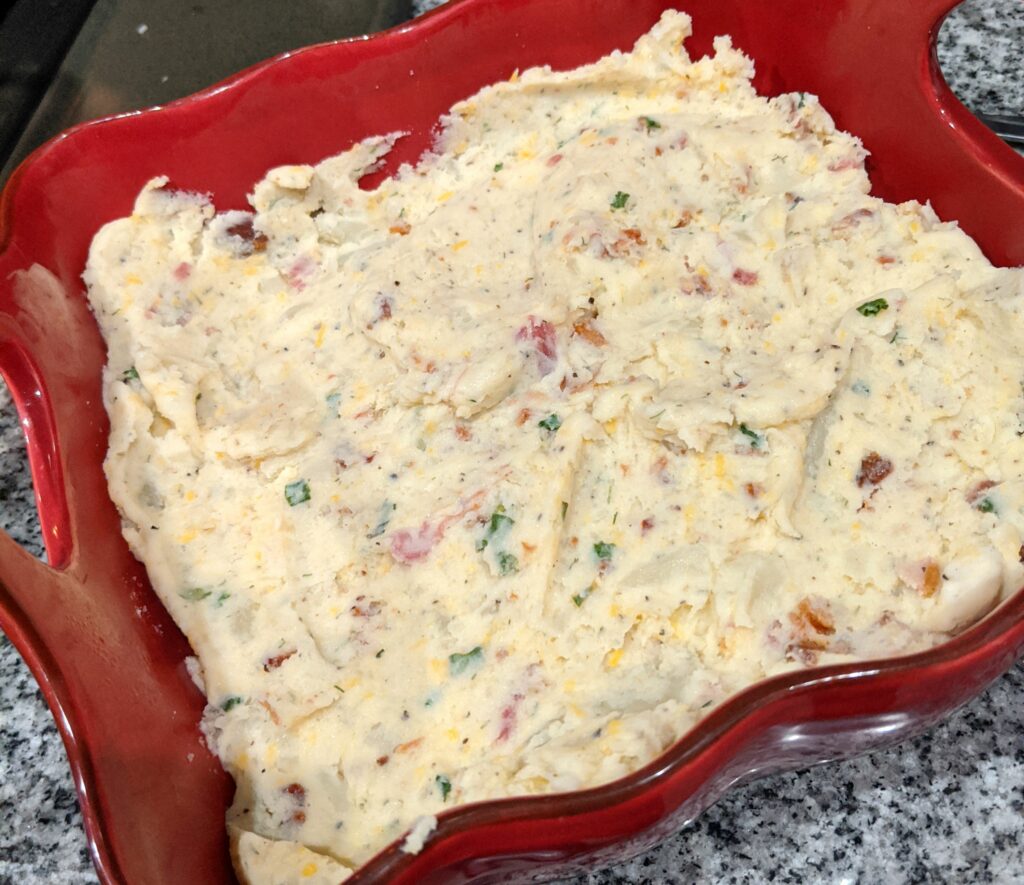 To accompany the mashed potatoes for the "bangers" aspect of the recipe, I used some polish kielbasi we had with a spoonful of horseradish. I fried it in the pan that I used for the bacon, and cooked it until it appeared to be done. We added some canned green beans that we just heated up quick in a pot, and had ourselves a wonderful dinner.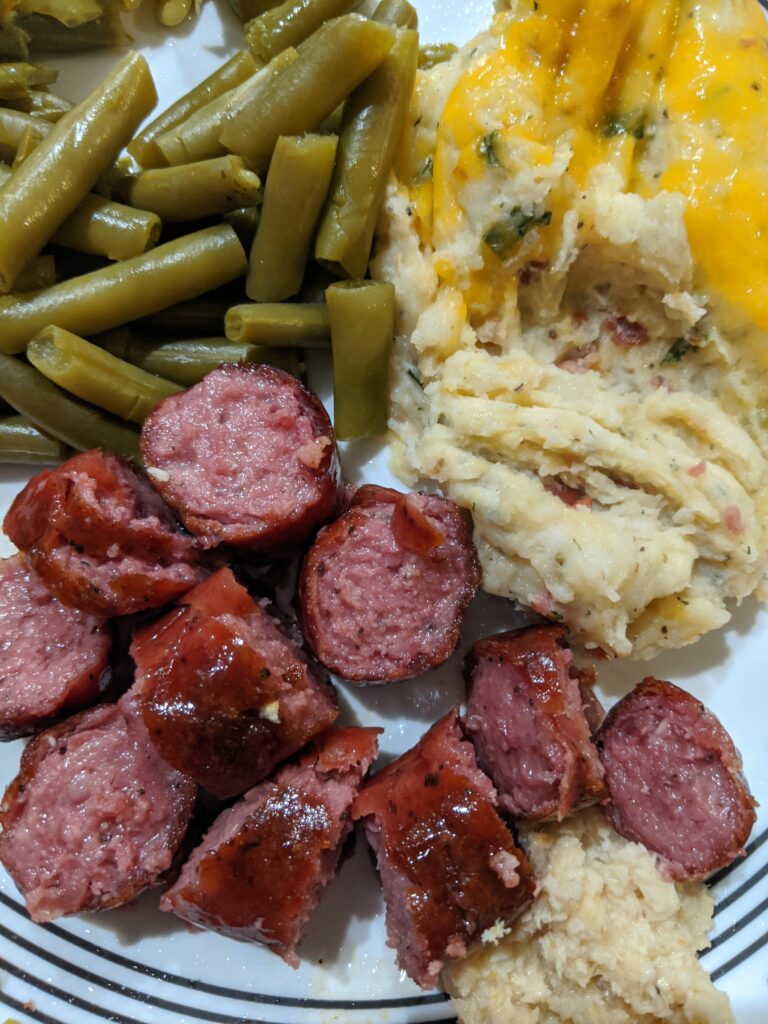 We couldn't have dinner tonight without our green beer!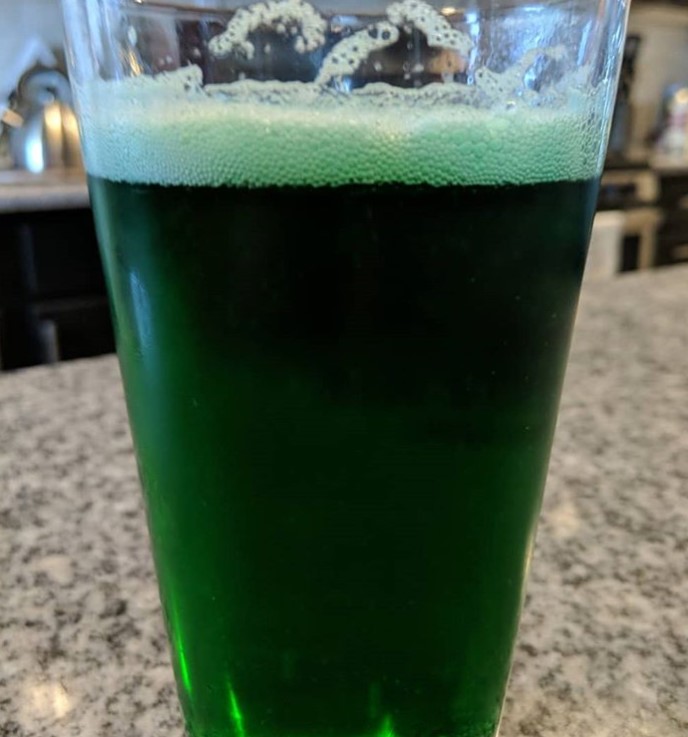 ---
Connect with us on Social Media:
---