Greek Salad – The Answer to every question.
This Greek Salad is hands down the salad we make most often throughout the year. We discovered it during Greek Month and have been making it ever since. It's easy, it's aromatic, the fresh vegetables combine together for a smell so amazing, you won't be able to wait to eat it, and its delicious! The light and fresh taste complimented the Shawarma so perfectly.
Need a quick side dish?
Greek Salad.
Invited to a party, but you're super busy ahead of time to make anything too time consuming?
Greek Salad.
Having a party and need the perfect salad to compliment any meal?
You guessed it…Greek salad.
The Ingredients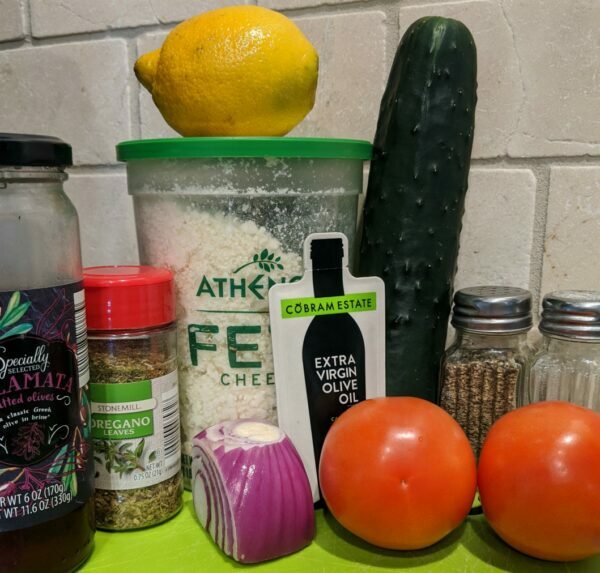 The full recipe is detailed below, but for this particular meal I divided it in half for the two of us.
I used:
1 cucumber peeled and chopped into quarter 1/4 moons
1/4 red onion sliced
1/8 cup olive oil
1 tbsp lemon juice
1 tsp dried oregano
1/4 cup crumbled feta cheese
salt and pepper to taste
black olives pitted and sliced to taste
The olive oil we received as a free sample from PINCHme. This is a website where you can receive free samples of hundreds of products, we have discovered so many new favorites through this service. Learn more about PINCHme on our sister site – DEEDNI. Use this brand or whatever you prefer.
The feta is from Costco. We love feta, so we buy LARGE tubs. I have read buying blocks and crumbling yourself is better, we just haven't taken that step yet.
The rest of the ingredients are all from Aldi. If you live near Aldi, check them out. They have a wonderful selection.
I also had green onions so I tossed one in. Did you know you can re-grow them? I like to preserve them by drying them in the oven.
Instead of black olives (we aren't fans) we had Kalamata olives (the purple ones) so I threw those in instead. If you have chick peas, they provide a nice texture difference. I add about half a cup, but that would be up to you.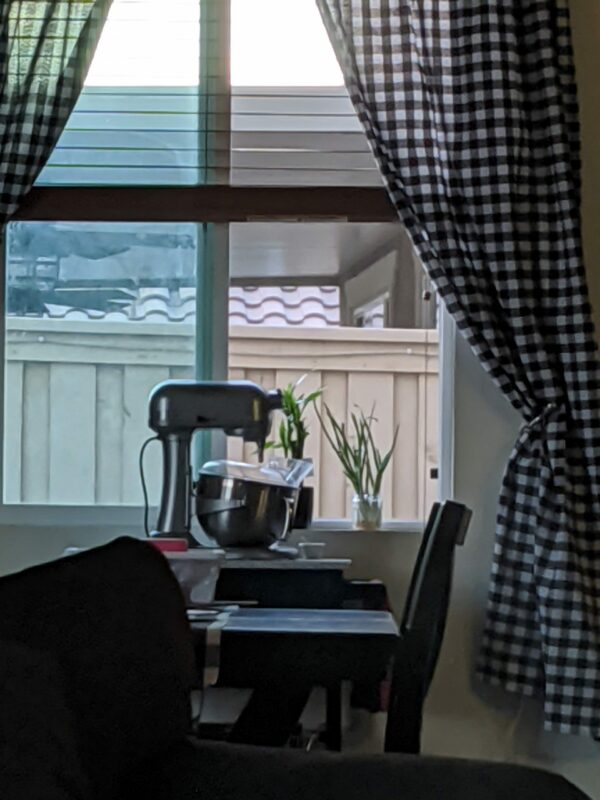 Had to show my adorable curtains too.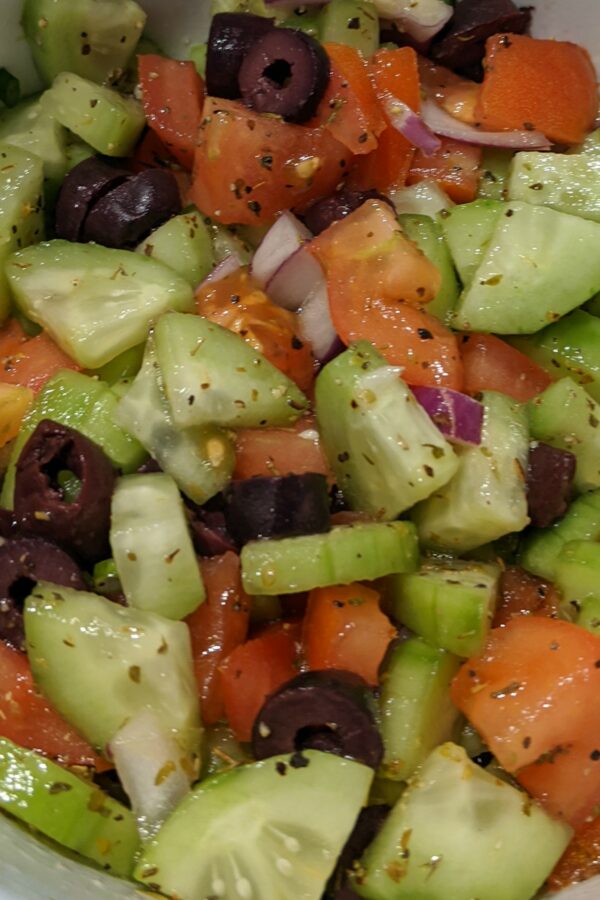 Our Favorite Salad Recipe
I cut the recipe in half for just the two of us, but this is the full version: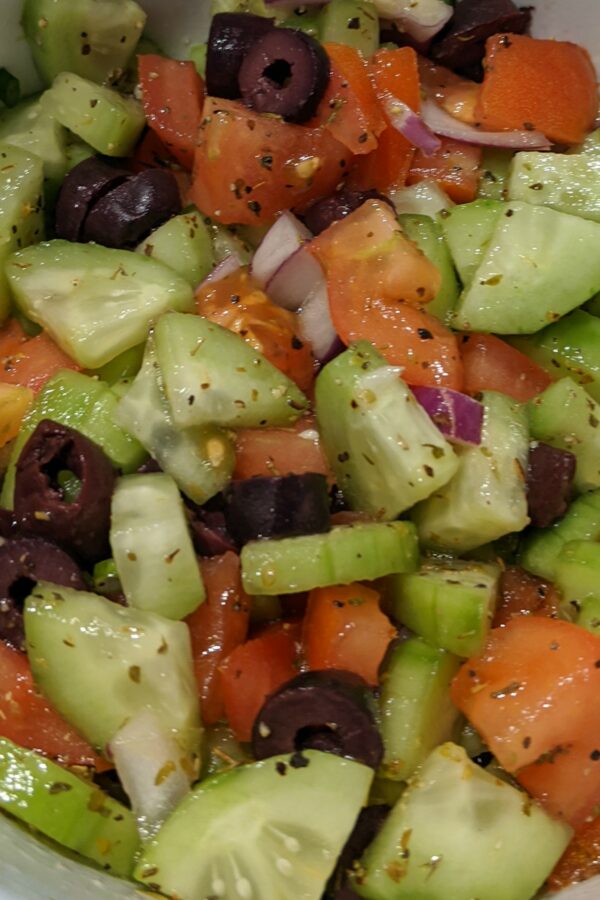 Print Recipe
Greek Salad
The perfect salad for just about any occasion!
Ingredients
2

cucumbers

peeled and chopped into quarter 1/4 moons

½

red onion

sliced

¼

cup

olive oil

1 ½

tbsp

lemon juice

2

tsp

dried oregano

½

cup

crumbled feta cheese

salt and pepper

to taste

black olives

pitted and sliced to taste
Instructions
In a smaller bowl, mix the olive oil, lemon juice, and dried oregano. Whisk together and pour over the vegetables and mix well. Season salad with salt and pepper to your liking.

Sprinkle feta cheese and olives over the top of the salad and mix before serving. Taste and adjust spices if need be.
---
---
Hungry for More?
If you liked this post, here are some other recipes you may enjoy!
Also, be sure to follow us on Pinterest so you can save all of the recipes mentioned on our site!
---
---
Give it a try! Post a picture on instagram and tag us! @grecobon #grecobon.
---
Connect with us on Social Media:
---