Swedish meatballs – simple yet flavorful
Usually when I think of Swedish Meatballs, my mind goes right to Ikea. If we stop in early enough, I like to pop into the cafe for the famous meatballs. You can also buy them in store along with the cream mix:
But then, I was hungry for them at home, and my wallet didn't agree with a trip to Ikea. So recipe hunting I went.
A Combination of Recipes
I came across three recipes that inspired me. All very similar but with ingredients that separated them.
Global Table Adventure – this site also took on the adventure of cooking meals from around the world. Although no longer updated, I have gotten many meal ideas here and have enjoyed watching her assistant, young daughter, grow during the course of time from the first recipe to the last. The first time I made this dish, this was the recipe I used. While it tasted wonderful, it lacked the creaminess in the sauce that I wanted from this dish.
Campbells Soup – a creamy sauce, beautiful! This recipe introduces the use of cream of mushroom soup, one ingredient I'm a fan of. Green Bean casserole ignited that love for me. The previous recipe suggests garnishing with dill, this one with parsley, why not both?
Blue Apron – the meal service published their version of this recipe. What they did different from the other two was to use fresh mushrooms and kale, and to replace the egg noodles with mashed potatoes. I took the mushrooms and kale into my recipes, but left the mashed potatoes, keeping my beloved egg noodles.
The Meatballs
Each recipe also suggests different meatball combinations. While Global Table Adventure goes for a beef/pork combination, Campbells suggests turkey or beef. Blue Apron goes for just ground pork. In all honesty, use whatever you want. I had ground beef, so that's what we used. Each of the recipes I referenced had a different meatball recipe. The Blue Apron recipe included a spice blend recipe for the meatballs, we had no fennel, and I wasn't grinding the Caraway seeds I had, or I may have gone that route.
Instead, I went with one and a half pounds of meat, one egg for binding, one half cup breadcrumbs, one quarter cup of minced onion, one half teaspoon of salt (or just shake some in and guess), a teaspoon of black pepper (again to your taste if you want more or less, or none at all), and an eighth of a teaspoon of nutmeg.
Mix everything together, shape into about 1″ size balls. You could make these ahead of time and refrigerate them for a few hours if pressed for time prior to eating.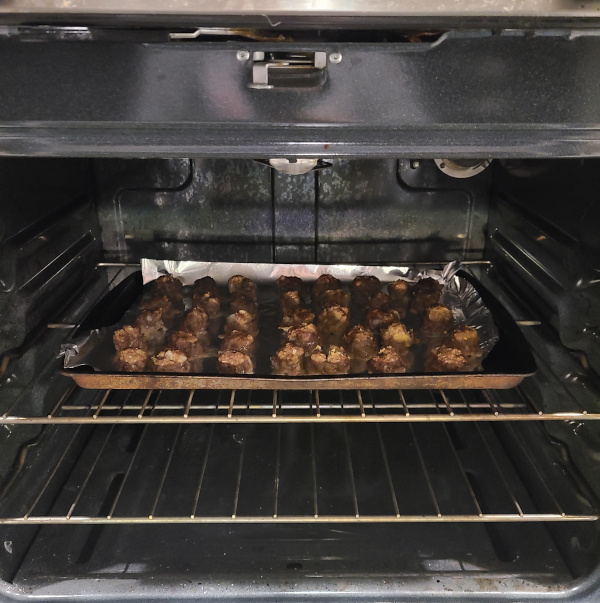 When ready, spread the meatballs out on a prepared baking sheet, and place in the oven for 45-60 minutes. I check at 45 minutes, then turn the oven off. The meatballs stay in the oven while it cools down, and I finish the sauce.
The Sauce
You can do part of the sauce ahead of time if you wish. The mushrooms and kale can be done ahead of time if it is helpful and refrigerated with the meatballs. Just get them out when you start the sauce so they can warm up to room temperature before being added to the sauce.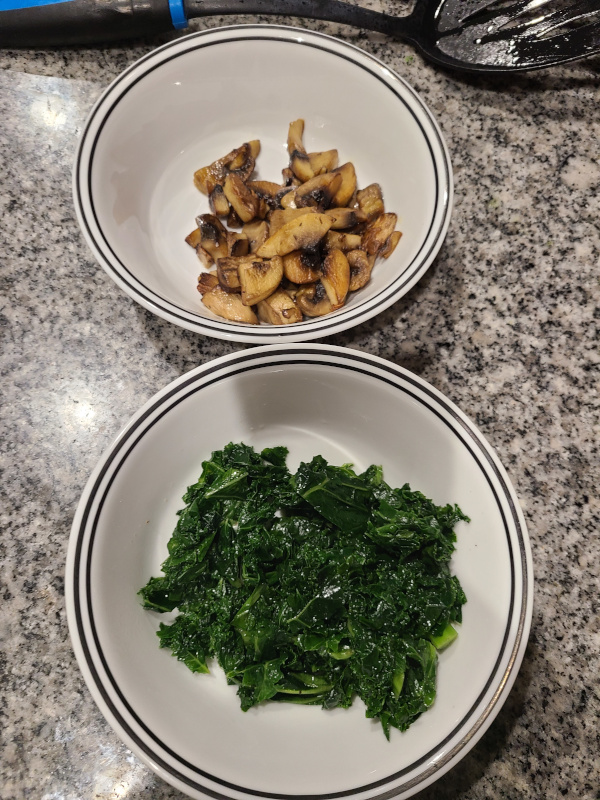 The rest of the sauce is pretty straight forward. Add the broth to a large pan and bring to a boil. Once the broth is boiling, add the soup, sour cream, and jam. The whipping cream can be added now or after the sauce has simmered. Bring heat to low, cover the pan and simmer for five minutes. Then add the mushrooms, meatballs, and kale to the sauce, remove from the heat, and stir to incorporate/warm everything.
Finally, plate your noodles and pour a desired amount of sauce over. Garnish with more jam, dill, and/or parsley.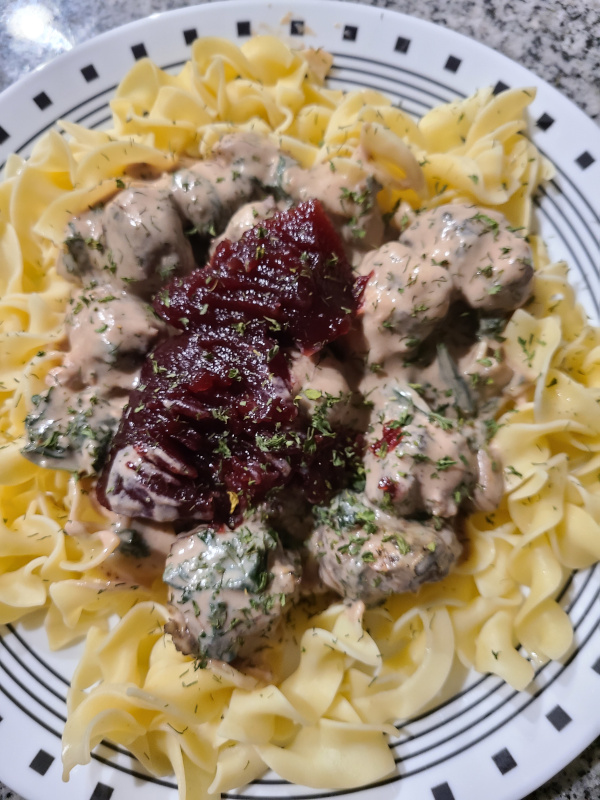 Enjoy!
Swedish Meatballs Recipe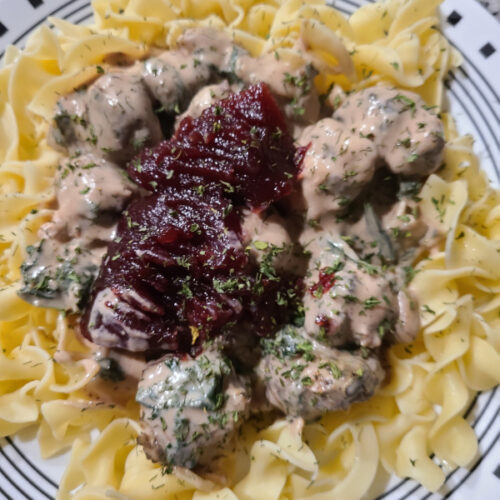 Print Recipe
Swedish Meatballs
Sweet, Savory, and Creamy Dish served over egg noodles.
Ingredients
Meatballs
1 ½

lb

ground meat

beef, pork, or turkey, or combination of your choice

1

egg

½

cup

breadcrumbs

¼

cup

minced onion

½

tsp

salt

1

tsp

black pepper

⅛

tsp

nutmeg
Sauce
½

cup

kale

or more if you like

¼

cup

water

¼

cup

mushrooms

or more if you like

1

tsp

olive oil

¾

cup

beef broth

1

can

cream of mushroom soup

¼

cup

lingonberry jam (or cranberry jelly)

2

tbsp

sour cream

1

tbsp

heavy whipping cream

optional

salt and pepper

to taste
Garnishes
parsley

dill

lingonberry jam (or cranberry jelly)
Noodles
Packaged egg noodles of your choice, or use your favorite recipe to make from scratch.
Instructions
Make the Meatballs
Mix all meatball ingredients in a bowl. Shape into 1" balls. You can do this ahead of time and refridgerate for a few hours, or place directly onto prepared baking sheet and bake for 45-60 minutes. Check at the 45 minute mark. *
Make the Sauce and Noodles
In a large pot, bring water to a boil. Add noodles and cook according to package instructions.

While meatballs are baking, in a large non stick pan over medium-high heat, add the water and kale, and cook for a few minutes until kale is wilted to liking usually 3-5 minutes. Remove from pan and set aside.

Once kale is removed, add olive oil to the pan to heat for a minute. Chop/slice mushrooms to your size preference, and add to hot pan. Cook, while stirring, until mushrooms soften and brown a bit. 3-5 minutes. Remove from pan and set aside.

Add broth to the pan and bring to a boil.

Add soup, sour cream, and jam, bring heat to low, cover and cook 5 minutes. Add whipping cream if you like for a thicker sauce.

Add back mushrooms, kale, and stir in meatballs. Stir everything together for a minute or two.

Plate noodles and pour sauce over.

Garnish with dill, parsley, and jam to taste.
Notes
* I usually check the meatballs at the 45 minute mark then place back into the oven and turn it off if need be.  As it cools down it keeps the meatballs warm while the sauce finishes. 
If you make this recipe, be sure to post on your public Instagram and tag us!!! – #grecobon or @grecobon
---
Hungry for More?
If you liked this post, here are some other recipes you may enjoy!
Also, be sure to follow us on Pinterest so you can save all of the recipes mentioned on our site!
---
---
---
Connect with us on Social Media:
---