my accidental viral photo and giving credit where it is due
I did a thing. In this post I'll explain the story behind my accidental viral photo and where I went wrong.
March 23, 2021 a giant container ship became stuck in the Suez Canal. The Suez is a major shipping route, this left some global trade at a near standstill. Boats in the canal ready to go either way were then also stopped in their tracks.
This in itself is no laughing matter, I just want to get that out there first and foremost.
People shared this story and photos similar to this one above all over social media. So many comments of "how did that even happen?" or similar questions arose. But, I never thought to question HOW, because on a much smaller scale, I've been there.
This post may contain referral links. If you use these links to sign up for any service or make a purchase we may earn a commission at no extra cost to you. Thanks.
K'FUN K'FOOD K'FANTASY
Located in Northumberland County, Pennsylvania is Elysburg. With a population of just over 2,0001, Elysburg is home to Knoebles Amusement Park.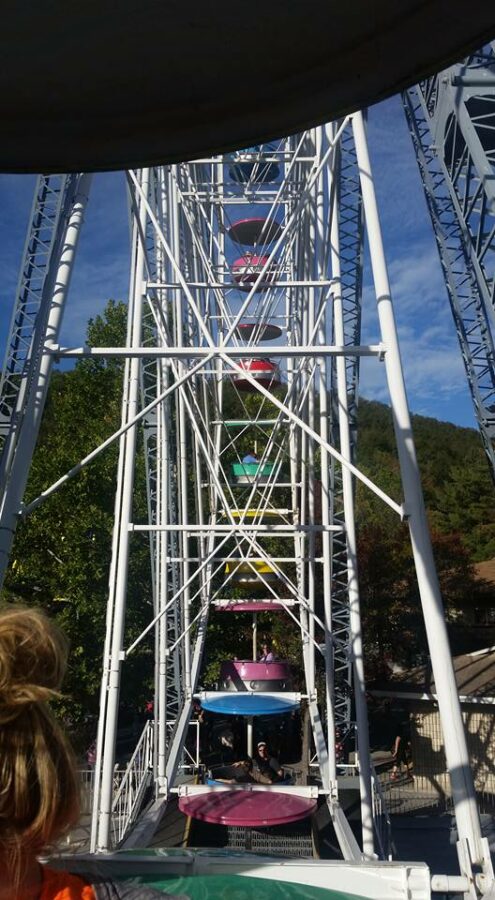 Opened on July 4, 1926, Knoebels is a family owned amusement park. On site there is also a camp ground and picnic grove. The main season is from April-September with Fall and now Winter events occurring after the season closes.
Admission to the park is free, the park is thought to be America's largest free admission amusement park.
This video explains the park in a way I cannot.
You have the option to pay per ride with tickets, the lowest price rides are $1.50 with the highest being $4.00 per rider. There is also the option of an all day pass, prices are unavailable at this time. The park has a total of 6 roller coasters for the entire family, 2 water rides, and 63 attractions2.
Knoebels Motor Boats
The Motor Boats are a family friendly attraction at the park. The boat slowly drifts along a canal that travels through a section of the park and even under the train tracks and Kozmos Kurves, a roller coaster.
Just about everyone who has been on these boats has run into the walls of the canal despite their best efforts in steering. Most times you can just push yourself away, or an employee needs to assist you. Once an employee bent down with one leg into the canal and kicked our boat back onto it's proper pathway. It's a frustrating yet comical event. On one occasion I have even turned my boat completely around.
You can see in this following video from the summer of 2020 just how easily and often you would encounter the wall on this sort ride.
Crashes aside, this is a nice easy going ride and one of my favorites. When you're walking around the park all day, especially when the temperatures are soaring, it's nice to sit for a while. This is also a reason I may or may not go through the Haunted Mansion a few times, that has air conditioning!
And now, the birth of my accidental viral photo
So, pretty much anyone who has ridden the Motor Boats at Knoebels has run into the wall. When the incident in the Suez Canal occurred last week, I was seeing posts about the situation. As I stated earlier, so many questions in articles and comments of "How did this happen?"
I said out lout at one point, "Obviously they've never been to Knoebels."
I wasn't the only one.
A few posts sharing articles and photos of the boat stuck in the canal shared by friends from the same area of PA I grew up in said the same thing. "Just like the boats at Knoebles." "Get the guy from Knoebels to kick it free." I laughed when reading these thinking "If you know, you know."
Sunday night, March 28, 2021, after seeing nothing out there visually explaining the similar non global trade harming conundrum at my favorite amusement park, I opened my laptop. This is the image from Pinterest which I found using a simple Google search.
Creation of my accidental viral photo
Using Canva, a web based photo editing program, I found the following photo from the Knoebels Motor Boats. I began by creating a new file, adding the above photos of the Motor Boat and the aerial view of the ship in the Suez, and added a tiny watermark in the bottom right hand corner.
Rookie Mistake.
Originally, I just added the photo for my friends list for a few folks to maybe laugh over. I didn't think anyone would really even notice it, and maybe I just hadn't see any but that there were tons of photos just like this. The next morning I awoke to 120 or so reactions to the photo, comments, and messages. I made it public for anyone who wanted to share to do so. My mistake was not watermarking across the entire image.
I had an appointment to head to, then came home and started working on some things around the house. Around 11:30am my phone started. Messages came in that they had seen my "meme" on this group, or that page or someone they knew shared it on facebook, but what they had seen didn't have my name, and cropped the bottom of the photo (and my watermark) out.
Oh boy.
OH BOY INDEED
Now, I have shared many funny photos over the years, or sad quotes, thoughtful, powerful, whatever anyone shares, I've done it. Someone created that, and I never thought twice about it. Until now.
It's not that I wanted recognition so to say for this, but if someone else is passing it off as something they created, it's a bit annoying. There's nothing I can do about it. Friends were tagging me as creator in comments, deleting the cropped version and heading to my personal page to share the post, and messaging pages looking for the name of the creator. I shared the link to the original post showing that I shared this photo a good 15 hours before. From the pages, groups, and personal shares I've seen (with share counts), I estimate this screenshot of my image using my words has been shared at least 5,000 times.
THE PHOTO ITSELF
So without further adieu, here it is. Knoebels family if you happen to come across this post, I love your park. Always have. But the opportunity presented itself and I couldn't resist. To the rest of you, while this isn't exactly one of our travel posts, I do recommend a trip to Knoebels and a ride on the Motor Boats if you've never been. Then stop at the candy store to purchase yourself some of the best fudge ever, you won't want to miss the Haunted Mansion, and of course the Merry Go Round. On your way out, ride the Ferris Wheel for one last view of the park. And until then, check out our other travel posts here.
That's it. Super simple and made for a fun yet frustrating experience. Kind of like the Motor Boats themselves. But if you took the time to read this, be a pal and share the original post.
My lesson to you
If even in a joking matter, if you make something to share, add a watermark. Don't just add it to the bottom right hand corner like I did. Put that watermark across the entire image, make it translucent enough to not be obvious but make sure you can still make it out at least a bit. You never know when it may blow up like my accidental viral photo.
Canva is a great site for creating social media post images and so much more. You can use Canva to watermark your images as well by adding text over your photo and changing the transparency to 20 or so. Sign up today and try it out! If you choose to go pro, there are plenty of options to choose from in terms of memberships and plans.
---
---
Connect with us on Social Media:
---
---
SOURCES
Wikipedia – Elysburg. https://en.wikipedia.org/wiki/Elysburg,_Pennsylvania
Wikipedia – Knoebels Amusement Resort. https://en.wikipedia.org/wiki/Knoebels_Amusement_Resort