Hot and Spicy S'more – Bring the campfire to your glass
This past year for my personal beverage advent calendar, I went the route of cocktails, hard seltzers, and wine. While I got all other cocktail recipes from various blogs, I was inspired by a particular shot. The blog, Totally the Bomb had a recipe for a shot they called a "S'mores Fire Shot". Based off of this shot, I came up with what I call the Hot and Spicy S'more drink.
Like the Irish Coffee drink I posted a few months back, this is a cocktail served hot. You'll need a few ingredients and tools, which you probably already have in your home.
What's a S'more??
If you're from outside the United States, then you may be unfamiliar with S'mores; allow me to explain.

By Evan-Amos – ;Own work, CC0, Link
Among the ooiest and gooiest of sweet snacks, s'mores are a sandwich of sorts consisting of a roasted marshmallow on top of a piece of chocolate between two pieces of graham cracker. The flavors combine together for one of the best campfire snacks there is. This was a childhood favorite of mine, my mom would make them for us often, but over our gas stove flame.
They're mostly popular in the US and Canada with the name coming from a contraction for the phrase "some more". S'mores and the use of the word date back to the 1920s.
What You'll Need
The equipment you'll need for this drink are the following:
Kettle or Keurig, or Sauce Pan – However you prefer to make hot cocoa, you'll need to heat your base liquid.
Skewer – Can't roast a marshmallow without a skewer!
Open Flame via Firepit or Gas Stove – The other necessary item for roasting a marshmallow.
And now the (suggested) ingredients: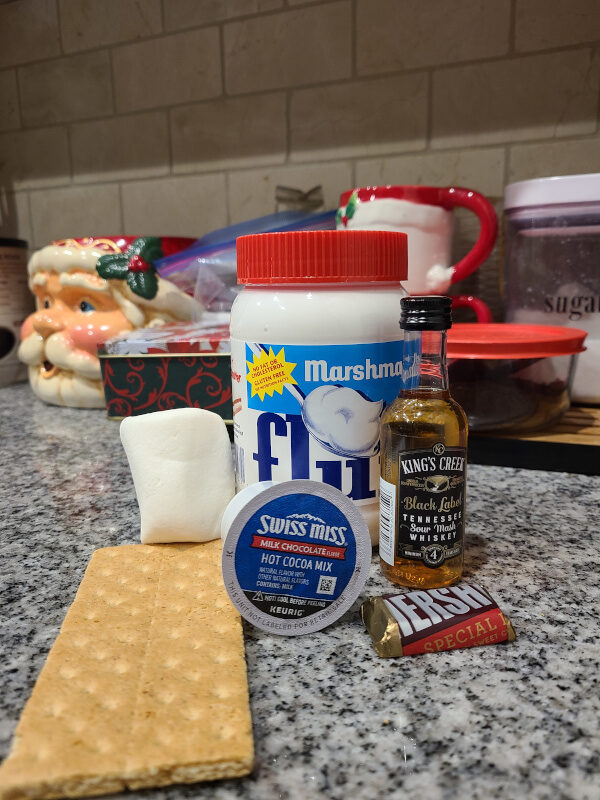 Marshmallow Fluff/Cream – Whichever you have available in your area or home works. I'm a Fluff fan but I know it's not available everywhere. This is to garnish the rim of your glass.
Graham Cracker – Another garnish, but what's a s'more without graham crackers?
Hot Cocoa – This is the chocolate element of your s'more, and the base for the entire drink. I used a Swiss Miss K-Cup but prepare whatever hot cocoa recipe or brand you like best.
Tennessee Sour Mash Whiskey – The drink came about as a way to use a small bottle of Tennessee Sour Mash Whiskey I had from an advent calendar. I quite enjoyed the whiskey, you can always go sans alcohol, or substitute with the alcohol of your choice. Matt suggested whipped cream or toasted marshmallow flavored vodka! I may have to make this again!
Chili/Cayenne Pepper Mix – Pick one or the other, or a dash of both to give this drink a bit of heat!
Marshmallow – The toasted marshmallow is probably the star of this drink and any s'more you've ever enjoyed. Toast it to your liking!
Chocolate Bar – Use some chocolate shavings as garnish to finish your drink. Another option is to brew your hot cocoa over a bit of chocolate to make it extra chocolatey!
Putting it All Together
You'll want to start by making your hot cocoa. I used a Swiss Miss K-Cup because that's what I had. You can use whatever method to make your favorite cup of hot cocoa you want. Hot chocolate? Hot cocoa? What's the difference between them? If you know, let us know please! I use them interchangeably but I'm sure that's incorrect. Anyway I preferred the water as the hot liquid because I did try a few days earlier with milk and I just haven't mastered that. There were chunks, it was gross. So, my Keurig to the rescue. Here's the one we have.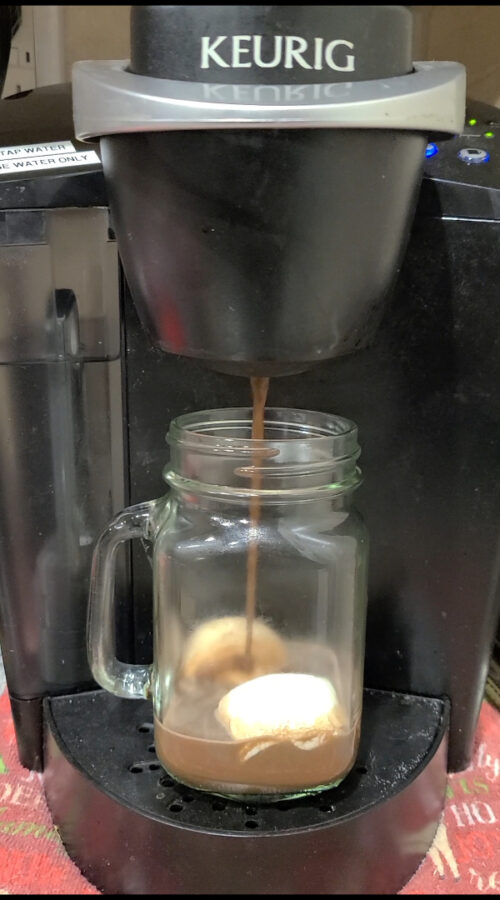 Added Sugar!
While your hot cocoa is brewing (make sure to pour it in a measuring cup to start instead of the glass you're drinking out of like I did), grab your Fluff/Cream. I mention both, because there are parts of the US/world where Marshmallow Fluff isn't easily available. I prefer Fluff always, but if you have Cream, that will work too. Spread some in a spot along the rim of your drinking glass. No need to spread it around the entire rim, but make it your own, I stuck with one small section. Next, crush up your graham cracker and sprinkle it over the marshmallow. You could try to roll it in, but I found sprinkling it over the marshmallow and patting it in to work just fine.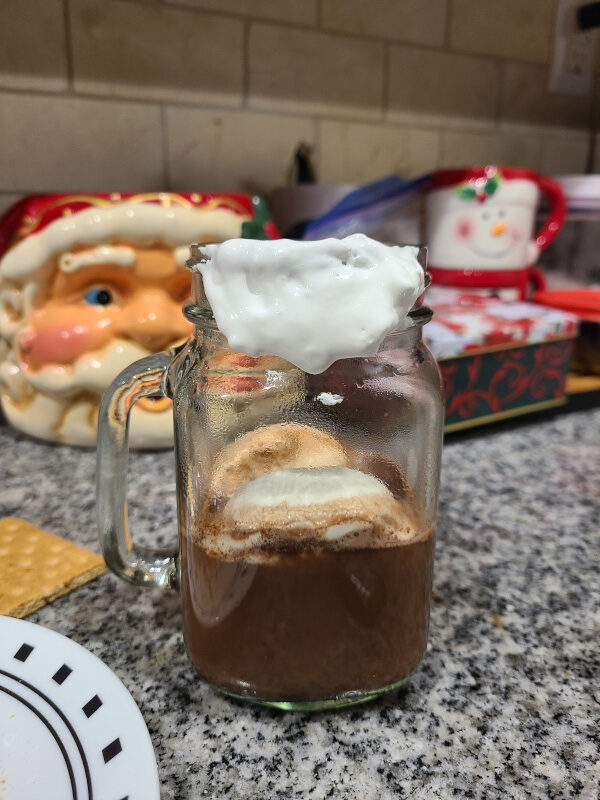 Once your hot cocoa is ready, add your whiskey and Chili/Cayenne peppers (just a dash is plenty), and whisk together. Slice your marshmallow in half if using the jumbo size and put one half inside your drinking glass, and the other half aside. If using normal size marshmallows place one inside the drinking glass, putting the other aside.
Pour the hot cocoa mix into your drinking glass and set aside.
You could stop there; but let's make it pretty.
At this time you'll want to skewer the other half of (or other entire) marshmallow and roast it over whatever fire source you have available. Be careful of course and don't catch anything on fire for the sake of a tasty beverage. Once your marshmallow is satisfactorily toasty, use a fork to remove it from the skewer (don't use your fingers, it'll be hot) to fall into your drink.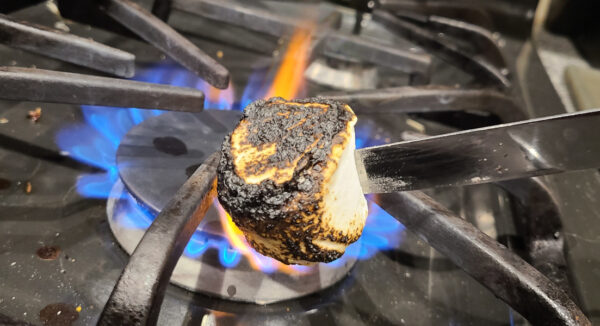 Finally, top with some chocolate shavings, I used a fun size dark chocolate bar leftover from Halloween, another dash of the Chili and/or Cayenne pepper, and some more graham cracker crumbles.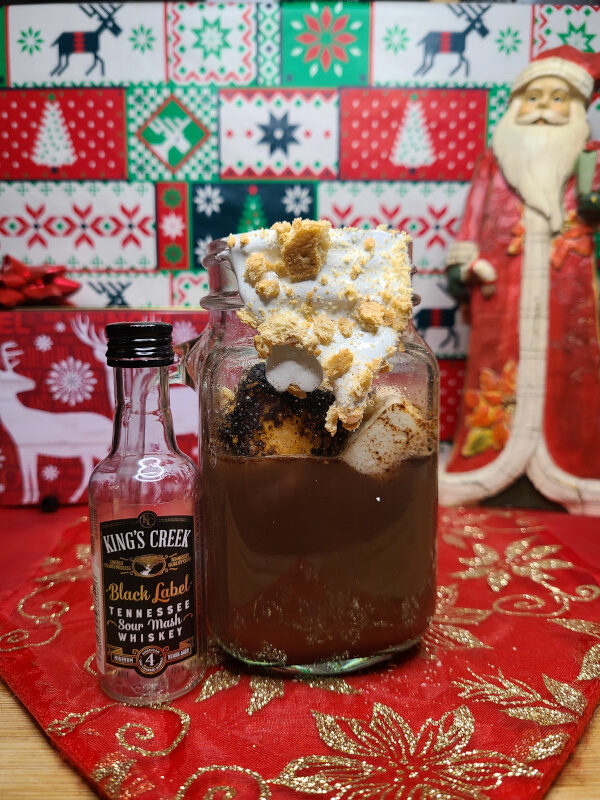 Do As I Say Not As I Did
I was so excited to get this drink going that I brewed the hot cocoa in the drinking glass. I couldn't imagine this drink in any other glass, and while I have one identical to it, it was in the dishwasher which was currently running. So rolling your glass in the graham crackers actually might be an option for you after smearing your marshmallow fluff/cream on the rim. For me it was not, because I was impatient. Do as I say, not as I did.
Regardless, this was a very yummy drink and would work well for both the holidays and around the camp fire!
Hot and Spicy s'more recipe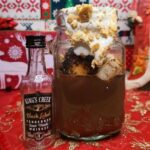 Print Recipe
Hot and Spicy S'more
Inspired by the S'mores Fire Shot from the blog Totally the Bomb.
Equipment
Keurig, Kettle, or Sauce Pan

for making hot cocoa

Skewer

for Roasting Marshmallow

Open Flame

for Roasting Marshmallow, and making hot cocoa if needed
Ingredients
Marshmallow Fluff/Cream

for garnish

½

Graham Cracker

crushed, for garnish

6

oz

glass of Hot Cocoa

1.5

oz

shot Tennessee Sour Mash Whiskey

or alcohol of your choice

dash

Cayenne Pepper/Chili Pepper

one or the other or both!

1

Jumbo Marshmallow

cut in half (or 2 regular sized marshmallows)

Chocolate Shavings

Optional Garnish
Instructions
Make hot cocoa to your preference. (if using a Keurig, brew into a mixing glass)

While that brews or heats up , spread some of the Marshmallow Fluff/Cream on the rim of your glass, and cover with graham cracker crumbles.

Mix hot cocoa together with whiskey and a dash of the Cayenne and/or Chili pepper.

Cut your jumbo marshmallow in half, put one half aside, and the other half in your glass. Pour hot cocoa mix into glass over marshmallow.

Skewer the other half of your marshmallow and roast over an open flame to preferred toasty-ness. Use a fork or another skewer to slide toasted marshmallow into drink.

Garnish with chocolate shavings, another dash of the pepper, and a few more graham cracker crumbles. (optional)
If you make this drink, PLEASE tag us so I can see your version of this creation!
Cheers!!!
---
Connect with us on Social Media:
---