Sydney Harbour Bridge –
When most people think of Sydney they picture three iconic sites: the Tower Eye, the Opera House, and the Harbour Bridge. Following our afternoon viewing the city from observation deck of the Tower, we went back to our room to unpack and rest then headed out for dinner. This turned into a walk to see the bridge up close, which turned into a walk across the Sydney Harbour Bridge.
Luckily, Sydney is a very easily walkable city. We learned this during the week by keeping an eye on where different train stops were if we got tired and needed them. From our hotel, we took a stroll and ended up at Lord Nelson Hotel and Brewery (less than 20 minute walk), the oldest Hotel in Sydney. After leaving the Lord Nelson, it was just a 10 minute walk on Argyle Street.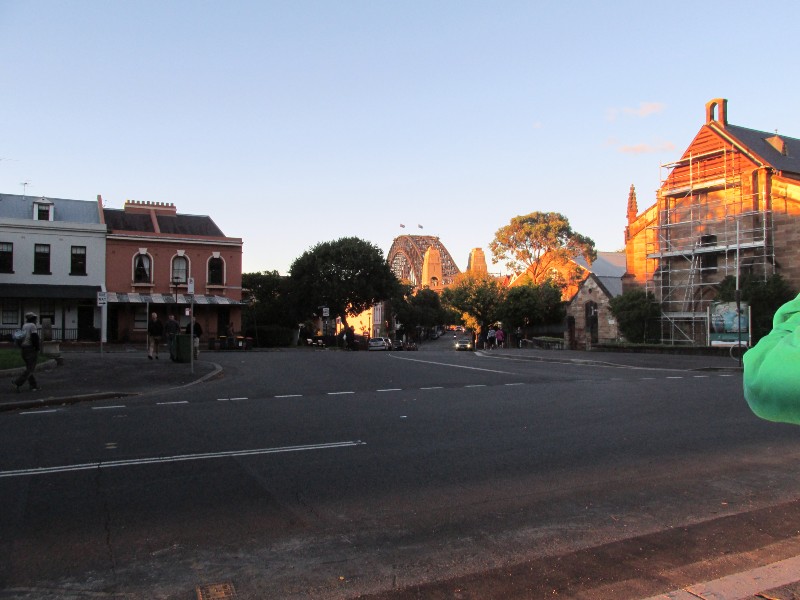 We passed under the highway to the Argyle Stairs which are part of the Gloucester Walk which is a convenient walkway between Cumberland Street and Playfair Street. This lead to the bridge via a beauitful set of stairs.
About the Sydney Harbour Bridge
Crossing the bridge at sunset was oh so worth it. The view as soon as we started was beautiful. Here you can see a cruise ship settled in Circular Quay.
As we process through the photos of our walk across the bridge, I'll tell you a bit about it.
Design and Construction
The Sydney Harbour Bridge crosses the Sydney Harbour in Port Jackson. You can cross the bridge by foot, riding a bicycle, in a vehicle or by rail as seen in background of the photo below.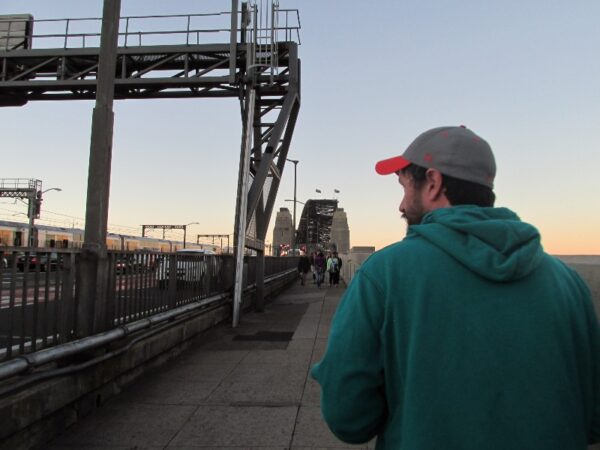 Designed by British firm Dorman Long, construction began in July of 1923 and was finished in January of 1932. It's arch based design earned it the nickname of "The Coathanger".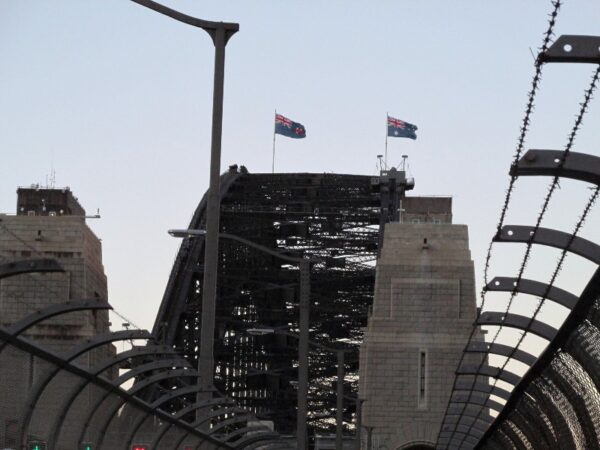 The Sydney Harbour Bridge is 1,149 meters / 3,770 feet from end to end, 48.8 meters / 160 feet wide, and 134 meters / 440 feet high.
In June of 1999, the bridge was added to the New South Wales Heritage List and the Australian National Heritage List in March of 2007.
While crossing the bridge going North, you get amazing views of Circular Quay. We were able to see the Opera House, the Cruise Ship, you can see the Tower Eye in the background. Seeing some sights from others we've been to or are going to during the week, puts things into perspective in a different way.
Cross the Sydney Harbour Bridge….a Different Way
Originally, I REALLY wanted to participate in the Bridge Climb Sydney experience. Here, you are tethered to the bridge and a guide gives you a one a kind tour from above. Now, neither of us are particularly good with heights. The Tower was fine, but we weren't suspended to that. Unfortunately we weren't brave enough, but if you are, I suggest you go for it. We do know some who have and loved it.
There are three options available depending on your timeframe, budget, and how you are with heights.
This video was posted a few weeks before our trip.
North Shore End
Coming from Downtown Sydney, the bridge ends at Missions Point in North Shore.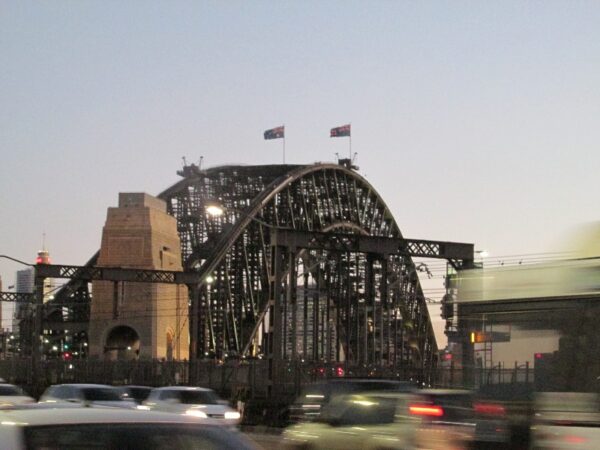 We stopped for a photo of the entrance to the Luna Park/North Sydney Olympic Pool and a few nighttime shots of the skyline of Downtown Sydney and the Central Business District.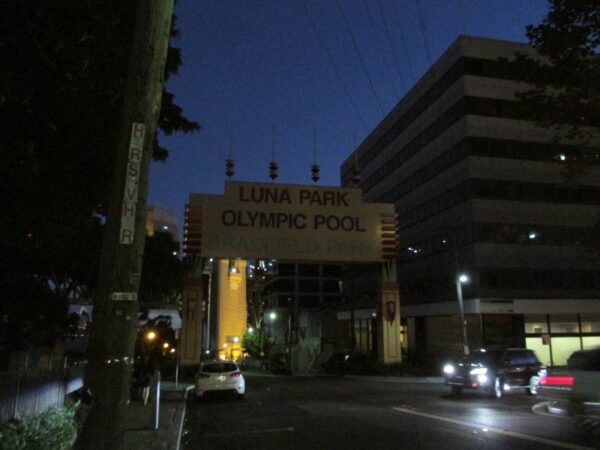 Seeing the skyline like this in person was surreal. We've seen it so many times on television or in photos, but in person was just unbelievable.
Our legs and feet were TIRED. We stopped for a beer and snack at the Kirribilli Hotel then took the train back over the bridge to the downtown area. A late dinner at Vapiano ended our first evening.
Sydney Harbour Bridge – Final Thoughts and Review
It was absolutely beautiful, perfect weather for walking, and extraordinary sights. I would hope that next time, I am brave enough to participate in the Bridge Climb. Fingers Crossed. For your reference, here are 5 facts about the Sydney Harbour Bridge.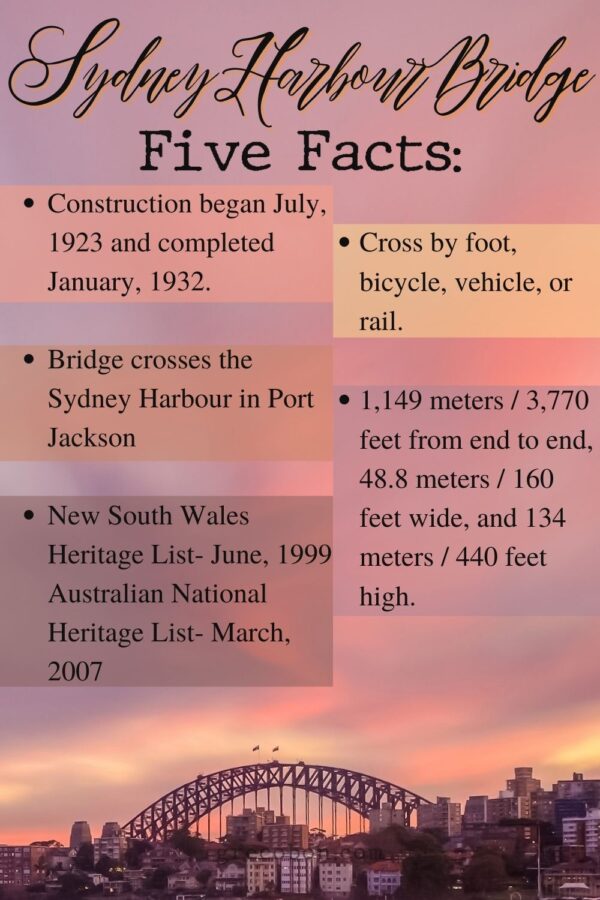 So, when you go, are you walking or doing the climb?
---
---
Connect with us on Social Media:
---
---