Bondi Beach – A Wonderful Way to Spend Our Last Day in Australia
Sadly, it was our last day of our Australian vacation. With nothing in particular planned, we decided this was the day to check out the world renown Bondi Beach.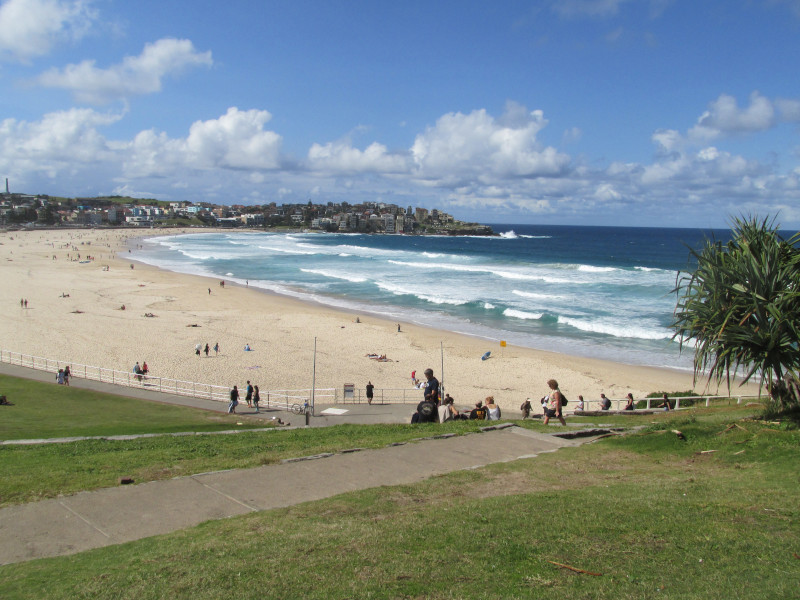 A Little About Bondi Beach
Located about 4 miles east of Downtown Sydney, Bondi Beach one of the most visited tourist areas in Australia. It is a beachside community with a population of just under 12,000. Originally known as Boondi, Bondi is an Aboriginal word which translates in English to "surf". And that you can certainly do here.
Bondi Beach became part of the Australian Heritage List in 2008.
Getting to Bondi Beach from Downtown Sydney
We found a train/bus route that took us to the proximity of Bondi. The website Rome to Rio has the information you'll need depending on where you are in relation to Bondi. For us it was a train to a bus station, and then a short walk or beach through a lovely neighborhood. The laid back beach vibes are strong!
We made our way past the Waverly Oval, and Margaret Whitlam Recreation Centre located on Bondi Road in Bondi Junction. The park was allocated back in 1880 for public recreation. It is home to a cricket pitch and grand stand, training fields, netball courts, bocce courts, multi-purpose courts, a fitness station and recreation center. The Margaret Whitlam Recreation Centre has a grandstand, indoor sports court, changing rooms, club rooms, community room, and a kitchen.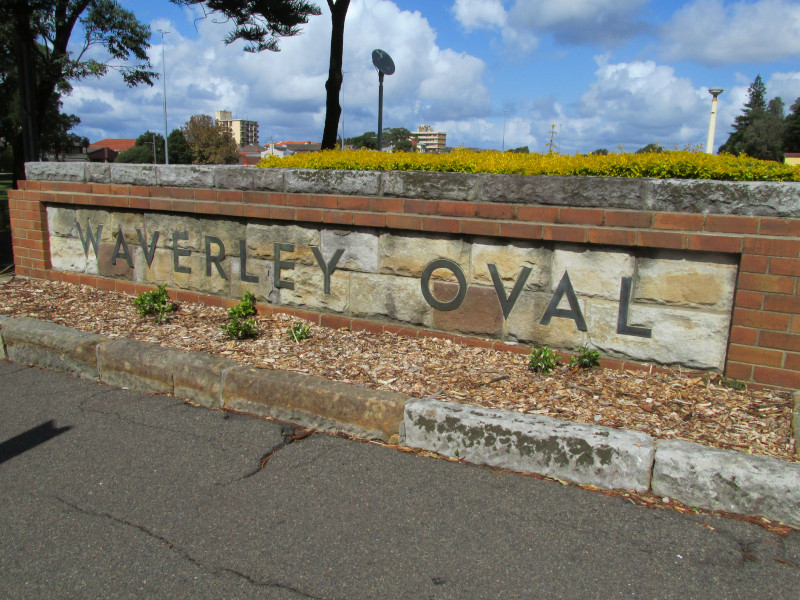 A bit closer to the beach we came across this building, though I'm not 100% sure what it is, the building's exterior art intrigued me.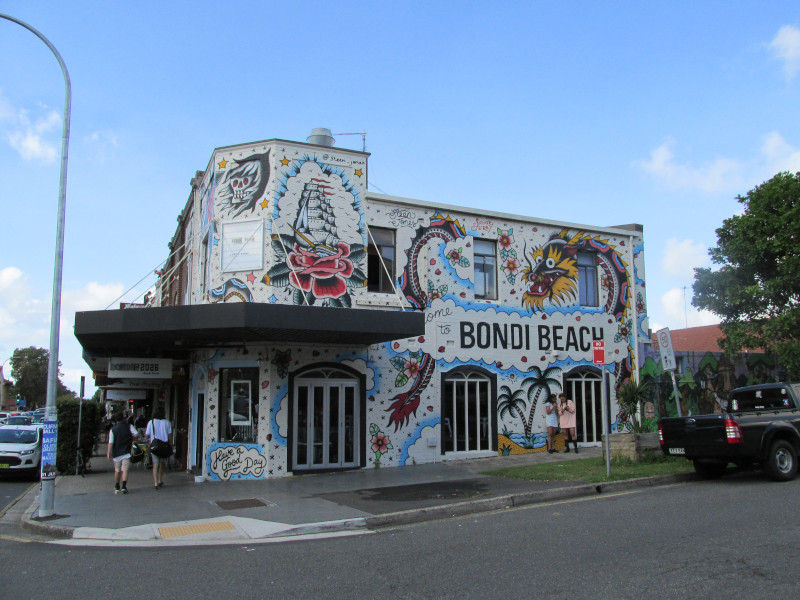 ViewS of Bondi Beach
It is just as stunning as we heard. Just enjoy the photos a second.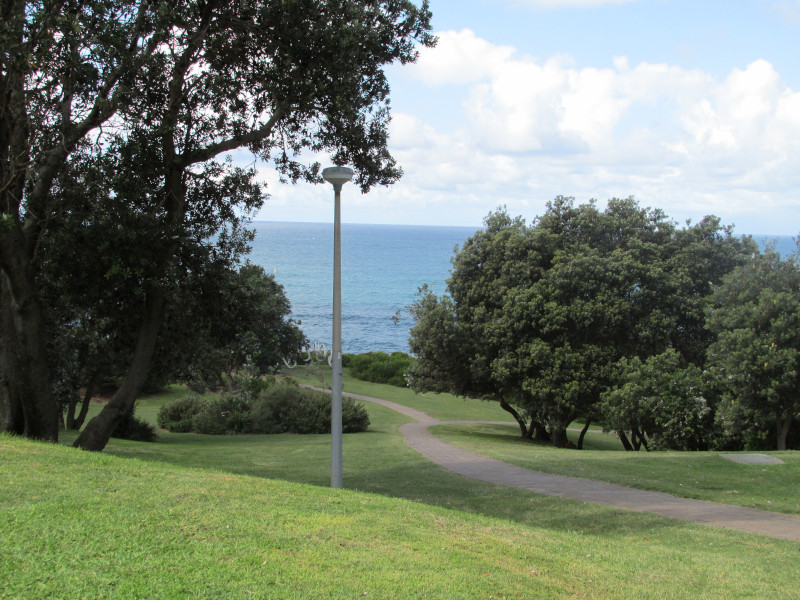 The cliffs, the grassy park before the sand, the people enjoying a relaxing or sports filled day at the beach. I loved it all.
Dedication to Surf Lifesaving Clubs
At one point we did take note to a memorial or dedication to the brave people to face the dangerous waters to save the lives of others. It features a statue in the middle with what I would refer to as lifeguards, but it appears they call Life Savers, in a boat with the rock representing the turbulent waters of the ocean. A plaque adorns the statue on either side.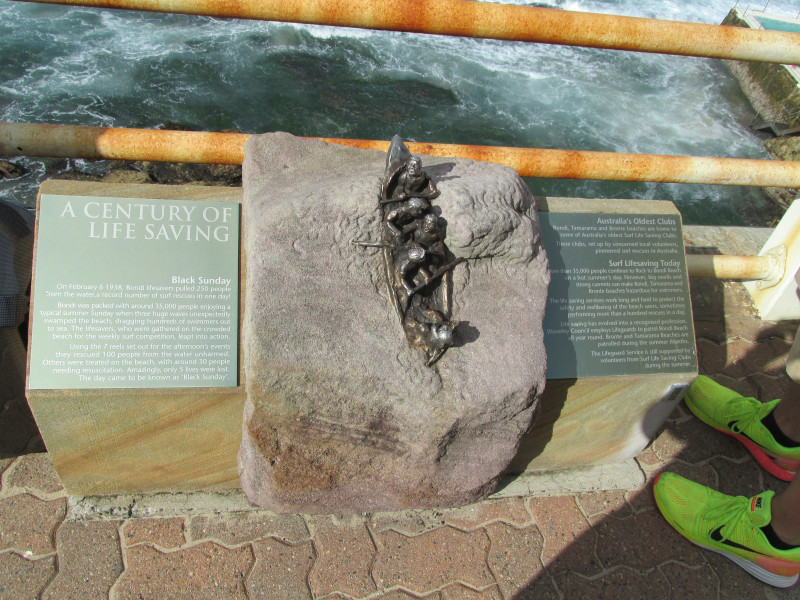 To the left of the statue is a black remembering "Black Sunday". It states: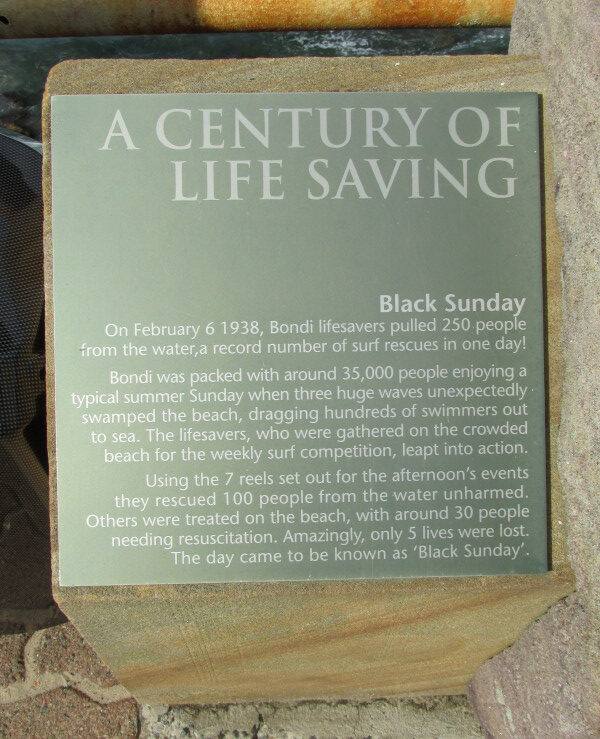 A Century of Life Saving

Black Sunday

On February 6 1938, Bondi lifesavers pulled 250 people from the water, a record number of surf rescues in one day!

Bondi was packed with around 35,000 people enjoying a typical summer Sunday when three huge waves unexpectedly swamped the beach, dragging hundreds of swimmers out to sea. The lifesavers, who were gathered on the crowded beach for the weekly surf competition, leapt into action.

Using the 7 reels set out for the afternoon's events they rescued 100 people from the water unharmed. Others were treated on the beach , with around 30 people needing resuscitation. Amazingly, only 5 lives were lost. This day came to be known as 'Black Sunday'.
The plaque to the right of the statue honors the Lifesaving Clubs.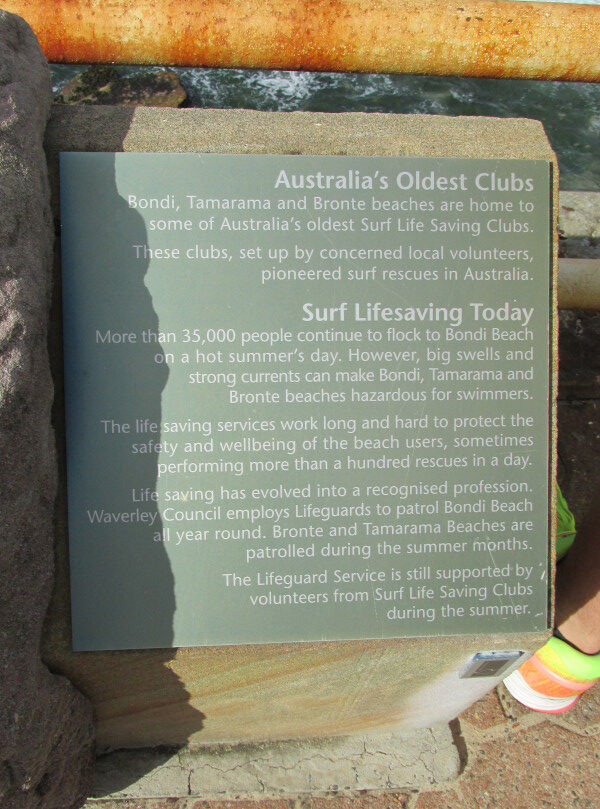 Australia's Oldest Clubs

Bondi, Tamarama and Bronte beaches are home to some of Australia's oldest Surf Life Saving Clubs.

These clubs, set up by concerned local volunteers, pioneered surf rescues in Australia.

Surf Lifesaving Today

More than 35,000 people continue to flock to Bondi Beach on a hot summer's day. However, big swells and strong currents can make Bondi, Tamarama and Bronte beaches hazardous for swimmers.

The lifesaving services work long and hard to protect the safety and wellbeing of the beach users, sometimes performing more than a hundred rescues in a day.

Life saving has evolved into a recognised profession. Waverly Council employs Lifeguards to patrol Bondi Beach all year round. Bronte and Tamarama Beaches are patrolled during the summer months.

The Lifeguard Service is still supported by volunteers from Surf Life Saving Clubs during the summer.
Some Other Bondi Beach Sites Worth Noting
First you have the Expected Code of Conduct for the area, fittingly on a large Surf Board. This goes over the dos and don'ts during your visit to Bondi Beach.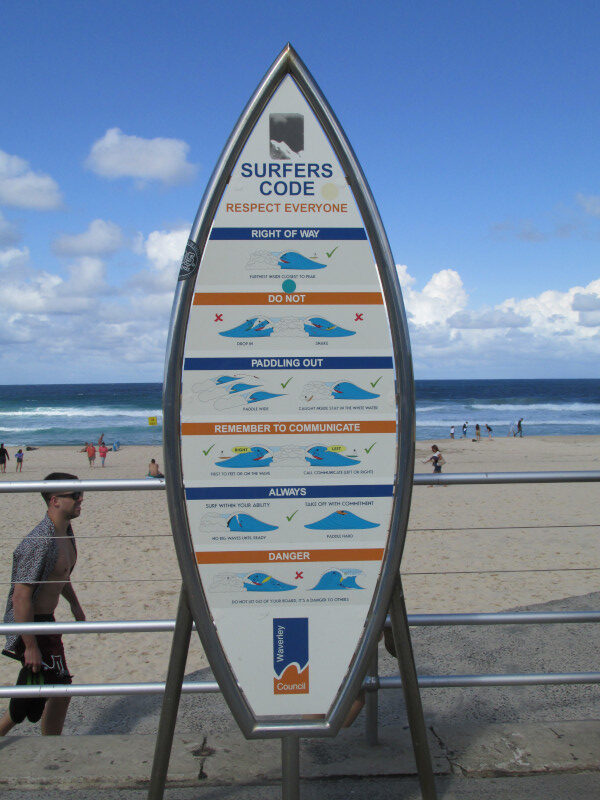 I was fascinated by the murals in the area. The skate part has some art along its walls, and the wall below the parking area. Photos capture two I found to be my personal favorites.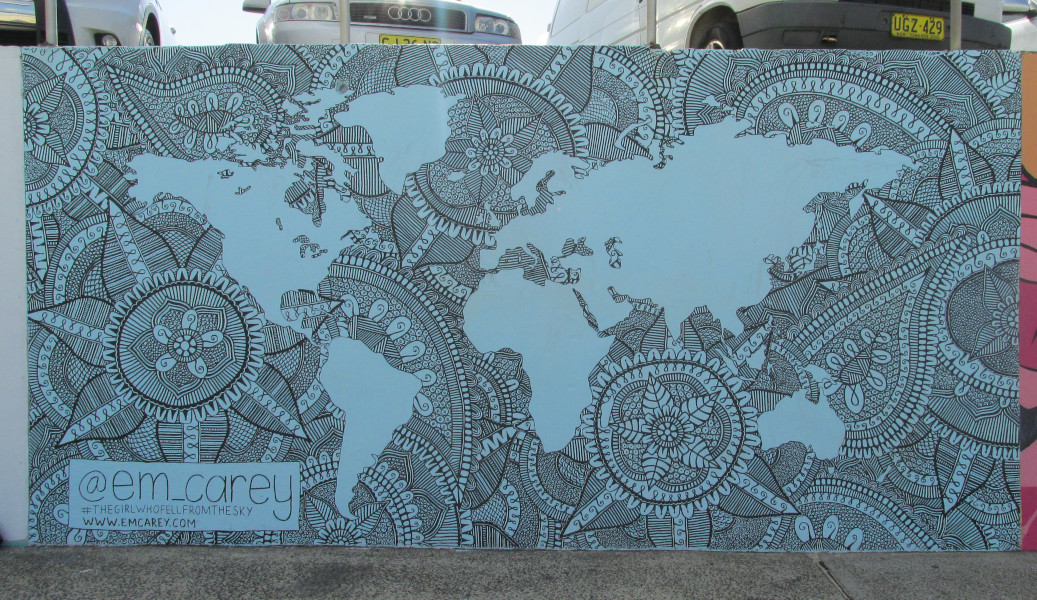 Is That a Pool on the Ocean?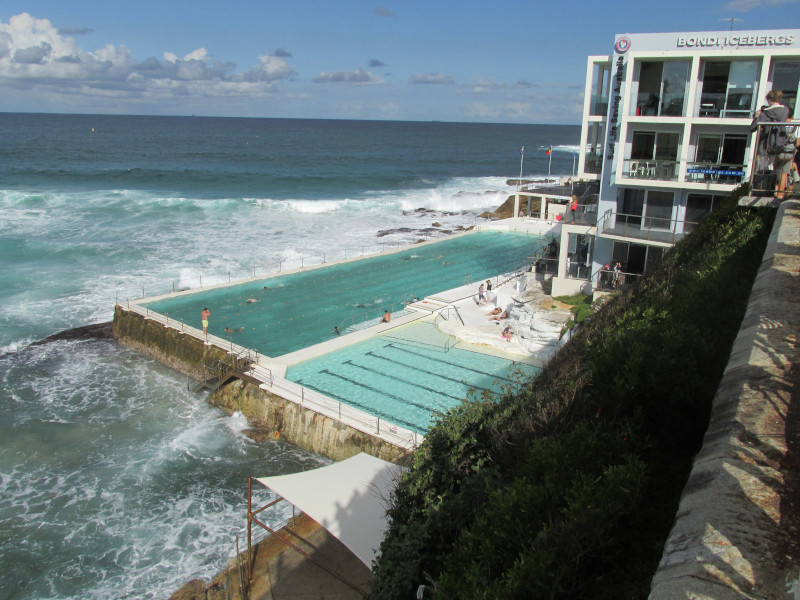 It appears so.
An amazing sight to me was the Bondi Icebergs Pool. Upon further research for this post, it appears to the the pool of the Bondi Icebergs Club. While it is a membership club, apparently if you live outside of 5km from the club or internationally you can also sign in as a visitor.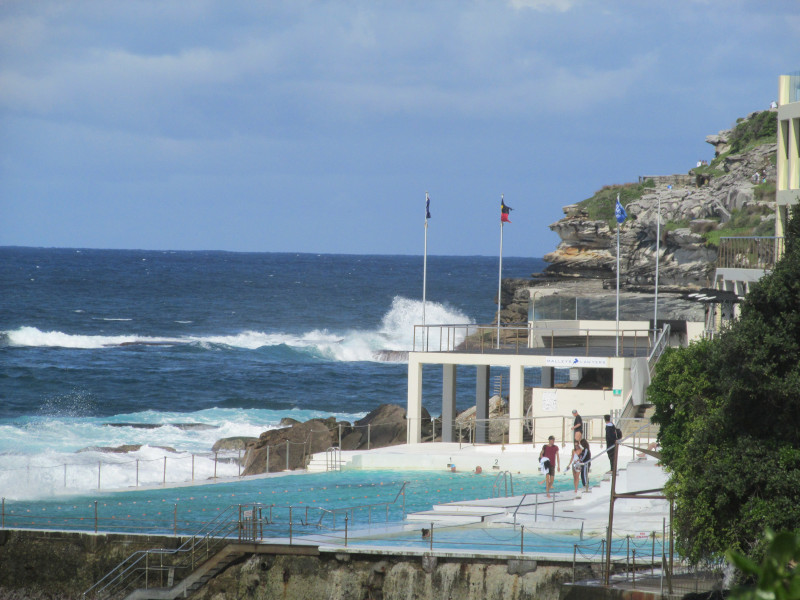 I think in the future it would certainly be worth it on our next trip to spend a day dining and swimming at the Icebergs Club and Pool. Find out more on their website. Do note; however, that in the dress code section where they mention thongs they mean the flip-flop type of sandal that goes between the big toe and the one next to it. Not those Sisqo sings about.
Here's a little snippet of the Pool in real time. Should we add more videos of our travels? Like actual recordings of where we visit? Let us know if you'd be interested!
A Bite to Eat Before We Go
We found ourselves a bit hungry, and decided to grab a bite to eat at the restaurant we noticed beach side. I believe the name is Surfish Seafood Cafe if Google Maps is steering me in the right direction. We shared the fish and chips along with a bowl of Mexican Corn (esquites perhaps?) and chips.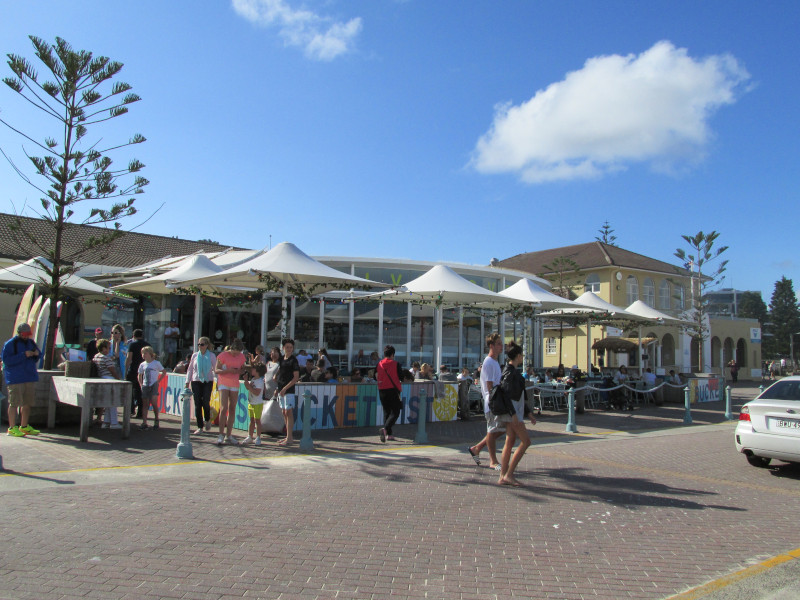 Bondi Beach Final Thoughts
I wish we had another day or two to explore the Bondi Beach area alone. It has the laid back beach vibes we love, and is minutes from the city we had grown to love during our short trip. We highly recommend stopping in and exploring for a day if you travel to Sydney. Depending on the time of year (was heading in to fall when we went), you may even find yourself taking a swim in the Pacific.
Have you been to Bondi Beach? What was your experience? Let us know in the comments!
---
Connect with us on Social Media:
---