Push Pin Travel MapS – A Unique Way to Display Your Travels
Wanting to get us a unique wedding anniversary gift, my mother in law stumbled upon Push Pin Travel Maps. She sent their website to my husband to design one that would go well with our home's interior. And a few weeks later, it arrived! If your family enjoys seeing new places or wants a fun way to keep a travel related bucket list, keep reading!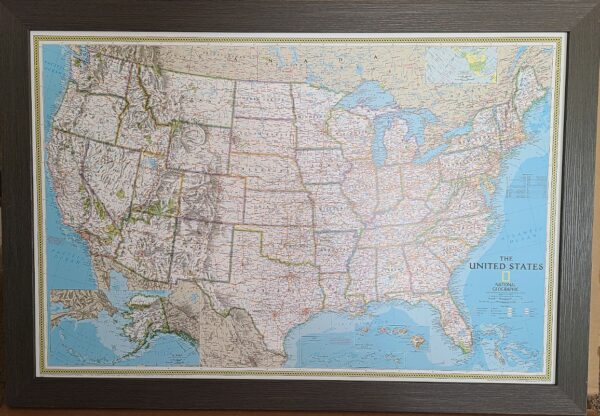 Push Pin Travel Maps Options
The Push Pin Travel Maps company offers customizable art for you to display your travels or travel bucket list in a unique way. You can select from a variety of maps including the world, the United States specifically, or any one of the American states. There are also certain countries, continents, and regions available to choose from.
In addition to the maps above, they also offer US maps with types of destinations on them. The nation's baseball stadiums, famous golf courses, and National Parks are amongst the destination specific maps available.
There are 8 stain options to choose from for your frame. You can also personalize your map in a variety of ways.
Other Products Available:
That's not all that Push Pin Travel Maps offers. They also have a wide variety of Bucket List trackers, Passport Covers, Travel Journals, Wall Art, and more! For those of you who love to travel, this is for sure a one stop shop to find ways to display your travel memories and plan new adventures. Need more pins or special pins (basketball pins for example)? Order them from their site. Each map does come with pins, but you can order more to color coordinate or if you've just been on so many trips you need more pins to document it all!
Our Map
Our Push Pin Travel Maps package arrived and when I first opened it, I saw that it was very securely and carefully packaged. Cardboard padding protected the corners and where the plastic restrains were.
A plastic bag was stapled to one of the plastic restraints. This contained the pins, and the hanging hook and screw. As you can see from the photo above, the map is hung from a wire which hangs on a hook you nail into your wall. You'll want to hammer the nail into a stud so you know that you have enough support to hold the weight of the map.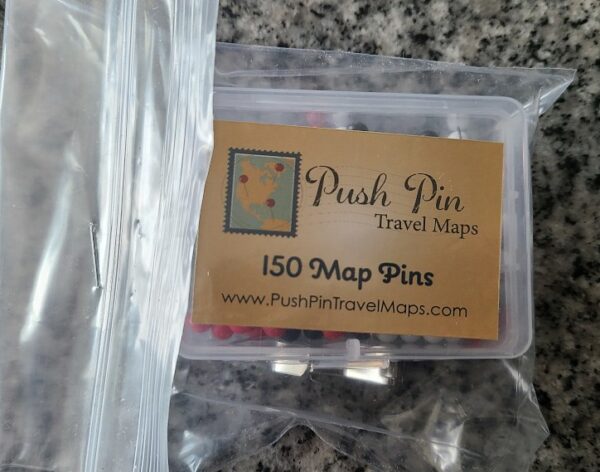 Also included was a post card from Mike & Brenda, the owners of Push Pin Travel Maps. I really liked this small touch. They included their social media information and a hashtag to use if you post any photos of your map on Instagram.
I hung our map in our hallway. It's a place we pass by every day, and any guests in our home pass by it. The map is sure to be a conversation starter.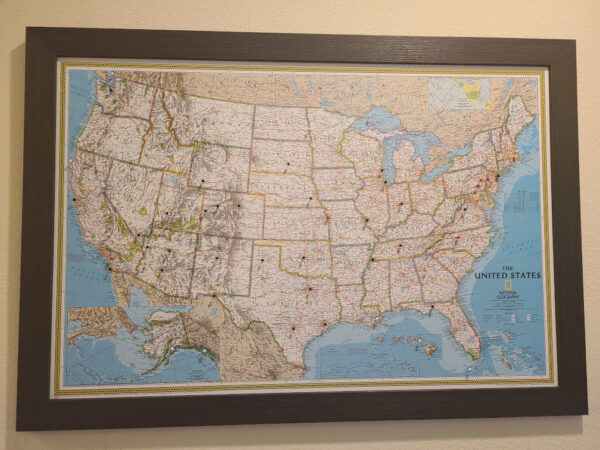 I've color coded our map with places we've each lived and lived together lived, places we've traveled together, and places we want to travel to together. My intention is to hang just a few travel photos on either side of the map, probably 2-3. I'll be sure to update here once I do that!
Push Pins Travel Maps Final Thoughts
Our map is beautiful. It's a decoration that is forever evolving. We can document our travels and plan new ones. This is a quality product and would be a wonderful gift for the travel lover in your life. The Bucket List maps would be great for a sports themed room. Or you can use as a Halloween decoration with their Chilling Travels Bucket List which lists some of the most haunted places in America.
Push Pin Travel Maps offers a variety of products at a very reasonable price point. They take pride in their work, and make sure their products arrive safely and secure. I may have to order that Baseball Ballparks Bucket List for our next anniversary!
---
IF YOU LIKE Our Product Reviews:
If you liked Push Pin Travel Maps, we think you'll like the products below, or see all of our product reviews!
---
Like this post? Be sure to give it a share!!!
Connect with us on Social Media:
---