I recently received a sample of NeoCell Super Collagen Powder from the Free Sample website/service, PinchMe.
What's PinchMe?
PinchMe is a free sample service that will mail you samples of products in return for your review of them. I plan to do a post that explains it more in depth this year, keep an eye out for it!
Collagen, What and Why?
Collagen is a protein, in fact, it's the most abundant protein in our bodies. It's a big component in our skin, bones, ligaments, muscles, and tendons. As you age, your body produces less quality collagen. A supplement like NeoCell is needed to help maintain healthy levels of high quality collagen.
NeoCell Super Collagen Powder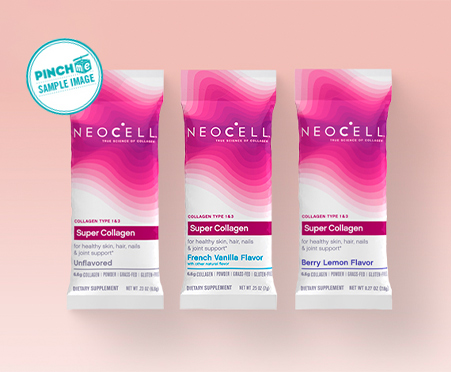 Since this was the first kind of Collagen I've ever tried, I wasn't sure what to expect. I figured the best time to try it would be in my post workout water. The first flavor I tried was the blueberry-lemon, which was quite tasty.
A few days later, post-workout, I tried the unflavored, which was also good. Unflavored is true, so if you don't like the flavors available, or you're not worried about flavor, this would be the variety for you.
For the French Vanilla, I plan to add it to my coffee one morning, if I can ever remember!!!
Obviously with just three samples I can't attest to anything more than taste or texture. It had no texture, didn't make my drink gritty feeling, and had no unpleasant lingering after taste. I am interested in purchasing this product to see what it can do for me on a long term basis.
You can purchase NeoCell Super Collagen Powder at their website (use code BESTSELLERS25 for 25% off your purchase), or at your local retailer, with the health and wellness products.
This product is also available from Amazon (and it's eligible for FREE PRIME SHIPPING!).
Edit 2/24/2020: I used it in my coffee this morning. If you regularly use and enjoy powder creamer then this will not be any issue to you. I am not a fan of powdered creamer and that's what I was reminded of. I should have added it to a smoothie or some fruit sorbet. Just my personal preference.