Kenriko Matrix Black Console Wrap Kit For Tesla Model 3 From Amazon
I knew I wanted something to cover the piano black console in my Model 3, as it was already starting to pick up micro scratches all over the place after just two weeks and is a magnet for fingerprints. When I saw Kenriko post these templates on the TMC forums, I was sold immediately. The only thing left to choose was what color. Initially, I was leaning towards carbon fiber. However, as soon as I saw a picture of the matrix black, I was hooked; and I'm not disappointed… not in the least.
Kenriko
Kenriko designs and sells accessories to customize the look of any model of Tesla vehicle. They offer a variety of wraps for doors, mirrors, door handles and more. In addition to that- key fobs, dashboard covers, and cup holder organizers, just to name a few. The customer can search by item name, vehicle model, or price. Browse their selection on their website.
Take your time while installing and follow the video!
The install is not something I'd classify as easy, but it's definitely not as hard as I thought it would be. Just watch the install video a few times and then watch it a few more times. Then watch it in the car while you're doing the actual install. I'm not good at this type of thing at all, and I was able to install it and have it look good. The material really is very, very forgiving.
Best of All:
Kenriko will send you an additional piece if you screw it up and need a second chance! I scuffed up the center piece just a little bit. It's hidden most of the time, but it's also something that I know is there and will annoy the crap out of me long term. I contacted him to see if we could buy the individual pieces from him, and he volunteered to send out an additional piece at no cost to me. In an age of horrific customer service, this just blew me away.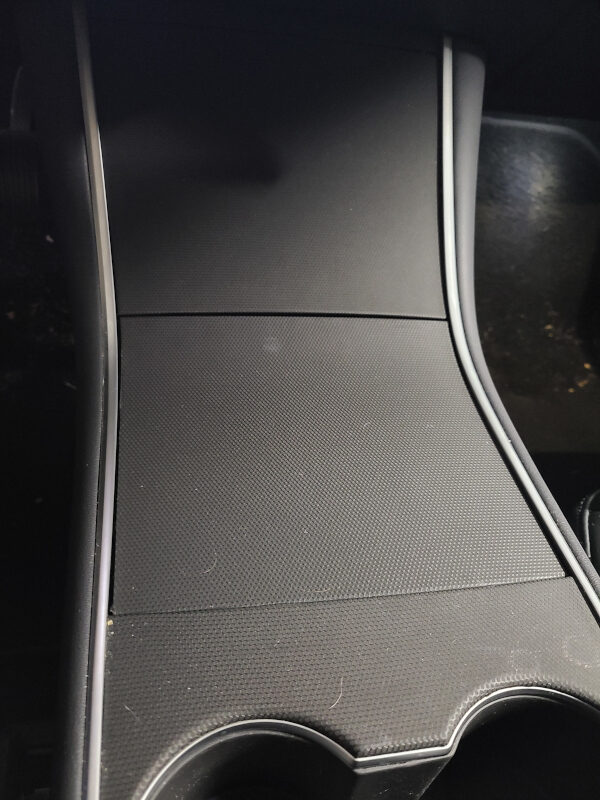 Kenriko Matrix Black Console Wrap Kit for Tesla: Product Opinion
If you're on the fence about this one, don't be. BUY! The material is perfect and the seller is outstanding. so you have nothing to worry about. The customer service was outstanding, and the end product looks great.
Purchase from Kenriko
If you would like to purchase this product, please use the button(s) below.
Disclaimer: Purchases made using links found on this site may earn us a commission at no extra cost to you. Thanks.
Please note that for the Amazon shop page, availability of colors can vary, but seem to be restocked quite regularly.
If You Liked This Product Review
We chose some other product reviews we think you'll enjoy. To see all product reviews in all categories, click here.
Earn a $250 reward for Tesla brand solar products, or 1,000 FREE Supercharging Miles when you purchase a Tesla Model S, X, or 3 using my referral code.
---
Connect with us on Social Media:
Like this post? Be sure to give it a share!!!