LK SCREEN PROTECTOR for Google Pixel 3 Tempered Glass: From Amazon
Phones are an investment. You want to obviously protect your investment. But sometimes, screen protectors either don't work or can be a pain to install. I was impressed with the ease of installation with this LK Screen Protector that I purchased on Amazon.
About LK
LK offers a variety of accessories for your electronic devices. Besides screen protectors like the one in this post, they also offer Apple Watch cases and screen protectors and even camera lens screen protectors. That's one I haven't even thought of needing yet.
Install Tip:
The instructions and video have what I think are two small flaws…I was able to install this very easily by slightly modifying two of their steps. **Video has since been removed, I am working on finding a replacement video** Follow the instructions that come with your screen protector while reading my tips:
Perhaps this video may be of some help too:
First:
After putting the install guide on the phone, DO NOT pull the backing off immediately after that as the video suggests.
Second:
Line the protector up along the long edge of the phone, not the top edge…and use the guide stickers that come in the package. I wasted my first one because I tried doing it from the top edge, and it came down crooked (and then got dust under it when i tried to peel it up and reset, then broke the third time).
So, using these two points above…follow the video until you get to the spot where you put the guide on the phone. then, stop following the video (just after step 5).
Steps 6 and 7 you will be replacing with my method…
Step 6:
With the backing still on the protector, line it up in the guide on the phone. Make sure the cutouts match where you need them to be.
Once you have it lined up right, use the guide stickers in the package to tape it along the long edge (only one edge, I used the left side of the phone).
Three stickers, along the left edge, wrap them around the back so they're stuck on good.
Make sure cutouts are still lined up.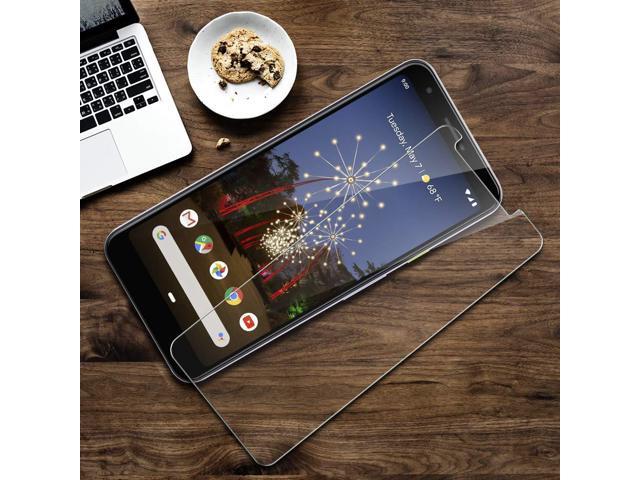 Step 7:
Once you're comfortable you have it lined up, lift the protector up slightly and do a quick check for dust…and use the dust sticker to grab any pieces that have managed to get under there.
Once you have the screen completely clean, peel the backing off…then drop the protector back down onto the glass and let it adhere. The guide stickers should keep it in place so that it's lined up right, and because you're only pulling up slightly that should help avoid any more dust getting under the protector (since the screen is mostly covered at this point).
LK Screen Protector Final Thoughts:
Hopefully my modifications alleviate you of any issues during install. I've had the same protector on my phone since this install. Even my wife, who dropped her phone within two weeks right on the screen, still has her same screen protector on her's.
Purchase this Product
If you would like to purchase this product, please use the button(s) below.
Disclaimer: Purchases made using links found on this site may earn us a commission at no extra cost to you. Thanks.
---
If You Liked This Product Review
We chose some other product reviews we think you'll enjoy. To see all product reviews in all categories, click here.
---
---
Connect with us on Social Media:
---