Pantry and Cabinet Organization: Utilizing the Best Possible Storage Solution for Problem Kitchen Areas
In this post I'm going to tackle two problem areas in my kitchen and walk you through my pantry and cabinet organization. The goal is for them to coincide better with our daily routine.
Identify the problem areas.
Remove everything from the problem areas
Figure out the best possible space for everything and put away in an organized fashion.
Day two of my November Organization Project brings me to the kitchen. When we moved into our home four years ago, we didn't have much at all, we came from a much smaller house. I remember just sitting after we unloaded the moving truck, looking at the empty cabinets and wondering where in the world everything was going to go. I've put stuff away and moved it multiple times over the years, switched cabinets, switched drawers, all in the hopes of finding a smoother way of running my kitchen.
Is it exactly how everyone else would put their kitchen together? No.
Will I continuously change how things are? Probably.
Problem area #1.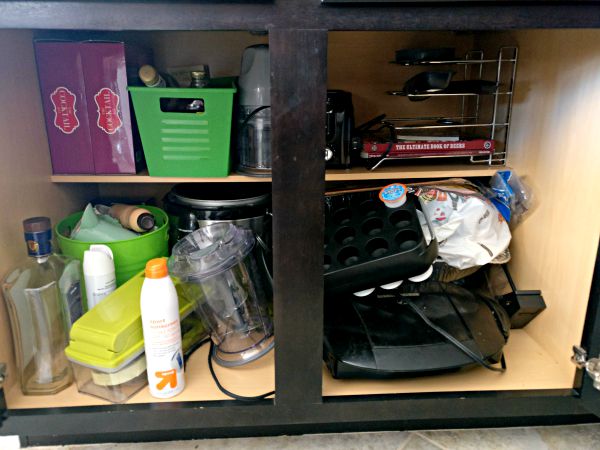 Under the counter is where I keep small appliances and other odds and ends, bottles of liquor that get pulled out once a year, cocktail shakers, table cloths. Throw in with that my K-Cup holder, because apparently one of my usual brands of coffee changed sizing, and now they don't fit in there anymore. That was another avalanche on another day. Usually I have to kind of pile things in a certain way for them not to avalanche out all over the place.
Problem area #2:
Here we have a small portion of my husband's beer collection. I missed out on taking a bigger picture than I did of the shelf above the growlers. A few year ago I made the mistake of introducing my husband to the world of craft beer. I couldn't understand how he was happy with just Miller Lite all the time (no offense to Miller Lite drinkers, just not in my palette). After he found some he liked, he started buying more, and "keeping it aside" whether it's for a special occasion, or to age. Some of them are by year so after four years he can do what's called a "vertical tasting". This is where you have the same beer produced in different years and sit around with your other crazy beer friends to try them all and compare each one.
Remove everything from the problem areas
I took the first step and cleared the cabinet out. Some stuff was tossed, like those empty Crown Royal bottles I was keeping for a craft project that never happened. The table cloths from Memorial Day finally made their way upstairs to be put away with the Patriotic summer decor. I left everything else on the dining table to be dealt with after the beer was cleared out.
I also pulled some shelf liner from the garage to line the cabinets with. I'm figuring with the amount of beer that will be in here, this is a half decent idea to preserve our cabinets a bit better.
Figure out the best possible space for everything and put away in an organized fashion.
The liquor and cocktail mixers stayed, since the beer was moving over, I figured this made sense. The coffee and teabags were relocated there because the coffee maker is right above this cabinet on the counter. I added the iced tea mix in since it was with the hot tea in the pantry.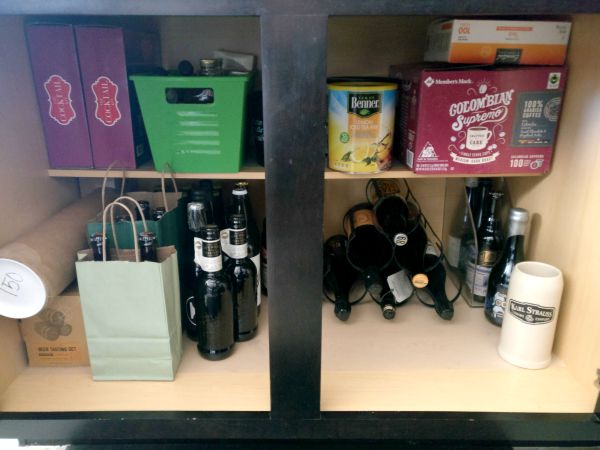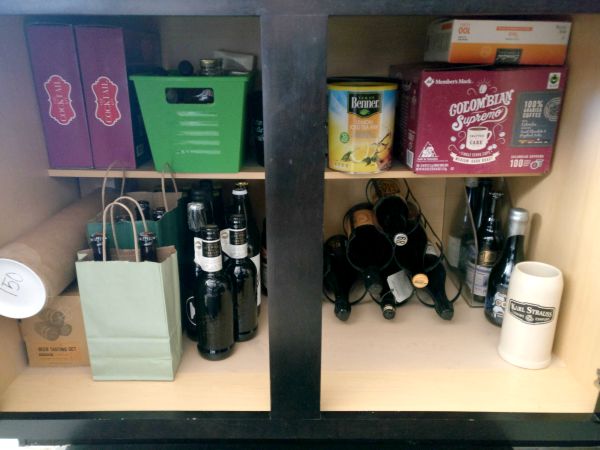 On the bottom I put the individual bottles of beer. Now most of what I took a picture of from the pantry was the beer in cases. Some of this will end up back in the cases, because some breweries we keep an assortment of and my husband has a spreadsheet. So you'll see some are still in the bags we brought them home in. But they're in a decent spot for now. It's organized I think they're relatively safe, and if we would need to ever, we can child safety lock it, as opposed to being open and available on the shelves.
The beer in the cases remained where it was, just shuffled a few things around in order to make room for everything and keep it more cohesive looking. Growlers that were on the ground moved up, cases that were in the middle of the floor finally had a home. I still had to keep my Foreman grills on top of each other (why do we have two anyway?). Everything feels like it will work seamlessly, we shall see.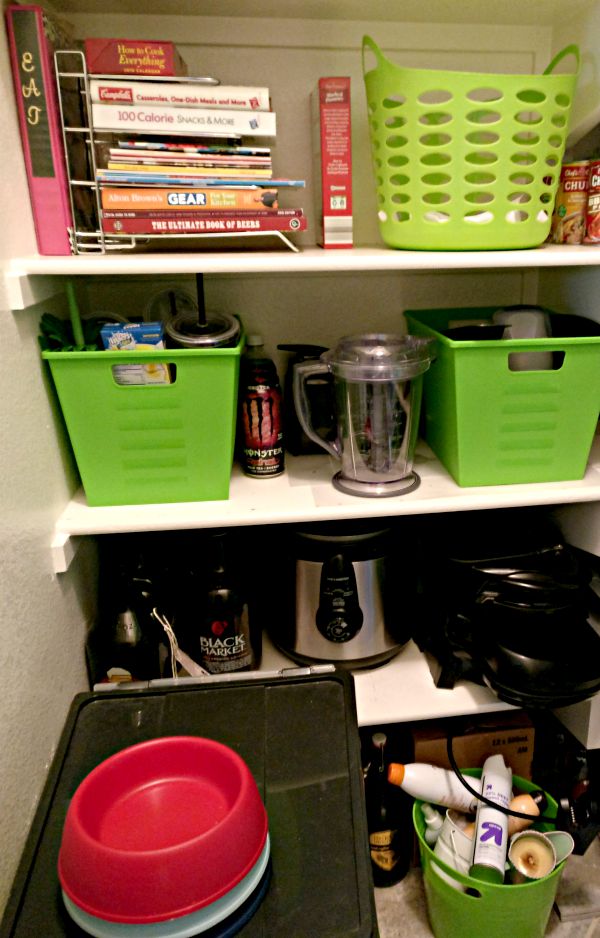 This is the after of the pantry. I used an organizer that was previously used under the cabinet to organize my cook books. There is also a bucket on the floor with various summer items. That will find a home at some point, but for now it is fine where it is. Our next pantry project includes installing cabinets to take care of the unused space above the top shelf. I'll post about that when that day comes. Everything just looks a bit cleaner, it's not where I'd like it to be yet, but it's getting there.
Knowing where things are in your kitchen when you need them makes life so much easier.

Click to Tweet
What organization projects are you working on? Which ones have you been putting off?