Oatey Fix It Stick: Product Review
It's been a home improvement weekend. I fixed our leaky gutter problems, and then created another problem: a cracked tile. I was surprised by the Oatey Fix It Stick I purchased at Lowe's
Earlier this morning, I tried to put a hammer back in its spot in our garage toolbox. I went to pick up some papers under the hammer at the same time. The hammer slipped out of my hand and onto our ceramic tile kitchen floor. Of course, it took a significant chip out of the floor.
How Do I Fix That?
After doing some research on the Google, I found that one way to repair a ceramic tile (other than replacing the entire tile) is to use an epoxy mixture to fill the crack or chip. I wasn't able to find a great solution at Lowe's that had reviews available that made me comfortable enough using them, except for one.
Oatey Fix It Stick to the Rescue
The product is an epoxy putty that I couldn't find anyone having used for tile repair, but it had excellent reviews otherwise.  The label and specifications also suggested for use on ceramics. I decided to give it a shot.  
I opened the tube and peeled off a small portion of the putty stick, kneading it together in my hands to activate the epoxy. Then I pressed a small amount into the chip that was taken out of the tile. I did my best to smooth it down as much as possible. I put a bucket over the top of it, and left it cure for about an hour. The instructions state that it is sand-able and/or pain-table in one hour.
A Surprising Miracle
I came back to the tile in an hour, and was amazed with the results.
The color matched almost perfectly. We're lucky to have tile that's gray and has many different color patterns. I honestly couldn't even find the spot without putting my head down close to the floor. I was able to then take a piece of fine sandpaper and sand down the repair just a bit to make it as flush as possible. At this point, I literally can't see the repair unless I'm either looking right at it, or sitting on the floor next to it. Even then, it's tough to see. I'm truly amazed with these results.
I'm not a very handy person. Anyone who knows me can tell you that. So I'm very happy with my handy work today.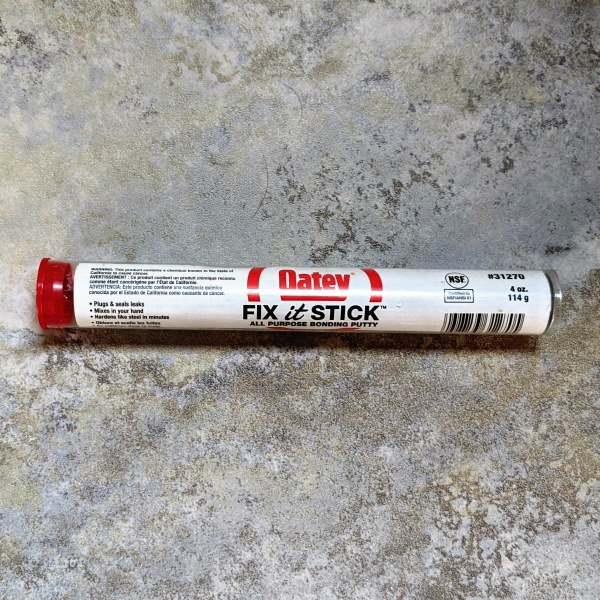 I wanted to post and tell this story in case it might help someone else fix their gutters or a chipped tile, and to give them hope that they can do it themselves.
I started the day thinking I was going to have to pay someone to come fix the tile (and possibly the gutter), and I ended the day fixing both of them for about $10 in material at Lowe's.
Do you consider yourself handy?